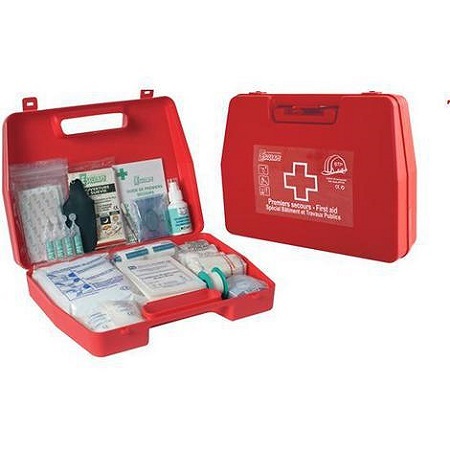 Worksite first aid kit: the essentials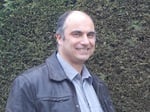 Guide written by:
Albert, Manager of a gardening service, Leicester
49 guides
A first aid kit is essential in case of cuts and other common injuries in any manual working context. Bandages, plasters, compresses, disposable gloves, survival blanket, antiseptic and scissors are just some of the must-have elements in a worksite first aid kit.
Why have a first aid kit?
---
From the medicine chest to the worksite first aid kit, first aid equipment should be a part of our everyday working environment. The risk of cuts, bruises, falls and other injuries is as much present in the workshop as on the building site, in the office or on the road. Providing first aid equipment isn't just a practical necessity, it's also a legal obligation for employers. However, the content of the kit should be suited to the risks of a particular work environment and its associated activities.
The risk of accidents at work is present in all types of business, however large or small and in whatever sector. Having a first aid kit or medicine chest to hand can help limit the extent of the damage caused by cuts, wounds and burns that can occur anywhere, at any time.
These types of first aid equipment are just part of a wider armoury of precautions taken in the interests of workplace safety and emergency management. For instance, a number of employees are often trained to be first aid responders, and devices such as defibrillators (for emergency cases of cardiac arrest) and fire extinguishers are installed in the workplace.
However, the law doesn't specify exactly what a first aid kit or medicine chest should contain. The contents should be fit for the context, beyond certain essentials that should always be present.
Explore the ManoMano catalogue
Worksite first aid kit
What must a first aid kit contain?
---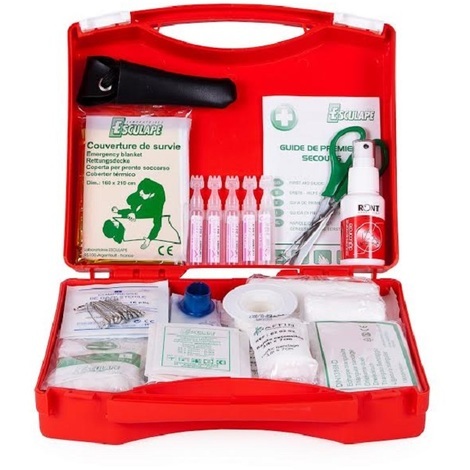 The essentials in a first aid kit or medicine chest are as follows:
compress pads, to limit bleeding

plaster strips, for fixing bandages

a pair of scissors, to cut bandages and compresses

antiseptics, to disinfect wounds

tweezers for removing splinters

bandages, for small wounds

nasal pads to stop bleeding from the nose

disposable gloves, for handling sterile materials

saline solution

a survival blanket, to protect the victim from excessive hot or cold
What else should a worksite first aid kit contain?
---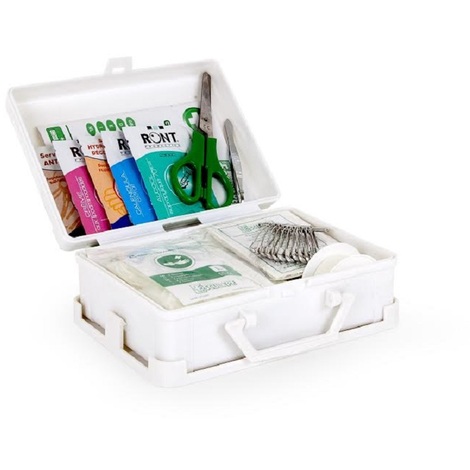 A few other elements can be added to the list in the specific context of a manual worksite. Indeed, on a construction site, in forestry or in land maintenance there are some specific risks which are more pressing than in other contexts:
flying objects
flying droplets of molten materials
falling objects
personal falls
being cut with tools
injury from piercing tools
injury from sharp edges
To manage these risks and limit the damage in case of accidents, here are some additional items it's useful to have in your first aid kit:
specialized tweezers and magnifying glass for removing foreign bodies
sachets of pure water for washing the eyes
triangular slings, to protect badly bruised or fractured limbs
protective masks, for use in mouth-to-mouth resuscitation
high quality scissors for cutting any type of fabric etc.
compressive bandages and haemostatic pads, to protect against haemorrhages
sachets of cooling gel for burns
The first aid kit bag itself should ideally be resistant to water and dust, as well as to shocks.
It's worth noting that the availability of any amount of first aid equipment can prove useless if the people responding to an emergency don't know what they're doing. Short of specialized training courses, it's essential that employees receive basic guidance in the use of first aid equipment through the medium of regular briefings. It's a matter of safe workplaces and limiting the severity of injuries sustained at work.
Explore the ManoMano catalogue
Safe workplaces
Learn more about workplace safety...
To find out more about workplace safety, follow our editors' advice and check out their other guides:
Why have a fire extinguisher on the worksite?
How to work safety on a roof?
How to be seen on a building site?
How to keep a construction site safe?
Guide written by:
Albert, Manager of a gardening service, Leicester, 49 guides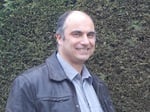 For several years I have been running a garden service with a clientele of both individuals and companies. I manage a team of gardeners and ensure the creation and maintenance of green spaces. At the same time, I bring my expertise to my clients in terms of the maintenance and improvement of their gardens. In fact, as a trainee and working in the hospitality industry at the beginning of my career, I focused on landscaping in a local community where I acquired solid technical skills through in-house training and the follow-up of major projects in a rapidly changing town. On a personal level, I am equally oriented towards the art of gardening. With my wife, I created our garden from start to finish and I maintain it carefully, the same goes for the vegetable garden. As for DIYing, it's not to be outdone. Yes, gardening is also tinkering: pergola, hut, pavement, fence, and so on...There is always something to do in a garden. After working well together, my wife and I are proud of the result and delighted to be able to take full advantage of a friendly and warm environment. So, let us give you advice and help you in your choice of tools, maintenance, or improvement of your garden, nothing could be simpler.
The products related to this guide