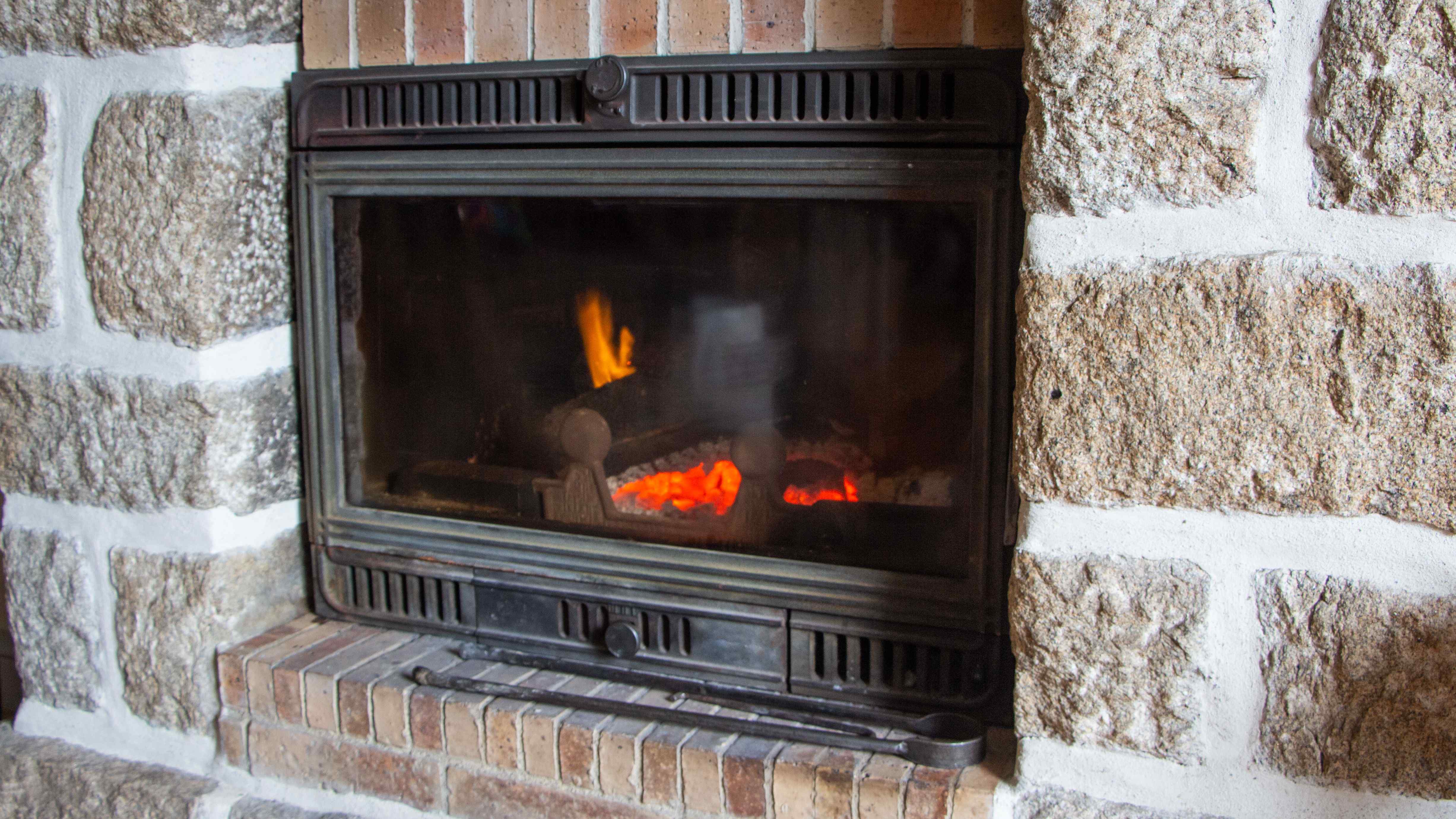 Wood fireplace insert buying guide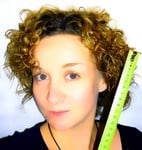 Guide written by:
Anne, Painter, Cambridge
39 guides
A wood-burning fireplace insert is a heatproof box designed to make your fireplace more efficient. Available in a range of styles, inserts vary in terms of heating power, performance and size. They also come in different materials and can be fuelled by logs or wood pellets. Read on to find the perfect fireplace insert.
How to choose a wood-burning fireplace insert
---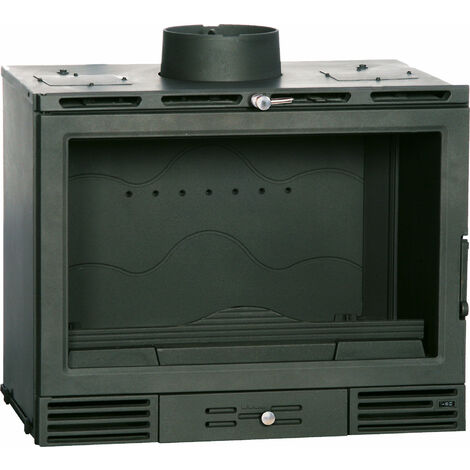 Your choice of fireplace insert will essentially come down to the following factors:
the size of the fireplace;
the heating power of the fireplace based on the size of the room and your home's insulation;
burn time, up to 24 hours on slow-burn;
fuel source:
pellets: the more practical option;
wood: the more affordable and natural option;
cast iron: heavy, hardwearing and good thermal inertia;
steel: more lightweight, heats up quickly but does not retain heat as well;
the insert surround material:
vermiculite: high thermal inertia but fragile;
chamotte: hardwearing but low thermal inertia;
cast iron: hardwearing and high thermal inertia;
the insert chamber material:
fireplace cladding: choose between stone, wood, marble, ceramic, etc.
additional safety and comfort features (blower, easy-clean screen, remote control, etc.).
Advantages and disadvantages of a wood-burning fireplace insert
---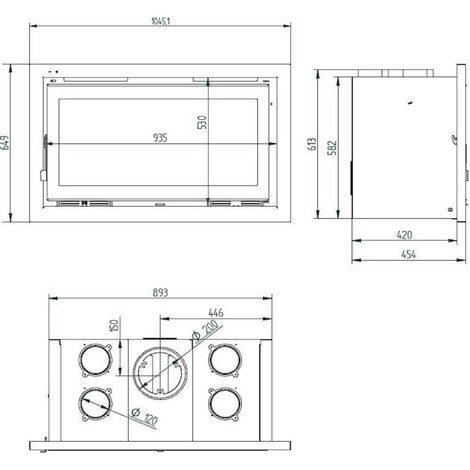 A wood-burning fireplaceinsert is a heatproof box that transforms your open (unglazed) fireplace into a closed hearth without modifying the structure of the chimney. If you exclude the possibility of electric, gas, coal or propane-powered inserts, you are left with two types of fuel: logs or wood pellets. These wood-burning fireplace inserts combine the charm of a cosy fire while ensuring optimal heat distribution and providing similar kind of heat as a wood-burning stove.
Advantages of a fireplace insert
---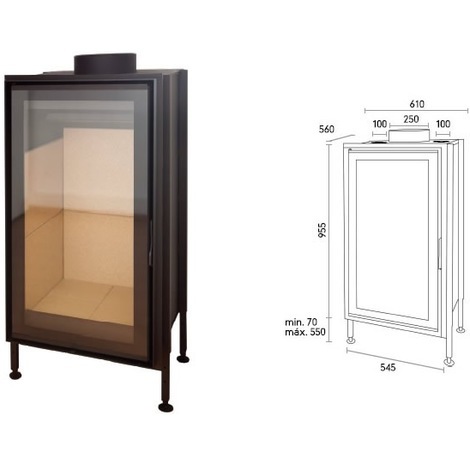 Makes your fireplace around five times more efficient; 
Limits the risk of fire and carbon monoxide poisoning (although your home must still be equipped with a carbon monoxide detector);
Retains soot and ashes – say goodbye to endless sweeping!
Makes your fireplace more efficient and saves you money.
Disadvantages of a fireplace insert
---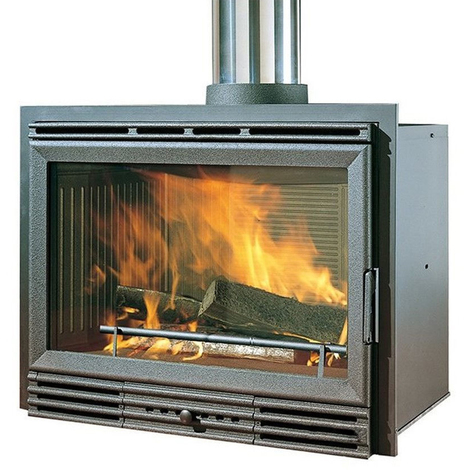 Flames are smaller that those of an open fireplace;

Prices are relatively high and you will have to factor in maintenance costs.
Explore the ManoMano catalog
Inserts
Main features of a wood-burning fireplace insert
Your fireplace insert must meet the needs of your home in terms of size, burn time, heating power and efficiency.
Dimensions 
The dimensions of an insert must be chosen carefully; it is essential to find a model that fits into your existing fireplace.
Burn time
The burn time of a wood-burning fireplace indicates how long the fire can burn from a single load of wood. A high-performing insert can typically operate for 10 to 12 hours, or in slow-burn mode for up to 24 hours. This factor will have a direct impact on how convenient the insert is to use as it determines how often you'll have to top up your fuel.
Heating power 
---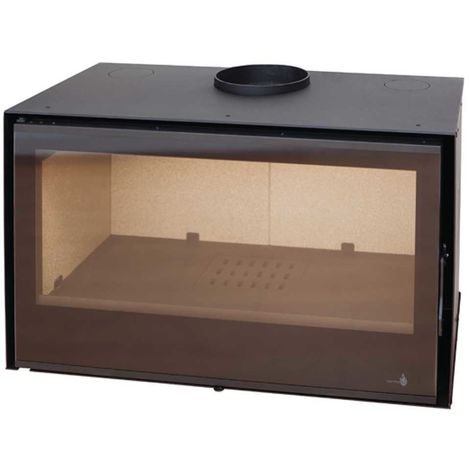 The heating power of an wood-burning insert is indicated in Watts (W) or in Kilowatts (1kW = 1000W). This represents the capacity of the insert to heat the surface area of a room (indicated in m² or square feet) or a specific volume of space (expressed in cubic feet or m3). Heating power should be calculated in one of two ways, depending on the quality of the property's insulation:
Well-insulated dwellings require around 100W of heating power per m² or 0.04kW (40W) per m3. For a property comprising 130 m², for example, an insert with an output of around 13kW  will be required (as 130 x 100 = 13000 W or 13kW). Alternatively, 130 m² is the equivalent of 325 m3 so if you factor in an average ceiling height of 2.5 metres, you end up with the following calculation: 325 x 0.04 = 13kW.
The best-insulated dwellings require around 60W per m² or 0.024kW (24W) per m3. The same property comprising 130 m² would require an insert of 7.8 kW (130 x 0.06 or 325 x 0.024).
Efficiency
Efficiency is the ratio of energy produced compared to the amount of energy supplied. This is indicated as a percentage and ranges from 40% to over 80% for the most efficient inserts; sadly you won't find one operating at 100% efficiency. The higher the efficiency rating, the more economical the insert is to run, i.e. the more energy it converts during combustion. An efficiency rating of 70% is satisfactory while 80% is considered a very good rating.
Secondary burn system
---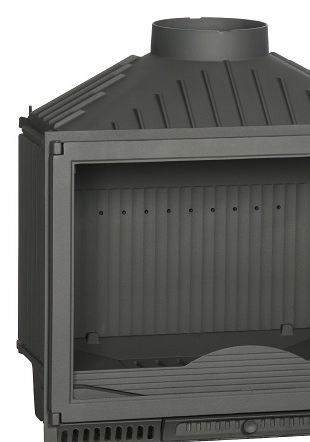 Inserts can be equipped with a secondary burn system to further improve heating efficiency. This system burns the smoke produced at the first stage of combustion which helps to reduce emissions and improve the energy performance of the insert.
Explore the ManoMano catalog
Wood-burning insert
Logs vs. wood pellets
Advantages of logs
---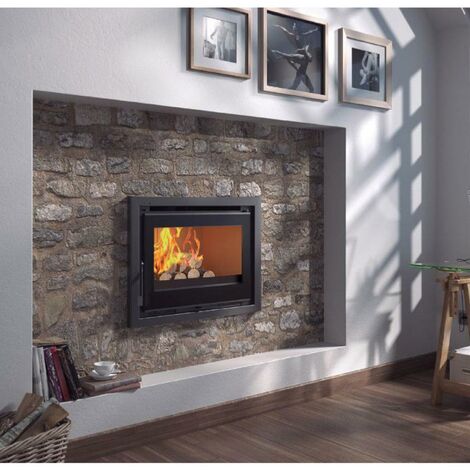 If you're a hopeless romantic, then you'll agree there's nothing better than the crackle of a log fire. In this case, there's no doubt about it: logs will be the best fuel for you! Of course, wood does require a little management (cutting, storage, etc.) and is consumed fairly quickly so you will have to refill your insert regularly.However, logs do offer the best flames and are generally relatively cheap. That said, it is important to pay attention to seasonal price fluctuations, as well as the type of wood and log size required.
Advantages of wood pellets
---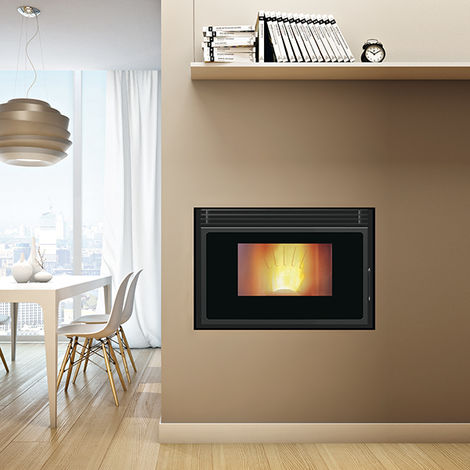 Eco-warrior at heart? Wood pellets will be the best fuel option for you! Manufactured from sawdust and untreated wood chips, pellets are considered one of the least polluting fuel sources.The fuel tank of your insert should be able to store up to 15 kg of pellets (depending on the model) which will last you approximately 3 days. Bought in bulk or in individual bags, wood pellets are easy to store and their price won't change with the seasons.In short, wood pellets boast most of the advantages of wood without any of the drawbacks (they are much cleaner, for example). The only downside of pellets is that flames are much less impressive when you take logs out of the equation.
How to choose a high-quality fuel source
Logs
---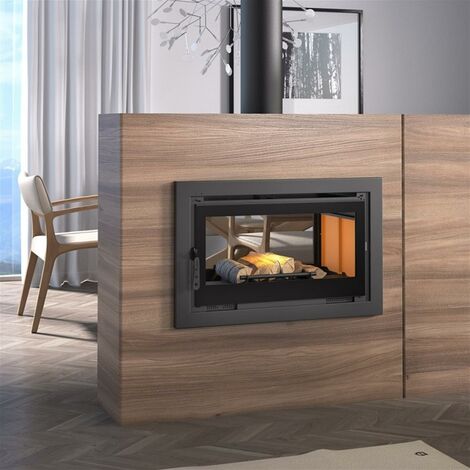 You should generally steer clear of coniferous or evergreen woods such as pine and fir, as well as 'recycled' woods like pallets or crates. These will block up your chimney flue in no time, burn up quickly and may even prove a health risk (crates often produce toxic fumes as they are treated with special chemicals). Instead, opt for logs from trees such as oak, walnut and beech, as they burn much more slowly and will therefore save you money. And remember to make sure your wood is dry!
Wood pellets
---
Prefer to use wood pellets? Be sure to go for pellets that meet the quality standards set out by worldwide certification scheme ENplus.If you have any doubts about quality, dip a pellet in a glass of water: if it dissolves easily and settles to the bottom of the glass, you're on to a winner!
Explore the ManoMano catalog
Chimney flue
Cast iron vs. steel insert frames
Cast iron inserts
---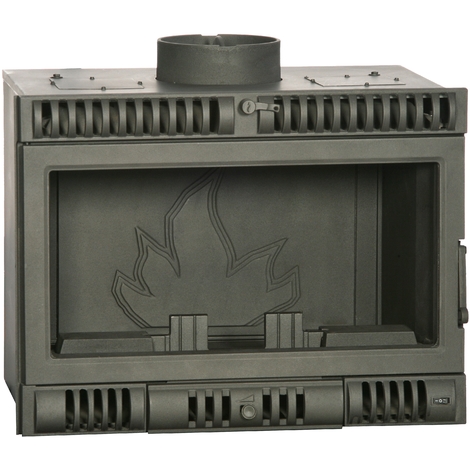 Cast iron is a hardwearing material, but it is extremely heavy and difficult to install. However, it boasts excellent thermal inertia (resistance to temperature changes) and  provides homogeneous heat diffusion which will save you a small fortune in fuel.
Steel inserts
---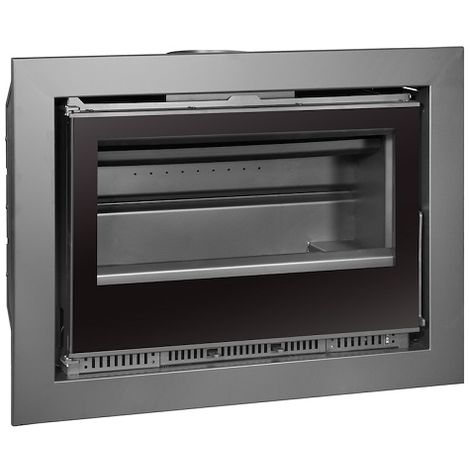 Steel is lighter than cast iron and therefore easier to install. Less expensive to buy, steel heats up quickly but is much less efficient because it has lower thermal inertia.
Insert chamber materials
---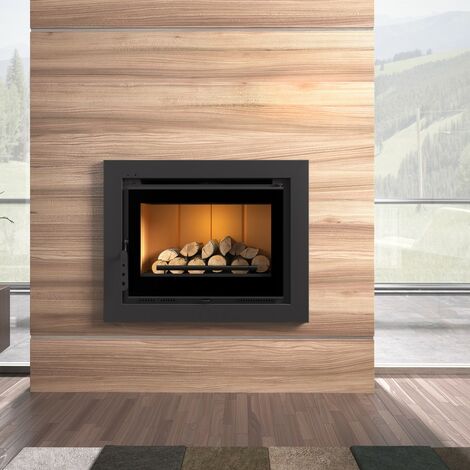 The chamber of a fireplace insert is usually made from refractory brick. Depending on the type of material that makes up the chamber, you will get a different type of heat release and level of durability.
Designed to hold the logs or pellets, chambers vary in terms of size (which will affect the heating power of the insert) and material (usually vermiculite, chamotte or cast iron).
Vermiculite
Vermiculite is a lightweight andfragile material and has fairly good thermal inertia. It heats up quickly but will also wear out at a relatively fast rate. While it does not offer the same quality as cast iron, vermiculite and chamotte are more or less equal across the board (although chamotte is slightly more hardwearing).
Chamotte 
Chamotte is a heavy material that is more shock-resistant material than vermiculite. However, it does not offer very high thermal inertia. Chamotte is inferior in quality compared to cast iron.
Cast iron 
Cast iron is the strongest available material and offers the best thermal inertia; it is heavy and durable.
Fireplace insert surround: choosing a cladding material
---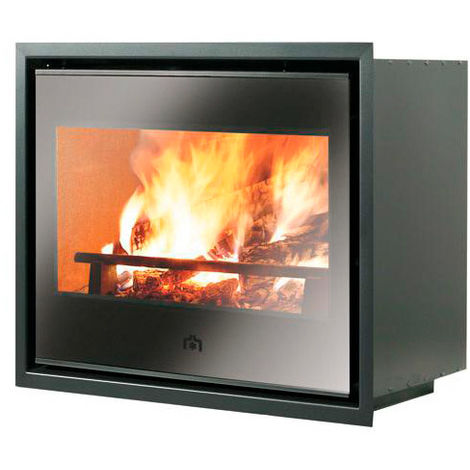 The cladding of your fireplace insert will affect everything from cost and strength to durability, style and ease ofinstallation.
Stone 
Stone is sturdy and long-lasting. Always in style, stone comes in a range of shades and shapes. In short, there's a type of stone for every budget! Choose traditional stone for a rustic-style interior or a polished variety for a more modern vibe.
Wood 
Wood has the advantage of being easy to work with and treat, so you can really make your fireplace your own. If you want a warm, cosy atmosphere, this is the material to go for. Price will vary according to the quality of the wood.
Marble 
A particularly on-trend choice, marble now comes in a range of different colours and can even be repainted. Admittedly the cost of marble is still high, but it will prove an excellent investment considering its durability. For an up-market, refined feel, it doesn't get much better than this!
Ceramic
Low-cost, straightforward to install and easy to clean, ceramic is available in lots of different colours, sizes and shapes. Whether tiled or moulded, ceramic is a great choice for anyone looking to match their fireplace to a unique décor. From a bohemian feel to a seaside theme or artsy vibe, you can really let your imagination run wild with this material!
Concrete
Resistant to high temperatures and the passage of time, cconcrete cladding comes in many forms. From classic to ultra-modern, you can have fun creating a style that suits you.
Brick
Affordable and highly temperature-resistant, brick is perfect for creating an industrial feel. What's more, it distributes heat effectively throughout your living space.
Metal 
---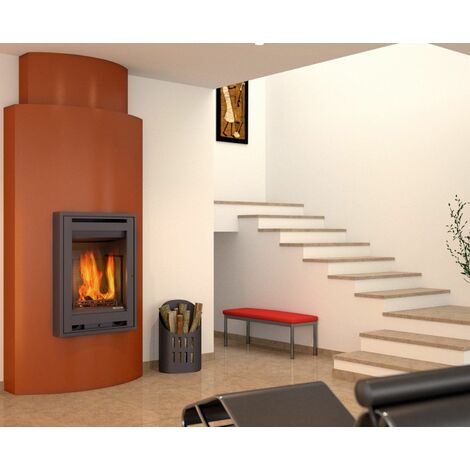 Extremely resistant to high temperatures, corrosion and ageing, metal is a very fashionable material. Stainless steel is particularly recommended for cladding over a flue. This material can be used to made custom-made, unique or super on-trend fireplaces that will look at home in modern or industrial-style home.
Explore the ManoMano catalog
Insert
Additional options for fireplace inserts
---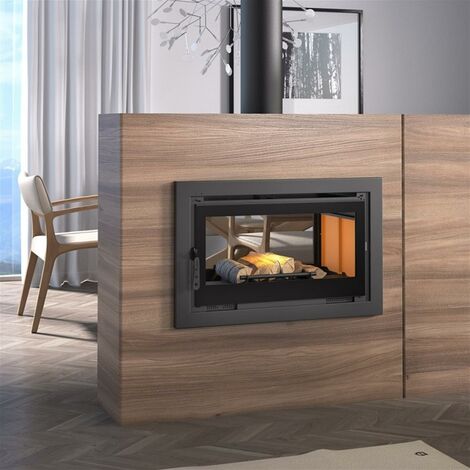 Fireplace inserts can come with a range of additional options designed to improve user comfort and overall performance:
Compatibility with lignite briquettes, wood briquettes or pellets;
Slow-burn mode - for up to 24 hours of continuous use;
Blowers - for improved heat distribution through ducts;
Clean glass system - prevents build-up of soot on glass;
Glass-ceramic screen - for higher temperature resistance;
Cool door function - avoids burns to enhance user safety;
Removable ashtray - easy to clean;
Remote control - for easier management.
Explore the ManoMano catalog
Fireplace inserts
Final tips for choosing a fireplace insert
---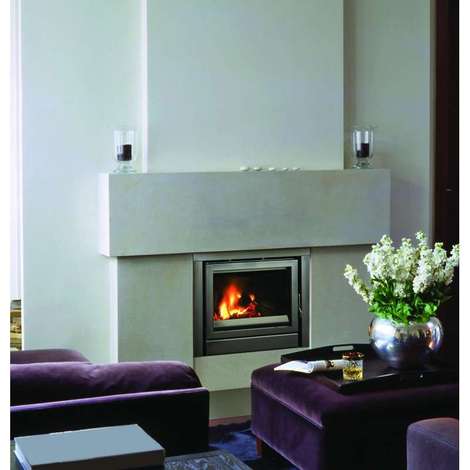 When it comes to deciding on a a fireplace insert, be sure to consider the following:
The dimensions of the insert;
Cladding material;
Heating power;
Performance;
Burn time;
Compatibility with different fuels;
The material of the chamber.
Whether you're dealing with a harsh or mild winter, a fireplace insert will prove an indispensable addition to your living space.A little gesture for the planet, a grand gesture for your wallet. Get ready to cosy up this winter!
Explore the ManoMano catalog
Fireplace insert
Guide written by:
Anne, Painter, Cambridge, 39 guides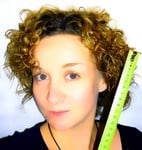 After 8 years of trade, I turned professional: I trained myself to be a painter and carpet layer either solo or with 16 years old comrades. 9 months later, following vocational school, my registration in Trades Directory, and the label 'Artisan' in hand, I created my company. And since then, I don't even touch my brushes. I'm a self-taught DIYer and decoration enthusiast, I love to find and restore furniture and to create unique decoration elements. I completed the restoration of my sister's house, this was last summer, with my niece: electrical, tiling, finishing, plasterboard...we did it all. And today, if I can share my experience I'm happy to do it. A total DIY enthusiast joke: 'What's the difference between a clown and a DIY enthusiast? A sense of humor.' Good Luck.  
The products related to this guide