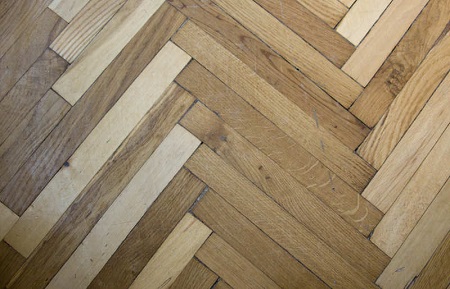 Wood care products buying guide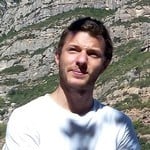 Guide written by:
Lucas, Antique wood-worker, Gloucester
27 guides
From paint and stains for shutters and structural woodwork to exotic wood oil for your decking and wax or stains for your flooring and furniture... When it comes to wood care, there are plenty of products to keep your wood safe from insects, mould, UV rays, impacts and wear. Read on to find the right wood care product!
Important features
Wood type
Indoor or outdoor
Varnish, paint and stains
Wax
Oils and penetrating oils
Brighteners and primers
Colours and finishes
What different types of wood are there?
---
Wood is a widely used material in building, furnishing and decor. An attractive and tasteful material, wood brings aesthetic value to spaces and provides homes with warmth.
More than 70 different species of wood are used, each of which falls broadly into three categories: softwoods, hardwoods and exotic woods.
Softwoods
These woods can be used both structurally and decoratively, and for cladding and interior / exterior carpentry. Some of the best known softwoods are fir, pine, larch and Douglas fir. If you're planing a piece of wood and a sticky sap leaks out onto your tools, it's definitely a coniferous softwood! These woods grow in temperate regions, so are readily available in Europe. Buying certifiedtimber guarantees the quality of your wood.
Hardwoods
If you're the lucky owner of a sprawling oak parquetfloor, you'll know the joys of hardwood! Hardwoods include oak, chestnut, beech, black locust, etc. They have many uses, from structuralwoodwork to veneers for kitchen units. Note that hardwoods are generally more expensive than softwoods, so they're often reserved for larger scale (e.g. structural) applications. However, their durability is exceptional: oak flooring can last for hundreds of years.
Exotic woods
As their name implies, these woods are imported mainly from South America, Asia and Africa. Their prices are therefore relatively high and their availability variable. A broad spectrum of colours is available, from reds and roses to black, making these woods popular in carpentry and veneering. Mahogany, teak, ipe, rosewood, and ebony are all examples of exotic woods. Some exotic woods are very dense, making them difficult to work without good tools. It also means they sink rather than float!
And watch out: species like black ebony or iroko can be toxic so be sure you have the right wood for the job before you buy!
Caring for your interior woodwork
Varnishes for hardwood floors
---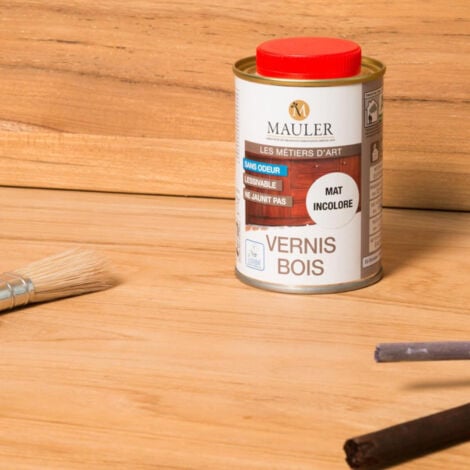 One of the most common interior wood maintenance tasks is keeping your floors in good condition and, if possible, extending their lifespan. To this end, the best solution is to apply a product that creates a strong protective layer and that's exactly what varnish does. There are two main types of varnish:
Aqueous phase varnish: odourless, applied in three coats;
Mono- or bi-component polyurethane varnish: more durable, recommended for areas with lots of footfall.
Just like with paint, wood floor finishes can be matt, satin or gloss. Additionally, flooring can be tinted during manufacture for a greater variety of finishes. Of course, a light shade of varnish will be useless for a dark-coloured floor; for worthwhile results, you'd have to strip it down to the untreated wood and refinish.
Choose a high-quality varnish as cheaper products have a very short lifespan of around one year. Quality products will give a much more durable finish and will only require reapplication every 4 years.
If you've completely stripped your flooring for optimal varnish application, you might want to start by applying a sealer or base coat. This will saturate the pores of the wood and allow optimal application of varnish, guaranteeing the best finish.
Quick tip: varnishes often require multiple coats. It is best to sand down the surface between applications to get rid of any wood fibres that may have risen to the surface.
As mentioned above, finishing products for parquet are sold in aqueous phase or solvent phase. The aqueous type are odourless but sometimes more fragile. For the solvent type, you must ensure adequate ventilation during application and wear a protective mask to avoid breathing in solvent fumes. Although these products give a more durable finish, they're less environmentally friendly since they're also more toxic! Depending on the phase and type of product applied, cleaning requirements will vary. It's best to follow the manufacturer's advice on this front, but you should generally avoid excessive amounts of water.
Wood wax
---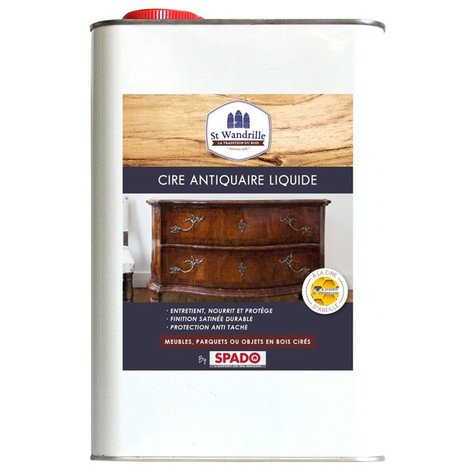 Wax offers a special patina, shine and smell. However, it offers less protection compared to varnishes. Furthermore, waxed floors can be slippery and application requires care and patience. Wax, whether solid or liquid, fills the pores of the wood when applied. Wax can be:
Colourless, to preserve the natural colour and grain of the wood and provide a basic protective surface layer;
Tinted, to darken and opacify the surface of the wood;
Beeswax (the real deal, produced by worker bees) is liquid and performs poorly in the heat; should be mixed to improve hardness, e.g. with carnauba wax;
In the form of a filler stick, for occasional use to hide cracks in furniture and floorboards;
Antique, for furniture, often composed of beeswax with carnauba to increase resistance.
Oil, dewaxer and wood clarifier
---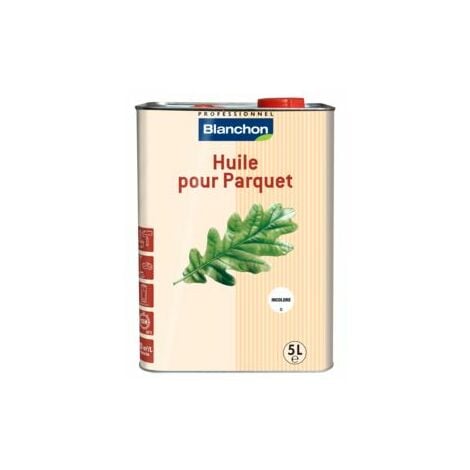 Wood oil
Like varnish, wood oil is a finishing product used to protect flooring. Oil embellishes, restores shine, protects against moisture, nourishes the wood and gives it a more naturalfinish. In liquid form, the oil is applied with a brush and is absorbed by the pores of the wood. This product penetrates deep into the wood making it water-repellent. There are several different types of oils:
Linseed oil, to restore shine and protect all types of wood against weathering;
Exotic wood / teak oil, for the protection and maintenance of exotic woods;
Wood floor oil, contains natural oils, regenerates oiled flooring.
Be aware, however, that you'll have to apply oil more regularly than if you use varnish. For areas with high footfall, this can be as frequently as every two months; for less frequent use, aim for one coat every sixmonths.
Dewaxer
If you want to thoroughly clean a waxed wooden surface, apply a dewaxer - and above all avoid sanding! The dewaxer will clean and remove oil in preparation for the application of your chosen product. Dewaxer is applied with a cotton cloth or wick rather than a brush. Water should be absolutely avoided on oiled or waxed wood, or you're asking for stains!
Clarifier
Wood clarifier restores the original shade of the wood. Of course it can't work miracles, and nothing beats a good stripping for efficiency and value. However, clarifier is useful for removing moisture, mould and other stains. Whether you purchase it in gel or powder form, be sure to keep your skin safe during application. If you want to lighten a wooden surface, use bleach or oxalic acid. Methylated spirits can also be used to bleach wood. When applying any of these products, remember to use gloves, a mask and goggles!
Varnish for door frames
Unlike floors, door frames do not have to withstand any footfall. Varnish is applied by brush or roller, depending on the surface, and may be in liquid or gel form (bear in mind that the latter doesn't run). Varnish covers the wood with a solid and durableprotective coat and is non-porous, so it can't be used outdoors! The finish can be matt, satin or gloss and colourless or tinted (darkoak, light oak, fir, beech, walnut etc.). Bright colours are also available (blue, yellow etc.). There are three main types of interior varnish :
Cellulosic varnish, best for frames that aren't cleaned frequently. A mono-component varnish, fast-drying but vulnerable to scratches and harsh cleaning products;
Precatalysed varnish, essentially an improved cellulosic varnish, giving better chemical and physical resistance;
Polyurethane varnish, a more resistant, bi-component variety with an added hardening component.
In case of stains or grime, light cleaning with water or acetone (if the varnish will tolerate it) will make your door frames look as good as new. As for floors, by all means spend a bit more time on sanding as it'll only improve the finish you end up with! Remember that sandpaper grade goes down from coarse to fine.
Furniture varnish
---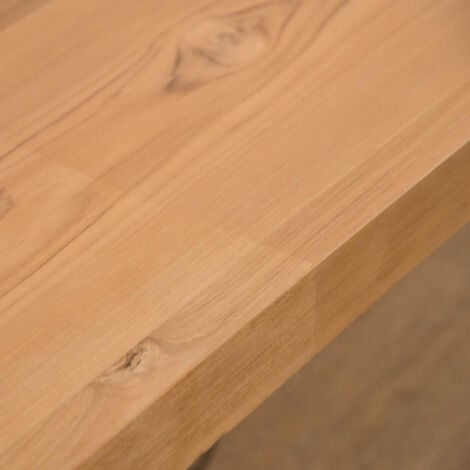 Matt, satin, gloss, colourless or tinted... varnishes for furniture and wooden objects are essentially the same as for flooring or door frames.
Furniture varnish creates a protective layer and improved finish. The same types as above (cellulosic, precatalysed and polyurethane) and the same formats (liquid or gel) are available.
Wood soaps
Wood soaps can be used on bare,oiled or waxedwoods. Soaps effectively clean wood and extend its lifespan – especially when it comes to oiled floors. Wood soaps can be found in paste or liquid form.
Some environmentally friendly soaps are perfumed with essential oils, leaving a pleasant smell in the room.
Wood paints
---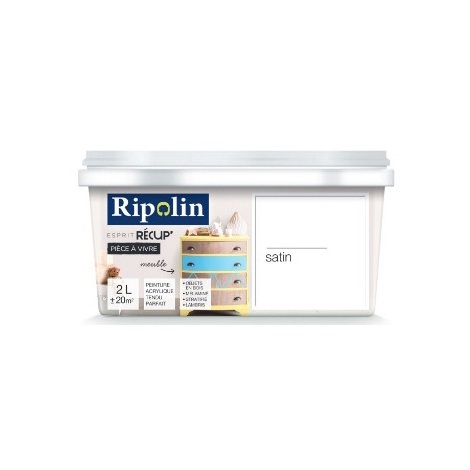 Effective application of a paint starts with careful preparation. Sanding is essential for all types of wood. It's important to choose your wood paint carefully in order to avoid having to repaint your interior woodwork on a regular basis. There are three types of wood paint:
Acrylic, water-based, microporous;
Glycerophthalic, solvent-based, forming a protective film;
Alkyd, combining the properties of the previous two.
Bare wood will absorb a lot of paint in the first two coats. To make your life easier and to save money, apply a primer or even a coat of diluted paint first (diluted with water or white spirit, depending on the type of paint).
Steel wool and other wood-working products
---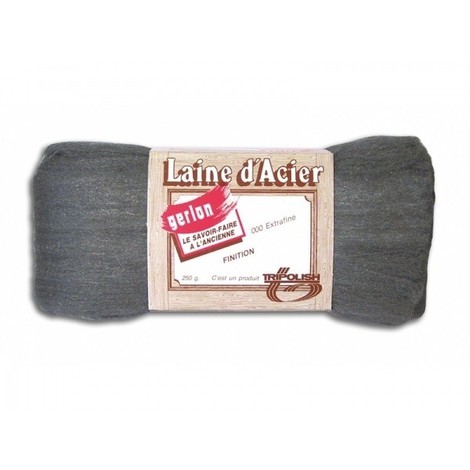 For the application of wood care products, you will need a lint-free cotton cloth and a cotton wick. This is particularly essential for the application of wax and oil.

Steel wool is used to apply products without scratching the wood. It is graded in '0's from fine to coarse.
Tougher wire wool is used for more thorough stripping; however, it can damage your wood if you're not careful! Always wear thick gloves when handling this type of wool.
Another interesting option includes using brushes designed for polishing, scouring, everyday use, etc. Trust us: they'll quickly become your closest allies for wood maintenance!
Natural plant materials – which are often more efficient and gentler than synthetic materials – are recommended wherever possible.
Explore the ManoMano catalogue
Gloves
How to maintain your exterior woodwork
Exterior wood varnish
---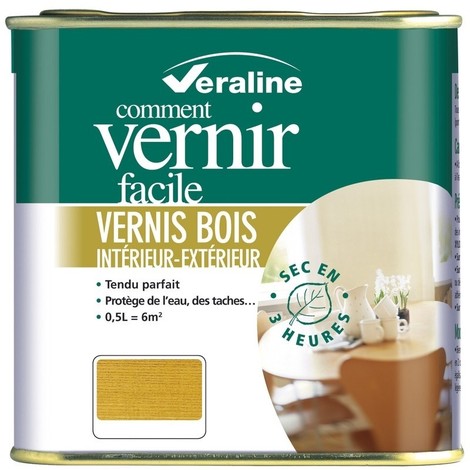 Exterior wood varnish creates a thin protective layer on the surface. It must be particularly resistant to UV rays, and suited to the weather conditions where you live in order to avoid you having to redo it every year. Varnish shows its wear in the form of peeling film or blisters: if you're seeing these signs, you'll have to sand thoroughly and slap several layers of varnish on your woodwork. Exterior varnish is waterproof.
Exterior wood paint
Exterior wood paint buying guide makes for an interesting alternative to varnishes thanks to its protective properties and the choice of colours and finishes available.
Painted wood can be cleaned with water and rubbed down hassle-free. If necessary, a new coat can be applied after a light sanding. Whether you've gone for varnish or paint, don't forget to apply your product thoroughly in the gaps (between planks etc.) because that's where water infiltrates the quickest.
Stains
---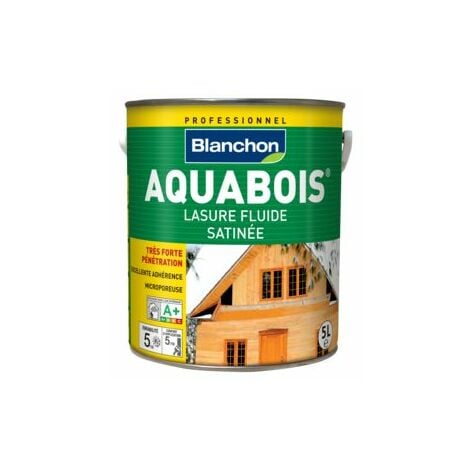 Unlike varnish, stains are non-film-forming products thatpenetrate the pores of the wood and protect it while also allowing it to breathe. Stain can come in liquid or gel form and comes in a range of shades and finishes. Its UV resistance is impressive and it's also fungicidal. For more intense climates, specialist "extremeconditions" products are recommended (e.g. in marine and mountain environments).
Exterior wood oil
Oil is also a great option for protecting exterior woodwork (cladding, decking, shutters etc.). Available in various finishes such as matt and satin, and several shades (oak, red cedar, pine etc.), the best way to apply this product is using a classic or flat paint brush.
Opt for a product with 100% natural oils without chemical additives.
Penetrating oils, stabilisers, brighteners and strippers: choosing a wood prepping product
Penetrating oils
As the name suggests, penetrating oils deeply saturate the fibres of the wood while allowing it to breathe. As such, it slows down the damaging action of water and UV rays and avoids the greying that results from these threats. Penetrating oils are ideal for treating decking, especially that made from exotic wood. After application, wipe the excess away with a cloth and let the wood stand. As with some of the previous products, water-based penetrating oils are more environmentally friendly while solvent-based alternatives are more efficient and easier to apply.
Wood primer and stabiliser
---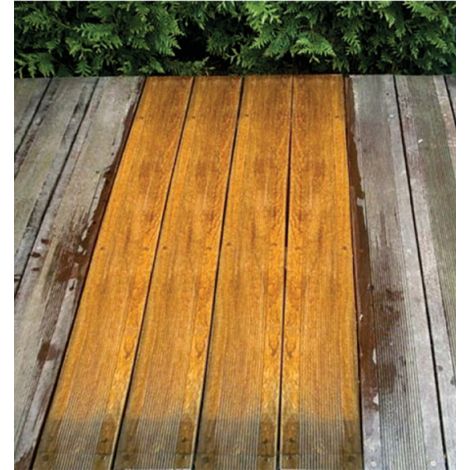 Priming products serve to optimise the application of finishing products. Choose from brighteners, stabilisers and sealers.
Stabilisers
This product is designed to stabilise and protect the wood over its first few months of exposure and helps to reduce the risk of cracking, misshaping, etc.
Brightener
If you want to apply a penetrating oil to your decking, and it's already somewhat greyed, brighteners are a great way to improve the application and finish of the oil.
Degreasers and wood strippers
Degreaser
---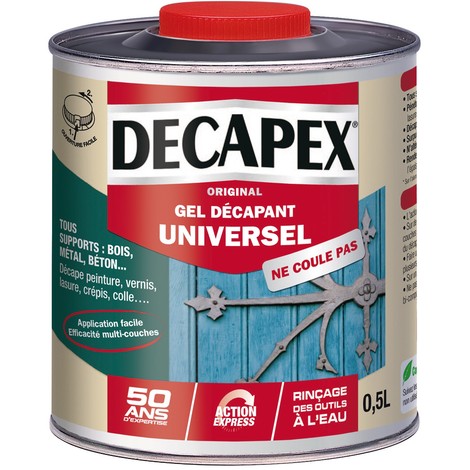 A wooden surface that has been treated repeatedly or is subject to the effects of pollution needs a thorough clean: adegreaser will effectively remove layers of accumulated greasy dirt. Degreaser is applied with a cloth or brush; you should also sand down your surface at the same time.
Strippers
Strippers are designed to remove previous coats of treatment such as varnish or paint. For best results, application should be accompanied by sanding. Remember to wear gloves, a mask and goggles.
Explore the ManoMano catalogue
Degreaser
Wood putty, bonding agents, mastic and filling wax
Bonding agents
Bonding agents are used specifically to fill floorboard joints that have warped and become hazardous or unsightly. Take note: bonding agents must be mixed with sanding residue from the same wood so that the filled areas blend in perfectly with the floor. If you don't have any bonding agent on hand, here's a handy trick: wood glue combined with a bit of sawdust gives surprisingly good results!
Wood putty
---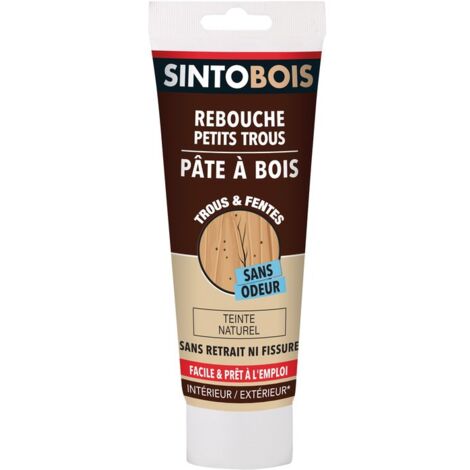 Wood putty is essential for lots of DIY projects and comes in handy whenever you need to fill in any imperfections in your wood (up to a depth of 1 cm). Use a small palette knife or spatula for application. If you plan on staining or painting your wood afterwards, go over the filled surface with sandpaper after the putty has dried.
Mastic
Mastic is intended for more substantial filling work; it takes longer to dry and is more tricky to work with – especially when sanding! However, it's much more effective than putty for larger scale filling tasks. Useful to know: two-component mastics are very effective but require mixing. You should also note that their drying time is very fast so be sure to only prepare a small quantity at a time!
Filling wax
Filling waxes are very effective in precision woodworking. Available in various natural shades, they're ideal for reducing imperfections and filling small holes in furniture, especially if it's already been varnished or treated. Simply soften the wax and apply it, with a precision tool or with your fingers. After drying, there's no need to sand: simply rub the filled area with a soft cloth to create shine!
Explore the ManoMano catalogue
Wood glue
Caring for specific types of wood
How to maintain your wooden decking
---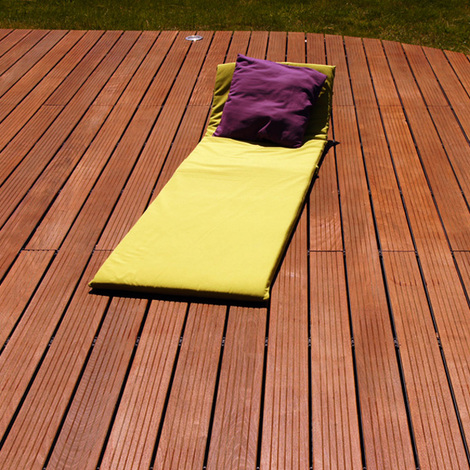 The lifespan of your decking can be greatly extended if you're thorough about its maintenance. Rule number one: pressure washers are to be avoided, or at least used at very low power, otherwise you'll damage the finish of your terrace. Unfortunately, there's no miracle solution: you simply need to get yourself a decent brush and broom and clean it regularly.
Natural wood soap is also a very effective and environmentally friendly option.

How to maintain your wood floor
If your floor is oiled or waxed, cleaning should be done exclusively with a broom or vacuum cleaner, as even the smallest drop of water is dangerous for these floors! You might even want to avoid walking on your floor with shoes on, and stick to socks or slippers instead. If you find a stain, use a suitable dewaxer and give it a good rub before re-doing the oil or wax!
For varnished flooring, a vacuum cleaner and a mop will be perfect. To remove stains, floor cleaning detergent is generally sufficient; if you're struggling, you might have to sand the area and reapply the varnish afterwards. Laminate flooring can be cleaned with water and household cleaning products. Never scrub unless sanding tough stains!
Caring for autoclave-treated wood
---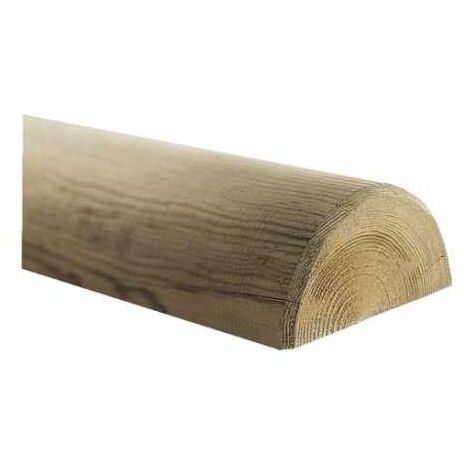 Autoclave wood is intensively treated against moisture and wood-eating insects. Over time, the effectiveness of the treatment may wear off. If you are in any doubt or your wood is showing signs of fatigue, brushing or rolling on insecticide and fungicide treatments will freshen up the wood's protective finish.
How to maintain exotic wood
Some exotic woods, such as ipe or teak, are rot-proof. For the rest, applying exotic wood oil will ensure a durable and slick finish. If the wood has greyed with time, go over your garden furniture or decking with a brightener.
How to maintain a timber frame house
---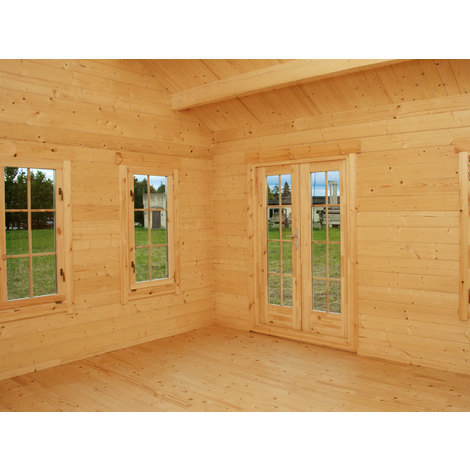 It's difficult to give a specific answer to this question. Firstly, a wooden frame house has several components: its basic structure, its carpentry work, but also cladding, flooring, door frames etc. On the structural side, you're best off with autoclave-treated wood, which is highly resistant to insects and moisture. While it's often possible to reapply treatments to visible woodwork, it's more difficult to get access to underlying structural components... so watch out!
UV rays will inevitably cause your cladding to grey: this can't easily be prevented, although it can be remedied via the application of a brightener. However, this sun-based reaction is generally hard to avoid. You can clean the exterior with a pressure washer kept at a safe distance. Nonetheless, you're better off sticking to a brush.
Varnishes or stains must be applied upon installation and repeatedly thereafter to protect the wood from the elements, insects and moulds.
A CMV-type airconditioning system coupled with effective airtightness in your walls allows you to avoid moisture stagnation and therefore will help avert a fungi takeover!
More information
To find out more about working with wood, follow our editors' advice by checking out their other guides:
Guide written by:
Lucas, Antique wood-worker, Gloucester, 27 guides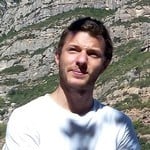 After some time busting my hump at construction, specifically at renovation, painting, carpentry, laying kitchen and bathroom tile, I decided to get my degree as a Carpenter. And I did well because nothing is more pleasant than working on a timber frame or designing a wooden house. Everything about woodworking fascinates me, and building my own home in this material is one of my goals. I'm also a follower of construction tools: I love to learn about innovations, the way they're used, the tips and tricks, or the performances of each new tool on the market, whether it's for woodworking or not. I would be happy to advise you and help you with your choices. Happy Tinkering.
The products related to this guide