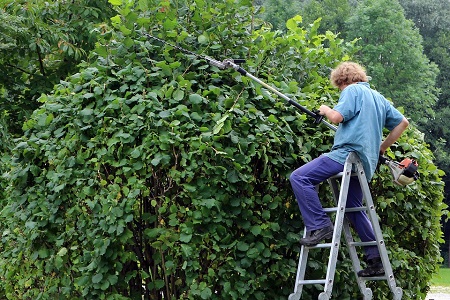 What tools should I use to trim a hedge?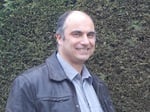 Guide written by:
Albert, Manager of a gardening service, Leicester
49 guides
Cutting a hedge requires several tools, including but not limited to the pruning shears, hedge shears, pruning poles, and even the chainsaw. Tall hedges might require the use of a footstool, step ladder or scaffolding as well as a rake, shovel or other tools to remove the the spent clippings. 
Important features
Hand-held tools: hedge shears and pruning shears
Power tools: hedge trimmer and chainsaw
Tools to clean up: shovel and rake
Hedge size: equipping yourself with the appropriate tools
Trimming a hedge is a multi-faceted operation that requires the appropriate tools. The first aspect to consider is the trimming in itself, or in other words, cutting of hedge's leaves, stems or branches. Secondly, the ability to reach the required cutting height, ie access to the top of the hedge, must be taken into account. Another facet that must not be overlooked is the use of PPE, or personal protective equipment. We also can't forget mention the collection and treatment of spent clippings and finally, in some cases, the use of signs to deliminate an area.
---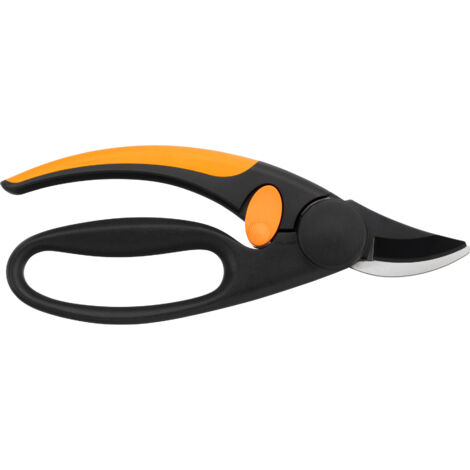 Plant trimming tools
There are two categories of trimming tools: hand tools and power tools. Here are the most common:

Explore the ManoMano catalogue
Pole saw
Tools to work high up
---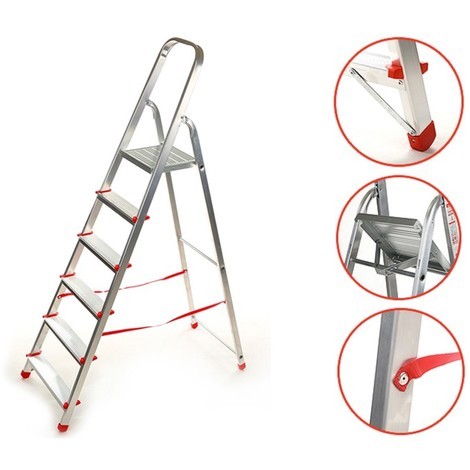 Classic or landscape hedges generally have a height of about two meters.
To be able to reach the top of these hedges and cut them properly, the right tool will be required, one that is specially designed for working at an increased height.
The person carrying out the work is ultmately responsible for the choice of equipment, which must absolutely be adapted to the condition of the ground and the height of the hedge.
It is important to be aware of the risk of falling and take the necessary precautions. Here are the most common tools:
Foot stool, designed for small heights, practical for quick use with short hedges on a relatively flat ground;
Ladder or stepladder, the ultimate tool for reaching average heights. Their use as a workstation is limited however. In other words, they are not fit to be used in a heavy-duty, repetitive fashion, and are generally reserved for punctual use.  It implies minimul risk, as the worst that can happen is a very low fall;
Scaffolding, of which there are a variety of models available for both flat and sloping terrain. Allows for the trimming of hedges in complete safety, provided that the manufacturing guidelines are respected and that the model is properly adapted to the terrain's configuration and working height.
Voir le catalogue ManoMano
Scaffolding
Personal Protective Equipment (PPE)
---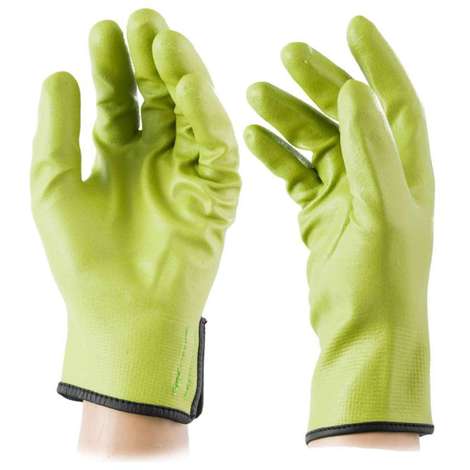 Any task worthdoing requires the use of PPE, or personal protective equipment, to protect against noise and the risk of injury. This equipment provides an increased comfort level in the workplace while ultimately benefiting from certain performance advantages. Here are some examples :
Protective gloves protect the user's hands and limit the damage in case of injury with a trimming tool;
Protective goggles protect the user's eyes against the projectiles, be they branches, leaves and other debris;
Noise-canceling headphones reduce the machine(s)' noise level by providing significant hearing insulation;
Safety shoes protect the user's feet against the risk of perforation by a thorny branch or other sharp object, thanks to a reinforced toe and sole.
High visibility vest, crucial when trimming on the side of a road or motorway. 
Safety harness relieves some of the pressure on your back when using a hedge trimmer or a pole saw.
Protective clothing and specially adapated rain gear can also provide optimum comfort for both normal or bad weather.
Explore the ManoMano catalogue
Protective clothing
Tools and accessories for collecting, evacuating or treating waste
---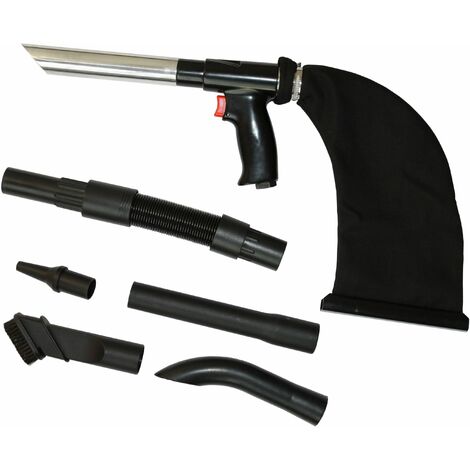 Cutting a hedge will obviously result in the accumulation of clippings. They must be picked up, removed and disposed of.
The following tools can make the job much easier:
Rake, the perfect tool for regrouping and picking up clippings;
Snow shovel, not just for snow, it is also useful for picking up a large volume of clippings;
Tarpaulin, preferably of sizeable dimensions (1.5 to 2m x 4 to 6m long) that can match the length of the hedge. The trick is: the clippings fall on th tarpauline when cut, then it simply has to be foleded up and moved when filled. It can then taken directly to a trailer or dumpster;
Leaf blower, a motorized machine that is well suited for achieving the perfect finish providing an irreproachable cleanliness at the end of the building site;
Explore the ManoMano catalogue
Snow shovel
Signs for the work site
---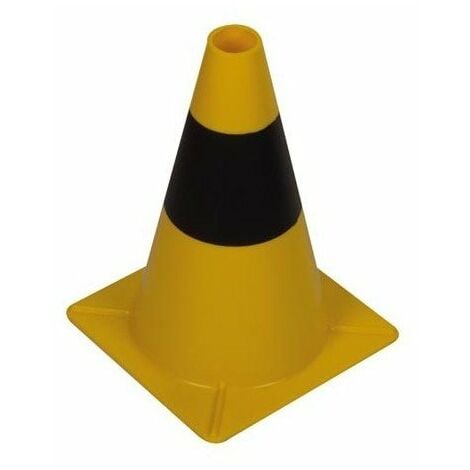 When your trimming duties places you next to a public or private road, a detailed description of the work must be submitted to the local council. 
In some cases, for example, especially in a road or a street with heavy traffic, the job will require prior authorization issued by the relevant authority. This obviously requires a bit of research before proceeding to start the work. Then, to stay safe while working, the most common signaling elements are:
Cones, used to define the perimeter of the required space;
Road signs, which might be required depending on the type of road, should be set at a minimum of 20 m before the start of the perimeter;
Explore the ManoMano catalogue
High-visibility vests
More Information
For passionate gardeners and DIY-lovers, follow the links below for trimming-related accessories, advice from our editors and more helpful guides:
How to choose your ladder, stepladder and scaffolding?
How to choose your stepladder?
How to choose your taurpalin?
And to work safely:
How to choose your protective eyewear?
How to choose your safety shoes?
How to choose your protective clothing?
How to choose your anti-fall equipment?
Guide written by:
Albert, Manager of a gardening service, Leicester, 49 guides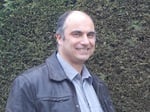 For several years I have been running a garden service with a clientele of both individuals and companies. I manage a team of gardeners and ensure the creation and maintenance of green spaces. At the same time, I bring my expertise to my clients in terms of the maintenance and improvement of their gardens. In fact, as a trainee and working in the hospitality industry at the beginning of my career, I focused on landscaping in a local community where I acquired solid technical skills through in-house training and the follow-up of major projects in a rapidly changing town. On a personal level, I am equally oriented towards the art of gardening. With my wife, I created our garden from start to finish and I maintain it carefully, the same goes for the vegetable garden. As for DIYing, it's not to be outdone. Yes, gardening is also tinkering: pergola, hut, pavement, fence, and so on...There is always something to do in a garden. After working well together, my wife and I are proud of the result and delighted to be able to take full advantage of a friendly and warm environment. So, let us give you advice and help you in your choice of tools, maintenance, or improvement of your garden, nothing could be simpler.
The products related to this guide