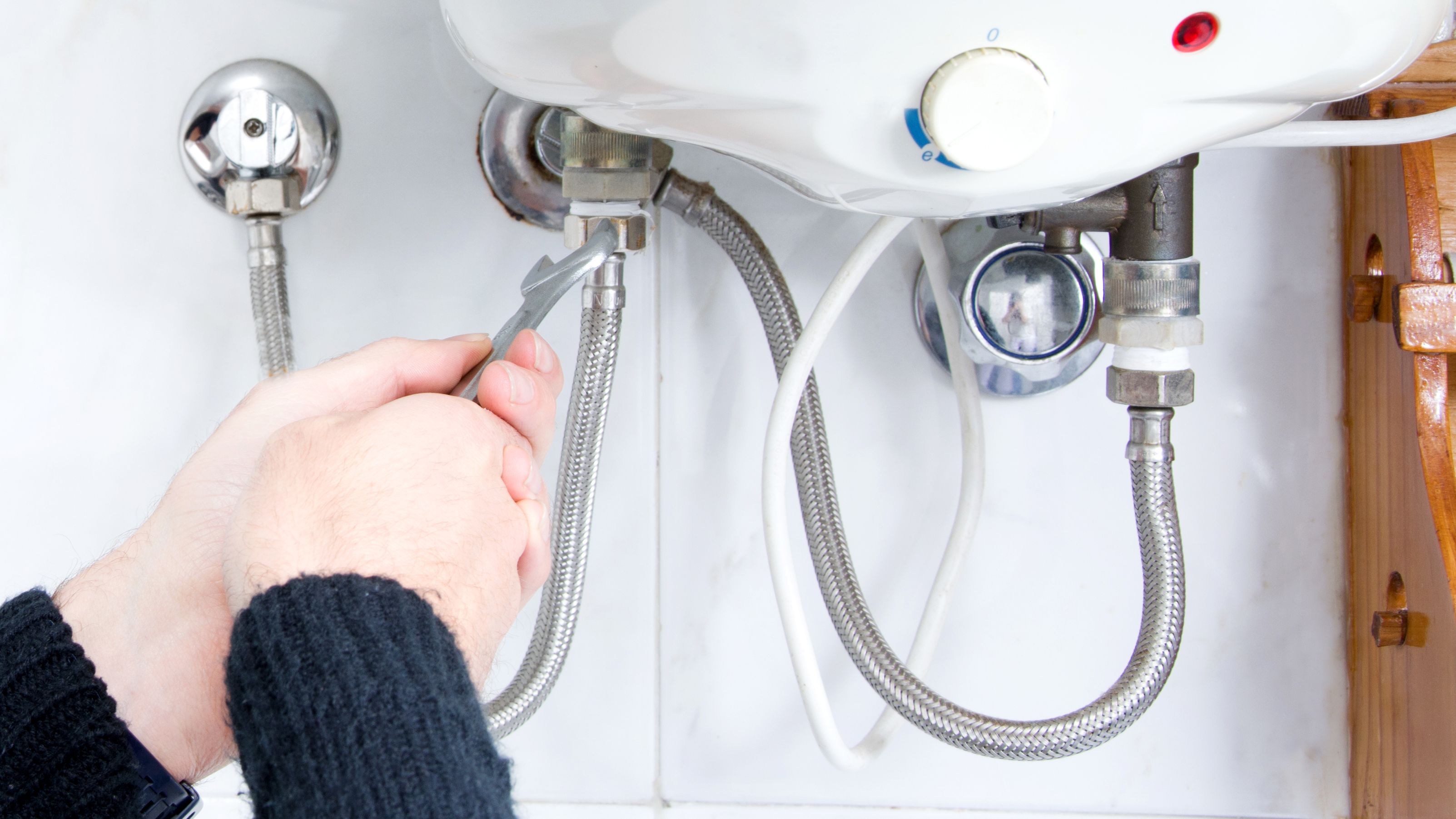 What is a Connection Kit for an Electric Water Heater?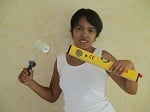 Guide written by:
Holly, self-taught DIYer, Cardiff
22 guides
A connection kit contains the essentials for connecting a water heater to standard cold and hot water intakes. Service valves, a drain tube and connector hoses are essential when installing a storage water heater.
What does a water heater connection kit contain?
---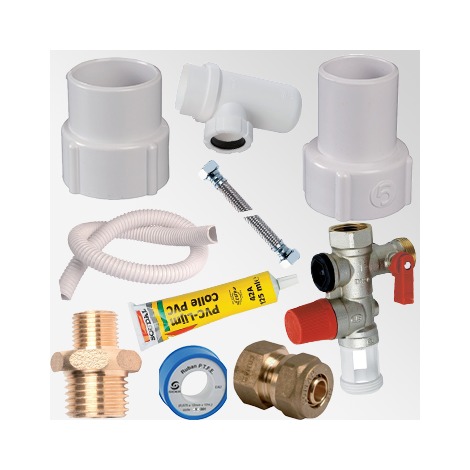 A connection kitcontainsthe main parts required for connecting a standard storage water heater. The storage tank and the thermostatic mixing valve are often excluded from the kit. It contains the following :
The connection kit may contain teflon tape, brass fittings, glue etc.
Service Valves
Service valves are safety devices that protect the hot water tank from overpressurisation generated by heating water. Service valves are angled (elbow) or straight, made of brass or stainless steel, and can be anti-scale, teflon-coated, and with dielectric connectiors in order to protect it from corrosion.
Drain Trap 
The volume of  water heated by an electric resistance heating element increases as it expands.  Because the tank of the storage water heater does not expand, it is necessary to drain it. The drain transports the excess expanded water released by a service valve by routing it to the used water trap.
The drain trap is made of plastic and is connected to the seat of the service valves.  It is connected to the water heater or to a tee connected to an expansion tank to limit water loss, promote energy savings and protect the service valves.
Drain pipe 
---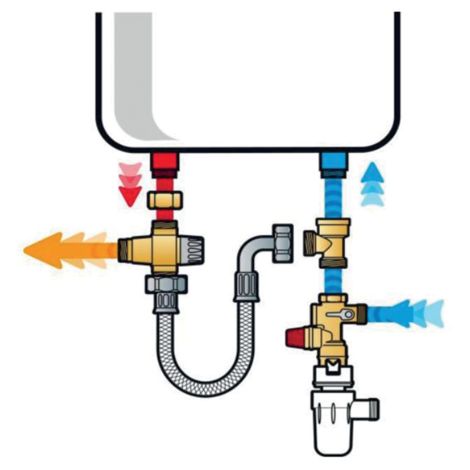 The drain pipe is useful for connecting the trap to a wastewater pipe . It is made of plastic and articulated in order to adapt to different configurations.
Connector hose
Connector hoses are flexible and come in 3/4 " (20 x 27 mm) female-female or female-male.
Expansion tank
The water released after expansion represents approximately 3% of the volume of the hot water tank, which is a significant loss over a years time. To compensate for this loss, an expansion tank can be installed between the service valves and the tank . It is sized to the volume corresponding to 3% of the tank and to the temperature set point as water expands when heated. Expansion tanks must be certified for the production of domestic hot water (ECS).
Thermostatic mixer
It is a anti-scale device mounted at the hot water outlet of the storange tank. More often than not, keeps the temperature of the water between 30 to 50 ° C  and is required in new installation.
Explore the ManoMano catalog
Expansion tanks
More information
To learn more about the different accessories of electric water heaters and the production of hot water , consult the buying guides:
How to choose the resistance of your electric water heater?
How To choose your anode electric water heater?
For the maintenance and installation of your electric water heater, consult our installation and maintenance tutorials : 
How to change your service valves?
How to maintain your storage water heater?
How to change the thermostat of your water heater?
How to install a water heater?
How to drain a water heater?
How to attach a water heater?
How to change or replace your electric water heater?
How to connect an electric water heater?
How to reset your electric water heater?
Find out more about hot water production solutions with guides : 
How to select your gas water heater?
How to choose your thermodynamic water heater?
How to choose a solar water heater?
Guide written by:
Holly, self-taught DIYer, Cardiff, 22 guides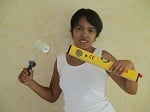 First of all, my studies have nothing to do with decoration or DIY as I was specialised in management. My passion in DIY started 5 years ago (very recently!) Everything started when we bought a house to renovate from floor to ceiling. As I'm a self-taught person, I started working on different house project both inside and outside. My husband helped me but the student soon overtook the teacher! And as there are a lot of green spaces in Creuse, gardening tools have no secrets for me. My friends and family often come to me for advice when it comes to DIY. Today, I want to share this with you!
The products related to this guide