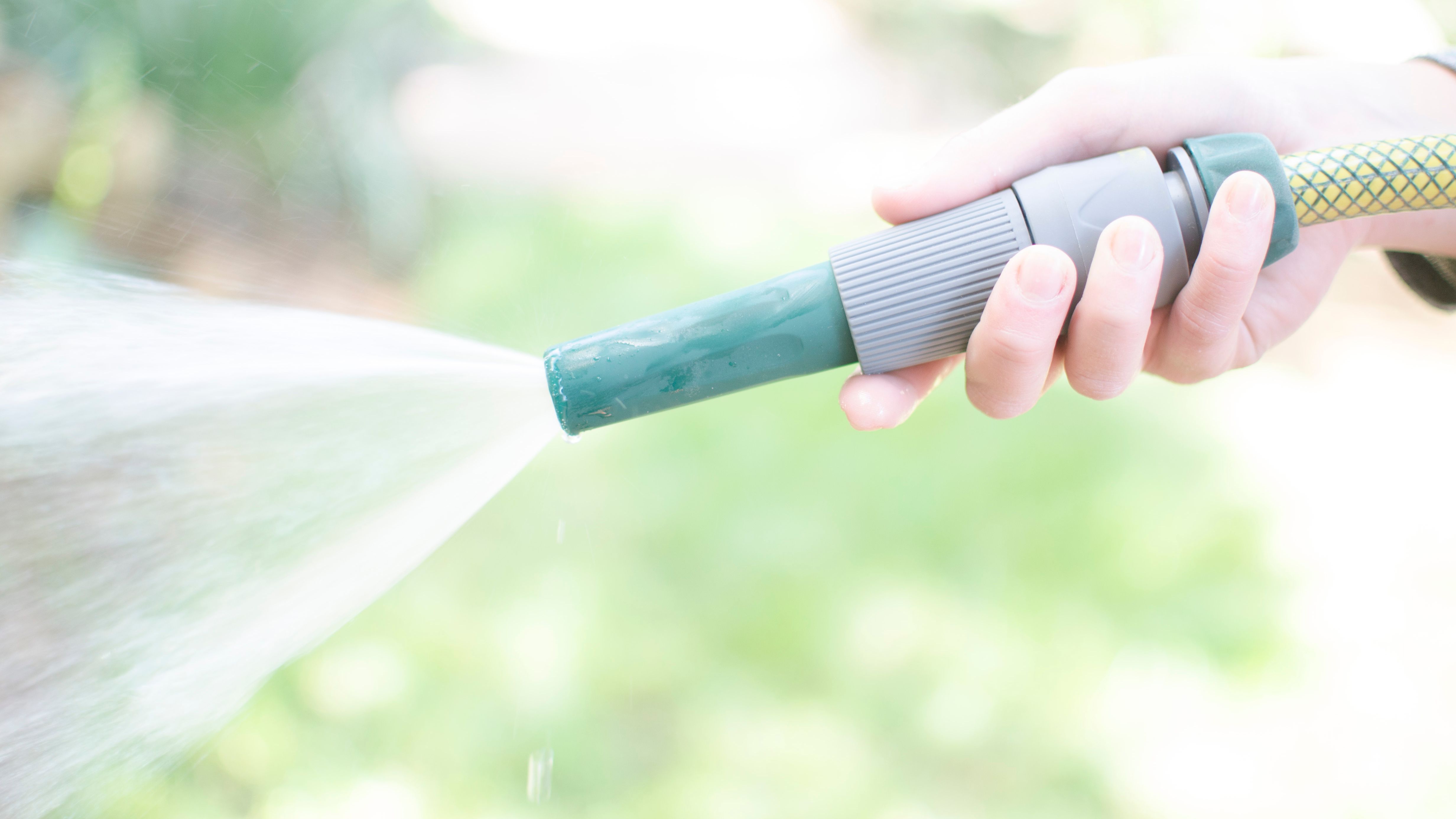 Watering connections buying guide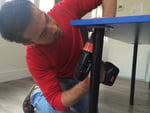 Guide written by:
Sebastian, self-taught DIY-er, Exeter
216 guides
Connector, quick coupling, aquastop connector, tap connector, repair valve, splitter or barbed nozzle...all these terms are key to your installation and successfully connect your garden hoses to each other. A whole family of garden hoses! In 15/21 or 20/27, for pipes of 15 or 19 mm, pepare to be unleashed!
What are the different types of hose fittings?
---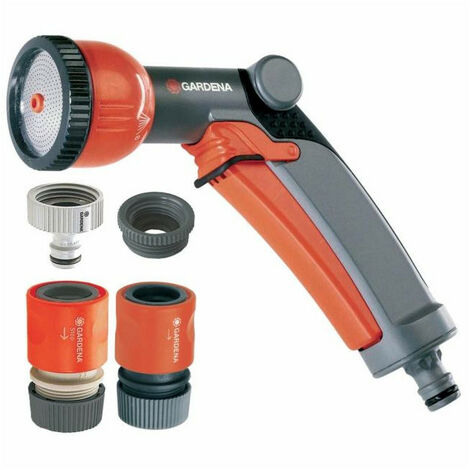 For those who might need a refresher course on the complete watering system from the feeding point to drain, here are all the elements besides the garden hose:
A quick coupling or a hose clamp if you have a barbed valve fitting - hose inlet only - for direct connection to the water source;
A quick coupling or a splitter valve for the end of the pipe;
Tap Connector
---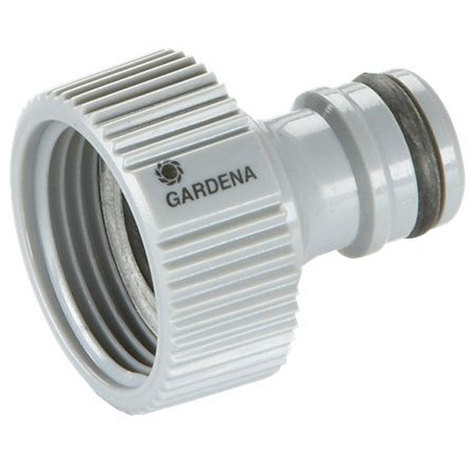 This is the basic setup of any watering installation. The tap connector is fixed to the water source and can be corrugated (the pipe is inserted, then tightened by means of a clamp) or for quick coupling of different other models. Be sure to choose the screw size to match your faucet.
Quick coupling
---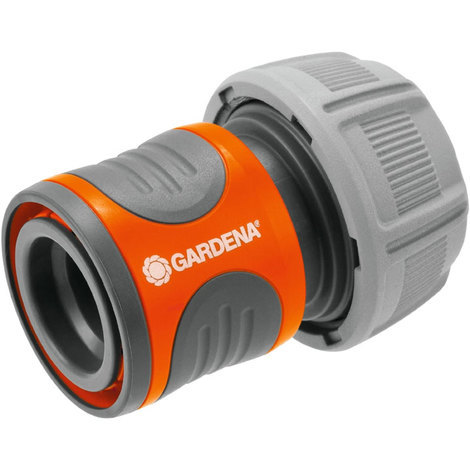 A single click and this fitting is connected to the tap connector! A quick coupling is chosen according to the hose's diameter (15 or 19 mm). The male end of the valve is standard.
Aquastop quick coupling
---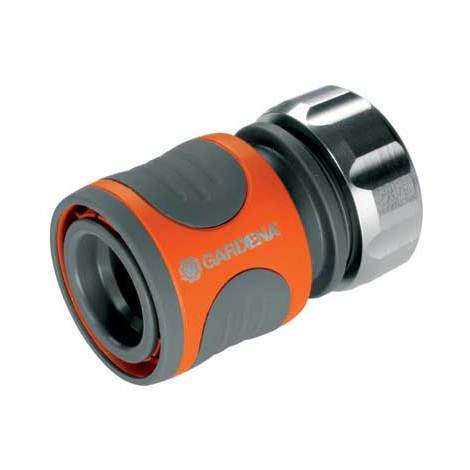 It is the same fitting as the quick coupling except that removing the hose will result in the cessation of flow. Iddeal for placement at the end of pipe, lance or gun, or when connecting two pipes together.
Connector
---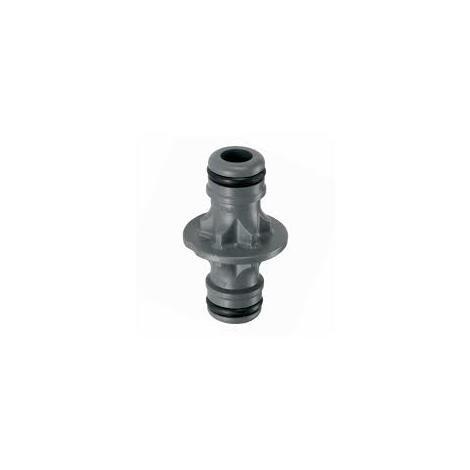 Connecting two quick connectors to each other, the connector consists of two male ends. If it is a quick coupling, two simple clicks and both are connected. If you're working with barbed tips, be wary of the pipes' diameter.
Splitter
---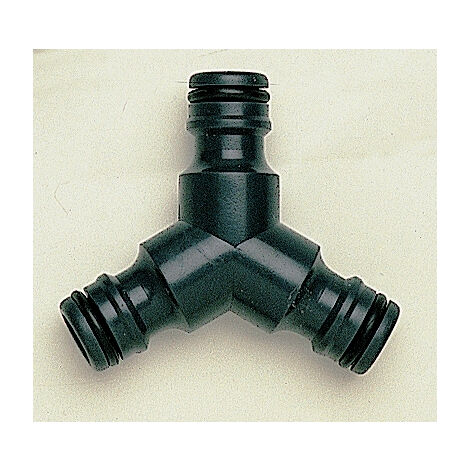 Splittler connectors allows one pipe to feed into two more. Stop valves can be used to switch off the supply of one or both water supply lines. They are designed for both quick-coupling and barbed fittings.
4 way converter
---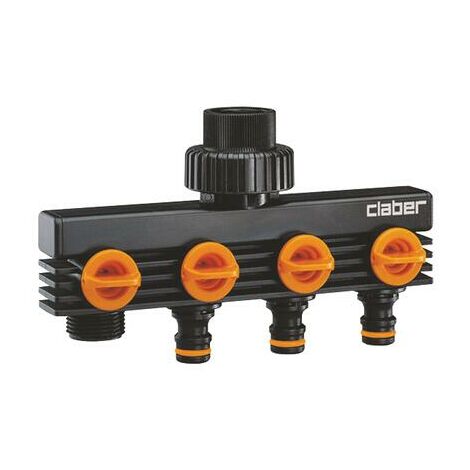 A splitter offering more than three branches and prodiving the possibility, via independent stop valves, to simultaneously juggle with the number of feeds. A converter is designed for both quick and barbed fittings.
Repair valve
---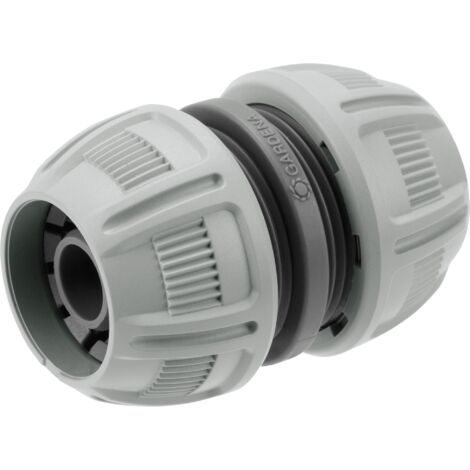 Indispensable for repairing two pipes of identical or different diameter. The ultimate in convenience. A repair valves can be screwed (plastic) or barbed (clamps are preferred with stainless steel,  but they have the same role as the barbed connectors).
Lance
---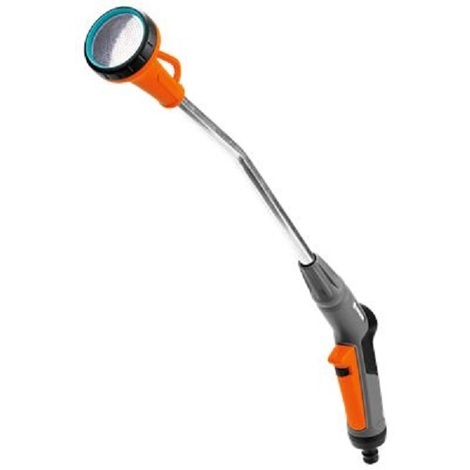 Available with both light and heavy spray, the watering lance is essential for watering your plants on a foot per foot absis and is designed for watering less than cleaning. It can be short or have a pole with a handle at its end.
Gun
---
A spray gun offers several modes of spray and is suitable for watering plants as well as for cleaning garden furniture.
High pressure lance
---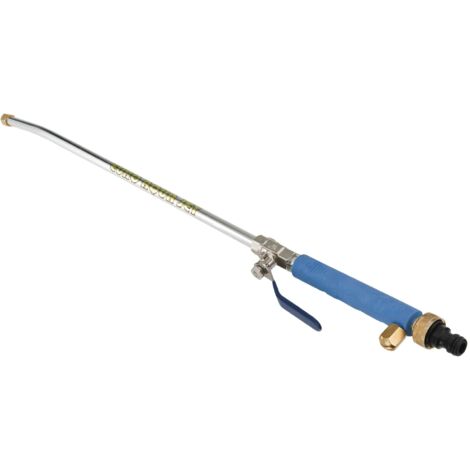 High-pressure lances effectively replace the use of a high-pressure cleaners for minor cleaning jobs.
Your fittings should be selected according to the thread size, the diameterof the pipe, the material and the connection you want (modular = quick couplings, fixed = barbed connections). And do not forget: even the best fittings can not resist to frost.
Explore the ManoMano catalog
Watering lance
What material for which fitting?
---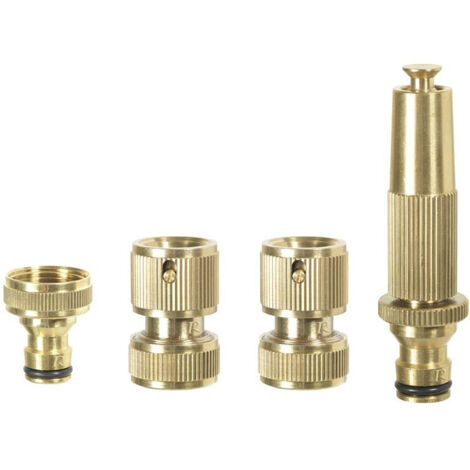 Connector fittings are generally composed of plastic, chromed steel or brass.
All the fittings listed above are available in all of these materials.
As you can imagine, the strength of the fittings depends on the material's internal properties. Following that theory,  a brass fitting is more resistant to falling or crushing than a plastic fitting.
The most elaborate fittings can be composed of a combination of two materials. In this case still, it is important to be wary of the quality.
Maintenance of fittings
---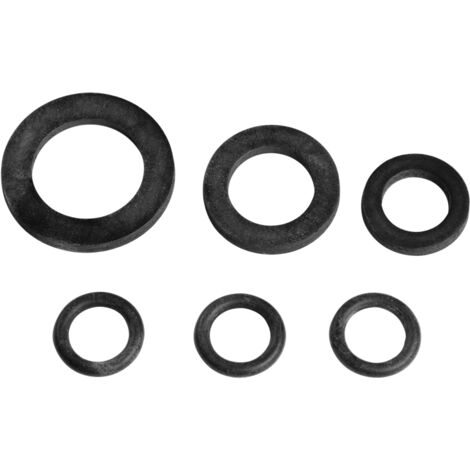 The seals are mainly replaced on the male ends of the lances, guns, connectors and tap connectors for quick couplings - it's the small O-ring placed at the base of the connector.The tap connector has a flat rubber gasket in connection depending on the tap- in 1/2 '' (15 x 21 mm) or 3/4 '' (20 x 27 mm).
Dailymaintenance is required, simply assuring that your fittings are not walked on or worse, crushed with the car.
Remember to store them in the winter and especially to expel all the water from your lances and guns.
Explore the ManoMano catalog
Tap
What are the different fitting sizes?
---
Pay close attention here, as selecting right size is a crucial step to choosing your tap connecter. You have the choice between 15 x 21 mm; 20 x 27 mm and 26 x 34 mm, ie 1/2 ", 3/4" and 1 " (expressed in English metric system, in inches).The most common fittings are 15 x 21 mm (inside diameter 16.1 mm) and 20 x 27 mm (inside diameter 21.7 mm).The male/female principle is also in full use.Quick connect connectors are standard as are the majority of repair valves which can accept both 15 and 19 mm pipes.If you choose screw fittings for the barbed models, make sure that the pipe's diameter and the sizes and type (male or female) of the different threads are correct.
Tips for choosing and using
---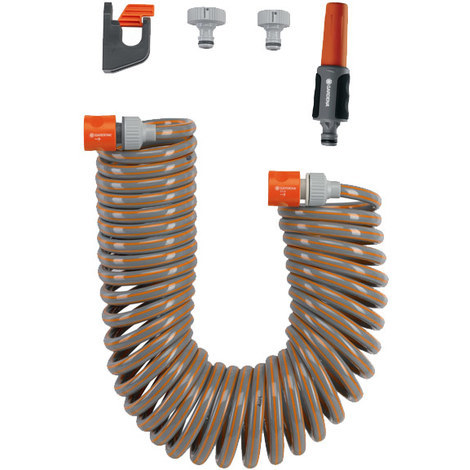 Always go for the connectors with materials of the same kind.
Be aware of sizes and type if screwed fittings are used.
The use of stainless clamp is highly recommended for your barbed fittings.Give the advantage to the practicality of Aquastop fittings.Complete your installation with a sprinkler and save money with a sprinkler timer or programmer.
More Information
For anyone who is simply curious or garden afficianatos hoping to increase their comfort level, follow the links below to hose-related accessories, advice from our editors, and more guides:
How to choose your water shut-off valve?
How to connect PVC hose to an installation?
How to choose your lawn?
How to choose your synthetic grass?
When to prepare your seedlings?
Guide written by:
Sebastian, self-taught DIY-er, Exeter, 216 guides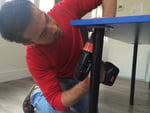 Redo a roof with wooden beams? Check.Advise Mister everybody in the DIY shop? Check.Redo the bathroom plumbing? Check.Fit together, build the walls, paint a partition, throw my hammer in a rage thinking that it will fix the problem? Check. The DIY motto ? Learning is better than delegating… well, it's also a question about your wallet! The satisfaction? The beer at the end of the job! What do the best have in common? The influence of Gyro Gearloose, Mac Gyver and Carol Smiley depending on your generation, a good dose of curiosity, a average hand-eye coordination and a taste for risks… and if it doesn't work, try again! Advise you? I'll do my best!
The products related to this guide