Watering can and sprinkler buying guide
Guide written by: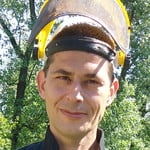 Jeremy, construction site supervisor, Cardiff
128 guides
Whether it's for your veg garden, your flowerbeds, your lawn or your pot plants, watering is essential. Manual or automatic, good watering is about making the least water go the furthest possible! But what equipment will you need? Let us give you the full rundown.
Important features
Oscillating
Sprinkler
Automatic
What's the simplest watering technique?
---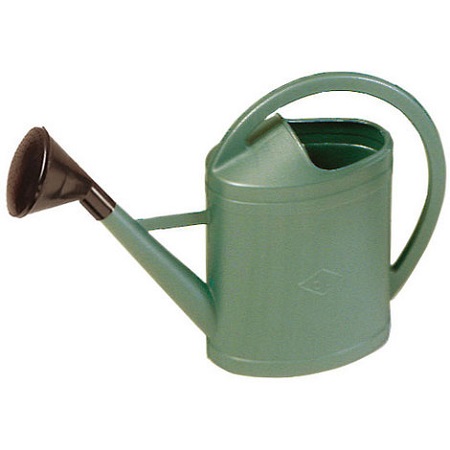 As you'd expect, the easiest way to water any plant is to use a watering can. Suitable for pots, planters or small-area beds, a can is the best solution for small-scale watering. There are several different types that might choose to suit your particular needs.
Garden watering can
Made of plastic or galvanized steel, volume is generally around 10 litres, but can go up to 15 for the largest cans. Equipped with a wide handle, these cans are easy to use. Adaptable with a sprinkler head for a more distributed flow. Great for watering the base of large plants, vegetable plots, flower borders etc.
Balcony watering can
An exact replica of the garden can, but reduced in size! Volume is only 3-5 litres, making it well suited to smaller spaces (balconies, patios) and window boxes, tubs or planters.
Indoor watering can
For plants in the living room or kitchen, there's no need to get water everywhere! This type of
watering can
is particularly
suited to small pots or trays
. Made of plastic, stainless steel or brass, its volume is around two litres and it has a long, thin neck (doesn't take a sprinkler head).
Explore the ManoMano catalogue
Watering can
What is automatic watering?
Without going into the intricacies of a drip irrigation system, if you have a lot of land, lots of plants or long borders, a watering can won't be the ideal solution! For efficient watering with the least wastage, you'll have to set up an automatic system.
The majority of
surface systems
(as opposed to underground automatic irrigation systems requiring heavy earthwork) can be
connected to a water point
with a hose
. Water can be sourced directly from your domestic supply, or it can be
pumped
from a rainwater collector (water quality is often better because it's untreated).
For
completely automatic operation
, you can set up a
timer
so that watering starts and stops at present times. Depending on the layout and nature of the plants you want to water, there are several different automatic watering methods.
Oscillating sprinkler
---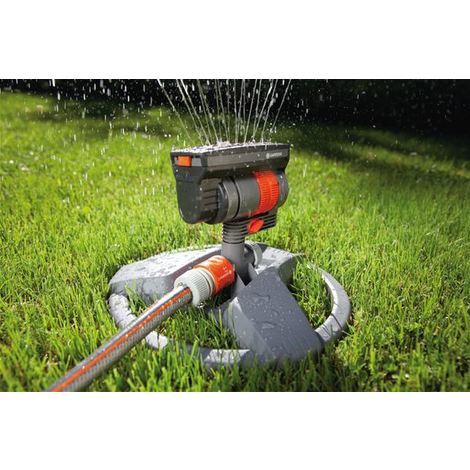 This is the most widely used type of automatic sprinkler. It is mainly intended for watering
rectangular areas
. Thanks to the pressure of the water supply, it
distributes water in a "fan" formation
- several streams covering the area in question. Some models offer the option of adjusting the width and length of the jets to
maximize watering
of the target areas. Oscillating sprinklers aren't very well suited to non-rectangular areas (borders, flowerbeds etc.).
Sprinkler
---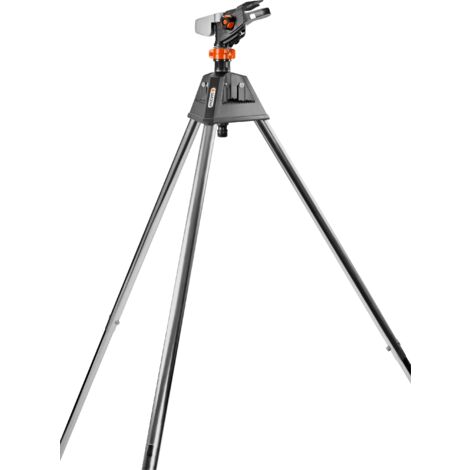 Ideal for lawns because the surface to be irrigated is uniform. The majority of sprinklers can be
set to spray water in a straight line
(in front of them),
or in a circle
(all around them). The length of the jets is also adjustable. This type of equipment produces
a
watering effect similar to rain
, with the advantage of avoiding water stagnation in certain places. Thanks to several adjustable settings, it can be adapted to a range of different contexts.
Automatic sprinkler for trays and planters
---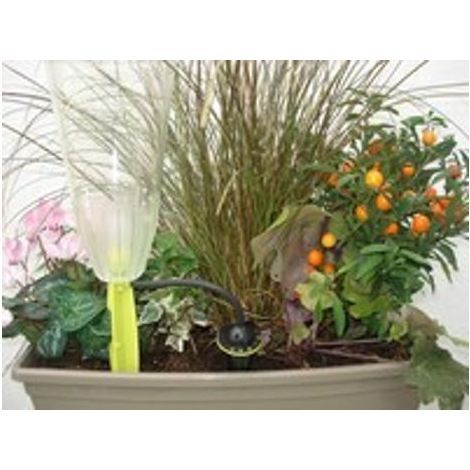 These highly efficient systems operate on the
drip
principle. To install this type of
sprinkler
, you'll need a
low pressure water supply
(just install a pressure reducing valve that lowers and regulates the pressure to between 1.5 and 2.5 bars). A supply pipe is connected to the expansion valve on one side and a drain valve on the other. This pipe is perforated with
"shuttles"
(small pipes typically 4 or 4.6mm in diameter), with drippers connected at the ends. You'll need
one or more drippers per tray
or planter
, depending on the amount of watering your plants will need. The whole setup is managed by a
controller
which regulates the watering cycle according to your desired settings.
Explore the ManoMano catalogue
Controller
Watering and maintenance tips
---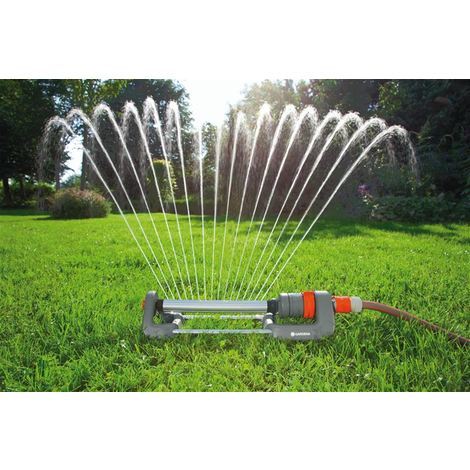 In summer,
watering early in the morning and / or at the end of the day
is preferable to prevent the sun's heat from evaporating the water before the plants have been able to absorb it.
If possible,
water large areas simultaneously
. Don't target your watering at certain plants or shrubs, to avoid asphyxiating the roots.
Choose your
garden hose
with care, along with the necessary
components
for the various connections.
For your
vegetable
garden,
water generously until harvest time
. Lack of water reduces growth, especially for legumes growing in the soil.
If you live in a particularly cold or frosty area, make sure to
drain all your pipes and sprinklers
and store them under cover over winter.
Learn more about garden maintenance...
To find out more about garden maintenance, follow our editors' advice and check out their other guides:
Guide written by:
Jeremy, construction site supervisor, Cardiff 128 guides écrits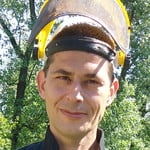 Electrician by trade, I first worked in industrial estates where I installed, wired and fixed a large number of electrical installations. After this, I managed a team of electricians for this type of work. 10 years or so ago, I turned to building and construction. From the modest family home, to gyms and theatres; I have been able to coordinate, audit and organise all sorts of construction sites.

for 4 years now, I am restaoring and bulding an extrension to a bungalow in the heart of the welsh countyside. My experience in manual work and my knowledge means I am proud to be of service. Terraces, interior design, roofing, plumbing, electricty, anything goes! We have, my wife, daughter and I, built almost everything we have from scratch! So to answer all of your questions, and to orientate and advise you on coosing your tools? Easy!
The products related to this guide