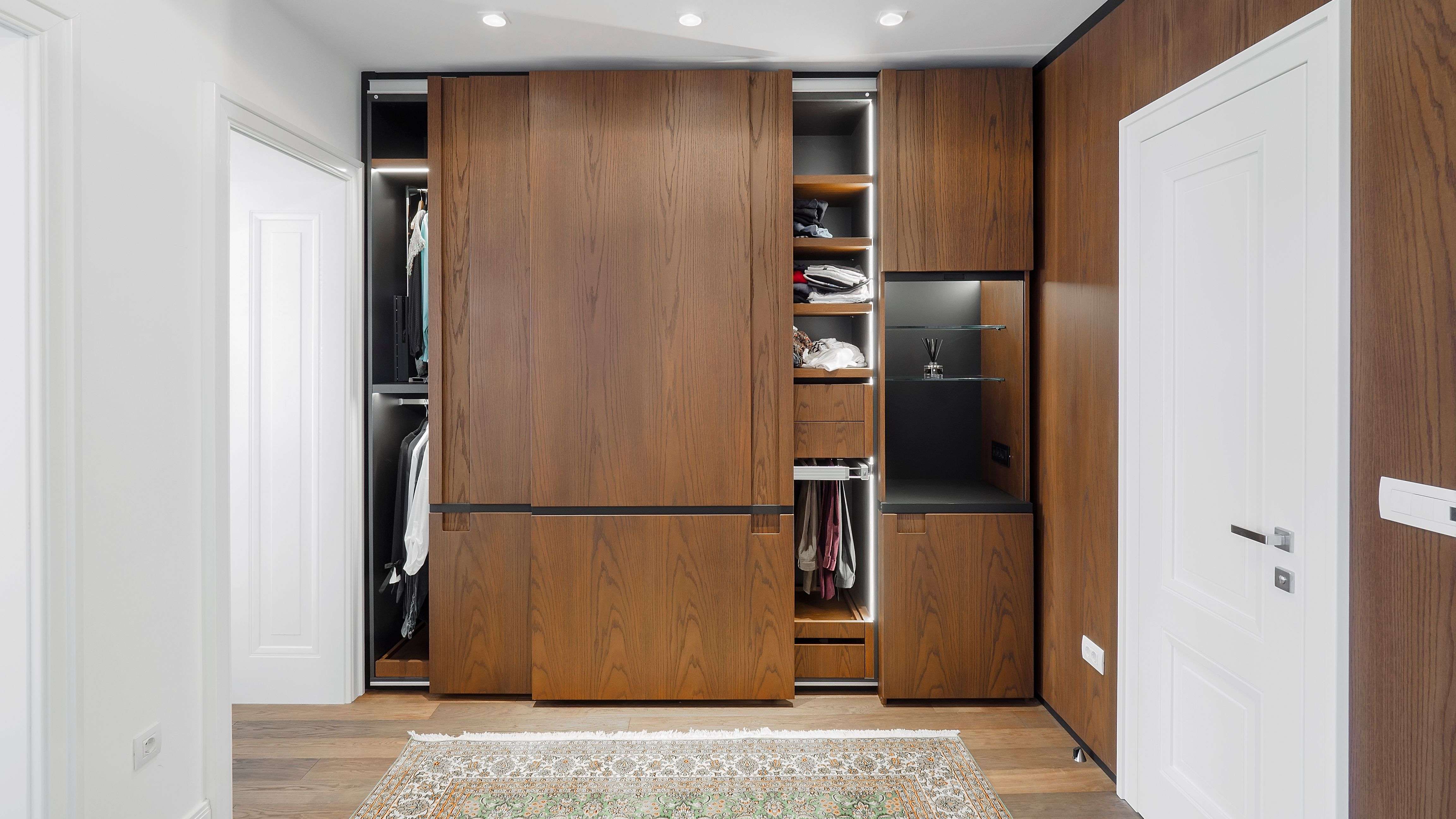 Wardrobe door and accessories buying guide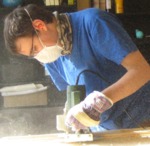 Guide written by:
John, DIYer & IT developer, Brighton
71 guides
The best way to finish off your wardrobe is by installing the perfect door! It's both an aesthetic and a functional element that contributes to the overall look of the room. By opting for sliding doors, you can have easy access to your wardrobe even in cramped areas.
How do sliding doors work?
---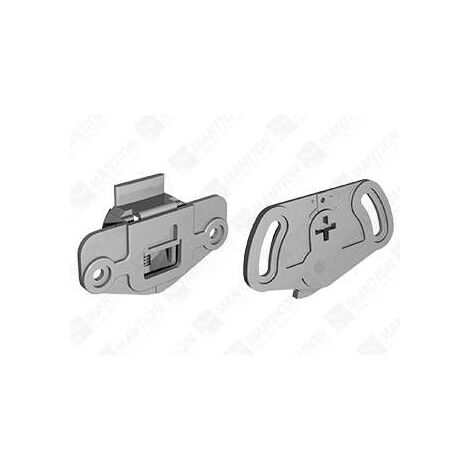 These doors consist of several panels which are guided in their travel by mechanical rollers. There are two types of sliding doors: floor-mounted and suspended.
Floor-mounted
Rails are fixed to the ground for the door rollers to slide along. The doors are guided at the top by casing or rails.
Suspended
Rails are fixed at the top of the door, along which the doorframes slide. Guides fixed to the floor keep the doors perfectly vertical while remaining discreet!
How are sliding doors sold?
---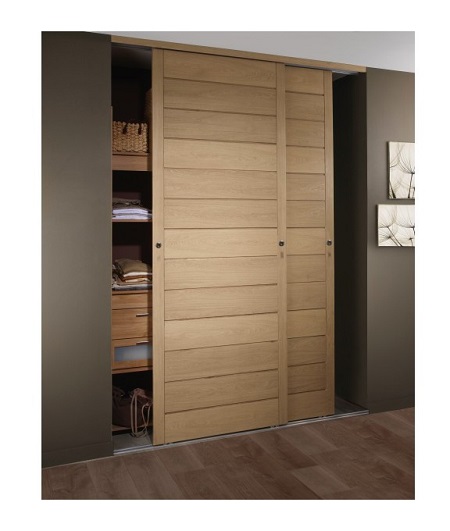 The simplest way is to buy a complete kit containing panels, rails and rollers.If the available styles or sizes don't suit you, you can instead purchase the rails and rollers separately. However, you'll need to ensure that the different components are compatible and that your door panels, homemade for instance, can also be combined with them.Two things to watch out for in particular are thickness and weight. You'll then need to buy:
Rails, with connections for extending if necessary;
Doorframes whose wheels allow smooth, easy movement of the doors.
Explore the ManoMano catalog
Rails and rollers
Retractable or overlay door?
---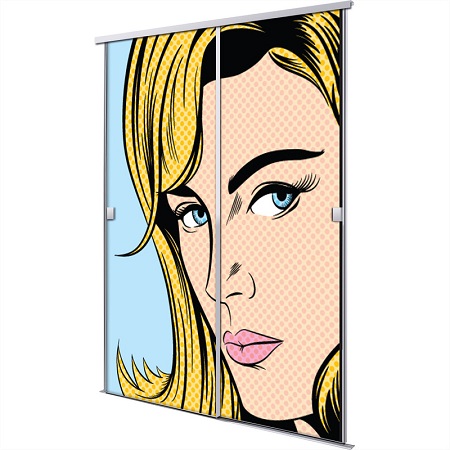 Traditional installation of sliding wardrobe doors is limited by the two side walls of the wardrobe. With a two-panel opening, one panel always stays in the way of accessing the contents of your wardrobe.
You can get around this constraint if you have on either side of your wardrobe a width greater than that required for your door panels, and if your budget will allow it. Depending on layout, you might want to choose retractable or overlay doors.
Retractable doors
The doors slide right out of the way, literally through the wall. In order for the magic to work, you need to choose frames that will fit easily in the available space so as to accommodate the finished doors without issue. It can be an attractive possibility in new-build or complete renovation.
Overlay doors
The rail supporting the panels is fixed on the wall and the doors slide in front of it. This means keeping the area where the doors slide completely clear. It is a fairly easy solution to implement in light renovation.
Explore the ManoMano catalog
Wardrobe
What are retractable doors made of?
---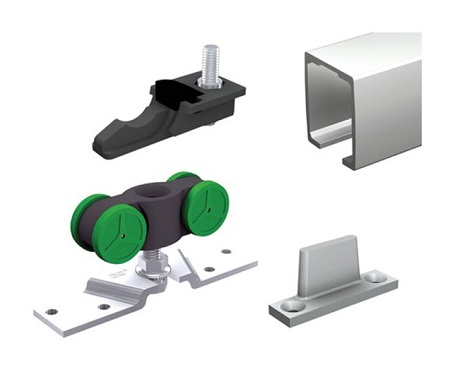 For this type of door you'll need to buy door frame kits. These contain everything necessary for installating a retractable door:
A metal box to mark out the door space in the open position. This is then covered on both sides with plasterboard;
A rail to be fixed at the top of the opening, along with the relevant hardware;
Frames for hanging the door on the rail;
Stops for limiting the door's travel;
A floor guide to keep the door perfectly vertical.
And then you'll just need to choose the door itself and a finishing kit to complete the 'wall' effect. Besides the opening dimensions, it's important that the rail can support the weight of the door and that the door thickness is compatible with the frame. Generally, this thickness is 40mm. The containing wall and door frame together make up about 100mm on current models.
Overlay doors
Apart from the lack of frame, these kits are very similar to those described above for the retractable type. The rail is visible; its aesthetic impact should therefore be considered.
Explore the ManoMano catalog
Door frame kits
Solid wood, panelled, lacquered glass or mirror doors?
There are three main types ofdoor finish to choose from according to your tastes and existing interior decor.
Wooden doors
---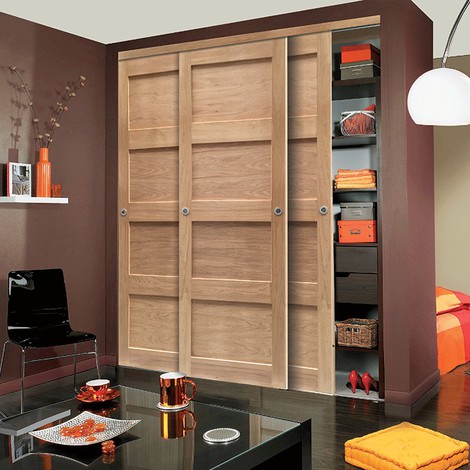 These are made of solid wood and come in a variety of different styles, from the rustic to the ultra-modern. Sold raw, they give you a choice of wood finish. Solid wood can of course be heavy.Models without handles allow to match these to the rest of your decor. Height can sometimes be modified by a few centimeters.
Decorative panels
---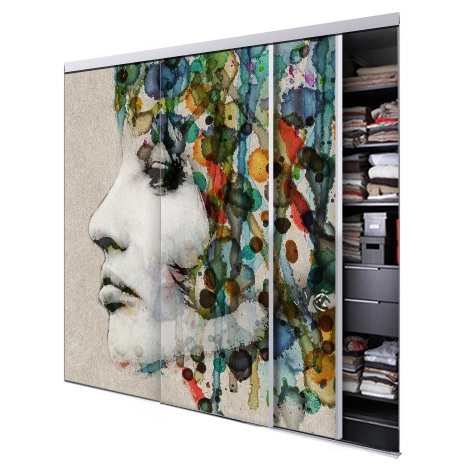 These doors are made of melamine panels held between steel or aluminium edging pieces that have a dual function: they both provide a finish to the door edge and serve as handles. These doors can easily be cut down to size. They can be pre-decorated or plain.
Lacquered or mirrored glass doors
---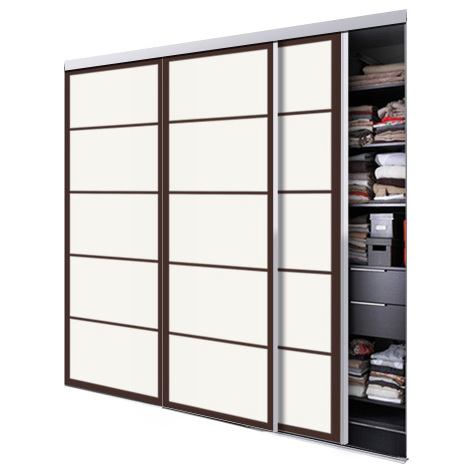 Highly valued for their aesthetic qualities. They reflect light, which opens out smaller rooms and brightens dark spaces.It can be very attractive to finish off your dressing table with a mirror door. Be careful though, as glass plates weigh a lot and depending on the doors you choose, they can't always be cut to size.
Wardrobe door accessories
---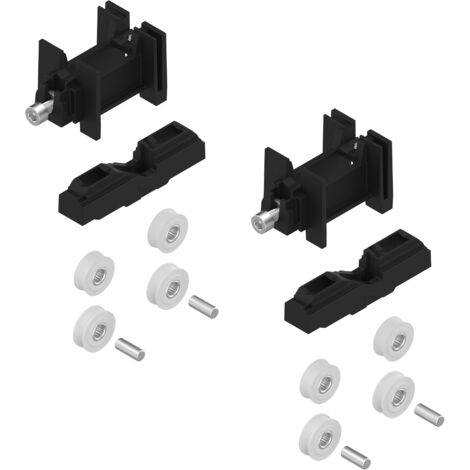 Manufacturers offer some handy accessories to help you when installing your sliding doors.
Attic and understairs adaptation kits
These let you install the upper rail perfectly horizontal despite the sloping ceiling. Simply adjust the adapters, install them, fit the upper rails and lay a finishing plate.
Synchronization kits
Designed for double-panelled retractable or overlay doors. This ingenious system of pulleys connected by a wire makes lets you synchronize door opening. Push the left door, and the right door opens at the same time, and vice versa. Wow!
Adhesive felt
Sticky adhesive felt helps protect your possessions from dust.
Rail cover
Lets you conceal the top rail if you don't like the look of it.
Final advice for choosing
---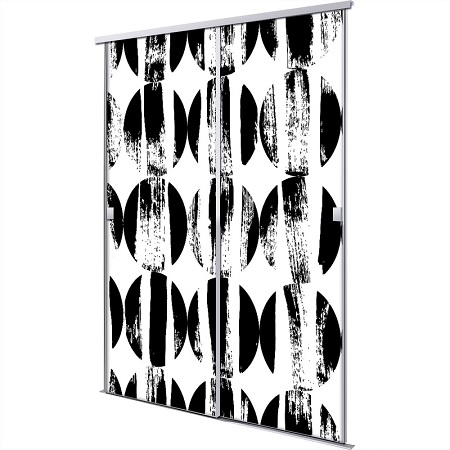 With the dimensions of your wardrobe to hand, you can narrow your choice down to doors with the right dimensions.
A complete kit will make your installation job much simpler. Custom installation, on the other hand, offers greater flexibility and allows you to make your mark on your project.
Retractable doors, although more expensive and complex to install, are an elegant solution for full access to your wardrobe.
Keep in mind that high-end products, besides their superior styling, are also stronger, more durable and easier to adjust, which is a big advantage for frequently used doors.
Guide written by:
John, DIYer & IT developer, Brighton, 71 guides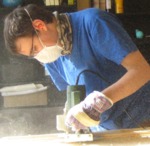 Since I was a child, I was always interested in manual and technical works. Always fascinated by woodworking, I took advantage of my first flat as a playground. On the cards: electricity (of course, safety first!) and some partition walls; but also decorating with the help of the missus, made-to-measure furniture and little tricks to optimise the space, all the while remaining as original as possible. When the little one arrived, I started building bits and pieces for him! Lacking space, I have not got a permanent workshop and certain tools I dream about but are not part of my collection. Not to worry, I already know a lot about DIY and I have a high-tech profile that I hope will guide you in your decisions!
The products related to this guide