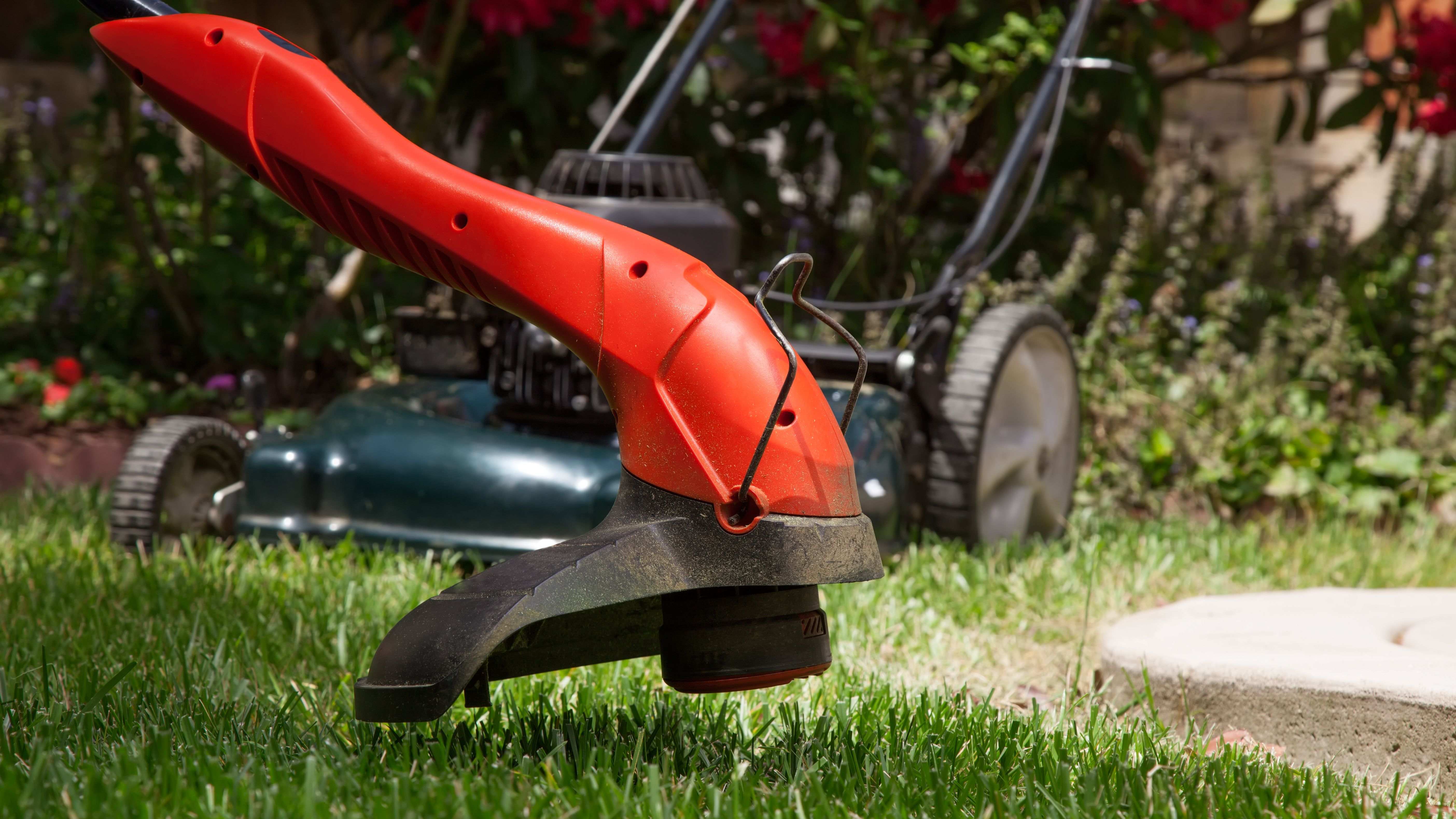 Trimmer buying guide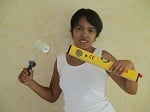 Guide written by:
Holly, self-taught DIYer, Cardiff
22 guides
Cut the grass in your garden, trim your paths and neaten your shrubs - a trimmer can do it all. A battery-powered electric trimmer is ideal for small-scale work; a more powerful petrol model is better for intensive use. Read our handy buying guide to avoid getting your wires crossed!...
Trimmers: electric or petrol?
---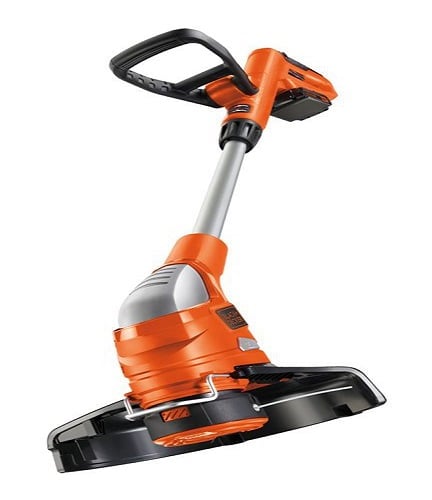 First, let's have a look at the differences between the two main types of trimmers.
Electric trimmer
The electric trimmer has a power rating ranging between 300 and 1000W. It can be cordless, working on a battery, or with a cable that requires you to run an extension cable outside.
Petrol trimmer
The petrol trimmer is more powerful - between 700 and 1000W. It can have two types of engine, either 2- or 4-stroke. 4-stroke trimmer engines combine separately supplied petrol and oil, whereas 2-stroke models take a premixed fuel.
Explore the ManoMano catalog
Extension cable
What type of trimmer for what type of terrain?
---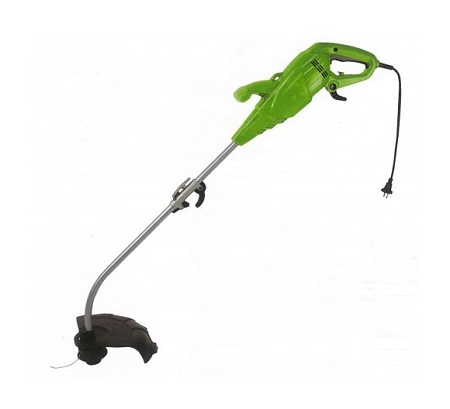 The terrain is the first factor to consider before you buy. This will help you sort quickly through all the available trimmers. To begin with, if you'll be working near a power source, and over a relatively small land area (under 250m²), you can use a mains-operated electric trimmer with no bother. If you don't have a socket handy, you'll need a cordless trimmer. Depending on garden area and nature of trimming, you then have a choice between battery- and petrol-powered models (petrol highly recommended beyond 250m²).
Regular garden maintenance
Regular garden work requires an electric trimmer of around 300W, for small areas under 60m²; clearing dense grass and weeds requires a 400–700W model.
Trimming small brush
For small brush and shrubs, choose between a petrol trimmer or an electric model of minimum 700W power rating.
Intensive trimming
If your garden is overgrown with tall, denseweeds or thick shrub cover, a more powerful strimmer is recommended, power rating 1–3kW.
Grass trimmers: what's the difference?
Trimmer
---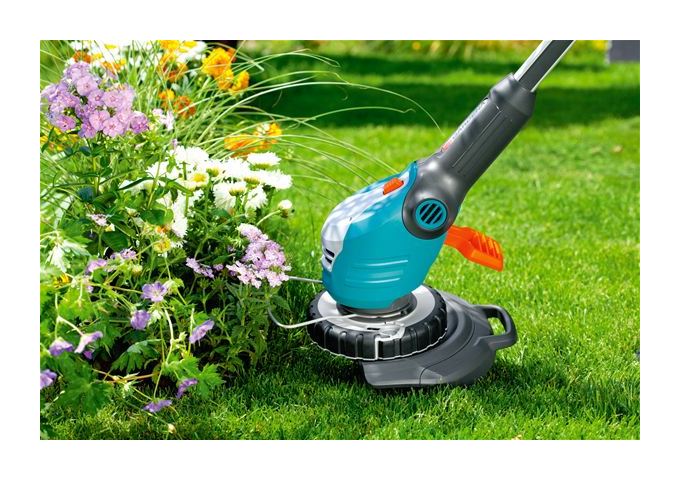 The trimmer is lightweight, has its engine at the bottom and is particularly suited to finishing / edging work; it tends to be electric and is operated with one hand.
Grass trimmer
The grass trimmer is heavier, more powerful, its engine is on top and it may have a harness for greater user comfort. A grass trimmer can be substituted for a strimmer and generally has a petrol engine. Poles apart from puny entry-level trimmers!
Explore the ManoMano catalog
Strimmer
What model of trimmer to choose?
---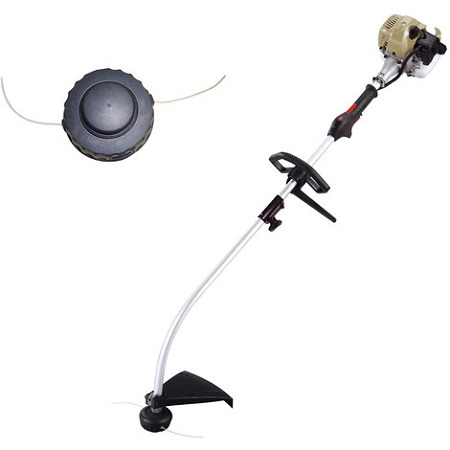 Electric trimmer
If you're looking for a very lightweight machine, the mains-powered electric models are the ones to go for - weighing on average just 1.6–3.5 kg. Battery models can weigh up to 1kg more due to the added weight of the battery. Also bear in mind that batteries will takes 45 minutes to 3 hours to fully charge. Once charged it will work for 30–60 minutes, depending on the model. An 18V battery should be sufficient for working on a garden under 400m² in size; beyond that, you'll want a chunkier 36V battery.
Petrol trimmer
Petrol models have a greater cutting capacity, being up to 430mm diameter compared to just 250mm on average for electric models. Their cutting effect is doubly robust because of the more powerful engine, plus they free you from having to recharge batteries and are just as handy. Petrol trimmers are recommended for large areas of land susceptible to tough grass and undergrowth.
Explore the ManoMano catalog
Battery
Petrol trimmers: 2- or 4-stroke engine?
---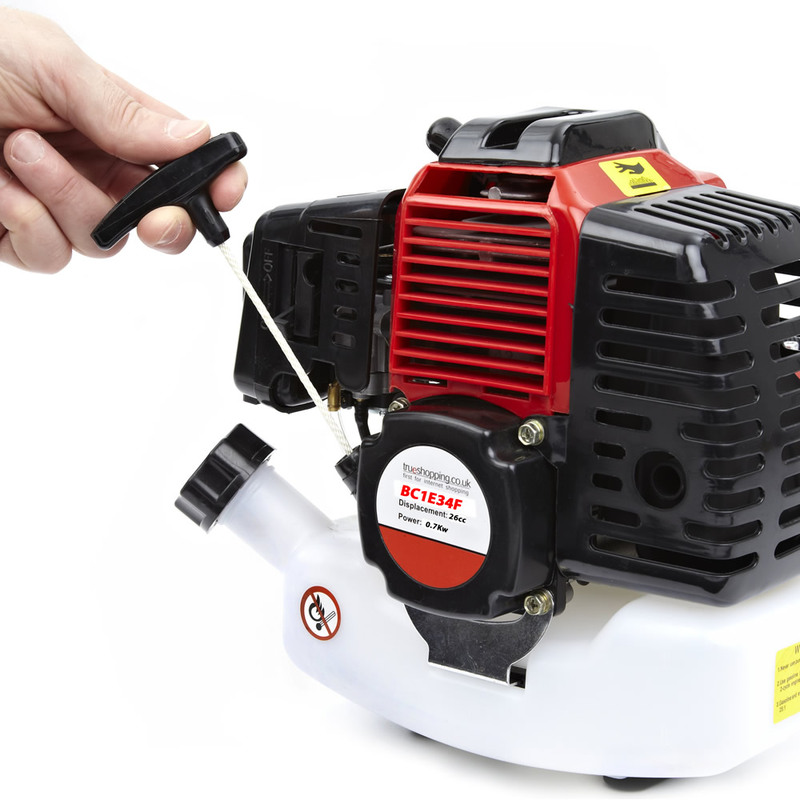 From a performance point of view, the 4-stroke engine is more powerful than the 2-stroke. It also has the advantage of being more environmentally friendly. The principal advantage of the 2-stroke engine is its slightly lighter construction.
Whatever the model, petrol machines can make a lot of noise, so aren't ideal in heavily built-up areas. Don't crack it out early on a Sunday morning if you want to keep your neighbours onside! 4-stroke engines are reserved for the most intensive trimming work, essentially strimming rather than small-scale edging etc. They can be ruled out if you're just thinking of a small, tidy lawn, but are worth consideration for long-neglected grass.
Trimmers: wire or plastic blades?
---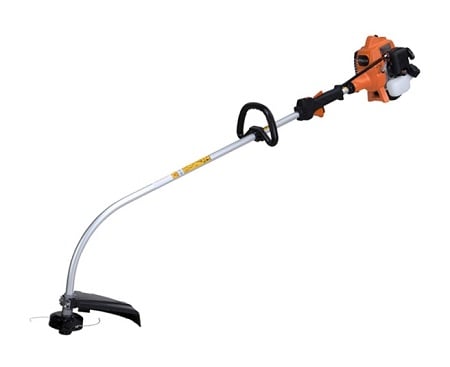 Trimmer cutting head
The key working part of trimmer is its cutting head. This either has a series of plastic blades or a length of nylon wire. Petrol trimmers can take blades - these are best suited for clearing brush or dense, tough grass. A wire model cuts through vegetation due to the wire's high rotational speed.
Round or square wire?
The wire option has the advantage of lightness and variety of choice in terms of sizes and brands - the thicker the wire, the less likely it is to break, hence the more economical. Wires are sold in reels of length 5–15m and width 1–3mm. The wire may be round or square in cross-section: round works well for soft grass, while square is better for tougher vegetation. Blades are only available on certain models of trimmer. Of course, these are made of solid plastic! Some trimmers, or rather strimmers, are however versatile and can take either type of cutting head.
Wire maintenance
The wide feed system can either be:
Manual - as soon as the wire gets too short, you have to extend it manually;
By tapping the ground ("tap & go") - the wire extends automatically with a simple tap of the cutting head on the ground;
Automatically - when the wire gets too short, it automatically extends until the reel is exhausted.
Explore the ManoMano catalog
Strimmers
Trimmers: what accessories and options are there?
---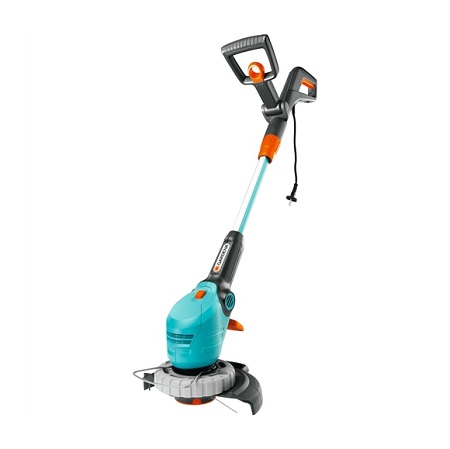 Now you've got an idea of what trimmer to get, here are some top tips to improve your trimming experience. Wherever possible, choose a trimmer with:
a sturdy handle for improved grip in gloves. You can even get models with a second adjustable handle for greater comfort and balance;
a 90°swivel head for easier access in tight corners, allowing you to cut both horizontally and vertically;
a telescopic handle that lets you adjust the length of the trimmer to suit your height (handle length 80–114cm);
a more comfortable starter switch to prevent cramping of the hand in case of prolonged use;
a stop to protect tree trunks and shrubs;
a trimmer guard to catch dangerous shrapnel and to stop clumsy users from laming themselves! Either way, make sure you have appropriate boots and either goggles or a visor. And so you don't drive yourself mad, get some kind of hearing protection too!
Learn more about garden maintenance...
To find out more about garden maintenance, follow our editors' advice and check out their other guides:
How to choose your protective gloves?
How to choose your protective eyewear?
Guide written by:
Holly, self-taught DIYer, Cardiff, 22 guides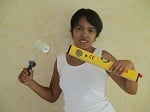 First of all, my studies have nothing to do with decoration or DIY as I was specialised in management. My passion in DIY started 5 years ago (very recently!) Everything started when we bought a house to renovate from floor to ceiling. As I'm a self-taught person, I started working on different house project both inside and outside. My husband helped me but the student soon overtook the teacher! And as there are a lot of green spaces in Creuse, gardening tools have no secrets for me. My friends and family often come to me for advice when it comes to DIY. Today, I want to share this with you!
The products related to this guide