Trestle buying guide
Guide written by: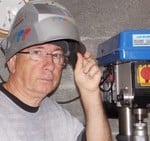 Michael, Professional and passionate welder, Sheffield
63 guides
Trestles come in wood, metal or plastic. They can be folding, fixed or adjustable and can support work surfaces or tables and desks. For builders and architects, at home or in the workshop, trestles have many uses.
Important features
Use
Size
Weight supported
Stability
Material
What is a trestle?
At one stage a trestle had to be assembled from four or five pieces of timber or several welded tubes. This structure serves an important function in building and renovation work since it can support a work surface formed of planks or boards.
A trestle is essentially a support
in the form of an inverted V. Its strength depends on the material used and its height varies according to use.
Today, engineers and designers have transformed this basic accessory into a formidable workshop aid by combining functionality with comfort and aesthetics. Trestles can now be had in virtually any shape and material. Whether it's for a table, a desk, a workstation or to hold machine tools, a highly innovative market now offers an exceptional choice of trestles.
Trestles: materials and uses


Trestles
can be used for various purposes:
In furnishing - to create a desk or side table;
To create a work surface, along with a robust top board;
For work access, supporting small scaffolding structures.
They can also be classified according to their materials:


Wood is the most traditional, and can easily be repainted;
Steel or aluminum combine lightness and robustness;
Synthetic materials such as resin or polypropylene.
A variety of options are viable for each use, provided you bear in mind the following: your trestle(s) must be appropriate to the weight you want them to support and sufficiently stable.
What type of trestles to choose for furniture?
Depending on the sturdiness you require, choose between:
Wooden trestles, with pine legs and galvanized metal joints - relatively inexpensive;
Single U-shaped trestle to optimize floor space - limited in size;
Metal X-shaped trestles - adjustable and robust;
Height-adjustable aluminium trestles for taller users;
MDF trestles for a more stylish appearance.
What type of trestles to choose for work surfaces?
Trestles are useful for working at a comfortable height in any capacity - carpentry, metalwork,
upholstery
etc.
It's easy and affordable to have more than one pair of trestles in different materials, if you plan to do a variety of tabletop work.


For woodwork,
wooden or resin trestles
are recommended; for
painting work
,
wood, resin or light
metal
models can work well.
For heavier metalwork (dismantling, assembling and welding bulky components), two or more
metal
trestles
are recommended on account of their
robustness
.
You might also want to consider
adjustable stands
with
rollers or ball bearings
- useful for feeding angle irons or tubes into a bench-mounted
metal saw
, for instance. In any case,
height-adjustable
trestles
are to be preferred.
What type of trestles to choose for working at a height?
Although full-scale conventional
scaffolding
is essential for safe work at a great height,
vertically adjustable reinforced telescopic metal trestles
can make an excellent alternative for smaller jobs up to two metres above ground level.
It's highly recommended that you choose scaffolding trestles equipped with guardrails, sometimes called builder's trestles.


If you plan to use breezeblocks or mix cement on your
scaffolding platform
, make sure the
permissible load
of your equipment is sufficient to allow you to work safely. For
hanging wallpaper on a staircase
,
modular feet
work well since they can be adjusted to differing heights;
lightweight, sturdy foldable trestles
are also essential for this type of application.
What's an adjustable workshop stand?
Another useful accessory related to the trestle is the
workshop stand
.
Often consisting of a three-way foot or two parallel bars for optimum stability, a
stand
of this kind can have
rollers or ball bearings
in its top surface to facilitate the lateral movement of loads placed on top.
A folding workshop stand can be a really useful adjunct if you have limited space on your fixed workbench.
Sawing stands: a special category of trestles
And we mustn't forget to mention the essential companion to a log-saw: the
sawing stand
. How many times have you got smacked in the foot by a falling log because you don't have the right equipment, or got your chainsaw snared up in a fat tree trunk? With a
two, three or even four-section sawing stand
, you can put an end to accidents and dangerous situations.
It's up to you whether you go for wood or metal - but either way, don't deprive yourself of this hugely practical workshop accessory, especially if you work alone.
Learn more about DIY equipment...
To find out more about DIY equipment, follow our editors' advice and check out their other guides:
Did you find this guide helpful?
Guide written by:
Michael, Professional and passionate welder, Sheffield 63 guides écrits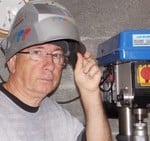 I was trained as a pipe worker and welder and worked in the industry for 15 years, going all over the UK for large-scale projects. When I decided it was time to stay closer to home - to have time for my own DIY - I took over a local metal shop and eventually went on to become head of a professional engineering firm.

I'm retired now, but I haven't stopped working with my hands. I recently built my own metalwork studio at home - a lifelong dream! I use my welding skills to make sculptures and bespoke furniture. With my studio, I managed to find a piece of paradise where I can let my imagination run wild.

I also love going around to local auctions and boot sales. I always find some interesting old object or tools that I can add to my collection or transform into works of art.

Now that I have the time, I've turned my hand to decorating, painting on canvas and gardening. I'm always developing new technologies and tools to bring my ideas to life. And I'm always happy to give others advice on how they can make their dreams a reality, too!
The products related to this guide