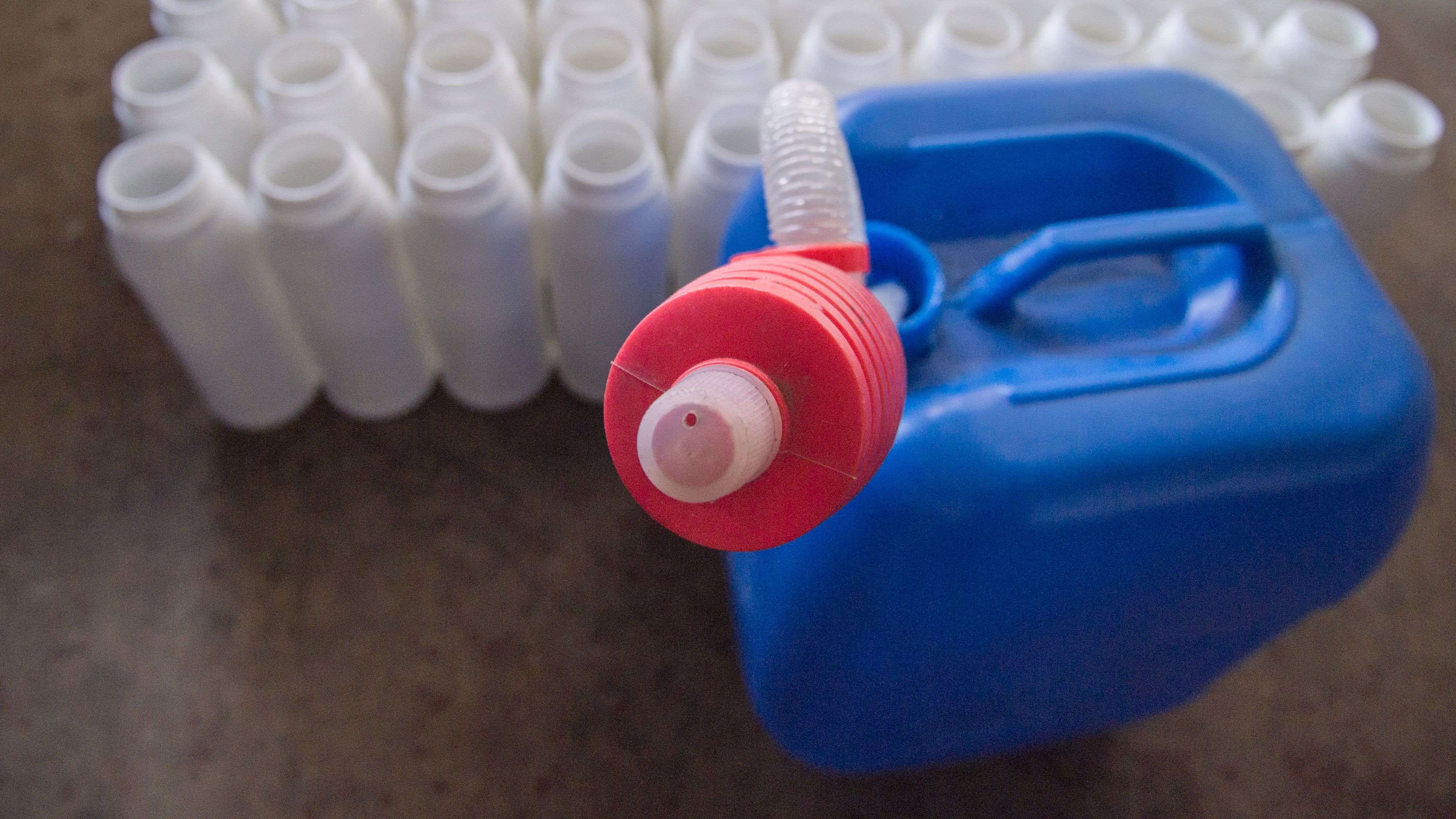 Transfer pump buying guide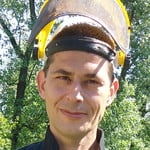 Guide written by:
Jeremy, construction site supervisor, Cardiff
134 guides
Whether you're putting fuel in your vehicle, transferring into a tank, getting oil from a barrel, or draining a tank, none of these can be done with a submersible pump. The solution? A transfer pump. Depending on your needs, manual or electric. The important thing is to choose it well.
What is a transfer pump?
---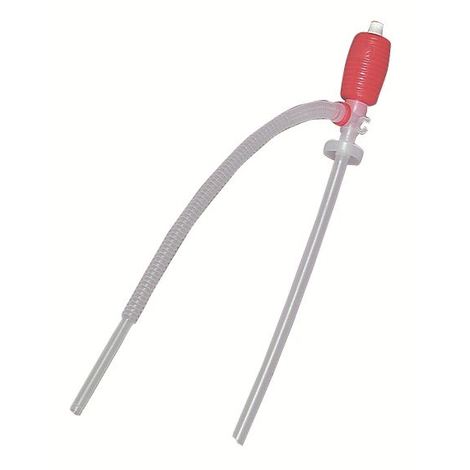 As its name suggests, a transfer pump is a water pump used primarily to pass liquid from one tank to another. Simply for water, or on the contrary for specific fluids (fuels, oils, chemicals etc.), a transfer pump is designed not to put the user in contact with liquids.The fact that the pump itself is not immersed protects its mechanism and prevents premature wear, leaks and odours. In addition, maintenance operations on this type of pump are limited.
Explore the ManoMano catalog
Pump
What are the different types of transfer pumps?
Regardless of the fluid, you need to pump, you will be using one of two main families of the transfer pump. Manual transfer pumps are reserved for small amounts of liquid. They are reliable and can be found in two simple designs.
---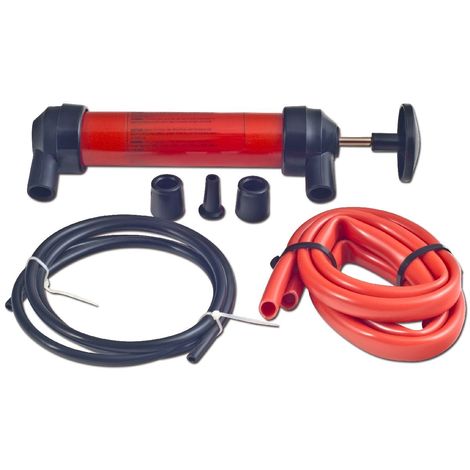 Ball pump or syphon pump
Using the basic principles of a vacuum, this is the most basic type of transfer pump. Made up of a simple pipe or tube with a ball valve attached to it, a vacuum is created either by squeezing and releasing a soft rubber ball or a hand pump.
These pumps are used mainly to transfer small quantities of fuel or water. The pipe measures between 1 and 2 m in length with a diameter ranging from 10 to 25 mm. The average flow rate of this type of pump is 30 l/m (litres per minute).Easy touse and requires no maintenance other than cleaning after use. These pumps are usually cheap but more than pay for themselves as they are a very reliable tool.The only disadvantage is that the receiver tank must be lower than the source tank to keep the fluid flowing.
---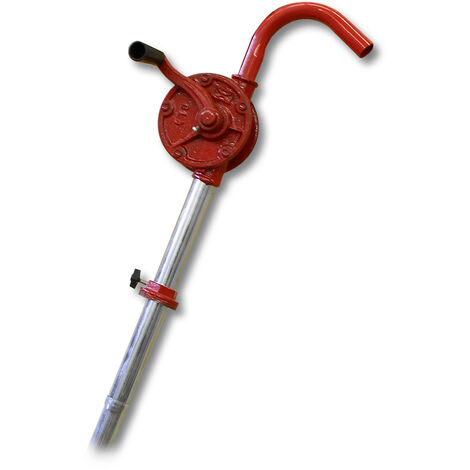 Cane transfer pump
Specific to tanks, drums, and barrels, crank or lever, they are often found in workshops. They come in various shapes and sizes - especially with respect to the diameter and length of the cane. The drum and barrel-specific models feature a 2-inch thread that is compatible with the plug standard, making the pump somewhat specific to one task.The pump body is in most cases cast iron. It is ideal for low viscosity oils, petrol-oil mixtures, or petroleum. For petrol, however, it will be necessary to verify that the model is compatible. If you have large volumes to transfer, direct your choice to a crank pump.
The average flow is about 45 l/m. If on the contrary, you have to pump small quantities, a lever is perfectly suitable, moving about 0.3 to 0.5 litres per lever pull. With a relatively simple design, this type of pump requires little maintenance, cleaning and a periodic change of joints.
---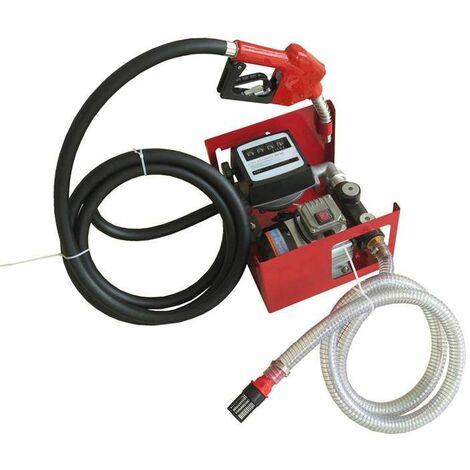 Electric transfer pump
Designed for large volumes or frequent use. Widely used in fuel stations, these pumps are also capable of transferring chemicals (depending on compatibility with the pump), gasoline, and liquidsfood products (milk, wine, etc.). They can be part of a fixed installation operating at 230 V (volts) or a mobile system between 12 V or 24 V.
For large volumes, pay attention to the power of the engine and the diameter of the suction pipes. The flow rate depends on it.
The vast majority of electric transfer pumps are self-priming, meaning that the pump body and the suction pipe do not need to be full of liquid (or air voids) for pumping to get started.If you buy a model that is not self-priming, then it is imperative that you install a non-return valve on your discharge. This will keep the liquid in the body of the pump from flowing out, otherwise, you will have to do a lot of manipulation to fill the suction and the body of the pump with each use. Depending on your needs, choose the appropriate type of pump especially if you have to transfer solvents, alcohol, or gasoline – anything with a distinct risk of combustion.
The treatment and material of thepumpbody and its moving parts (wheel, pallets) will depend on the specific model. It is strongly advised to mount a strainer on the suction to avoid clogging or blocking of the pump. Maintenance is limited but still more involved than other pump types. Check the seals regularly and make sure the electric motor is clean and lubricated- bearings, fan, terminal plate.
Usage tips
Whatever type of fluid you wish to transfer, always double-check that the pump model you have selected is suitable.When working with hydrocarbons and other chemicals, do not forget to check this information.
For stationary use, check regularly that the floor is clean and dry. This will make any leaks more noticeable and will help to prevent any accidents.Any other pumping needs you might have should be met by either non-powered pumps or surface pumps.For DIY enthusiasts interested in knowing how to choose the accessories related to transfer pumps, follow the advice of our editors and discover their Guides:
How to choose a sink dump
How to choose a septic tank and micro station
Guide written by:
Jeremy, construction site supervisor, Cardiff, 134 guides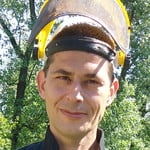 Electrician by trade, I first worked in industrial estates where I installed, wired and fixed a large number of electrical installations. After this, I managed a team of electricians for this type of work. 10 years or so ago, I turned to building and construction. From the modest family home, to gyms and theatres; I have been able to coordinate, audit and organise all sorts of construction sites. for 4 years now, I am restaoring and bulding an extrension to a bungalow in the heart of the welsh countyside. My experience in manual work and my knowledge means I am proud to be of service. Terraces, interior design, roofing, plumbing, electricty, anything goes! We have, my wife, daughter and I, built almost everything we have from scratch! So to answer all of your questions, and to orientate and advise you on coosing your tools? Easy!
The products related to this guide