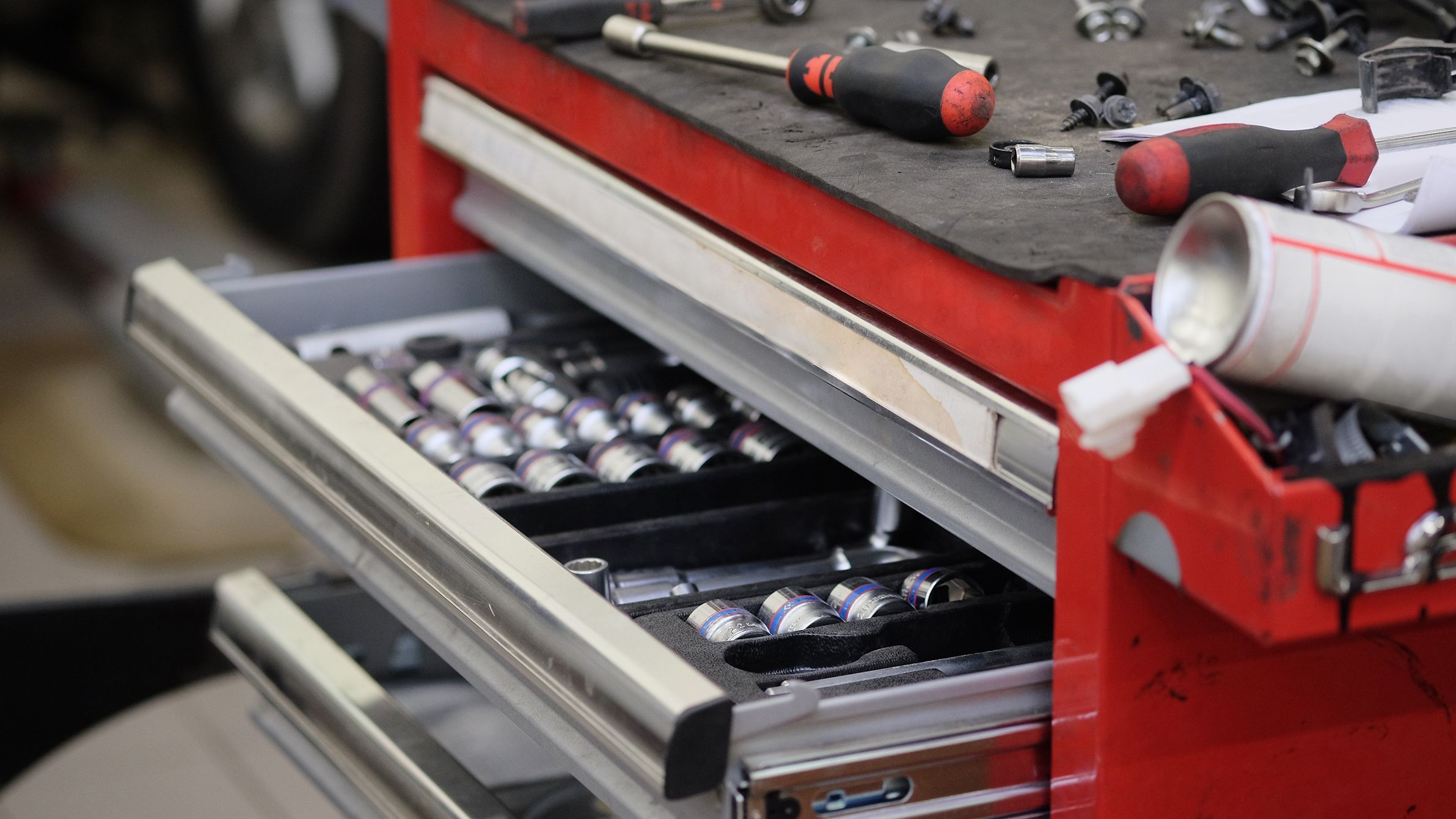 Tool storage buying guide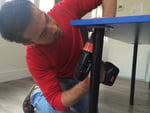 Guide written by:
Sebastian, self-taught DIY-er, Exeter
220 guides
Toolbox, toolbag or larger storage chest, the right storage solution will follow you wherever you go. In the workshop, your bolts, washers and screwdrivers will fit nicely side by side in a trolley, stand or separate storage bins. Efficient tool storage will save you bags of time.
Which type of tool storage for which activity?
---
Start by checking out any specifically tailored storage options. Many products are designed to optimize the organization of professionals' tools and equipment according to their specific needs.You'll find among the wide range of products available something designed for just the kinds of activities you perform. And if you still need some convincing, no problem - all will be explained below.
What's the best storage option for workshop tools and components?
---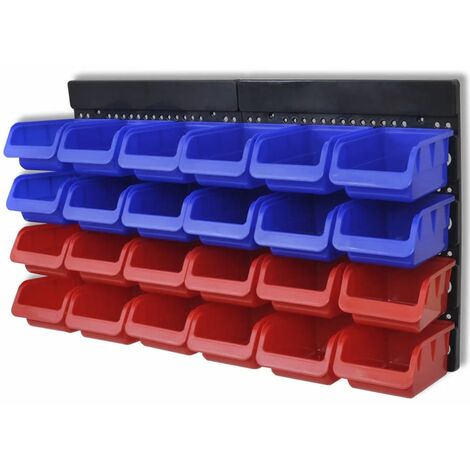 The aim is to keep your equipment neatly stored in the long term, while retaining easy access whenever you need it.
Stackable storage bins and boxes
A low-cost solution, these allow you to optimize space by maximizing storage height. Nesting boxes allow easy access to their contents - screws, nuts, washers etc., even when stacked. Finally, using colour-coded boxes adds and element of visual organization to your storage.
Fixed shelving
Lets you organize multiple storage bins at height while maintaining easy accessibility. With this arrangement, you can easily modify the layout of your storage whenever necessary.
Cabinet, chest or storage box
More expensive but much more durable and robust, these offer a good solution for storing large amounts of equipment. Generally lockable, they also provide better security for your tools.
Explore the ManoMano catalog
Nesting boxes
How do I transport my tools onsite?
---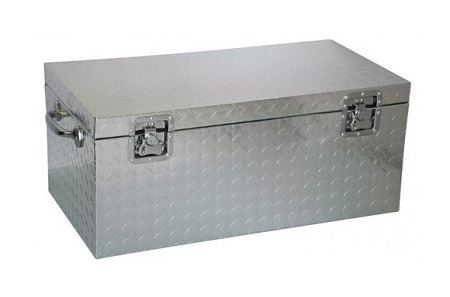 For mobility over various distances and in difficult conditions, you'll need to make a careful choice between stacking bins, toolboxes and soft cases or bags.
Stackable, pallet-compatible handling bins
For secure transport at relatively low cost, use stackable handling bins that you can pack onto a pallet and safely remove and carry.They usually have convenient handles and are made of resistant, non-deformable materials.
Toolbox
Classic toolboxes offer a proven professional solution in even the most hostile theatres of operation. They're made of very resistant materials and offer large storage volumes. Models with casters allow greater mobility with less physical effort.
Tool case or bag
Reinforced but lightweight, these also allow you to carry your tools safely and easily. Variants on wheels are also available for easy transportation.
Explore the ManoMano catalog
Toolboxes
What's the best storage option for mobile tools?
---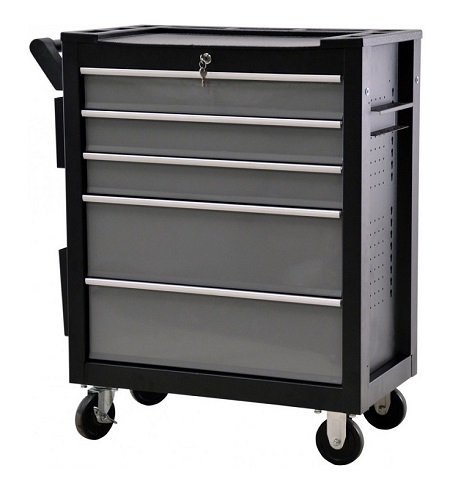 Sheet steel toolbox
If you're old school and you want a simple, no-nonsense solution, the timeless sheet steel toolbox is made for you. Durable and cheap, it will stick with you for years.
Tool belt
A tool belt or work apron allows you to keep your tools on hand. Practical for working at height or for work sites requiring frequent use of certain tools - screwdrivers, pliers etc. Work aprons also provide some protection for the wearer.
Tool bag
A more complete toolbag with a larger volume allows you to transport many tools in a highly practical way. The inside of the bag is carefully organized to compensate for overall size limitation.
Workshop stand
If you only ever need to go as far as the opposite corner of your workshop or bench, or you really need your whole arsenal on hand, a tool stand is ideal for you. Your tools are kept organized and easily accessible right where you're working. You can even get "all-terrain" stands on wheels.
Tool trolley
A tool trolley provides the same functionality as a workshop stand, except that it can be folding - a distinct advantage for moving or long-term storage.
Mobile shelving on casters
To store a large number of tools and components in your workshop while keeping them mobile, opt for mobile shelving on casters. You can hang separate storage bins on the shelves to accommodate a maximum of equipment and keep it handy wherever you are. Remember that this system has the particular advantage of being quick and easy to reconfigure according to your needs.
Explore the ManoMano catalog
Tool stand
How do I organize my workspace?
---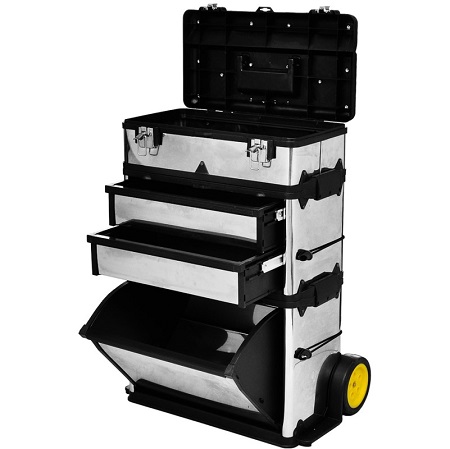 Organization, which is of course the key to working efficiently, is a crucial factor in choosing storage for your tools. You will probably want to sort, separate and make use of visual cues.
Colour-coded storage boxes
Arranged on shelves or strips and panels fixed to the wall, colour-coded storage boxes give you an overviewof your storage space while speeding up your orientation and therefore tool selection; stacking or pull-out storage boxes allow you to sort small items like screws or allen keys.
Workshop stand
Stands with multiple compartments remain popular as a complete and mobile method of workshop organization.You can organize the storage space to accommodate tools of various sizes and types. Depending on the model, it may have separable compartments, allowing you to take your favourite tools with you by removing and carrying the "storage trunk" part of your stand.
Note that the modularity of most of these products allows you to modify, enhance or expand your storage as you please. For example, you can add or take away bins from your mobile shelving, or add various accessories to your workshop stand, such as separators, additionalstoragebins or magnetictrays - great for coralling 3mm pins for instance!
Explore the ManoMano catalog
Storage
What are the key criteria when choosing?
---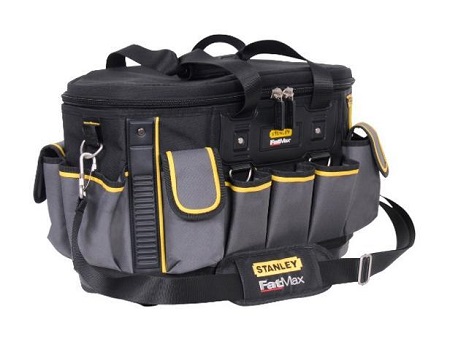 Whatever your requirements, the key selection criteria are the same.
Material and strength
Galvanised steel
Durable but heavy and corroding.
Polypropylene
Strong and reliable, shock resistant.
Bi-material
More durable and also lightweight.
Fabric
Pay attention to thickness, seams and zip quality.
Load / weight capacity
Payload
Consider the weight of equipment the storage solution will take.
Unloaded weight
Mainly for sheet steel toolboxes / stands.
Locking
If you're thinking about a workstand for outdoor use, consider a lockable option.
Work surface
On rigid toolboxes and stands, the top surface can be reinforced with galvanized steel or ABS.
Stability
Think about load distribution - applies to trolleys and stands.
Finish
Think about quality of drawer slides, presence of foam cladding, and usefulness of compartments.
Final selection tips
---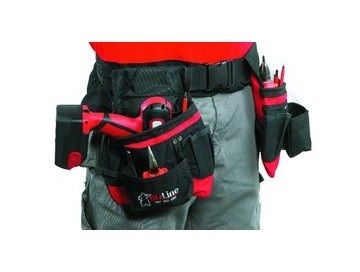 Consider your work environment: contact with water, acids, grease or other hydrocarbons will direct you towards specific, more suitable materials (such as synthetics).
Your choice of material will heavily impact the robustness and durability of your storageequipment.
Watertightness is also an important factor to consider if you're operating outdoors.
If your tools are likely to attract thieves, think about anti-burglary systems that can either be integrated into or subsequently added to your storage solution.
Learn more about workshop tools and equipment...
To find out more about workshop tools and equipment, follow our editors' advice and check out their other guides:
How to choose your screwdriver?
How to choose your protective eyewear?
How to choose your protective gloves?
How to choose your safety shoes?
Guide written by:
Sebastian, self-taught DIY-er, Exeter, 220 guides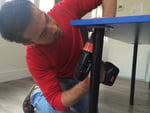 Redo a roof with wooden beams? Check.Advise Mister everybody in the DIY shop? Check.Redo the bathroom plumbing? Check.Fit together, build the walls, paint a partition, throw my hammer in a rage thinking that it will fix the problem? Check. The DIY motto ? Learning is better than delegating… well, it's also a question about your wallet! The satisfaction? The beer at the end of the job! What do the best have in common? The influence of Gyro Gearloose, Mac Gyver and Carol Smiley depending on your generation, a good dose of curiosity, a average hand-eye coordination and a taste for risks… and if it doesn't work, try again! Advise you? I'll do my best!
The products related to this guide