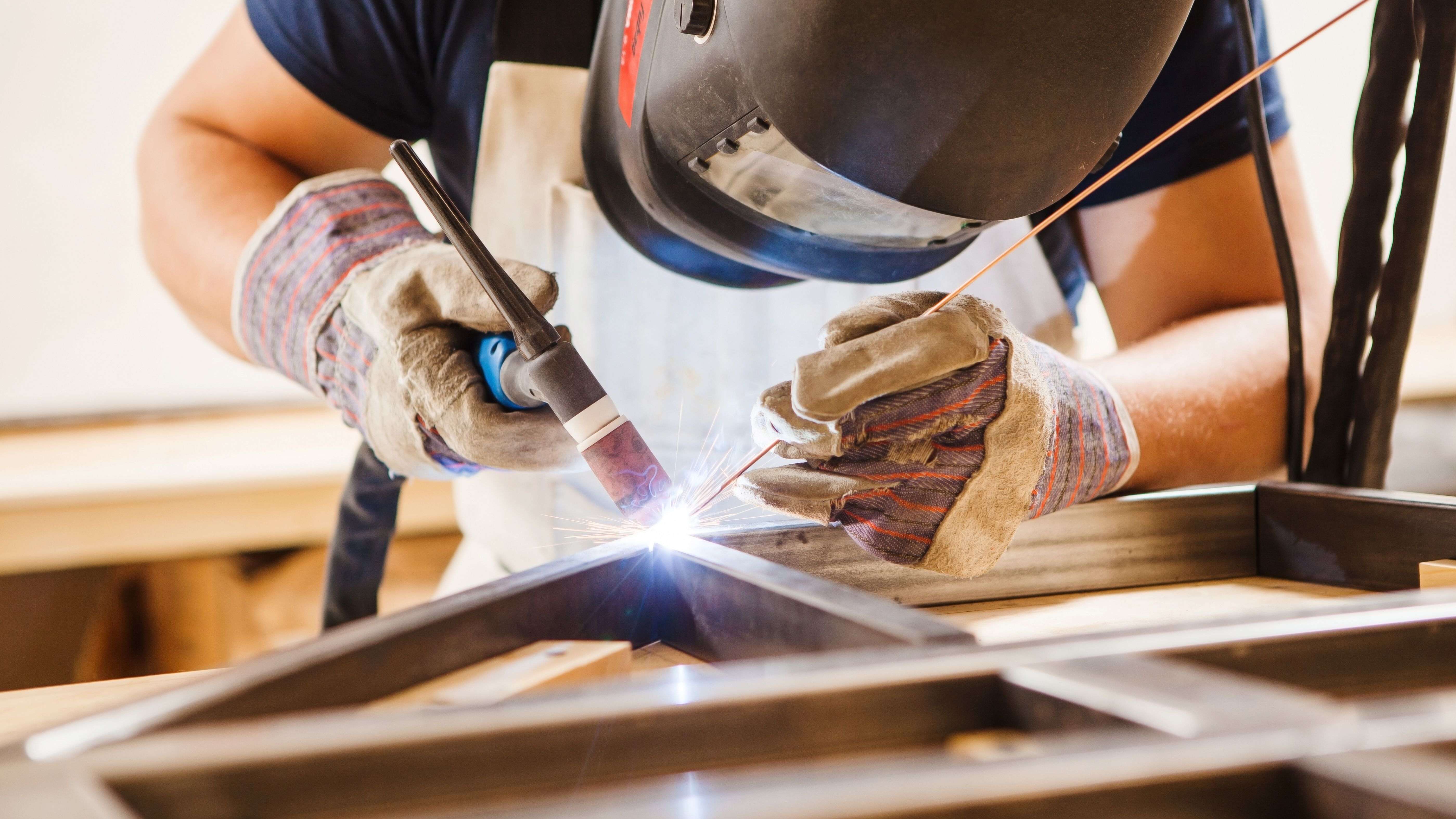 TIG Torch and metal welding buying guide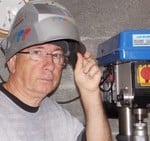 Guide written by:
Michael, Professional and passionate welder, Sheffield
71 guides
TIG welding is used in the aerospace, automotive, food and beverage industry. The welding is carried out by virtue of the electric arc created between the electrode and the piece of metal to be welded. Filler metals, welding torches, non-fusible tungsten electrode: here is all our tips for TIG welding!
Important features
Cooling the torch
Handle Components
Max. Amperage
Electrode diameter capacity
Filler metal
Electrode Type
TIG welding: welding torch
---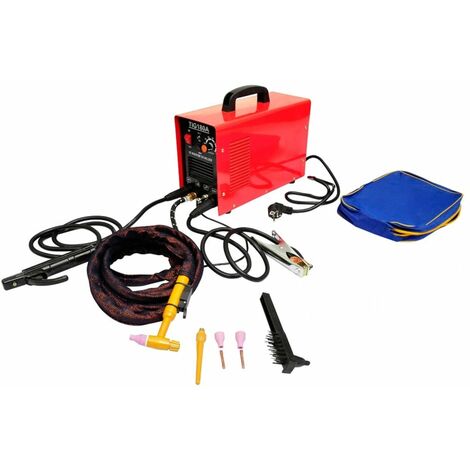 Configurable on any MMA (Manual Metal Arc) welding machine, a manual TIG torch can be fitted, equipped with an inlet gas control valve connected directly to the argon bottle.Since there is no a switch, the arc is triggered when it comes in contact with the tungsten electrode on the metal to be welded. It therefore requires dexterity to master the priming and starting of the welding.The consequence of this process is the electrode's premature wear and the frequent interventions rerquired to  re-ignite the tungsten. Nevertheless, it's a great method of TIG welding and only requires one purchase; the TIG torch and valve. Here's some very basic advice: don't forget to close the tap when the job is done to avoid seeing the bottle drain quickly!
A dedicated TIG substation with high-frequency ignition and the ability to choose the post and pre-gas, depending on the job offers a power that covers all possible different ranges of use. And once the post chosen, the only thing left to do is flip through the torch catalog! 
---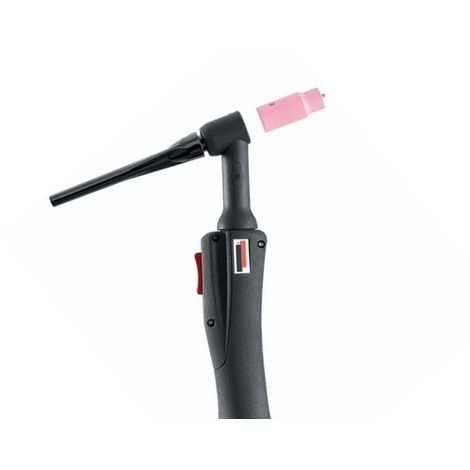 Types of welding torch
Air or gas-cooled torch 
Basic material for any required amperage not exceeding 150 A. Torch is able to go up to 240 A but is at risk of overheating! Max. Has an operating factor of60%.
Water or coolant-cooled torch 
Recommended for amperages above 150 A, with an operating factor of 100%. This configuration requires the substation be equipped with a closed circuit with liquid tank and refrigeration system.
Parts and composition of a universal torch
Connectors, extensions and 5-pin rods need to be attached to the welding machine.
The cover is a neoprene protective sheath for a comfort of use encompassing:
Welding wire;
Control cable;
Gas supply hose;
In the case of the water-cooled torch, a hose for supplying water or cooling liquid.
The handle, which looks simlar to any gun, is designed to suit the largest number of users (universal model):
With manual control, the high frequency priming is activated by a switch or trigger that also controls the gas supply solenoid valve. This handle, a major player of welding, is very sollicited, which is why its spare parts will be the subject to a limited supply.
---
Spare and wear parts essential to the handle
At the back of the handle, the protective head that welders refer to as a cap, top or hat is screwed into the top of the handle. It is available in three models:
Long, for normal use, it may contain an entire tungsten;
Short, particularly useful for welding in confined spaces (eg piping, bodywork);
The waterproofing is achieved by a Teflon sealing joint.
At the front of the handle is:
The diffuser, which is a copper, screwable piece;
The ceramic nozzle (very fragile).
Be very aware that these components are calibrated according to the exact diameter of the tungsten electrode, ergo the need for spare parts on hand.
The TIG torch uses tungsten. Its diameter depends on the thickness to be welded, while its composition corresponds to the type of metal to be welded.
For demanding welders, sophisticated torches are available with swiveling handles, angled handles, adjustable handles and, for americanized purists, the famous pedal control in the case of sitting jobs.Automatic TIG welding also exists for a specific audience. For these machines, a wire reel is attached to the welding station for regular and accurate diffusion of the filler metal out of the ceramic nozzle - for regular welds on the first application (great for repeated weldings).
Characteristics of TIG welding torches
| | | | | |
| --- | --- | --- | --- | --- |
| | Maximum AC / DC amperage * | | Tungsten electrode diameter | |
| | | | | Light, manueverable, compact |
| | | | | |
| | | | | |
| | | | | Capacity, size based on weight and power |
| | | | | |
* AC / DC: alternating current / direct current.
Note: replacement and spare parts can sometimes be compatible with several models of torches, remember to ask about that when purchasing. This is a direct request from your wallet!
Explore the ManoMano catalog
TIG torch
TIG welding: filler metal
---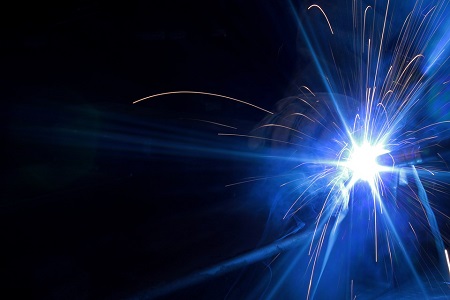 Here's a small reminder of the all the applicable standards in the world:
AWS, American Welding Standard
These standards must be observed according to the specifications of any TIG welding project.For the pros, in the case of the creation of a welding log, the traceability of the materials requires that the filler metals must be compatible with the welding steel(s).The origin and the mechanical and chemical characteristics of a used TIG wire must be specified in the welding's  "pedigree".
Explore the ManoMano catalog
Filler metals
Diameter of filler metals TIG steel
Steel TIG filler metals are generally presented in 1mlengths and packaged in 1 or 5 kg cases. Diameters can range from 1 to 4 mm. Each rod is punched at one end (reference). The non-alloyed steels which are at risk of oxidization are copper- plated, but moisture protection will still be needed, especially if you want to use them for a while.
Classification of TIG
| | | | | |
| --- | --- | --- | --- | --- |
| | | | | |
| | | | Maneuverability: welding mild steels or carbon manganese | |
| | | | Smooth weld cord and easy to insert | |
| | | Stainless steel welding 304 or 304 | Good control of the fusion. Suitable for food and organic acids | |
| | | Stainless steel welding 316 or 316Ll | Good fusion control, adapted to corrosive environment | |
| | | Aluminum and aluminum magnesiate welding at 3% | AC Welding, Marine Construction | |
| | | Welding alloys based on copper | Heterogeneous joints or galvanized steel | |
Note: Special filler metals are also available for tool welding,hard facing (cutting tools) and DUPLEX (stainless steel with a austenitic-ferritic structure: bendable and resistance to corrosion).
Non-fusible tungsten electrodes
"Tungsten" is ultimately the lead actor in TIG welding and it is bears the entire weight of the success or failure of the job. It therefore merits the greatest attention. To guide you in your choice, the table below lists the most commonly used tungsten. The color code lets you know eactly what you are dealing with.
There are four basicc types of electrodes:
| | | | | | |
| --- | --- | --- | --- | --- | --- |
| | | | | | |
| | | | | Steels and stainless steel | |
| | | | | | Stable arc and end ball shape |
| | | | | Steels and stainless steel | Replaces radioactive Tungsten Thorium |
| | | | | Carbon, stainless steel and nickel-titanium alloys | |
Safety note: Thoriated tungsten emits slightly radioactive material when sharpened. Good ventilation around the grinding wheel limits this risk. It is increasingly being replaced by Lanthanum tungsten (non-radioactive). The dimensions of the "needles" range from 150 to 175 mm.
Finally, a quick tip on a brilliant tool that is available: the tungsten sharpener, a kind of sophisticated electric pencil sharpener that makes it possible to prepare sharp electrode tips at the best possible angle. So much of a time saver! Lastly, always consider using proper welder's protection!
Explore the ManoMano catalog
Grinding wheel
More Information
Further your understanding and discover all our guides to get more information on flame welding, arc welding, TIG welding, MIG MAG welding, tin welding, spot welding and plasma cutters:
How to choose your welding mask and protection?
How to choose your torch, cutter, manistestors and fittings for your flame welder?
How to choose your electrode holder and ground clamp for arc welding?
Guide written by:
Michael, Professional and passionate welder, Sheffield, 71 guides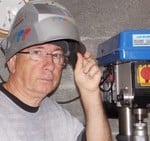 I was trained as a pipe worker and a pipe-welder and after having traveled for 35 years working around the UK, I became the head a metal shop and then a designer and in the end the head engineer. I have designed and built a workshop where I make metal sculptures: I managed to find a piece of paradise where I can to let my imagination run wild. Auctions and garage sales are no secret to me. I find unusual objects and old tools there that I collect or transform into works of art. I also like decoration, painting on canvas, and gardening. I am developing new technologies concerning tools. To share my passion and humbly advise you in your choice of materials is a real pleasure.
The products related to this guide