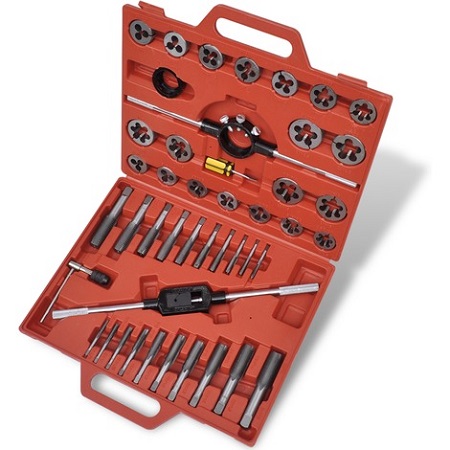 Taps and dies buying guide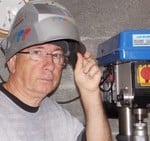 Guide written by:
Michael, Professional and passionate welder, Sheffield
70 guides
Taps and dies are essential to make or re-thread a screw, a nut or any other mechanical element. The three-piece tap sets are the most commoly used and the tap wrench is as important as the die stock for a proper tapping. Drilling is required before tapping.
What do we consider a screw?
---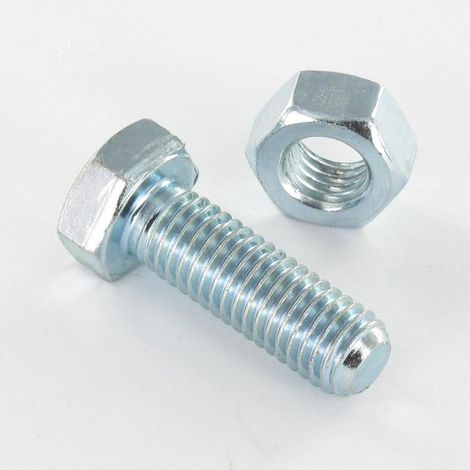 A bolt consists of a screw and a nut. The screw is threaded, while the nut is tapped. Here are the predominant characteristics of a screw:
Its shape - hexagonal, BTR countersunk head etc.;
Its diameter and its pitch as for example HM 12 x 175;
H indicates the screw head'sshape;
M defines the thread, or metric;
The numbers relay the size. In this example 175 is the pitch of the screw and the nut, and 12 is the diameter in mm.
Thread Type
Different types of threading are available:

Metric - The most commonly used thread in everyday life in France and Europe;
Whitworth - The British standard;
Unified thread - US and UK standard;
BSP (British Standard Pipe) is used in plumbing and piping, as well as pneumatic and hydraulic heating. It is a conical or cylindrical thread designed to fix and seal pipes. 
Explore the ManoMano catalogue
Screw
Taps and dies
To respond to the need for making or repairing of all these different threading systems, mechanical tools were adapted to the role: the tap and the die.
Tap
---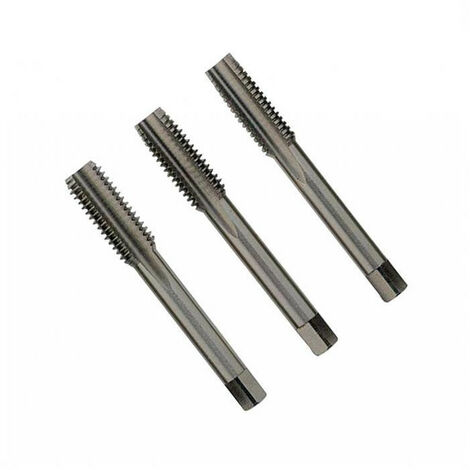 The tap is designed to create the inside surface of a hole, using a calibrated bore. It is also widely use to repair a existing damaged internal thread. It is a steel HSS-ground  tool conceived to create a female surface. Two types of taps exist:
Set of three different models (N ° 1: bottoming tap, N ° 2: second tap and N ° 3: taper). The old-generation of mechanics have a preference for this trio because of the progressive threading;
Hand tap (also known as power taps) can be used with a mechanical drill, tap wrench and even manually.
Dies
The dies serve to cut an external thread on a calibrated cylindrical rod or to repair a thread in poor condition.
---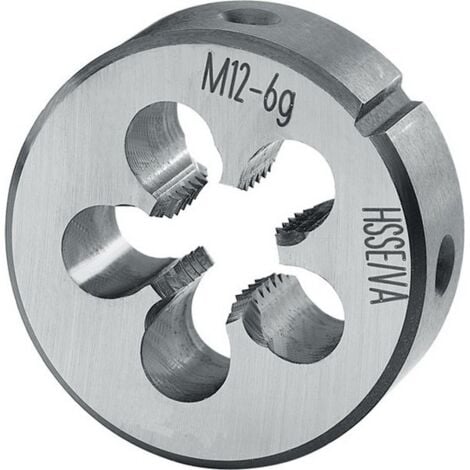 Mechanical Die
It is a HSS-ground tool that goes hand in hand with the tap. The die is a sort of cylindrical or hexagonal disc with 3, 4 or 5 holes drilled in the center and marked with an engraving.
Mechanical die stock
---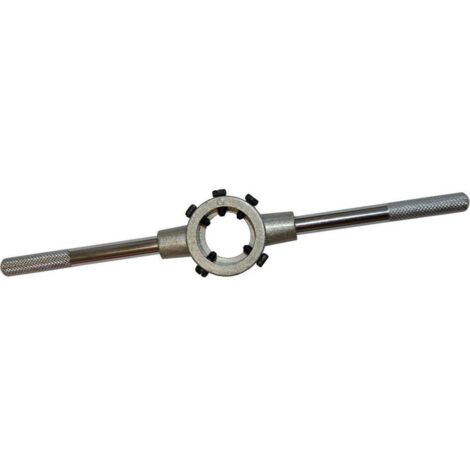 Tool consisting of a central cage that receives dies and two opposing handles secured to the central part. Die stocks are also available in different sizes depending on the diameter to be threaded.

---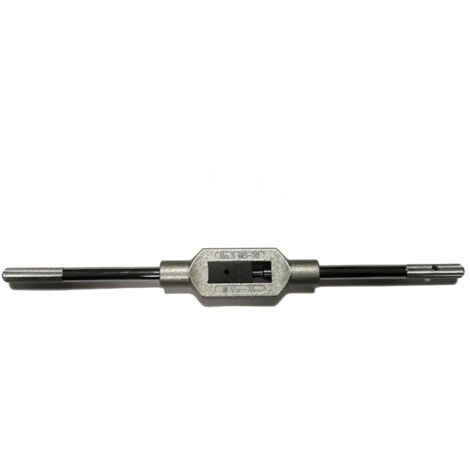 Tap wrench

The tap wrench or tap holder rotates to the right and it is a tool comprising two opposite handles. The first handle is movable, allowing it to actuate a small central vise intended to grip the tap's square head. There are several sizes to cover the extensive range of taps. There's also the ever handy ratchet wrench.
Die kits and pipefitter assembly
---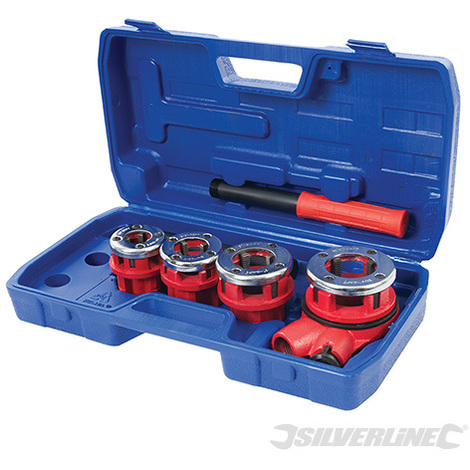 A heavier duty tool for cutting pipes' non-metric threads only. The die stock (or rachet wrench) consists of a metal arm at the end of which sits a die housing that matches the threading tube's diameter, expressed in inches. The tool is generally in a box with 4 to 7 dies for tubes of the following dimensions 8 x 13 mm; 12 x 17 mm; 15 x 21 mm; 21 x 27mm; 26 x 34 mm; 33 x 42 mm and 50 x 60 mm.
Heating technicians are frequent users of this type of system. On existing installations, pipes can be equipped with fittings that require both right and left threading.
The dies are labeled with a color: red for the right thread, yellow for the left. 
Handy portable dies are available as well as rack models for large jobs.
For large diameters up to 4 inches (114 mm), professionals use a progressive die equipped with an extended arm (requires considerable effort) or an electric arm composed of adjustable and interchangeable threading dis. The threading is then carried out in several passes.
Lubrication
Mechanical taps and dies cannot properly carry out their work required amount of a lubricant suitable for steel. The absence of oil during the threading operation will have the following consequences:
Premature wear of taps and dies;
Deterioration of taps and dies;
Taps and dies will become dry, brittle and limp, which results in tightening difficulties for the screws and sealing problems when assembling the threaded tubes without lubricant.

Cast iron does not require lubricating or cutting oil but only tallow.
To consider before drilling hole for mechanical tapping
---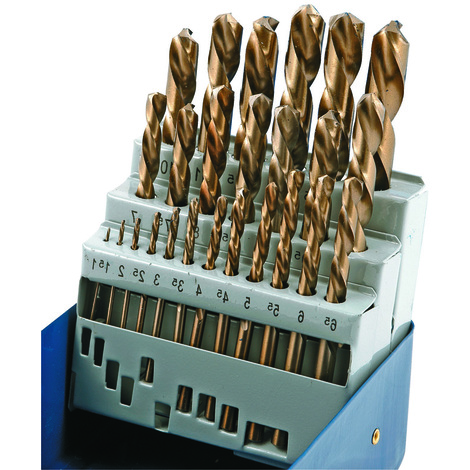 Since tapping consists of a machining operation with removal of material, it is crucial that the hole that is being threaded is perfectly calibrated.
The formula for selecting your drill in relation to the tap is as follows: Ø nominal screw minus  the pitch. Example: for a M 12 x 175 screw; A 10.25 mm hole (common dimension for most malleable metals) is drilled. The drills used for calibrating thread holes are specially configured in their diameter.
Manufacturers and suppliers have gotten the right idea by offering ready-to-tap boxes in which you can find both the tap and its corresponding drill bit and a relatively efficient tap wrench. It's best to plan on doubling these toolsbecause break-downs are rather frequent!
Explore the ManoMano catalogue
Drill bit
Corresponding drilling and metric tapping table
Ø Drilling in mm

In brittle metals

Ø Drilling in mm in malleable metals
This data is refined according to quality of steel to be tapped.

Professionals and purists will sometimes require even more precise calibrations according to type of metal. You should be able to find same values as above, but on professional charts.
Use a tap wrench that matches the tap: too much torque will result in a broken tap.
Diameters marked with an asterisk * are to be avoided because of their rarity and difficulty in finding taps and threads. That being said, these dimensions do exist and they can be found on very old equipment (locomotives, couplings, old cars etc.).
Automatic taps and dies
---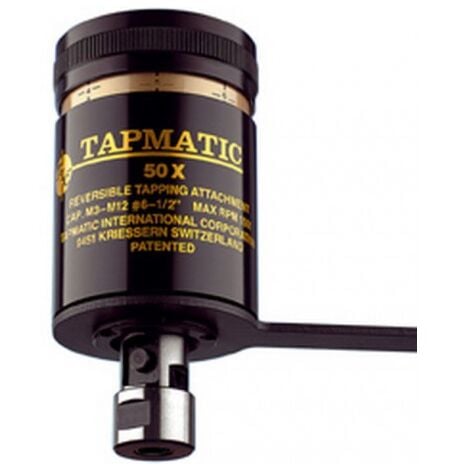 These are mechanical tools that go hand in hand with a drill press, are adaptable by means of a morse taper and are automatically triggered as soon as the tapping and threading are at a designated level. Indispensable for extensive or serial tapping and threading.
Special tapping tools
Tapping Machine
Performs tapping in one fluid operation. Adaptable on drill and requires handling with the utmost caution.
Blind hole tap
Special form of tapping machine, it has a spiral shape to eject chips upward.

Thread Gauge
A set of notched bars for identifying a thread. Available in all thread types.
Whatever the type of tapping you hope to achieve, there are a multitude of tools to suit your needs, for both right or leftthread. Used wisely and stored properly, they will last you an eternity!
Explore the ManoMano catalogue
Drill
More Information
Whether in the middle of a renovation, a brand new build or simply updating your equipment, follow the links below for related accessories, advice from our editors and more helpful guides:
How to choose your drill?
How to choose your screwdriver?
And to work safely:
How to choose your protective gloves?
How to choose your safety shoes?
Guide written by:
Michael, Professional and passionate welder, Sheffield, 70 guides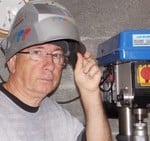 I was trained as a pipe worker and a pipe-welder and after having traveled for 35 years working around the UK, I became the head a metal shop and then a designer and in the end the head engineer. I have designed and built a workshop where I make metal sculptures: I managed to find a piece of paradise where I can to let my imagination run wild. Auctions and garage sales are no secret to me. I find unusual objects and old tools there that I collect or transform into works of art. I also like decoration, painting on canvas, and gardening. I am developing new technologies concerning tools. To share my passion and humbly advise you in your choice of materials is a real pleasure.
The products related to this guide