Tap aerator buying guide
Guide written by: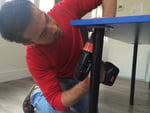 Sebastian, self-taught DIY-er, Exeter
177 guides
Whether you're looking to save money or do more for the environment, reducing the flow rate of your taps is a great way to save water. Water-saving devices such as aerators can be installed inside the tap or onto the end of the spout, helping you to reduce your water consumption by around 30 to 70%.
Important features
Type of aerator
Flow rate
Dimensions and thread type
Aerating spray attachments
The advantages of tap aerators
Tap aerators
are fitted inside the spout in order to reduce the flow of water
from a
bathroom
or
kitchen tap
.

Allowing you to decrease your water consumption by around two thirds, these little devices work by mixing pressurised air with the water. Depending on the model, you can save around 30% to 70% of water while maintaining the same level of comfort.


Flow rate of aerators
Aerators are categorised by flow rate per minute; choose from 2, 3, 6, 8 litres, and so on.
Types and features of tap aerators

LED tap aerator



Swivel flow restrictor


Thread size
F or M 28 mm
F or M 24 mm
F or M 22 mm
F or M 21.5 mm
F or M 18 mm
F or M 16.5 mm
F or M 16 mm
Aerating spray attachments
An
aerating
attachment
mixes air in with your water stream
and reduces the spout size to decrease the flow rate. Designed to prevent splashing and allow you to direct the stream like a
handheld shower
, these attachments generally take the form of a 125 mm flexible extension hose. They are available in a range of materials.
Metal
If you're looking for style, your best bet is to go with
a
metal attachment with modern design
. These devices generally consist of a spiral hose made of nickel-plated brass or stainless steel. An additional aerator can be added to the end of these extensions. They can even be equipped with
a
shower head
and are used to
significantly reduce water consumption
.

Rubber
These models are equipped with a rubber
flow restrictor at the end of the hose
. Although lightweight and flexible, they are not the most attractive option but they are very affordable. These attachments fit onto any
tap spout
with ease but may yellow or crack over time.

PVC
PVC aerators are more attractive and modern-looking than rubber models. They are also equipped with a flow restrictor inside the end of the nozzle and are
resistant and easy to clean
.
More information
Follow these links for advice on bathroom accessories and more helpful guides:


Did you find this guide helpful?
Guide written by:
Sebastian, self-taught DIY-er, Exeter 177 guides écrits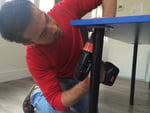 Redo a roof with wooden beams? Check.
Advise Mister everybody in the DIY shop? Check.
Redo the bathroom plumbing? Check.
Fit together, build the walls, paint a partition, throw my hammer in a rage thinking that it will fix the problem? Check.
The DIY motto ? Learning is better than delegating… well, it's also a question about your wallet! The satisfaction? The beer at the end of the job!
What do the best have in common? The influence of Gyro Gearloose, Mac Gyver and Carol Smiley depending on your generation, a good dose of curiosity, a average hand-eye coordination and a taste for risks… and if it doesn't work, try again! Advise you? I'll do my best!
The products related to this guide