Table saw buying guide
Guide written by: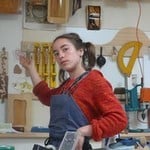 Alice, Furniture Maker, Manchester
10 guides
Essentially a fixed circular saw, the table saw makes light work of planks, boards and wood flooring. Power rating, size, table type and cutting height are all key factors to consider when choosing... Let's cut to the chase!
Important features
Blade
Table
Power rating
Cutting height
Surface space
What is a table saw?
The table saw is a type of
stationary circular saw
; very similar to the
handheld circular saw
but fixed on a table.
The
blade is light-regulated and height-adjustable
to enable cutting at different heights above the tabletop. You can therefore cut wood of varying thickness, either pushing it past the blade by hand or with mechanical
pushers
.
Depending
on the
size
,
power rating
and optional features you choose, it's possible to
cut pieces of wood
of
different cross-sections
at a
range of angles
.
Table saws
can be
mobile
or
fixed
in position in your workshop, depending on their
format
and
weight
.
What are the characteristics of a table saw?
Installed within a table structure, the
table saw will cut a range of flat materials
- wood, chipboard / fibreboard, even soft metals with the correct type of blade.
Blade
Blades
should be chosen according to the type of material you want to cut, and can be
adjusted in height
according to the thickness of the material.
Blade diameters
vary between approximately
190 and 315mm
, with
carbide teeth
to do the cutting. In position, the
blade
is covered by guards to ensure user safety (lucky for you!)
Table
The table, made of
aluminium
or
steel
, tends to be fairly small in size – between, say,
60 x 30cm
for a smaller model and
80 x 70cm
at the upper limit, and no more than a metre in height. In any case, the
work surface
you have to play with won't be huge; but it's possible to get
table extensions
that will vastly improve your working comfort by increasing the space available to you.
Power rating
Power ratings vary between 1000 and 3800W – this value basically reflects the saw's ability to cut through wood. Hardwood with a large cross-section will require more power than 30mm pine battens. Machines can also be either single- or three-phase.


Weight
The saw's weight is variable and relates to its power, size and constituent materials (saw structure and table).


Mitre saw function
Some models of table saw also have a
mitre
function, although it's relatively uncommon. The principle is to
reverse the position of the saw
so that it cuts down from above the piece of wood.
In this configuration you can make
mitre
cuts
, i.e. angled cuts between
0 and 90°
to the piece of wood. To calibrate angles, the table will have a graduated turntable and the saw will be mounted on an articulated arm so that it can come down on the piece of wood.
Optional features for your table saw


Several optional features are also available:


Suction port so you don't lose yourself in a cloud of sawdust!
Laser light to help you visualize your cutting line;
Improved blade height adjusters - with solid metal flywheels;
Mechanical pusher to keep your hands away from the blade;
Parallel guide for straight cuts at length;
45° blade setting for bias cuts;
Speed variator for cutting different materials, such as plastics and soft metals;
Progressive start-up to ease the blade in smoothly;
Angle stop for angled cuts;
Trolley or built-in casters for ease of movement.

Some of these might just make your life that little bit easier...
How to make the right choice?
Of course it all comes down to the nature of your work and frequency of use!
On the saw side, the three main factors to determine are:
Cutting height;

Power rating

Surface space

Occasional use
If you just need to redo the
flooring
in your living room, a small
entry-level model
is perfect. You'll be able to cut your pieces with precision and get it all done quickly, comfortably and safely. You don't need a high
power rating
or cutting height.
Regular use

If you've always got panels to cut and big cross sections or even mitre cuts to make, go for a sturdier, more heavy duty model with extra features like angle cutting up to 45°. Power rating - dictated by the size of pieces you're planning to cut - is a prime criterion, as is cutting height. Weight and dimensions shouldn't be ignored, however, especially if you're short of space or want to move your table saw around onsite!
Learn more about woodworking tools...
To find out more about working with wood, follow our editors' advice and check out their other guides:
Did you find this guide helpful?
Guide written by:
Alice, Furniture Maker, Manchester 10 guides écrits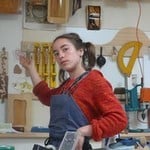 I've been working with my hands from a young age. For as long as I can remember, I've been keen to discover new tools and equipment for building things. I'm always on the lookout for new materials, and I find different kinds of construction techniques fascinating.

I'm also trained in marquetry, which is a highly specialised form of inlay work. As a professional artisan in the field, I've been lucky to master a material that is both noble and commonplace: wood.

Not only am I surrounded by carpenters and other builders in my job, I also get to share ideas and methods with professional and amateur woodworkers alike, including a range of manufacturing specialists.

In my free time I'm also an avid gardener. We get a lot of rain where I live, so I'm able to keep a pretty amazing vegetable garden in the allotments near my home. I love helping the other people who have plots there, and I've become the local go-to person for gardening advice.

I'm here to share my experience about all the different ideas, materials, tools and equipment out there. You may have your (wood)work cut out for you, but my tips will make it a little less overwhelming!
The products related to this guide