Swing set buying guide
Guide written by: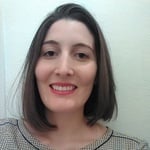 Pauline, Self-taught handyman, Leeds
87 guides
It's no secret that kids love swing sets. And who can blame them? There's nothing quite like the freedom of pushing off into the sky! From ropes to rings or even double swings, your frame can incorporate a range of accessories. Follow our guide to find the perfect swing set for your garden.
Important features
Material
Recommended ages
Accessories
Choosing a material for your swing set
---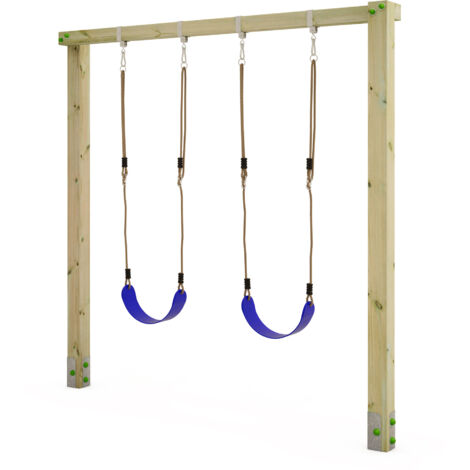 Swing sets
are generally made of either metal or
wood
.
Swing sets with metal frames are generally more affordable
and often come in a range of bright colours. They also
require little maintenance
. However, it is common for
rust
to develop over time and this can eventually lead to structural damage.
Wooden swing sets
offer a touch of traditional charm. When it comes to style, it's easy to match this material to any other items you may have in your garden. However, it is worth considering that
wood requires yearly maintenance
. These steps involve:
It's also advisable to
check the strength of the different parts of your swing set
and to give the
screws
a quick once over with a screwdriver on a yearly basis to
ensure that the structure is secure
as wood will warp over time.
Plastic is generally the material of choice for the seat
if you want to avoid the risk of splinters! Easy to maintain, it requires little care beyond the occasional
sponge down
. After it rains, all you need to do is wipe the surface and your swing set is ready for use again.
Explore the ManoMano catalogue
Sponge down
Minimum age ranges
Recommended minimum age
---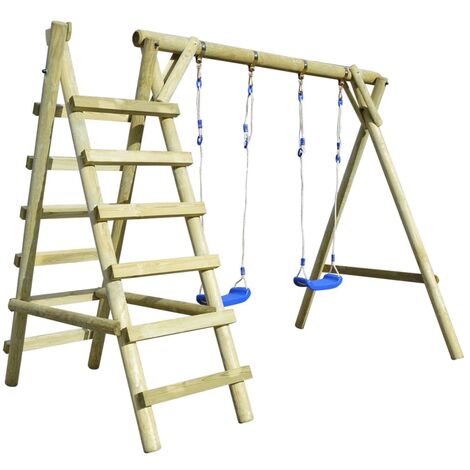 In order to use a swing set, children must be able to hold the chains or rope themselves. For those under 3 years old, it's best to use a toddler seat with a harness. The minimum recommended age should be specified on the instructions but remember that adult supervision is highly recommended for any young child!

Additional safety tips for installing your swing
---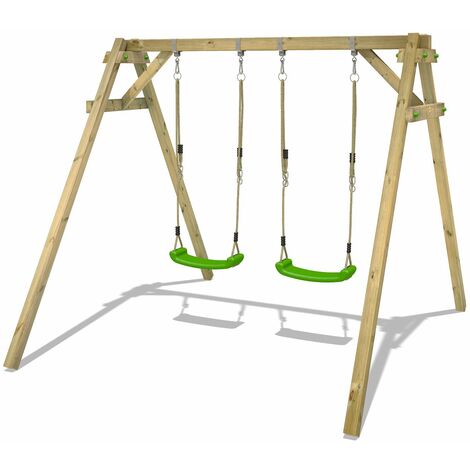 All swings must be fimly secured to the ground
to limit the risk of frame tipping over. If the frame is not properly secure, one or more feet can lift off the ground when swinging at high speeds. To make sure this doesn't happen, you will need to lay
a concrete base
and fix the feet to it using
brackets
,
bolts
or
fixing plugs
.
It's also important to remember that the area surrounding the swing set must be kept clear to avoid any collisions during playtime. We recommend a clearance space of at least two metres. If you want to avoid injuries, installing your swing on a lawn is the best way to dampen falls! If this isn't possible, bark chippings wll also work.
Explore the ManoMano catalogue
Bolts
Swing sets vs. playsets
---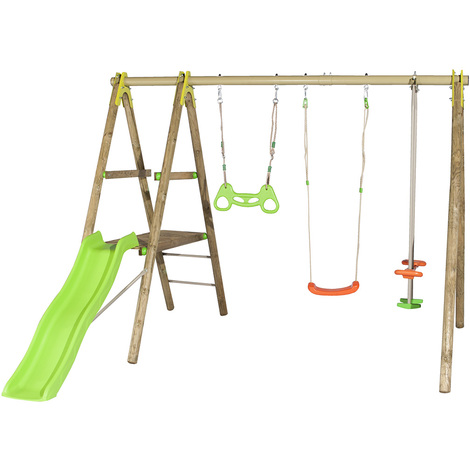 Of course, your choice isn't limited to a conventional swing set. Some models
offer a variety of different activities
for more games and challenges. You can choose from features such as see-saw swings, climbing frames or trapeze bars. The more space you have, the more options are available to you from larger swing sets to models featuring rings or even
slides
.
One important factor to consider is the number of children who will want to have a go on the swing at any given time! It's also important to keep in mind how easy the swing parts will be to replace, as well as how easy they are to install. Happy swinging!
Explore the ManoMano catalogue
Slides
More information
For more tips on choosing and maintaining your outdoor equipment, follow the links below:

Guide written by:
Pauline, Self-taught handyman, Leeds 87 guides écrits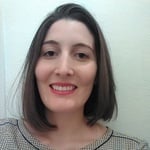 With a handyman-father, I grew up with the soft sound of the sander and hammer on weekends.

I am both manual and cerebral (yes, it is possible.), I learned the basics of DIY and the customization of furniture because I was passionate. The salvage mentality is a true way of life that allowed me to know how to use all the tools and products needed to give something a second life, from sander to varnish.

I have two favorite activities: the transformation of old furniture and decoration tips. I am always ready to lend a helping hand to revamp a table or to restore a mirror that was intended for the trash that will become a friend's centerpiece.

I'm convinced that it's possible to reinvent an interior by small, regular modifications, I constantly research low-cost, test ideas.
The products related to this guide