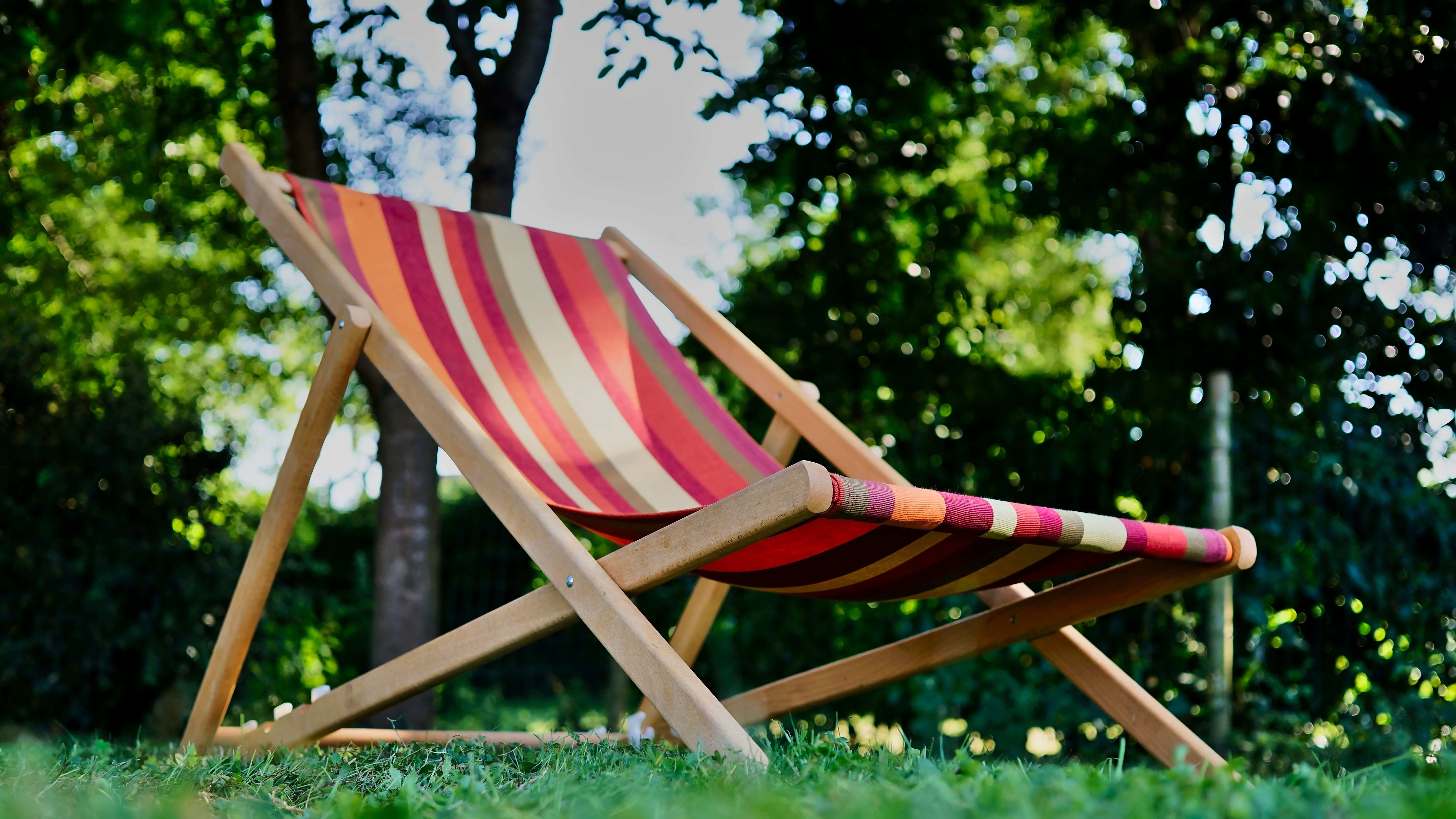 Sun lounger buying guide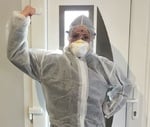 Guide written by:
Eugénie, Experte en Droguerie & Déco, Aquitaine
87 guides
Stuck between a teak recliner and a plastic sun bed? Whether you're looking for a lounger for the beach or pool, or a folding deckchair for the garden, the most important factor is comfort. From aluminium and resin frames to cushioned or textilene seats, read on to find the right sun lounger for your outdoor space.
The recliner: essential garden furniture
---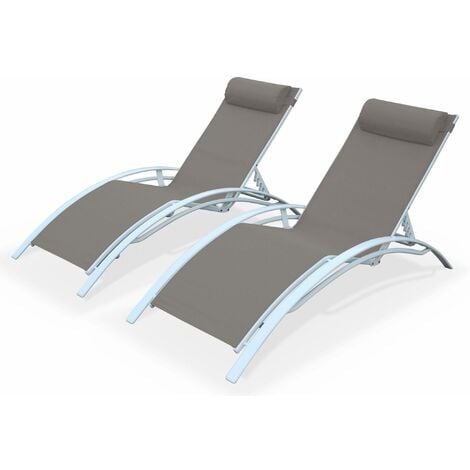 Looking for a teak recliner to give your garden décor an exotic feel? Or aluminium for a contemporary look you can count on? Gardens have become a living space in their own right and garden furniture needs to be chosen carefully to ensuremany hours of relaxation.
Generally used alongside a garden dining set– whether placed on a terrace, on a lawn or by the pool – sun loungers should be chosen according to several criteria. The most important factorsto consider include material type, comfort and budget.
Sun lounger, recliner, deckchair and sun bed: what's the difference?
Sun loungers and recliners
---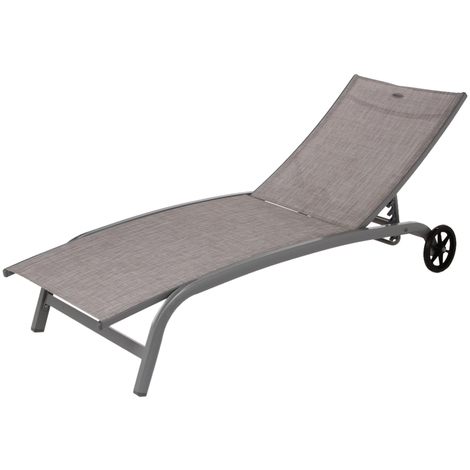 There's rarely any difference between recliners and sun loungers. It's just a case of simple semantics with each manufacturer preferring to use their own term. In short, you can lounge on a recliner and recline on a lounger!
Sun beds and deckchairs
---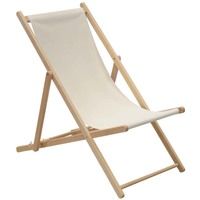 Similar to recliners are deckchairs and sun beds. Deckchairs consist of a wooden frame with fabric stretched over the top allowing you to recline comfortably; sun beds give you the option to either sit upright or lie back with a leg rest for the lower legsand a backrest that goes up to head height (generally made of plastic).
Explore the ManoMano catalog
Recliners
Fixed or folding models
---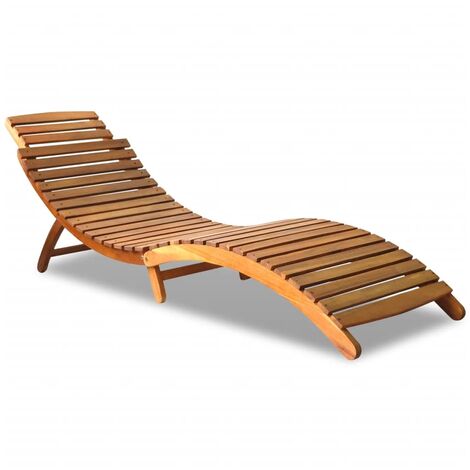 The main benefit of folding recliners is that they take up less space. This type of design is preferable if you don't have much storage space or if you want a set of four sun loungers. It should also be noted that it is always easier to move around a collapsible sun lounger than a stationary one (even more so if it has wheels).
Different types of recliners
Before deciding which material you want for your sun lounger – no matter if it is fixed or collapsible – you need to determine exactly how you will be using it ! Remember that a semi-reclined position makes it easier to read and have conversations while a fully reclined position is ideal for relaxing and sunbathing. Regardless of its shape, if the sun lounger has to be moved often, opt for one with wheels!
Flat sunbeds
---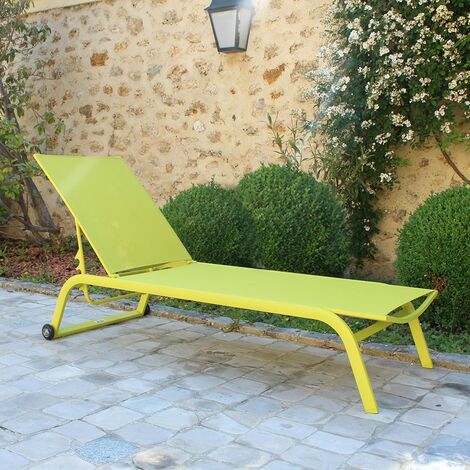 Flat sunbeds are ideal for tanning your back or taking a nap. The fully extended backrest makes your sunbed totally flat. These models are available in all materials.
Adjustable or multi-position recliners
---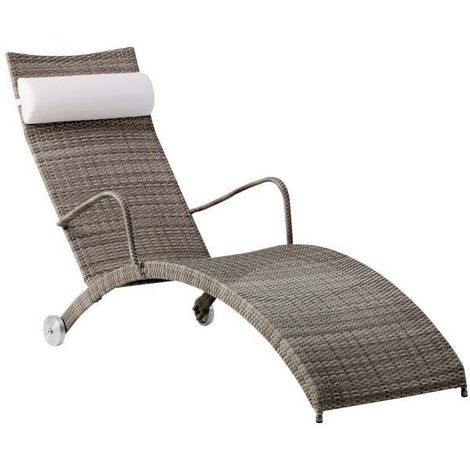 Designed to fit to the contours of your body for relaxation, s-shaped sun loungers offer ergonomic design and comfort. Ideal for people with back issues and/or those who have difficulty getting up. These chairs are commonly made of aluminium and textilene.
Adjustable or multi-position recliners
---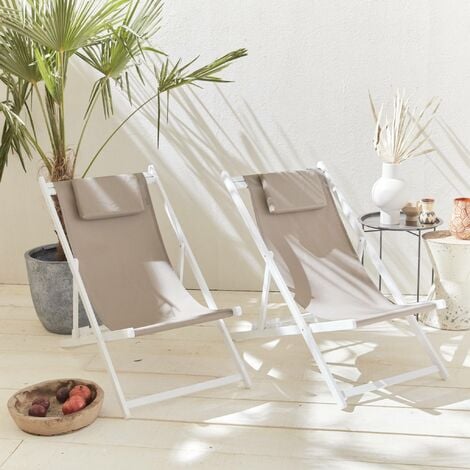 The ergonomic design of this type of chair allows you to sunbathe, read, and sleep. Often equipped with wide armrests, these loungers allow you to sit partially upright or recline fully.
These chairs are available in a range of materials.
Now that you are familiar with the different shapes of sun loungers, you will have to decide on a material. This choice will come down to the type of design you're looking for, ease of maintenance or, quite simply, your budget.
PVC
---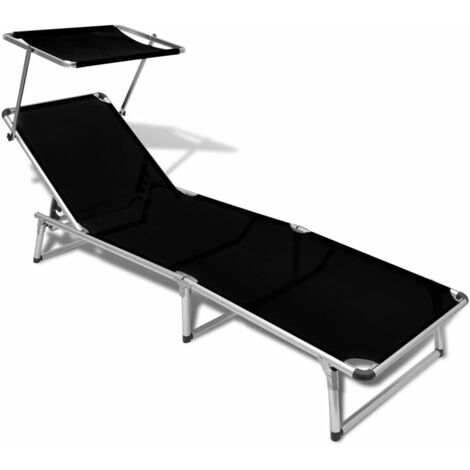 The advantages of PVC include its durability, ease of maintenance and price ! PVC sun loungers never go out of style and are perfect when you're on a budget. However, they will require a cushion, as the material is fairly hard and tends to heat up in the sun.
Resin
---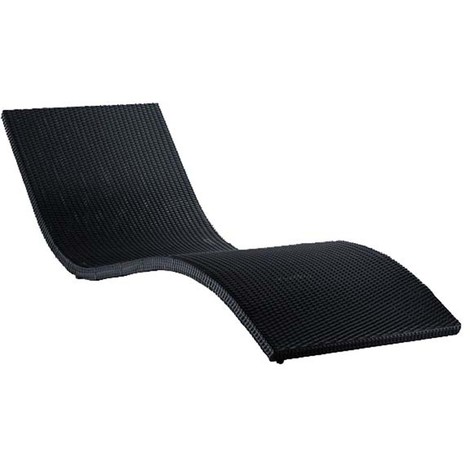 Woven resin is a preferable to PVC because, in addition to its performance benefits, it offers an attractive and modern appearance ! There are two types of resin: moulded resin (low-end) and woven resin (more attractive). The use of cushions is also recommended, to make your deckchair more comfortable.
Aluminium
---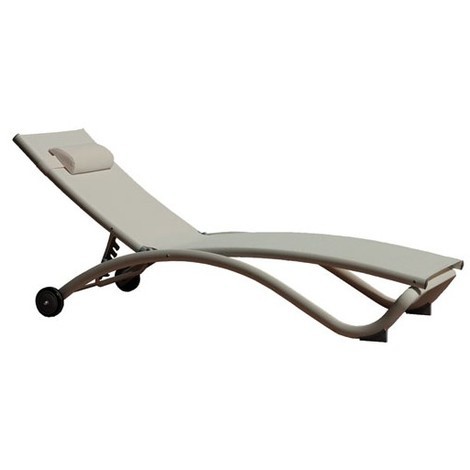 Aluminium is only used for the frame of sun loungers. This material has the advantage of being very light which is practical if you want to tidy or store away your sun lounger on a regular basis. Rust-resistant, aluminium sun loungers offer modern and sleek designs.
Wood
---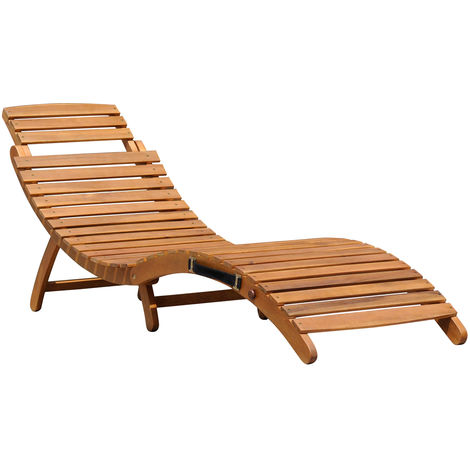 Wooden sun loungers are most commonly made from exotic woods – in particular teak. However, you can also find sun loungers made of acacia, pine, and so on. Wood lends a great deal of charm and style to your outdoor living space. However, regular care is required to preserve the colour of the wood and keep it looking new!
Seating material: textilene
---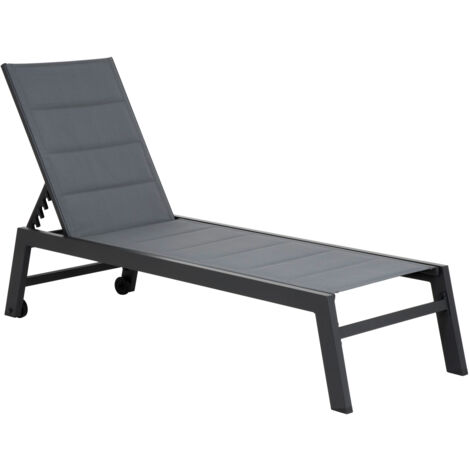 If the seat of the deckchair is not made of the same material as the frame, it will usually be made of textilene. Textilene is a very comfortable and flexible synthetic fabric made using woven PVC fibres.
Explore the ManoMano catalog
Cushions
Essential sun lounger accessories
Recliner mattresses and cushions
---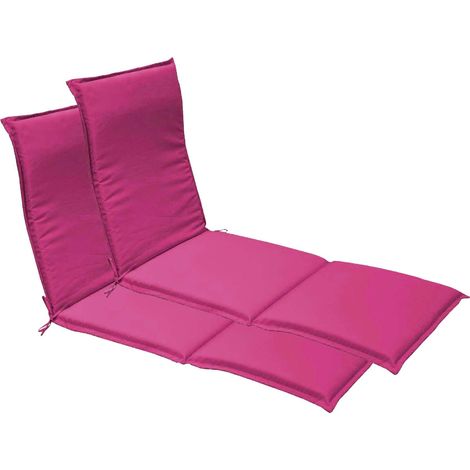 This option provides the ultimate in comfort! Available in different sizes and colours, we suggest opting for cushions with removable covers to make them easier to clean. Cushions or mattresses are highly recommended for sun loungers with solid seats. To extend the life of your lounger mattresses and cushions store them somewhere dry when not in use!
Recliner covers
---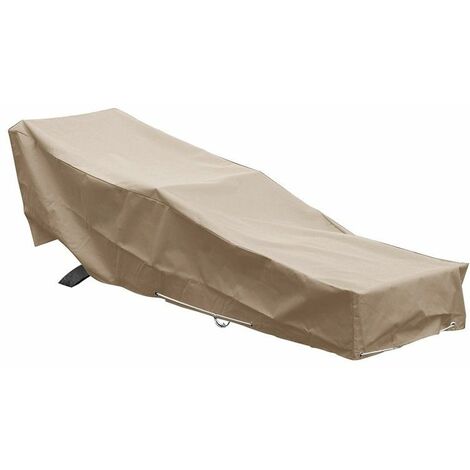 Recliner covers allow you to protect your sun lounger from UV rays and inclement weather. They are recommended for use over the winter.
Sunshades
---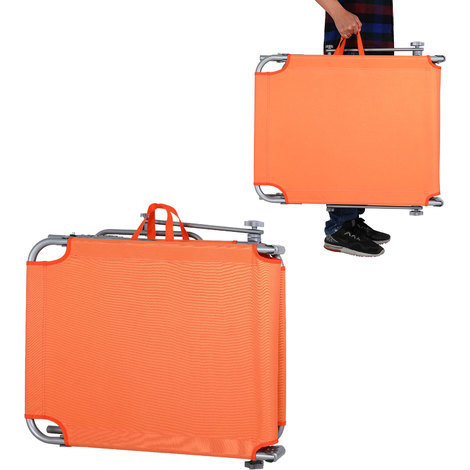 Another optional extra, sunshades guarantee protection from the sun's rays and act a sort of mini parasol !
Explore the ManoMano catalog
Lounger mattresses and cushions
5 tips to help you choose the best sun lounger
Opt for a collapsible sun lounger for easy storage in the garage or garden shed.

Sun loungers with wheels are recommended if you will be moving them around a lot.

The type of material you choose for your sun lounger will depend on its maintenance requirements, resistance to weathering and weight.

Match the style of your sun lounger to your garden lounge set.

Add cushions or mattresses for undeniable comfort.
Once you've considered all of these elements, it should be straightforward to make the right decision and start taking it easy! Happy sunbathing!
Explore the ManoMano catalog
Your garden lounge set
Guide written by:
Eugénie, Experte en Droguerie & Déco, Aquitaine, 87 guides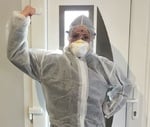 Eugénie, 37 ans et 14 ans de métier dans le bricolage. Au début, c'était pour gagner ma vie, puis c'est vite devenu une passion ! Toutes ces années de pratique m'ont apporté une ultra-polyvalence, de la peinture à la décoration en passant par l'outillage, le jardin et le sanitaire. Un jour, j'ai même conseillé un client qui voulait une cheminée au paracétamol ! J'aime, j'adooore bricoler, créer, relooker et surtout partager mon savoir. Toujours positive, en soif d'apprendre, avant-gardiste et débrouillarde, je trouve toujours des solutions ou des astuces pour faciliter le travail ! Vous conseiller dans vos choix sera un réel plaisir !
The products related to this guide