Submersible pump buying guide
Guide written by: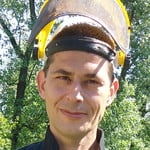 Jeremy, construction site supervisor, Cardiff
128 guides
A submersible pump is essential equipment if you want to source water from a well, channel wastewater into a collector or water your plants using pondwater. Simple to use and requiring limited maintenance, follow this guide to help you choose your perfect pump.
Important features
Lifting
Feed
Type of water
Discharge height
Flow rate
Pressure
What are the advantages of a submersible pump?
---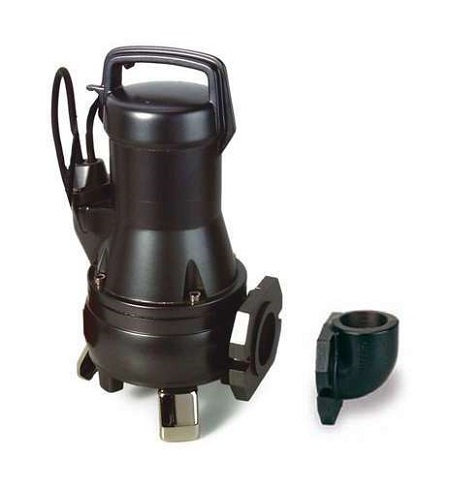 Completely waterproof, the submersible pump is placed directly on the bottom of the water, offering several advantages:
No more priming problems, since the pressure of the water around the pump prevents air from being sucked and so avoids trapped air;
Less noise, since any sounds or vibrations are muffled by the surrounding water;
No overheating of the motor - the water in which the pump is located cools it during operation;
Aesthetics - it's submerged, so you can't see it on the surface!
Explore the ManoMano catalogue
Submersible pump
What different types of submersible pumps are there?
---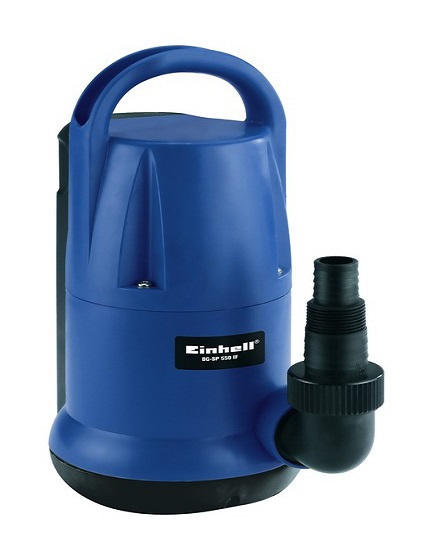 There are many different types and models, which can be classified into two main families:
Submersible lifting pumps

Lifting pumps are mainly used to drain rainwater or wastewater. The smallest models are known as basement drainage pumps. Simple to operate, they are usually controlled by a float directly connected to the pump body which starts and stops the motor. Some models of submersible pump can be used to move unfiltered water. Some pumps are equipped with a shredding wheel - to break down any solid materials entering the pump. This type of pump is designed primarily to empty the container in which it is submerged, rather than apply pressure to create significant flows.
Submersible feed pumps

Well suited for use in wells, submersible feed pumps are typically installed to provide drinking water. Their aim being to create pressure, a more complex design is required than that of the lifting pump - multi-stage operation; narrow body; suction strainer. Most submersible water feed pumps have a pump body, one or more stainless steel wheels and are often coupled to a booster pump. These pumps are generally controlled by probes external to the pump. This type of pump is designed primarily to produce continuity of pressure and flow in an water system.
Explore the ManoMano catalogue
Suction strainer
Important factors when choosing a lifting pump...?
---
You must consider three key points: the water you plan to pump, the discharge height and the flow rate.
The type of water is the ultimate basis for making your choice!
If you're just looking for a pump that can water plants from a rainwater tank, for example, a "clean water" model is perfect. Its maximum grain diameter for solid objects (granulometry) is very narrow, under 5mm.
If you plan to pump floodwater, sewage, or any other type of water that may contain suspended solids, look instead at "wastewater" models. Granulometry is in most cases around 10–20mm.
For heavily polluted water, you can get specific pumps with high granulometry (>25mm). For mud, heavy wastewater (paper, tissues etc.) or outside floodwater (small pieces of wood, rubble, stones, etc.), you can get pumps equipped with a shredder and a very wide grain diameter.
Discharge height is expressed in CMW or column metres of water. This is important because you must ensure that the pumped water can get to the discharge point. Most pump manufacturers indicate either a discharge height (level difference between the pump and the point of discharge) or a THM (total head in meters). HMT corresponds to discharge height + pressure at point of discharge + intervening pressure drops;
Flow is the main characteristic of a pump, expressed in l/min (litres per minute) or m3/h (cubic metres per hour). Consider the depth at which your pump is located, because the deeper it is, the lower the surface flow. Remember, submersible lifting pumps aren't intended to produce a constant flow, but simply to drain water away from where the pump is located.
Pressure isn't of great importance for lifting pumps.
Important factors when choosing a feed pump?
---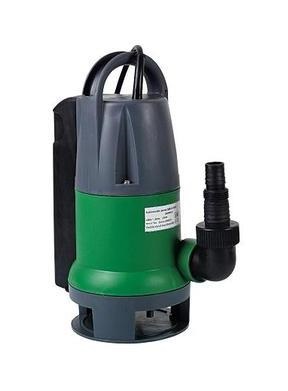 To make the right choice of submersible feed pump, consider the following factors:
Discharge height
Effective discharge height (or THM, as above) is an essential criterion for feed pumps, because at the point of discharge (e.g. a water tank) you need pressure as well as flow. To obtain your pump's THM you'll need to make the following calculation: THM = height between pump and discharge point + desired pressure at the discharge point (where 1 bar = 10m) + pressure drops
Example: discharge height = 20m (between the bottom of the well and a basement discharge tank); desired pressure = 3 bar (i.e. 30m required); 10m pressure drop due to pipes and fittings. Our minimum required THM is therefore 20 + 30 + 10 = 60m.
Pressure
Pressure corresponds to the force of the water at discharge as a function of pump hose cross-section, and is expressed in B (bars). Many manufacturers also indicate the pressure in CMW (column metres of water). 1 B = 10 CMW. Pressure relates directly to flow. This is a basic law of hydraulics: for a fixed flow, pressure increases as the cross-section of the containing pipe decreases.
Example: A pump provided by the manufacturer with an operational pressure (at the pump outlet) of 6 B or 60 CMW, therefore has a maximum THM of 60m.
Flow

Flow is the central technical characteristic for feed pumps! Flow rate expresses the amount of water pumped in a period of time. For the sake of simplicity, you can assume that 6m3/h corresponds to 100l/min. However, when choosing your submersible pump, bear in mind that suction depth and height of discharge point (together dictating effective discharge height) will affect flow rate. Indeed, for a given pipe diameter, the same submersible pump will produce a lower flow rate for a greater discharge height. Conversely, the closer your suction and discharge points are in height, the higher the flow rate. If your submersible pump is intended to supply your home with water, for example, consider that a minimum of 2m3/h (for five people) is required at the discharge point. Add 0.250m3/h per additional person.

Note:

Since the flow / pressure / THM relationship doesn't necessarily come easily to everyone,

pump

manufacturers often report it by means of an easy-to-read operating curve. By all means check it out!

Explore the ManoMano catalogue

Pump
Submersible pump: any maintenance tips?
---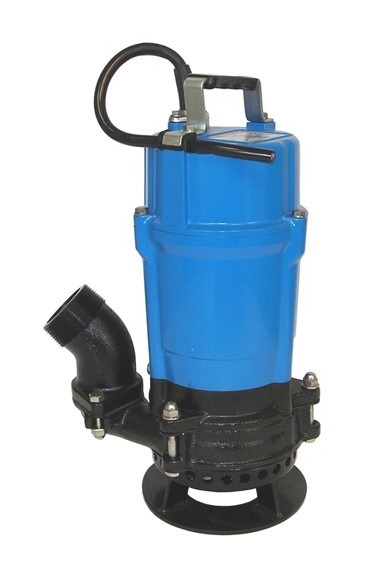 In order to prevent
unwanted leaks
, regardless of the type of pump you should consider fitting your discharge line with a
non-return valve
.
With regard to the power supply of your pump, make sure that the network you connect it to has protection against overheating. If it doesn't, and the impeller stops or the pump disengages, you'll risk burning out the motor!
On the maintenance side, you'll need to remove the pump at least once a year from its submerged position in order to clean it.
At the same time, check that there's nothing to interfere with the rotation of the wheel, check the watertightness of the electrical cables, and test the level sensor(s). Also disassemble and clean the non-return valve(s).
If you're using your pump to shift contaminated wastewater, contact a specialist authorized to pump, clean and process water likely to generate pollution.
Whatever type of pump you choose, to keep it working you should always be careful to follow recommended maintenance from the manufacturer. As you may know, electricity and water don't get on well!
Always check that the power supply is disconnected before undertaking work on your pump. It should go without saying that you must avoid putting your fingers, hands or any tools near the wheel.
Explore the ManoMano catalogue
Non-return valve
Learn more about household water installations...
To find out more about household water installations, follow our editors' advice and check out their other guides:
How to choose your booster pump?
How to choose your rainwater collector?
How to choose your swimming pool?
How to choose your pool cover?
How to choose your pool heat pump?
Guide written by:
Jeremy, construction site supervisor, Cardiff 128 guides écrits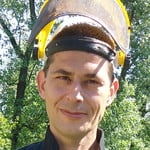 Electrician by trade, I first worked in industrial estates where I installed, wired and fixed a large number of electrical installations. After this, I managed a team of electricians for this type of work. 10 years or so ago, I turned to building and construction. From the modest family home, to gyms and theatres; I have been able to coordinate, audit and organise all sorts of construction sites.

for 4 years now, I am restaoring and bulding an extrension to a bungalow in the heart of the welsh countyside. My experience in manual work and my knowledge means I am proud to be of service. Terraces, interior design, roofing, plumbing, electricty, anything goes! We have, my wife, daughter and I, built almost everything we have from scratch! So to answer all of your questions, and to orientate and advise you on coosing your tools? Easy!
The products related to this guide