Strimmer buying guide
Guide written by: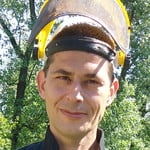 Jeremy, construction site supervisor, Cardiff
118 guides
Petrol-powered and electric strimmers are effective on high grasses, brambles and underbrush. Bladed strimmers are more powerful, often carried backpack-style or self-propelled, towed, or pushed on wheels. Electric models are typically mains-powered and are sufficient for maintaining small gardens.
Important features
Petrol-powered brushcutter
Electric brushcutter
Blade or wire
Back-mounted or on wheels
Area to be cleared
Why choose a strimmer?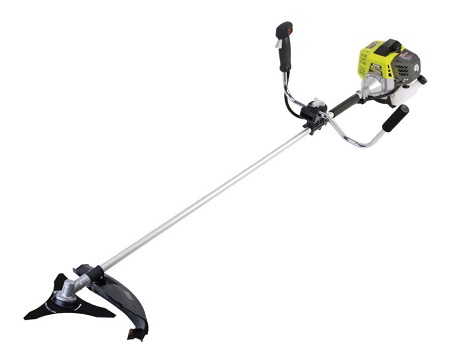 Whether you want to remove undergrowth, prune brambles, clear a slope or the borders of your garden, you'll soon realize that conventional lawnmowers don't lend themselves well to these tasks. Since edge-trimmers are pretty limited, what you really need is a
strimmer
. When
access is tricky
, the
vegetation too dense
or the ground very uneven, the best
cutting tool
to complement your mower is a
strimmer
.
A model of strimmer suited to the type of ground and vegetation is a massive step up in garden maintenance. Simple in design, easy to use and requiring little maintenance, the choice is essentially between electric, petrol-powered, back-mounted, wheeled and self-propelled models. Follow our handy guide to help choose your strimmer!
What types of machine are on offer?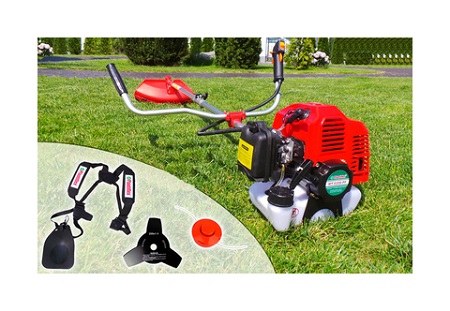 Several types of strimmers are available; choose according to your garden needs!

Edge-trimmer


The edge-trimmer is the baby of the strimmer family. Mains- or battery-powered, ideal to finish off when you're mowing or to tidy up path edges and verges. An
edge-trimmer
cuts through grass and soft plants with a round- or square-section
nylon wire
. Lightweight and easy to use,
edge-trimmers
are generally suited to smaller jobs, with power ratings between 250 and 1000W.
Portable strimmer
A portable strimmer may be electric or petrol-powered (2- or 4-stroke engine), with either wire or blade. This is a step up from the edge-trimmer. Trimming work can be carried out no trouble; brambles and brushwood are also fair game with an appropriate
blade
. Work on steep or hilly terrain is possible as long as the ground area isn't too large (i.e. under 2000m²). The cutting width of this type of strimmer varies from 25–40cm. Heavier than an edge-trimmer but just as easy to use, its power rating sits between 1000 and 2000W (electric models) or 30–40cm
3
(petrol, engine capacity).
Back-mounted strimmer

This type of strimmer is equipped with a remote petrol engine (2- or 4-stroke) which is carried on the back. It is identical in every other respect to a portable strimmer. Wearing the engine on your back lets you wield greater power (over 40cm3) and lets you tackle larger areas (up to 5000m²) and denser vegetation. Its cutting width varies from 30–40cm. This is the most suitable machine for rough terrain, heavy undergrowth and slopes. Be aware, however, that the engine can weight up to 10kg!




Towed strimmer

The towed strimmer is generally equipped with a 4-stroke engine of 150–200cm3 capacity (i.e. 3.5 to 6.5hp), and is ideal for large surfaces - up to 10000m². This type of machine is also known as a mobile strimmer or a strimmer on wheels. Its cutting width can be up to 65cm. It will effortlessly cut through tall grass, brush and thorns. Its chassis is equipped with a profiled stem to allow the machine to penetrate dense vegetation. Most models have large wheels for improved traction on difficult terrain. However, towed strimmers aren't very well suited to embankments, steep slopes and undergrowth.




Self-propelled strimmer

Again, similar to the towed strimmer, but with still greater power (from 8 to over 20hp). The self-propelled strimmer will do exactly the same job but can cover larger areas - i.e. well over 10000m². The cutting width is also greater (over 90cm), making for quicker and easier work. However, rough and sloping terrain are still not ideal.
The right machine for the job...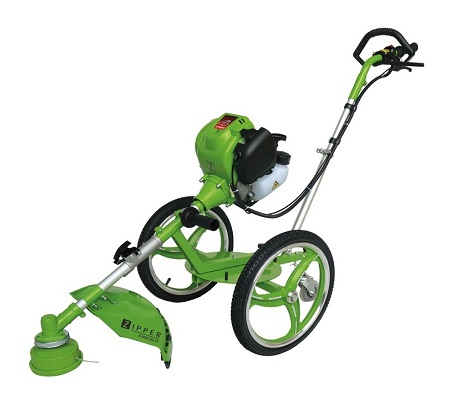 The main factor when making your choice is the area of land to be cleared. So you know what you're in for, you'll have to think about both terrain type and type of vegetation.


Here are a few tips to guide you!



Small areas...


Small areas < 1,000m²; grass and lawn tidying: an edge-trimmer is perfect!
Medium areas...


Area < 2,000m²; sloping terrain and / or strewn with obstacles; grass, small brush, brambles: choose a medium-powered portable strimmer, either electric or petrol-powered.
Area < 5,000m²; very uneven terrain; undergrowth / brushwood, brush and tree stumps: go for a high-powered portable petrol strimmer - over 40cm3 engine capacity.
Large areas...


Area < 10,000m²; slightly sloping terrain and / or strewn with obstacles; tall grass, brush and brambles: a towed strimmer is perfect, although a self-propelled model will make life even easier.
Area < 10,000m²; slightly sloping and / or uneven terrain; tall grass, brush, brambles (mostly grass): a combined mower-strimmer will perform this task to perfection. Again, a self-propelled model makes for easier work.
Very large areas > 10,000m²; more or less flat terrain; all types of vegetation: self-propelled strimmer recommended.
Strimmers: wire or blade?
One of the advantages of a portable strimmer is that you can adapt the cutting head to the type of vegetation.
As a rule, strimmers have either several
interchangeable
heads
or a hub to which you can attach your choice of:


Wire heads


2-wire nylon head for grass, soft plants and lawn finishing.
4-wire nylon head for high or dense grass and small brambles.
Knife heads


For high, dense grass, small brambles and brush.


Blade heads (more powerful petrol models)


3–7 tooth can be used for clearing, trimming bushes, brush, and branches up to 3cm diameter;
30–80 tooth can be used for intensive clearing, trimming large brambles, dense brush and branches up to 5cm diameter.
For chassis-mounted petrol strimmers (towed, self-propelled), the cutting blade is not interchangeable. It is therefore essential to choose a blade suited to the type of vegetation present. As a rule, the default will be a "mixed" blade that can take care of tall, dense grasses, small brambles and small brush. If you're contending with more robust or very dense vegetation, you'll need to purchase an additional set of blades.
Which accessories and options to choose for your strimmer?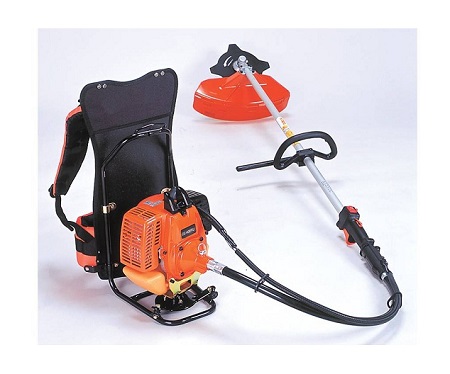 Accessories and options for edge-trimmers and portable / backpack strimmers


A carrying harness or shoulder strap is required to be able to work safely and efficiently.
A dual-handle model gives improved manoeuverability of your strimmer for steep, uneven and broken terrain.
Quick head disassembly facilitates rapid switches from one use to another.
A four-stroke engine is easier to start as it has a lower compression ratio than a 2-stroke engine.
For heavy duty work with a petrol strimmer, a large capacity fuel tank is a plus - especially for backpack models.
Accessories and options for towed strimmers and mower-strimmers


An adjustable handlebar is an advantage in terms of comfort, especially when used intensively.
Handlebar-mounted cutting height adjustment is also handy, especially when clearing large areas.
An emergency stop system is an additional guarantee of safety.
Large diameter, serrated wheels give better traction; favour a strimmer with axles mounted on ball bearings.
Bigger protective housing and an adjustable ejector chute also enhance safety.
The option of a mulching mode (for mowers) is very handy if you have a large grassy area to deal with.
Accessories and options for self-propelled strimmers


An adjustable cushioned seat combined with engine cut-out in case of falling will enhance your comfort and safety.
Hydrostatic transmission and an electromagnetic clutch make for a smoother drive.
Go for a model that offers differential locking and agricultural-type deep-tread tyres for difficult terrain and mud.
An integrated brake system is a good choice; professional models even have ABS to avoid skids.
A narrow turning circle, minimal bulk and weight will of course make your strimmer easier to handle.
What maintenance does my strimmer require?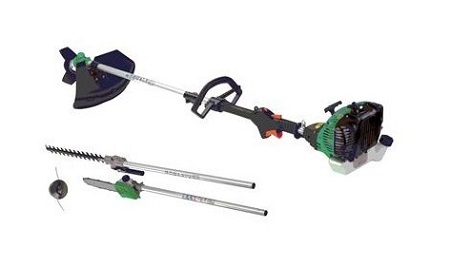 General maintenance

On all types of strimmer, you must clean the cutting surface after each use. Decaying vegetation left on the machine can become corrosive and damage the metal parts. Regularly check the tightness of your cutting head.


On electric models, you should check the condition of your power cable before each use.



Petrol strimmer maintenance

For petrol models, necessary maintenance is more frequent and a bit more complicated:
Check oil level, air filter condition and fuel level before each use;
During use ensure that the air intake does not become obstructed by grass or vegetation;
Clean the air filter every 3-4 times you refill the petrol tank;
Every 2–3 months, depending on how often you use your strimmer, check the condition of the spark plug wire;
Once a year, change the spark plug, bleed the engine, and visually check the condition of the drive belts (chassis models only).
What additional equipment will I need?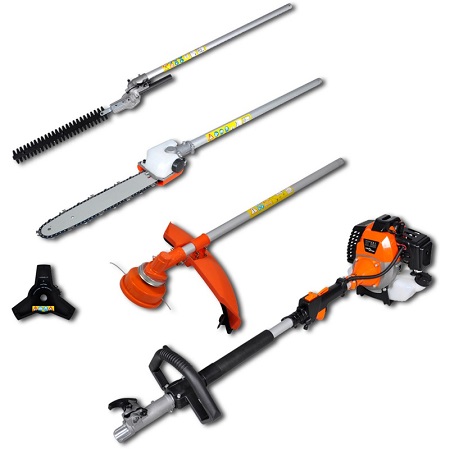 Strimmers are relatively
noisy
tools, and can be
dangerous
if misused.
Noise-cancelling
headphones
or
earplugs
are a must.
For portable and towed strimmers, make sure you wear
safety shoes
- if possible high-topped - to ensure adequate protection for your feet.
Note that a strimmer is not to be confused with an
edge-trimmer
(see above). Electric strimmers are suitable for small garden maintenance, while chassis-mounted petrol models are often combined with thermal mowers.
Other
garden tools
are necessary for the maintenance of green spaces and undergrowth - such as
chainsaws
,
hedge trimmers
and
leafblowers
. You might also want to supplement your equipment with a
woodchipper
and / or
trailer
to transport your plants. You might even go for a
motorized wheelbarrow
!
Strimming is dirty work, so always wear suitable rough clothes. And remember our advice on protective gear because nothing is more dangerous than misusing a tool! Finally, for ultimate versatility, go for a
4 in 1
strimmer: strimmer, hedge cutter, pole-pruner and edge-trimmer!
Learn more about garden maintenance...
To find out more about garden maintenance, follow our editors' advice and check out their other guides:
Did you find this guide helpful?
Guide written by:
Jeremy, construction site supervisor, Cardiff 118 guides écrits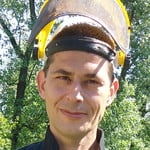 I'm a trained electrician who started off working in large-scale industrial projects. Most of my early career was spent taking on huge electrical installations. I like to think that no job is too big for me, and after all the experience I'd gained, I started managing teams of electricians.

I like to learn on the job, so around ten years ago, I moved into building and construction. As a site manager, I've overseen the building of small residences, sport facilities, and even theatres!

Working with my hands is something I love to do in my free time as well. For four years now, I've been restoring our home in the Welsh countryside. I even built a conservatory for my wife, who loves watching the sheep behind our house.

Whether it's patios, interior design, roofing, plumbing or electricity - I love giving it all a go! I've even made my family DIY converts and together we've built almost everything we have from scratch. My experience, both in the field and in my workshop, has taught me a lot and I'm happy to share what I've learned. No matter how big or small your project is, I'm here to answer your questions and help you choose the right tools and equipment.
The products related to this guide