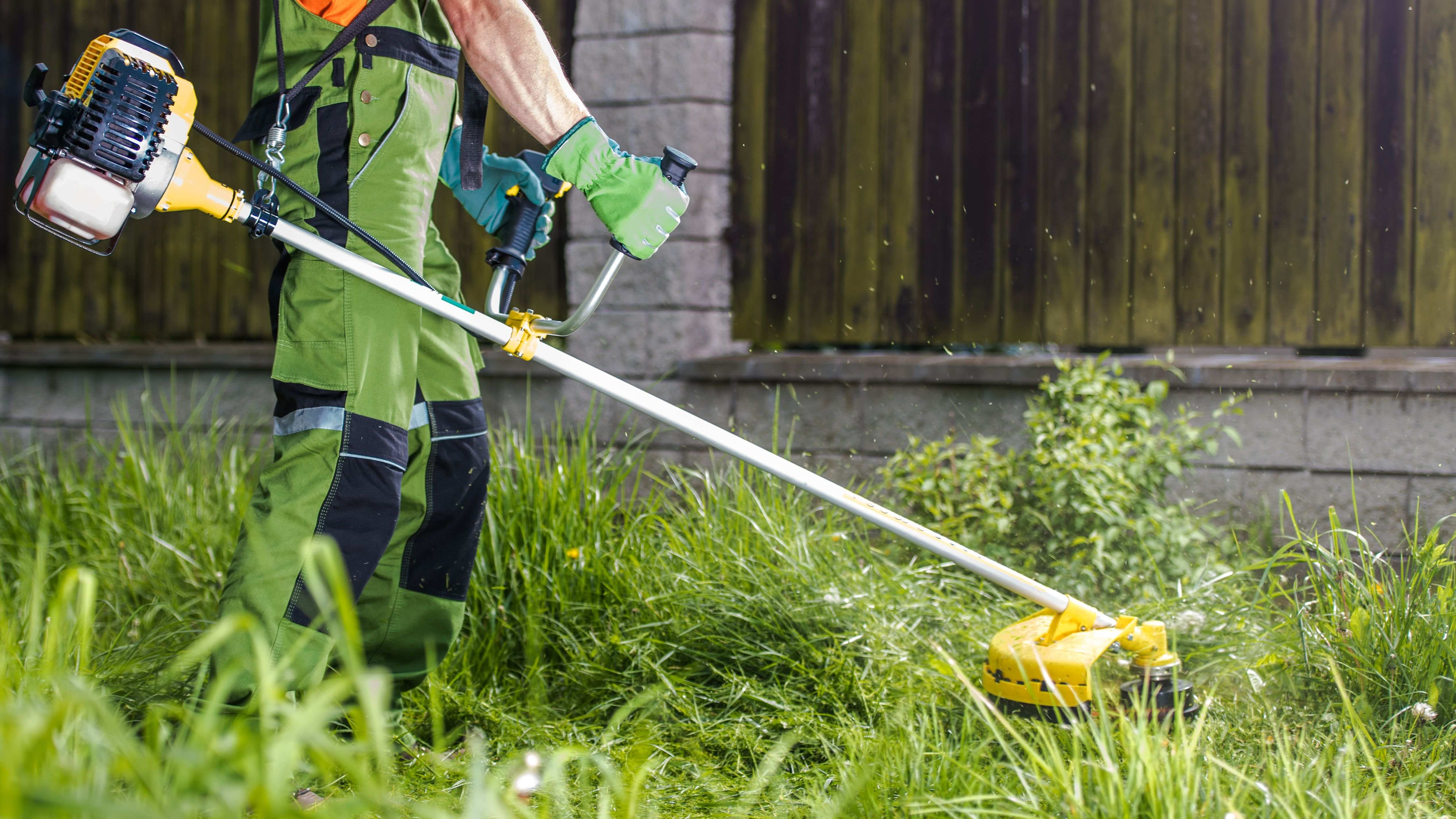 Strimmer and brushcutter buying guide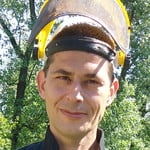 Guide written by:
Jeremy, construction site supervisor, Cardiff
134 guides
Brushcutters and strimmers are designed to cut back tall grass, brambles and undergrowth. Bladed bruschcutters are more powerful and can be wheeled or carried like a backpack. Electric strimmers are typically mains-powered and used to maintain small gardens. Read on to find the right strimmer or brushcutter for you!
Important features
Petrol-powered brushcutter
Electric strimmer
Blade or nylon wire
Backpack or wheeled
Area to be cleared
Choosing the right strimmer or brushcutter for your task
---
| | | | | | |
| --- | --- | --- | --- | --- | --- |
| | | | | | |
| Borders, pathways, tidying up lawn | | | Battery-powered or electric corded | | |
| Tidying up lawn, cutting back bramble, small shrubs, long grass. | | | | | |
| Cutting back bramble, shrubs, tall and dense grass. | | | | | |
| Cutting back bramble, shrubs, tall and dense grass. | | Push wheeled bruschcutter | | | |
| Lawns, cutting back bramble, shrubs, tall and dense grass. | | Self-propelled wheeled brushcutter / rough grass cutter | | | |
| Cutting bramble, shrubs, tall and dense grass. | | | | | |
When to use a strimmer or brushcutter
---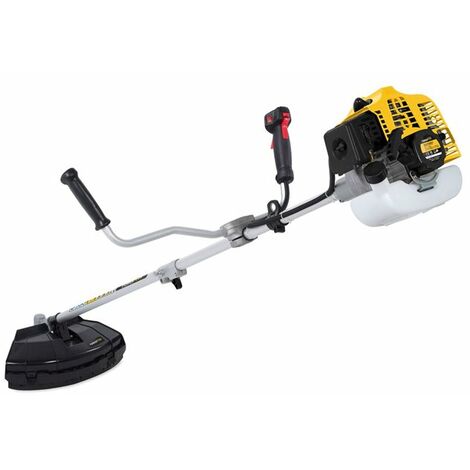 Whether you want to remove undergrowth, prune brambles, clear a sloped area or tidy up the edges of your garden, you'll soon realise that a conventional lawnmower won't be your best option. The average edge trimmer is also fairly limited when it comes to these tasks so what you really need is a strimmer or brushcutter.These tools are best used alongside a lawnmower when working with areas that are tricky to access, densevegetation or sloping ground.
Designed to work on various types of terrain and vegetation, your strimmer will quickly become your favourite garden tool!Featuring a basic design, these easy-to-use machines require little maintenance. You will usually find that your choice comes down to electric corded strimmers, petrol-powered backpack brushcutters and wheeled strimmers (push, self-propelled or ride-on). Follow our handy guide to find the best strimmer or brushcutter for your needs.
Explore the ManoMano catalog
Strimmer
Different types of strimmer
You'll find a range of different strimmers on the market – your choice will ultimately depend on the features of your garden.
Edge trimmers
---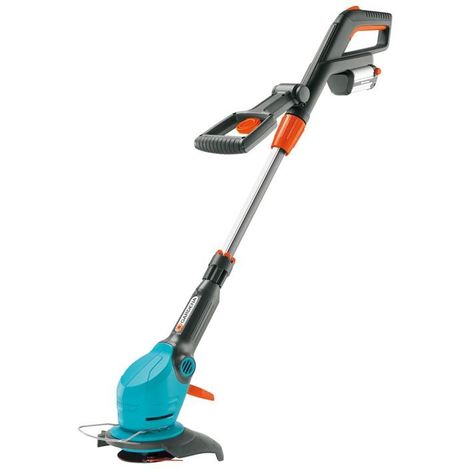 The edge trimmer is the baby of the strimmer family. These tools can be mains- or battery-powered and are ideal for tidying up path edges and verges after mowing. An edge trimmer is able to cut through grass and soft plants with ease using round or square nylon line.Lightweight and easy to use, edge trimmers are generally suited to smaller jobs and have power ratings of 250 to 1000 W.
Strimmers
---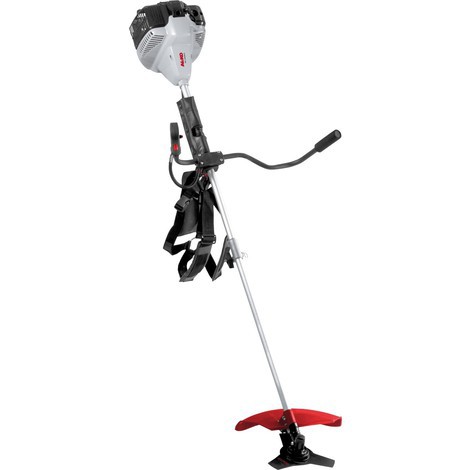 These strimmers are powered by electricity and cut using nylon line. A step up from the edge trimmer, these tools are great for neatening up your lawn.Work on steep or hilly terrain is possible as long as the area isn't too large (i.e. under 2000 m²).The cutting width of this type of strimmer varies from 25–40 cm. Heavier than an edge trimmer but just as easy to use, the power rating of these tools sits between 1000 and 2000 W.
Backpack brushcutter
---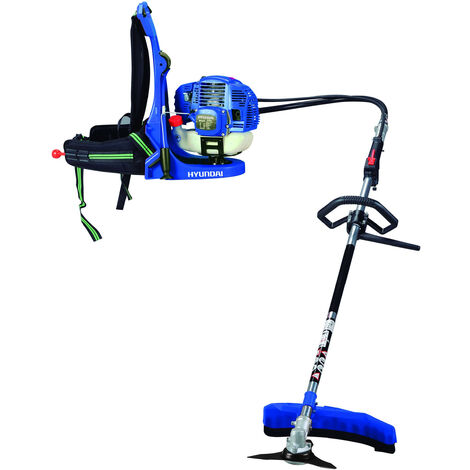 This type of brushcutter is equipped with a remote petrol engine (2- or 4-stroke) which is carried like a backpack. It is identical in every other respect to an electric strimmer.Wearing the engine on your back allows you to wield greater power (over 40 cc), and lets you tackle larger areas (up to 5000 m²) and denser vegetation. The cutting width of these brushcutters varies from 30 to 40 cm. This is the most suitable machine for rough terrain, heavy undergrowth and slopes. Be aware, however, that the engine can weight up to 10 kg!
Wheeled brushcutter (push or self-propelled)
---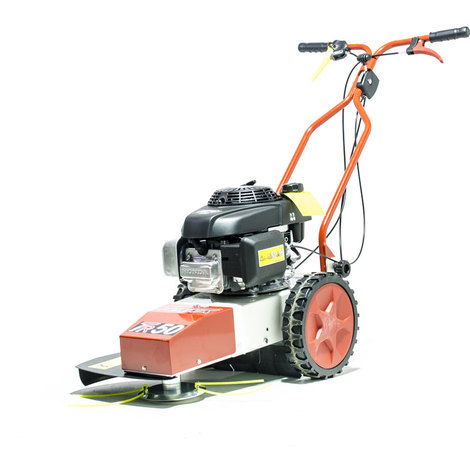 Wheeled strimmers are generally equipped with a 4-stroke engine with a 150–200 cc capacity (i.e. 3.5 to 6.5 hp). These machines are ideal for large surfaces of up to 10,000 m².This type of machine is also known as a rough grass cutter and can feature a cutting width of up to 65 cm.It will effortlessly cut through tall grass, shrubs and thorny bushes. They feature a three-wheeled design to help penetrate dense vegetation. Most models have large wheels for improved traction on difficult terrain. That said, these brushcutters aren't very well suited to steep slopes and thick undergrowth.
Ride-on brushcutter
---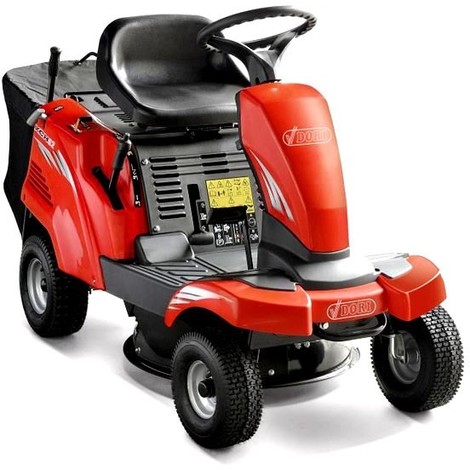 These models are similar to wheeled brushcutters, but offer more power (8 to 20hp). A ride-on brushcutter will do exactly the same job as other models but can handle larger areas of well over 10,000 m². The cutting width is also greater (over 90 cm), making for quick and easy work. However, these machines are not ideal for rough and sloping terrain.
Explore the ManoMano catalog
Edge trimmers
Choosing the right strimmer for your task
In addition to considering the type of vegetation you want to clear, you'll have to think about the size of your space.  After all, there's no point in investing in the most powerful model if you're dealing with less than 1,000 m²! We've compiled a quick size guide to help you choose.
Small areas
---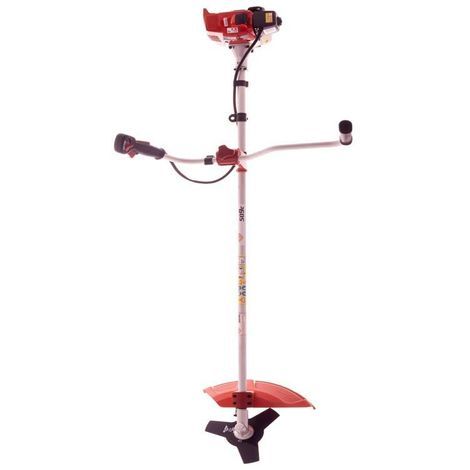 < 1,000m²: an edge-trimmer is perfect for tidying up the edges of your lawn!
Medium-sized areas
---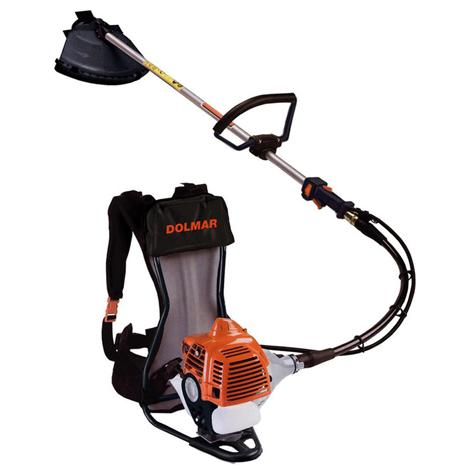 < 2,000m²; sloping and / or obstacle-strewn terrain; grass, small shrubs, brambles: choose a medium-powered electric strimmer.
< 5,000m²; very uneven terrain with undergrowth, shrubs and tree stumps: go for a high-powered petrol brushcutter with an engine capacity of over 40 cc.
Large areas
---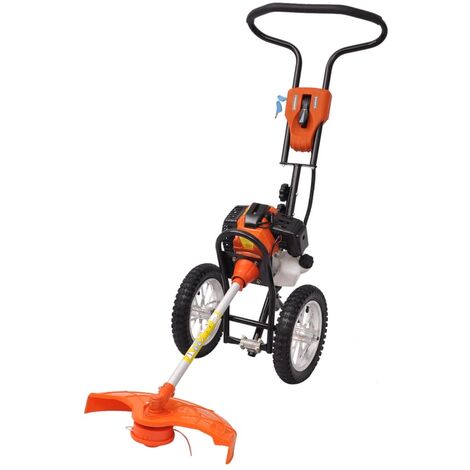 < 10,000m²; slightly sloping and / or obstacle-strewn terrain; tall grass, shrubs and brambles: a wheeled brushcutter is perfect – a self-propelled model will make life even easier.
< 10,000m²; slightly sloping and / or uneven terrain; tall grass, shrubs, brambles and a lot of grass: a rough grass cutter will perform this task to perfection. Again, a self-propelled model makes for less work.
Very large areas> 10,000m²; more or less flat terrain; all types of vegetation: ride-on brushcutter recommended.
Cutting tools: nylon line vs. blades
One of the advantages of an electric strimmer is that you can change the cutting head depending on the type of vegetation you're working with.As a general rule, these strimmers have either several interchangeableheads or a hub to which you can attach the tool of your choice.
Nylon line 
---
double-line nylon head for grass, soft plants and finishing off a lawn.
quadruple-line nylon head for high or dense grass and small brambles.
Knife blades
For high, dense grass, small brambles and shrubs.
Chisel blades
3–7 tooth can be used for clearing, trimming bushes, shrubs, and branches of up to 3 cm in diameter;
30–80 tooth can be used for intensive clearing, trimming large brambles, dense shrubs and branches of up to 5 cm in diameter.
Watch out for flying stones and grit when using a blade head. Protect your hands with gloves and your face with safety goggles, a visor or even a helmet. Don't forget to protect your ears with hearing protection because strimmers can get pretty noisy!
For ride-on brushcutters, the cutting blade generally cannot be changed with other types of blade. It is therefore essential to the right blade for the type of vegetation you have. As a general rule, the default option will be a "mixed" blade that can take care of tall, dense grasses, small brambles and small shrubs. If you're contending with more robust or very dense vegetation, you may need to purchase a second set of blades.
Explore the ManoMano catalog
Visor
Comparing different strimmers
Accessories for edge trimmers & electric strimmers
---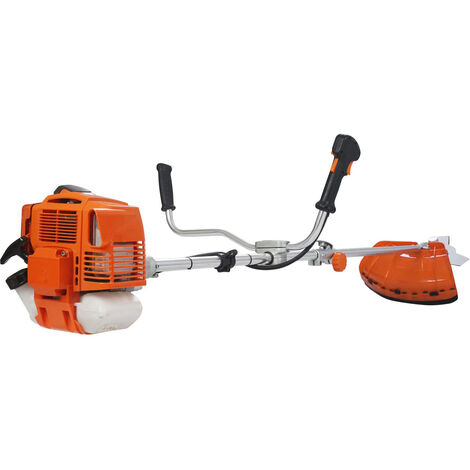 A harness or shoulder strap is required for safe and efficient handling.
A dual-handle model makes your strimmer easier to manoeuvre over steep, uneven and obstacle-strewn terrain.
Quick change heads for rapid switches from one application to another.
A four-stroke engine is easier to start as it has a lower compression ratio than a 2-stroke engine.
For heavy-duty work with a petrol strimmer, a large capacity fuel tank is a plus – especially for backpack models.
Accessories for wheeled strimmers and brushcutters
Anadjustable handlebar is an advantage in terms of comfort, especially for intensive use.
Handlebar cutting height adjustments are also handy, especially when clearing large areas.
An emergency stop system to ensure safety.
Large wheels give better traction.
Large guards and an adjustable ejector chute also enhance safety.
A mulching mode is very handy if you have a large grassy area to deal with.
Accessories and options for ride-on brushcutters
An adjustable cushionedseat combined with engine cut-out in case of falling will enhance your comfort and safety.
Hydrostatic transmission and an electromagnetic clutch make for a smoother drive.
Go for a model that offers differential locking and agricultural-type deep-tread tyres for difficult terrain and mud.
An integrated brake system is a good choice; professional models even have ABS to avoid skids.
A model that offers tight turns, minimal bulk and weight will, of course, be easier to handle.
Caring for your strimmer or brushcutter
General maintenance
---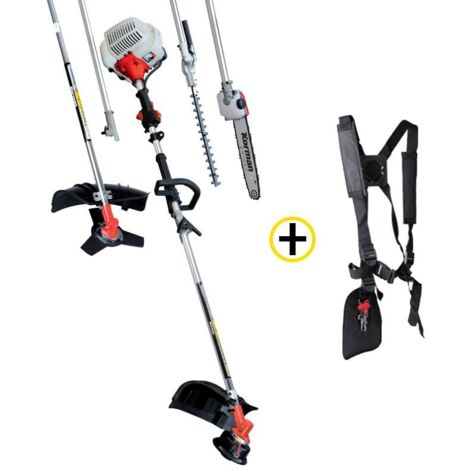 The cutting surface of all types of strimmers and brushcutters must be cleaned down after each use. Decaying vegetation left on the machine can end up corroding the metal parts. It's also important to check the tightness of your cutting head on a regular basis.For electric models, you should check the condition of your power cable before each use.
Caring for a petrol-powered strimmer
The maintenance requirements of petrol-powered models are a little more complicated.
Check oil level, air filter condition and fuel level before each use;
During use ensure that the air filter does not become clogged by grass or vegetation;
Clean the air filter every 3-4 times you refill the petrol tank;
Every 2–3 months, depending on how often you use your strimmer, check the condition of the spark plug wire;
Once a year, change the spark plug, bleed the engine, and check the condition of the drive belts.
Equipment and tools for your strimmer
---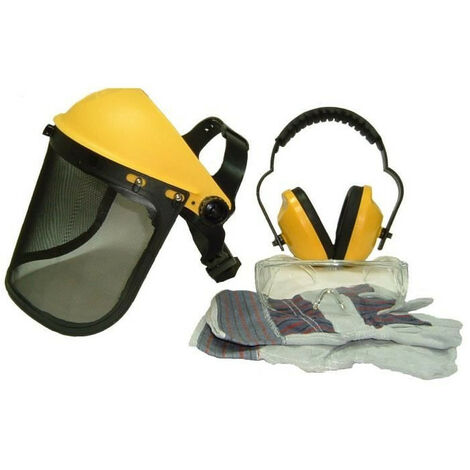 Strimmers and brush cutters are relatively noisy tools, and can be dangerous if used incorrectly. Noise-cancellingheadphones or earplugs are therefore a must. Make sure you wear safety shoes (high-topped shoes, if possible) to ensure your feet are adequately protected. Strimming is dirty work, so always wear clothes you don't mind getting ruined. Remember: protective gear is a must because nothing is more dangerous than misusing a tool!
Other tools for clearing gardens
---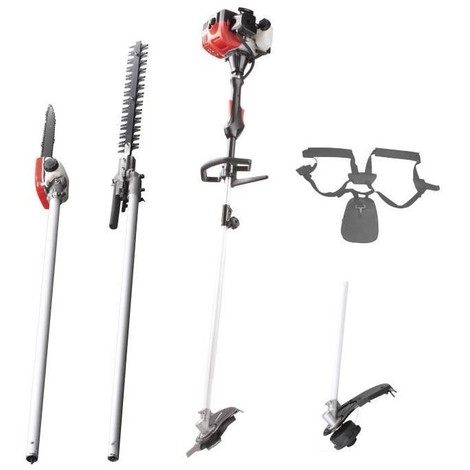 It's worth noting again that an edge trimmer is not the same thing as a strimmer. In short, an electric tool is great for a small garden while a petrol-powered model is best if you need a bit more power.You may also want to invest in a range of other garden tools to maintain your greenery and undergrowth, such as chainsaws, hedge trimmers and leafblowers. You might also want to supplement your equipment with a woodchipper and / or a garden trailer to transport your plants. You might even go for a powered wheelbarrow!For more versatility, check out tools that offer a range of applications. You can even find 3-in-1 tools that can be used to cut undergrowth, trim hedges and keep your lawn looking tidy!
Explore the ManoMano catalog
Safety shoes
Guide written by:
Jeremy, construction site supervisor, Cardiff, 134 guides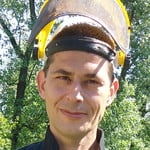 Electrician by trade, I first worked in industrial estates where I installed, wired and fixed a large number of electrical installations. After this, I managed a team of electricians for this type of work. 10 years or so ago, I turned to building and construction. From the modest family home, to gyms and theatres; I have been able to coordinate, audit and organise all sorts of construction sites. for 4 years now, I am restaoring and bulding an extrension to a bungalow in the heart of the welsh countyside. My experience in manual work and my knowledge means I am proud to be of service. Terraces, interior design, roofing, plumbing, electricty, anything goes! We have, my wife, daughter and I, built almost everything we have from scratch! So to answer all of your questions, and to orientate and advise you on coosing your tools? Easy!
The products related to this guide