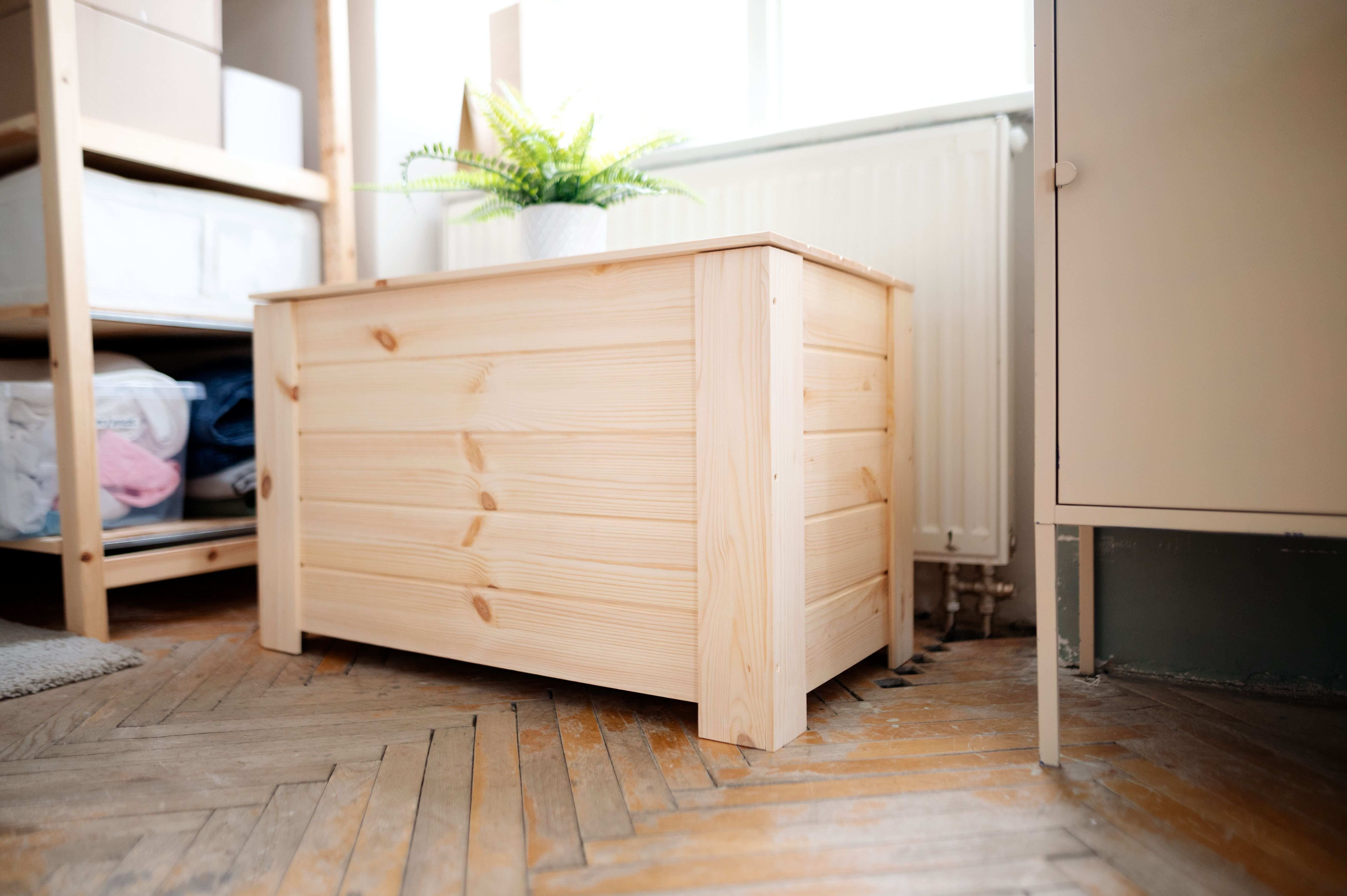 Storage bench buying guide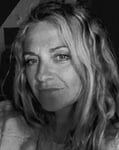 Guide written by:
Sylvie, Ecrivain & journaliste brico/déco, Essonne
257 guides
Storage benches are cleverly designed to offer both seating and storage space. But with so many different types out there, how do you know which model to pick? From various designs and materials to storage capacity and comfort, follow our guide to find the best storage bench for your needs.
Key criteria for choosing a storage bench
---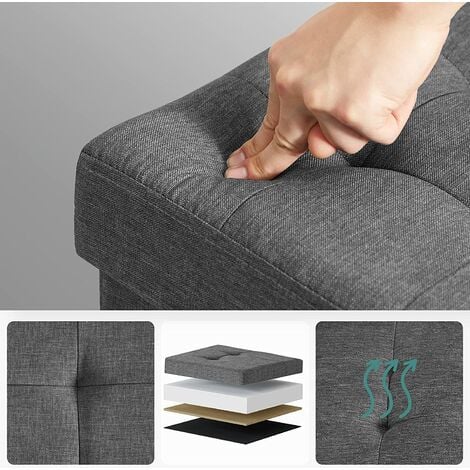 Also known as ottomans, storage benches and chests serve as both seating and storage, enabling you to neatly tuck away a variety of items such as shoes, blankets, toys, clothes, books, and so on. In order to find the right model for you, you'll have to factor in several criteria:
The design of the storage bench will depend on the décor of the room in which it will be used.
The materials you choose will be determined not only by your tastes but also your requirements in terms of durability and maintenance.
The type of storage bench; for example, folding or trunk style.
Storage capacity and design, which will depend on what you intend to store.
Seating comfort: bearing in mind that a model with upholstered or cushioned seats will, of course, be more comfortable.
Safety: to protect your items from curious children, for example.
Explore the ManoMano catalog
Benches
Different types of storage benches
Storage benches and chests come in a range of different designs. Your choice will depend on exactly what you want from the unit.
Trunk-style storage chests
---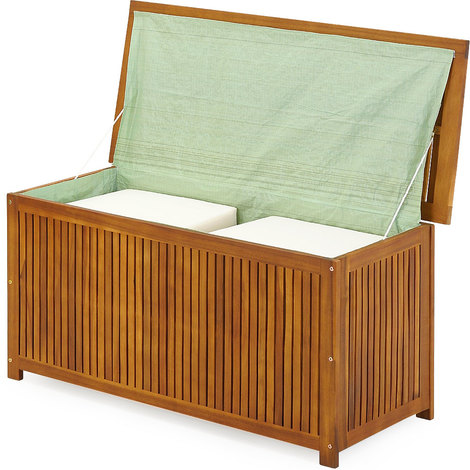 Storage benches in this style look a bit like old steamer trunks with their sturdy and elegant design. Decorative pieces in their own right, these models are often finished in leather, wood or metal. While they provide a fair amount of storage space, they do not always offer the most comfortable seat.
These models can, however, be transformed into mini bars and used to store glasses, drinks and other refreshments.
Foldable storage benches
---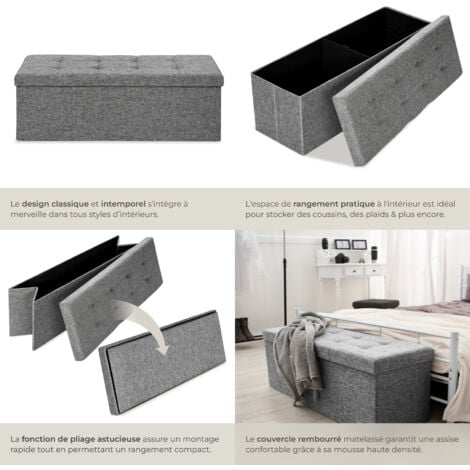 These storage benches can be easily folded and unfolded which means they can be used as seating or storage space when you need them and stowed discreetly away when you don't.
Generally lightweight and relatively inexpensive, these storage benches can provide up to 3 seats, depending on their size.
Storage benches with legs
---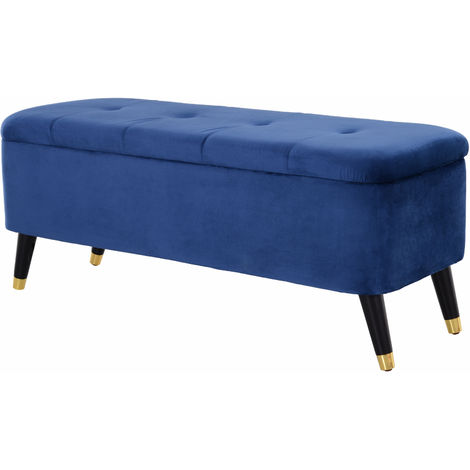 Featuring a less bulky design than those that go down to the floor, storage benches on legs are more elegant but may also offer less storage space (depending on size).They are the perfect addition to a living room or the foot of a bed.
Toy storage benches
---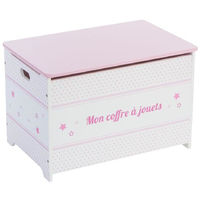 Designed specifically to store toys in a child's room and provide extra seating, these benches are durable and generally more colourful than other models.If intended for use by younger children, pay close attention to height and safety features such as locks and anti-tilt protection.
Shoe storage benches
---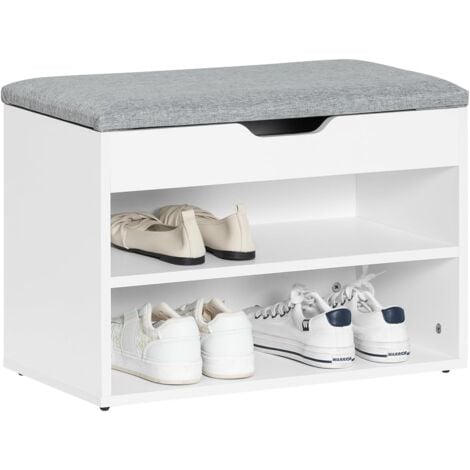 This type of storage bench is designed to keep your shoes organised on shelves and compartments specially designed for this purpose.At the same time, they provide a comfortable seat for when you need to put on or take off your shoes.
Storage bench materials: style vs. maintenance
---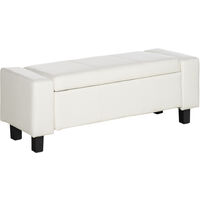 The materials used to form a storage bench will determine the style, durability, price and care requirements of the model. Some of the most common materials are as follows:
PVC (polyvinyl chloride) is a lightweight material meaning your storage bench will be easy to move around. What's more, it's durable, easy to maintain and comes in a wide range of colours.
Woodcomes in many different species from inexpensive pine to exotic woods such as ipe (Brazilian walnut) or teak for a warm and long-lasting storage bench. But all types of wood must be carefully maintained.
Chipboard and medium density fibreboard (MDF) are made from wood products. They are less expensive and lighter than solid wood, but still durable. Some can even be coated with a finish made to look like other materials, such as metal.
Woven resin or poly rattan looks exactly like natural rattan but is used to form storage benches that are lightweight, moisture-resistant and easy to maintain.
While leather storage benches add a touch of grandeur and elegance to any room, they are also durable and easy to maintain. However, they do require extra care as they are prone to scratches and tend to fade in direct sunlight.
Fabric is used to create a sense of comfort. You can choose from materials like cotton, velvet or synthetics, each available in a variety of colours and patterns. That said, the fabric must be given a stain-resistant treatment.
Storage benches: size and storage capacity
---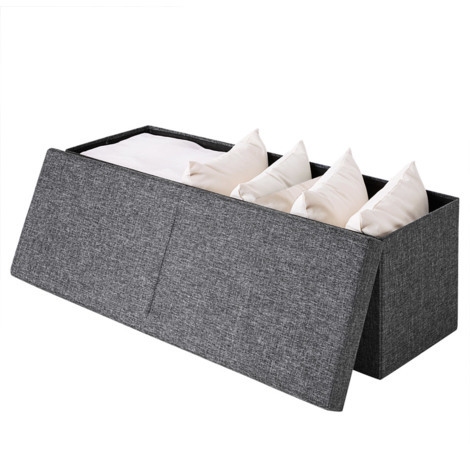 It goes without saying that the size of your storage bench will depend on the amount of space you have to fill. Avoid choosing a model that is too big or it may end up overwhelming your entrance or living room. You should also think about the space available inside, bearing in mind that this will decrease as you fill it up! Looking to store a range of items such as winter duvets, bottles and glasses? To ensure everything will fit, we recommend measuring the items you'd like to store before making your choice.
While the storage capacity of your bench will depend on its size, the inside of the unit can still be maximised to meet your needs as best as possible. For example, if you are looking to store shoes, we recommend choosing a model that is equipped with compartments designed for this purpose. It is also possible to find models with shelves or drawers.
Don't forget about how the storage bench opens as this will affect how easy it is to access your items. Storage benches that open from the front are perfect for easy access. Alternatively, models that feature a split top will prevent you from having to lift the entire lid but offer somewhat limited access.
Guide written by:
Sylvie, Ecrivain & journaliste brico/déco, Essonne, 257 guides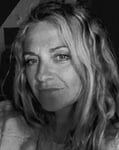 Après avoir travaillé au service de presse de France 2 et de la Cinq, j'ai choisi de laisser parler ma plume en m'orientant vers le journalisme et l'édition. Aussi éclectique dans mes goûts que dans mes écrits, passionnée de décoration et de bricolage comme d'histoire et de sciences, j'écris depuis plus de vingt ans sur ces thématiques. À mon actif : des ouvrages didactiques, romans et nouvelles, et de très nombreux articles brico déco regorgeant de conseils et d'astuces, expérimentés dans la vieille maison que je rénove peu à peu.
The products related to this guide