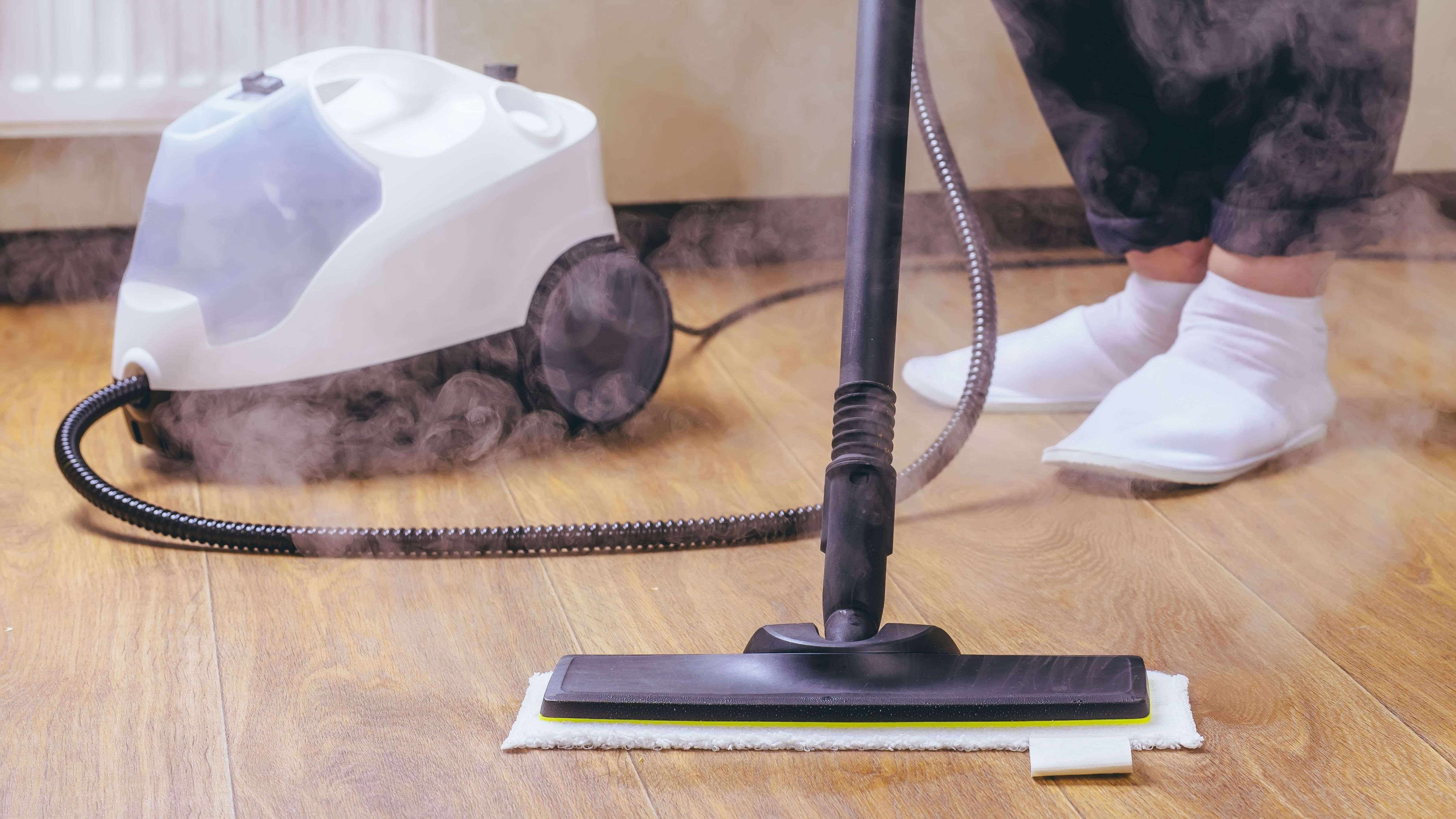 Steam cleaner buying guide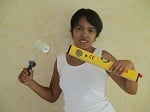 Guide written by:
Holly, self-taught DIYer, Cardiff
22 guides
Better than a broom, more practical than a vacuum cleaner, a steam cleaner expels any dirt on any surface:  tile, windows, or carpets. But do you need a steam cleaner with suction? How much power? What are the criteria for choosing an effective steam cleaner? Let's get hunting!
How does a steam cleaner work?
---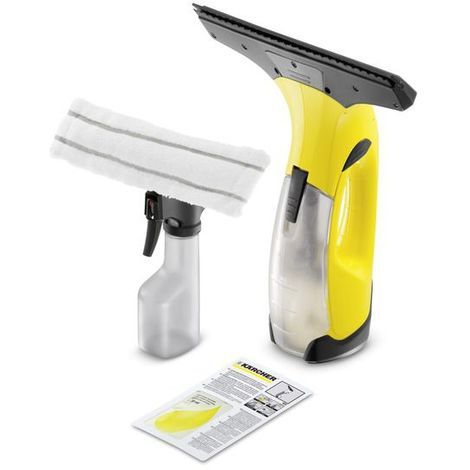 A steam cleaner has an electric motor that heats water to turn it into steam.
A thruster then takes over and sends the steam from its heating chamber through a hose to the brush.
The steam evacuated by the brush, squeegee, or gun is extremely thorough for cleaning due to its high temperature.
Depending on the technology and use of the steam cleaner, features such as flow rate and power vary.
Thanks to a steam diffusion regulator, the all-in-one steam cleaner offers several uses.
Explore the ManoMano catalog
Steam cleaner
What are the different types of steam cleaners?
---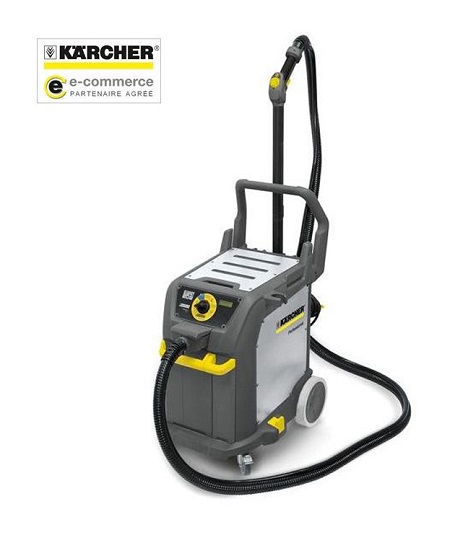 First, a steam cleaner will get rid of all the dirt, grease, germs, and mites that hide in your living space. On your tile, your windows, your fabrics, even in your bathroom, it is a clever choice for all surfaces and a wide variety of materials.Simply by heating the water to 100 ° C (some models can make superheated steam with temperatures as high as 200 ° C), the steam cleaner makes it easy to maintain your home without the use of detergents. It can take many forms, but to know which steam cleaner is right for you, just assess your needs.
The steam cleaner
Are you looking for an ultra-light option for a quick start on your small household chores? The steam cleaner would be suitable for you. It is a practical way of easily dislodging the grime and the scale that builds up on your taps and in your toilets. Nothing can withstand it.
---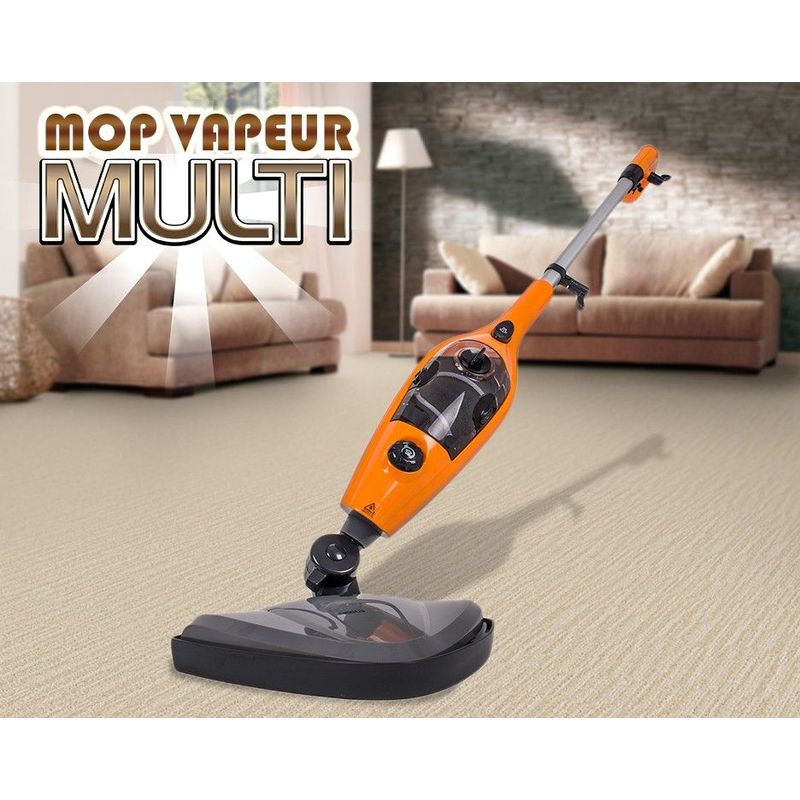 The steam brush
The steam brush is the specialist in the cleaning of hard floors such as tiles, linoleum, or wood flooring. With its tall handle, it spares your back the pain of having to crouch and it is ideally light weight and manoeuvrable. Thanks to its size and easy disassembly, it is easy to store it out of sight when not in use.
The simple steam cleaner
Portable and often equipped with rollers, the simple steam cleaner is similar to a vacuum cleaner. This model maintains the versatility to sanitize floors, toilets, windows, fabrics, and various objects using an assortment of accessories. It is also available in smaller, less bulky models.
Steam vacuum cleaner
Two appliances in one, the steam vacuum cleaner combines two actions, steam cleaning and suction. No need to vacuum beforehand. Perfect for anyone short on time.
The window cleaner
Thanks to its small size, it's extremely easy to handle and makes your windows shine. Say goodbye to smudges and watermarks on the windows.
How to choose the power of a steam cleaner
---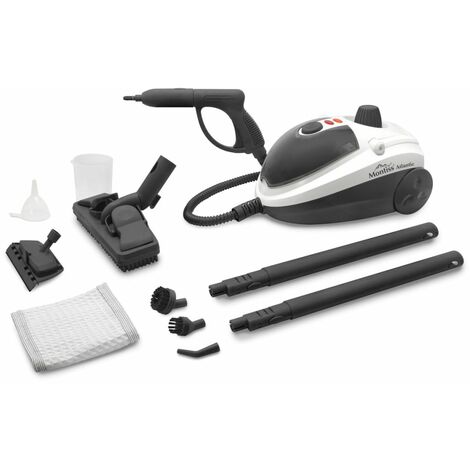 Expressed in Watts (W), the power determines the heating time necessary to produce steam.The higher the power, the shorter the wait time and the better its performance.Each type of steam cleaner has a general power range:
Window cleaner:  power from 12 W to 900 W.
Hand-held steam cleaner:  from 900 W to 1600 W.
Steam cleaner with or without vacuum:  from 1200 W up. If you want to save time, a 1900W steam cleaner will usually be ready to work in less than a minute.
Explore the ManoMano catalog
Steam cleaner
How long does it take for a steam cleaner to do the job?
---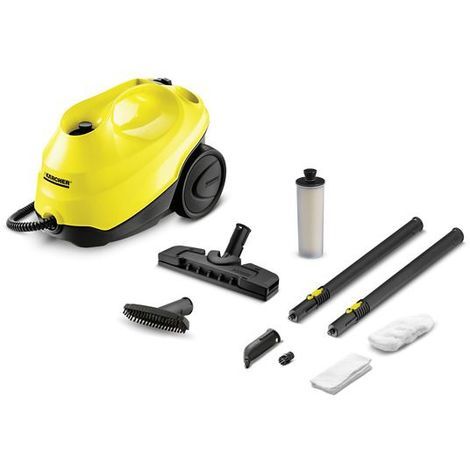 There are several parameters to consider when choosing from the range of the steam cleaner on the market.
Capacity of the tank
When the water in the tank empties, you must interrupt the cycle of the steam cleaner to refill. With a tank of less than one litre, the cycle lasts only 20 to 30 minutes. Plenty of time for cleaning a small surface but not enough for prolonged work. More than 2 litres, you can continue for up to 2 hours, enough time to clean your whole house. Another interesting option:  a steam cleaner with a removable tank that you can refill with water without having to deactivate it. Even better, a steam cleaner equipped with a self-filling system. Wouldn't that be nice?
Wire length
In the case of an electric steam cleaner, the length of the cord itself – usually from 4 to 9 meters - limits the area you can clean at one time. Handheld steam cleaners that run on a battery are available. At this point, their rating is based on battery life and usually falls between 20 minutes and 2 hours.
Explore the ManoMano catalog
Steam cleaners
What are the main characteristics of a steam cleaner?
---
Apart from the power and the mobility, the flow and the pressure determine the efficiency of a steam cleaner.
Flow rate of a steam cleaner
The flow rate defines the amount of steam sprayed by the steam cleaner. The flow rate is measured in grams per minute (g/min) and ranges from 0 to 115 g/min. The higher the rate, the more efficient the steam cleaner. For hard flooring, a flow rate of 70 g/min is sufficient.On some steam cleaners, you can adjust the flow rate depending on the flooring and how dirty it is.
Pressure of a steam cleaner
The pressure is expressed in bars, it indicates the force with which the steam cleaner ejects steam. Generally, you choose between 3 and 6 bars. High-pressure steam cleans more efficiently than lower pressure. With 4 bars, a steam cleaner should be able to effortlessly removing dirt from your carpets, from between hardwood planks, from tiles and grout, etc.Thismeans significant pressure also saves time. From 4 bars, a steam cleaner is considered good for effortlessly removing dirt on your carpets, between the joints of the tiles, etc.
Explore the ManoMano catalog
Steam cleaner
What are the "comfort options" of a steam cleaner?
---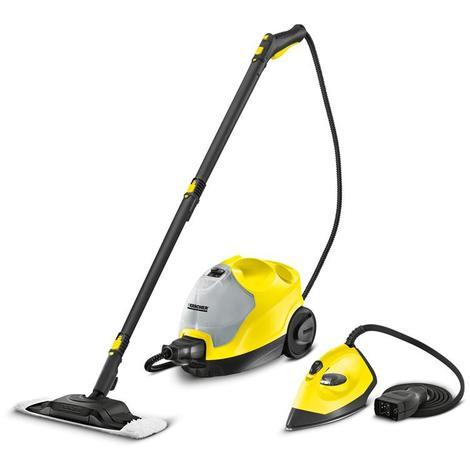 Since we're talking about a daily cleaning, comfort is a must.
Weight of a steam cleaner
Your steam cleaner should be easy for you to handle, especially if you have to lift it to clean different floors in different rooms. Between two steam cleaners with otherwise identical characteristics, choose the lighter one.
Sound level of a steam cleaner
In order to avoid becoming too noisy, the tank of your device must have good sound insulation. If you can't find a model with good sound insulation, favour a steam cleaner equipped with a noise reduction system.
Control at the handle
A steam cleaner with a handle control prevents you from bending down when you want to adjust the steam flow. This is very practical as it saves you having to stop and bend down to adjust your settings. Instead, you can make adjustments with the simple touch of your thumb.
Explore the ManoMano catalog
Steam cleaner
What are versatile steam cleaners?
---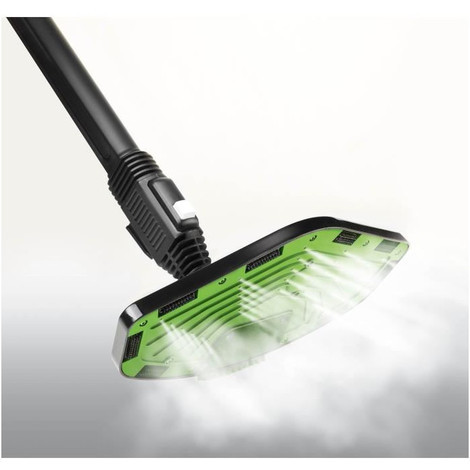 A steam cleaner can be extremely versatile thanks to a variety of accessories? Depending on the accompanying tips, you will be able to meet all your most frequent cleaning needs.
Brush
A large brush for slabs and tiles, a small brush for meticulous cleaning of small surfaces - mattresses, armchairs etc. And a triangular brush for the corners.
High-pressure pistol
The high-pressure gun is very effective at dislodging dirt from taps, toilets, along with tile grout, against even the most stubborn grease and grime.
Window squeegee
The window squeegee is essential to make your mirrors and windows shine without leaving streaks or water marks.
The iron
Nothing compares at gently pressing your clothes.
The paper lifter
The paper separator is a practical addition to a home improvement project and saves you long hours of work removing old wallpaper.
Explore the ManoMano catalog
Wallpaper
Final advice on your choice and use
---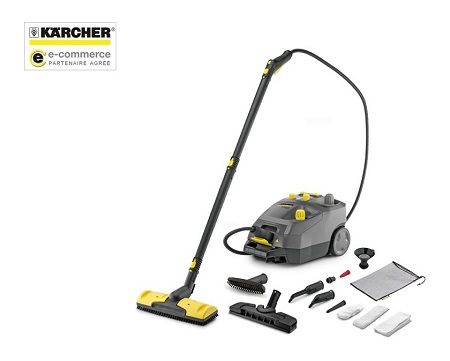 Are lightness and manoeuvrability are your main criteria? Look for a handheld steamcleaner - with or without a cord - or steam brushes that store easily in a small space.
On the other hand, if you are looking for a multi-function steamcleaner, there is nothing better than a vacuumsteamcleaners. Often available with a squeegee, cleaning glazed surfaces is only one of the functions made easier by these models. If the surface to be cleaned is delicate or sensitive to water, it is better to consider options other than a steam cleaner.
Since a steam cleaner contains heated water, make sure to check the safety features it offers:  safety valves and child safety features are extremely important. Otherwise, feel free to get to steaming.Before purchasing, consider checking the availability of future or replacement accessories and try to find out how durable and flexible the squeegee, brush, and other accessories are.If you have hard water, consider filtering it before use to improve the lifespan of your cleaner. The accumulation of limescale can clog the passage of water and damage the circulation.For all kinds of cleaning, equip yourself with a high-pressure cleaner.To your brushes!
Explore the ManoMano catalog
Steam cleaner
Learn more
For DIY enthusiasts interested in knowing how to choose the accessories related to steam cleaners, follow the advice of our editors and discover their Guides:
How to choose your stepladder

How to choose your wallpaper
And to work safely:
How to choose your protective clothing
Guide written by:
Holly, self-taught DIYer, Cardiff, 22 guides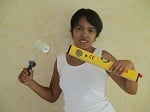 First of all, my studies have nothing to do with decoration or DIY as I was specialised in management. My passion in DIY started 5 years ago (very recently!) Everything started when we bought a house to renovate from floor to ceiling. As I'm a self-taught person, I started working on different house project both inside and outside. My husband helped me but the student soon overtook the teacher! And as there are a lot of green spaces in Creuse, gardening tools have no secrets for me. My friends and family often come to me for advice when it comes to DIY. Today, I want to share this with you!
The products related to this guide