Stationary sander buying guide
Guide written by: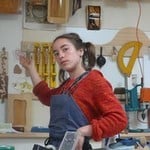 Alice, Furniture Maker, Manchester
10 guides
Joiners, carpenters and model makers alike will attest that sanding is a tedious but essential part of any woodwork project... Enter the sanding machine! Stationary belt sanders, oscillating spindle sanders, calibrating sanders... Follow our guide and be rid of all your rough edges!
What is a stationary sander?
Fixed on a frame,
machine sanders
are
stationary
machines
and come in various forms. Whether they are
band
,
disc
,
oscillating
,
combined
or
calibrating
, all have a common purpose: to smooth the surface of a piece of wood. To this end, sanding machines use
abrasive papers of a variety of grain sizes
. Each type of machine operates via a different kind of movement. The effect of the machine's rapid movement combined with the abrasive power of the sandpaper removes the rough edge of the wood.
What are the features common to all stationary sanding machines?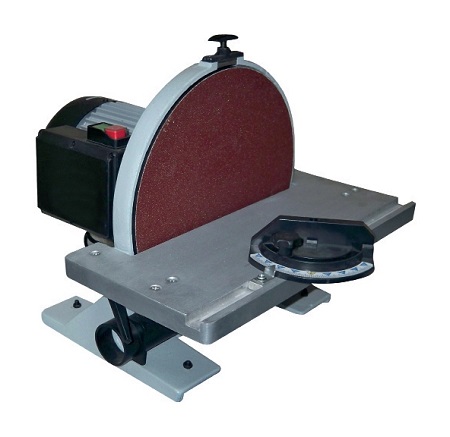 First off, they're all stationary!... And mounted on a frame and a stand or bench generally made of:
Steel;
Aluminium- lightweight though less durable;
Cast aluminium - heavy and stable
There are also two types of motors:
Asynchronous, powerful and less noisy;
Traditional
All sanding machines also have a punch-type emergency stop button.

However, the most important factor to consider is the movement of the sanding head!
What's a stationary belt sander?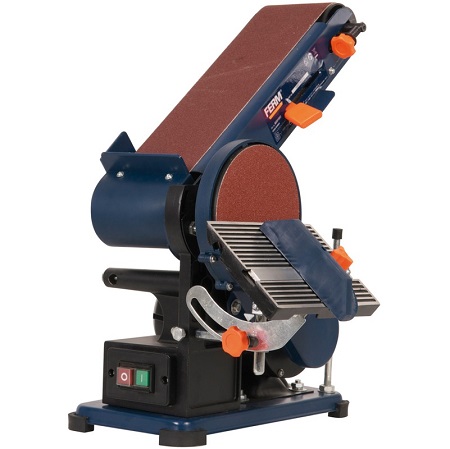 As the name suggests, it's a machine that uses a motorized continuous abrasive belt on the surface you want to sand. It's basically identical to a handheld belt sander, except the belt stays put and sands everything that comes into contact with it!
Generally, smaller models have a horizontal band so pieces can be fed from above. Larger machines may have a table to place your piece of wood on; some have an adjustable tilting arm that the band rotates around, letting you work directly from in front of the machine.
Belts vary widely in width, from 13 to 150mm. A variant on the standard model is the oscillating belt sander - as well as rotating at high speed, the band makes a slight movement from top to bottom to eliminate any remaining roughness for a perfect result!
What's an oscillating spindle sander?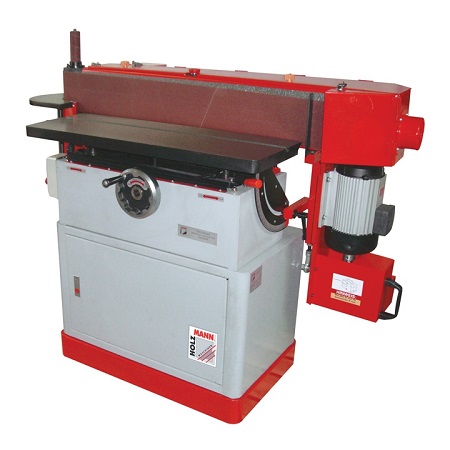 Yep, you heard right! As well as oscillating belt machines, you can get oscillating spindle sanders.
These are machines with a vertical rotating shaft mounted on a horizontal table - i.e. a "spindle" perpendicular to the table. Plastic sleeves of various diameters can be attached to the spindle followed by the desired grade of sandpaper.

The spindle rotates on its axis and also oscillates vertically, which creates a powerful dual sanding effect and a high quality finish; handy for sanding fine fretwork!
And a disc sander...?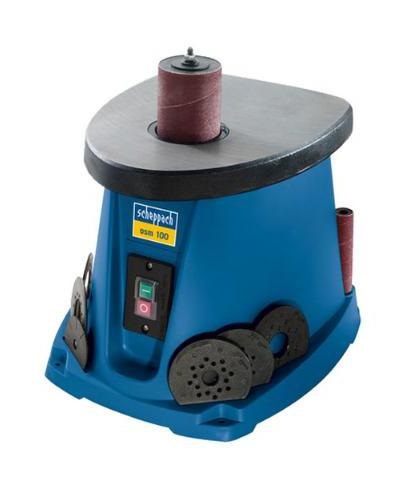 No catch here either: an abrasive paper disc is fixed to the machine frame - with Velcro or self-adhesive - and driven by the motor. The axis of the disc is vertical (i.e perpendicular to the table, just like on spindle models).
Often stationary sanding machines feature a disc sander coupled with a belt sander in a combined or 2 in 1 setup. Models differ in their power ratings and disc diameters.
And what about "calibrating" sanders?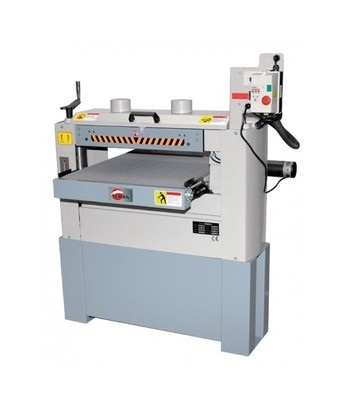 Real professional territory now, the calibrating sander allows you to sand large pieces of wood and obtain a perfect finish. The machine looks similar to a planer, but is equipped with one or two abrasive rollers in place of the irons, to which any grade of sandpaper can be fitted. Roller widths are between 20cm and 2m and depending on their size, either the table or the roller can be adjusted in height to achieve different "calibrated" sanding settings.
The special feature of this type of sander is of course the calibration, which lets you dictate a precise finished thickness for your piece of wood!
A range of accessories complete the set:
Adjustable feed speed;
Dust suction;
"Special finish" modules (i.e. wood texturing);
Programmer
Again, this is the real high-end kit you'd find in professional carpentry workshops.
Choosing a stationary sander: which way will you go?
Go for a medium-sized belt sander if you're generally carrying out tasks on the scale of cabinetmaking. This type of machine will allow you to sand high volumes of wood rapidly and precisely.
If you make wooden models, opt for a smaller combined sander! With this type of machine you'll have all the little corners finished to perfection in no time.
Luthiers, choose an oscillating spindle model - well suited to sanding curved edges and other fretwork.
If you're a carpenter or joiner, you really want a calibrating sander. Designed for larger pieces of wood, this professional piece of kit will have you whistling while you work through large volumes of well-finished planks and boards.
Not to be abrasive, but you'd better get on and choose!... Who knows, with the right machine you might even come to love sanding.
Learn more about woodworking tools...
To find out more about working with wood, follow our editors' advice and check out their other guides:
Did you find this guide helpful?
Guide written by:
Alice, Furniture Maker, Manchester 10 guides écrits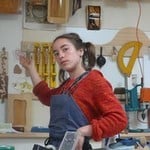 I've been working with my hands from a young age. For as long as I can remember, I've been keen to discover new tools and equipment for building things. I'm always on the lookout for new materials, and I find different kinds of construction techniques fascinating.

I'm also trained in marquetry, which is a highly specialised form of inlay work. As a professional artisan in the field, I've been lucky to master a material that is both noble and commonplace: wood.

Not only am I surrounded by carpenters and other builders in my job, I also get to share ideas and methods with professional and amateur woodworkers alike, including a range of manufacturing specialists.

In my free time I'm also an avid gardener. We get a lot of rain where I live, so I'm able to keep a pretty amazing vegetable garden in the allotments near my home. I love helping the other people who have plots there, and I've become the local go-to person for gardening advice.

I'm here to share my experience about all the different ideas, materials, tools and equipment out there. You may have your (wood)work cut out for you, but my tips will make it a little less overwhelming!
The products related to this guide