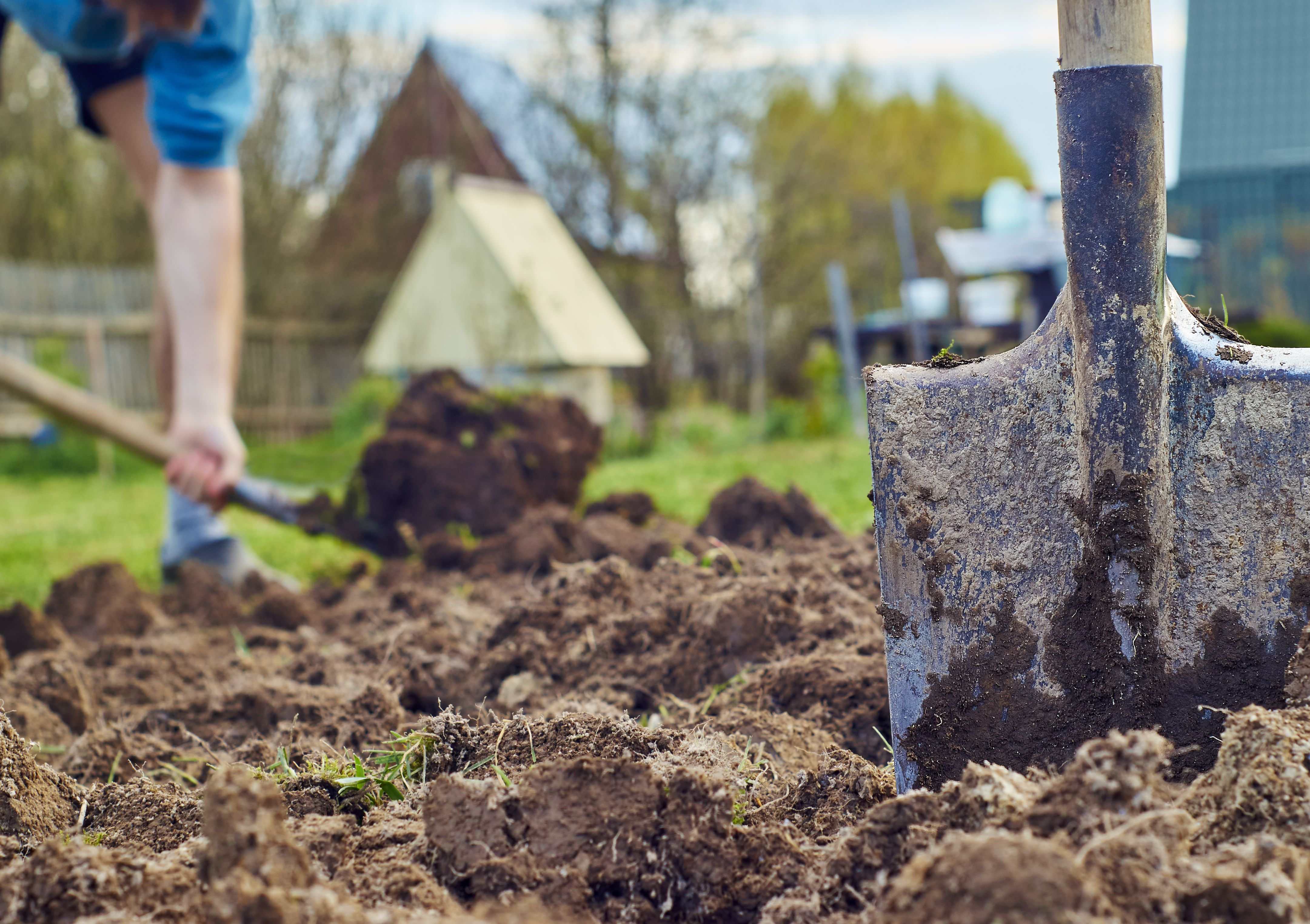 Soil-working tools buying guide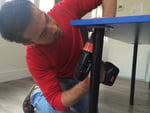 Guide written by:
Sebastian, self-taught DIY-er, Exeter
198 guides
Hoes, ridgers, rakes, spades and forks are as indispensable to gardening as a watering can! To work the soil and prepare for sowing, classic handle tools are impossible to do without. Spotlight on picks, shovels and augers: let us explain what's what!
What are the various tools for working soil?
---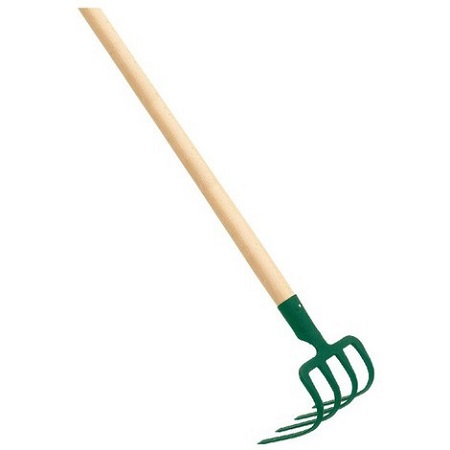 Because gardening work is diverse and varied, a range of tools have been developed to tackle its many challenges.
Rake: a long, straight tool that lets you gather vegetation after digging or cutting. Rakes also let you level soil or gravel across a certain area, and cover freshly sown seeds.
Hand ridger: as the name suggests, this tool lets you create ridges in the soil. Ridging is important when growing tuberous vegetables (potatoes etc.) as well as for other types of cultivation.
Aerator: designed to loosen and aerate the soil, its claws penetrate the earth and produce a shallow groove. Useful for preparing to sow.
Hoe: a ploughing tool consisting of a single blade and straight handle. Hoes are useful for aeration of the ground to a medium depth, breaking up clods and weeding.
Digging fork: a robust tool with several teeth that turn and loosen hard or clay-rich soil. Its handle is straight and a grip at the end improves levering and load-carrying action.
Right-angle fork: designed for loosening, aerating and extracting potatoes; also useful for breaking down clods of earth.
Weeding hoe: a tool with a long, straight handle and both a straight blade and a two-pronged fork on opposite sides of the head. Useful for making ridges, aerating, loosening, weeding... The list goes on. This is a real multi-purpose tool favoured highly by any gardener.
Auger: used to make holes for planting trees or bedding in stakes. Augers can be manual, electric or petrol-powered. The auger makes it possible to drill cylindrical holes through its rotating action in the ground.
Shovel: bent at the end, it can have a round or rectangular head. The main advantage of a round head is its better penetration into the soil. Warning: a shovel is not a digging tool! Its metal neck is shallower, meaning its handle is likely to break if used as a lever. Used to dig holes, move and replace loose material such as soil, sand or gravel. For this last application a shovel is indispensable.
Spade: looks very similar to a shovel - except that you can apply force it with. Its straight handle, longer metal neck and perpendicular grip make the spade a highly effective digging tool for harder, clay-rich soils.
Pick: a robust tool for breaking and digging stony ground. In the garden, a pick is especially useful for removing shrubs - loosening the soil between the roots and giving powerful leverage.
Explore the ManoMano catalog
Spade
What are the hallmarks of a decent garden tool?
---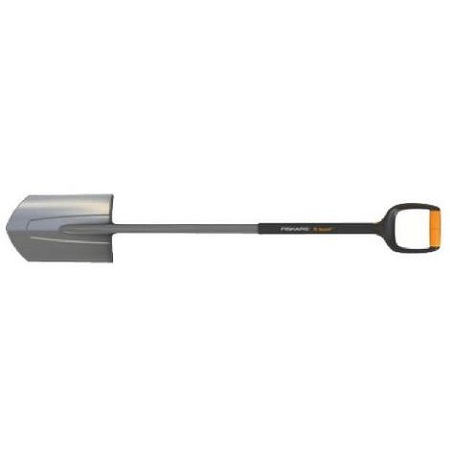 The tools listed above are all composed of two distinct elements: the tool and the handle.
The tool head should be evaluated according to the quality of the steel - look for forged and hardened steel if you want durability - and whether it's moulded or welded. Entry-level tools are generally welded at the neck - where the handle slots in - and as such their strength is limited relative to single-piece moulded heads.
The handle is generally an integral part of the tool. It can be made of wood (various types), composite or steel. In theory it should be adapted to the function of the tool (in terms of resistance, anti-vibration and comfort); however, cheap garden tools all too often combine weak, welded steel heads with badly designed, fragile handles - the shorter the neck, the more vulnerable the handle.
A final word about hoes, shovels and all the rest
---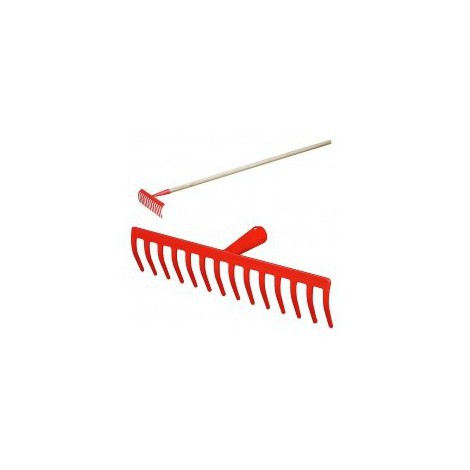 When purchasing any tool, garden or otherwise, it all comes down to your intended nature and frequency of use.
If you live in the city, with 20m² of garden and just a few perennials and three feet of tomatoes in a sandy soil, equipping yourself with an arsenal of moulded, hardened steel tools is pointless. Basic models of each of the essential garden tools will satisfy your needs.
On the other hand, if you have 100m² of clay-rich soil to work, and you impatiently await the arrival of spring: get hold of some decent equipment and maintain it well!
Learn more about garden maintenance...
To find out more about gardening, follow our editors' advice and check out their other guides:
How to choose your potting soil?
How to choose your drip irrigation?
How to choose your chalet or garden shed?
Guide written by:
Sebastian, self-taught DIY-er, Exeter, 198 guides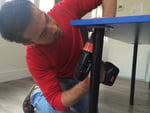 Redo a roof with wooden beams? Check.Advise Mister everybody in the DIY shop? Check.Redo the bathroom plumbing? Check.Fit together, build the walls, paint a partition, throw my hammer in a rage thinking that it will fix the problem? Check. The DIY motto ? Learning is better than delegating… well, it's also a question about your wallet! The satisfaction? The beer at the end of the job! What do the best have in common? The influence of Gyro Gearloose, Mac Gyver and Carol Smiley depending on your generation, a good dose of curiosity, a average hand-eye coordination and a taste for risks… and if it doesn't work, try again! Advise you? I'll do my best!
The products related to this guide