Sink buying guide
Guide written by: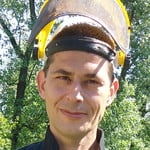 Jeremy, construction site supervisor, Cardiff
118 guides
A must-have element in the kitchen, the sink has to be functional, resistant and aesthetic. Single or double bowl, composed of of resin, stainless steel or stone, the sink must be perfectly integrated with the design of the kitchen, while still being practical. To help you choose it according to your needs, follow this guide!
Important features
Number of bowls
Drip tray
Materials
Shape
Vessel sink
Undermound sink
Top mount sink
Choosing a sink: what are the first questions to ask?
To choose the right
sink
, the first element to consider is the layout of the kitchen: is the goal to replace your old sink on an existing piece of furniture or to install a sink for your new kitchen?
Sink: renovation
When
renovating
, you will be forced to find a sink that fits on your
sink cabinet
or your existing
work plan
. Lucky for you, there are so many different sizes of sinks that you will inevitably be granted your wish! The important point that you should be careful about is the
depth of the bowls or basins
- especially if you have drawers, closets, or appliances underneath! Also consider the size of your tap.

Sink: installation as new
If you are looking for a sink for your new
kitchen
, be aware that a sink must be
easy to access
(avoid placing it under tall furniture), practical (size/depth of the bins) and aesthetic!
Sink: maintenance and accessories
Think about maintenance as well. Your future sink is going to be solicited to store dirty dishes, wash your hands, rinse fruits and vegetables ... Always prioritize a
sink that is easily cleaned
. Think also of the many
sink accessories
that will make your life easier: drainer, filters or stoppers, overflowers etc.
What are the different types of sinks?

Other than going by materials, shapes or sizes, we can distinguish the sinks according to their method of installation: vessel sink, top mount sink and undermount sink.


Vessel sinks
The
vessel sink
, or drop-in sink, as the name indicates, is set on a piece of furniture specially designed to accomodate it: a sink cabinet. The sink and it's
cabinet
must absolutely be compatible in size because the edges of the basis is resting on the furniture. Some sinks have the entire basin set down on the cabinet - not just the edges. The cabinet must therefore be low enough so that the sink does not get too high, making it very hard to use. This different configuration options for this type of sink are limited due to its imperative need for a
sink cabinet
, but its installation is relatively simple. A vessel sink requires regular maintenance and cleaning - especially on the visible edges and joints.
Top mounted sink
Top mounted sinks
fit into a previously cut out
worktop
. That means you can install them where you want - which allows you to optimize your space without having to incorporate another specific piece of furniture. Depending on your furnishings and your appliances, the
depth of the basin
is always something to consider. This type of sink comes in a multitude of different shapes, sizes, materials and colors. You can therefore find a built-in sink that will blend perfectly with the design of your
kitchen
. The installation requires more attention than for a vessel sink, but on the other hand, the maintenance is simpler.


Under mounted sink
Under mounted sinks
are also called underground sinks. Technically very similar to top mounted sinks, the
under mounted sink is
fixed under (not on top of) the worktop. This installation gets you a totally smooth work surface and greatly facilitates maintenance. The installation can be delicate, however, as the
work surfaces
must be
cut
to the exact right dimensions. For this type of sink, a lighter material is recommended for its composition: resin or stainless steel. Under mounted sinks are very aesthetic pleasing and blend perfectly with a
modern kitchen
.
Which sink configuration to choose?

When choosing the type of sink you want to install in your kitchen, you have the choice between: single bowl, single bowl with drip tray, or double bowl.


Single Bowl
The
single bowl
sink is perfect if you are limited in place or rarely use your kitchen, for example in an
outdoor kitchen
. The single bowl sink is also a good choice if you are equipped with a dishwasher. Even smaller, the
half bowl sinks
will fit into the tinyest of kitchens!
Single Bowl with drip tray
The single bowl with drip tray is ideal for a small kitchen that does not have dishwasher. Its volume is limited however, which limits its use to one or two people maximum.


Single bowl and half bowl with drip tray
The
single bowl and half bowl with drip tray
is the compromise between the single bowl sink and the double bowl sink. Very convenient for washing fruits and vegetables on one side while piling the dirty dishes in the other. This type of sink is a great compromise for a small kitchen!
Double bowl sink with drip tray
The
double bowl sink with drip tray
is at the same time the most common and practical model. Whether or not you have a dishwasher, for big and small families... the double bowl sink with drip tray is the most functional configuration.
Sink with more than 2 bowls, with or without drainer
Rare and relatively expensive, it is the type of sink reserved for specific uses (associations, catering, etc.) or large families with big kitchens.
What kind of sink to choose?

Square sink
This is the most common form found on single-bowl sinks. Very compact, the square sink is ideal for optimizing space; it can easily be combined with a drainer.

Round sink
Single or double, the round sink is generally used for
cleaning fruits and vegetables
because its shape is not convenient for dishes - reason why round sink are only very rarely accompanied by a drainer. The
round sink
makes it challenging to optimize your available space.

Rectangular sink
At the same time the most traditional and most practical. The rectangular sink is ideal for dishes, cleaning of fruits and vegetables, filling of buckets and for all household tasks. Available in virtually any size, the rectangular sink fits all kitchen configurations.


Corner sink
The corner sink further optimizes space by using the worktop's corner - which is more often left unused or lost.
What material to choose for your sink?

Stainless steel sink
Smooth, satin or brushed, stainless steel is back in fashion! Lightweight, durable fast and easy to clean, the stainless steel sink is appearing more and more in modern kitchen design (although it had been a little neglected in recent years). The satin-finish stainless steel or the brushed stainless steel is not shiny (only adding to its aesthetic value) and barely fears scratches (some stainless steel products are anti-scratch). Very durable, the stainless steel sink is also very hygienic (it is the material used by professionals).

Sink in synthetic materials or resin
Often made of granite powder and resin,
synthetic sinks
come in all shapes and colors. This type of sink is very resistant to
shocks
,
scratches
and can withstand
high temperatures
. Its maintenance is simpl, although some resin sinks tend to spot up over time - especially around the drainage. The stone aspect is quite
aesthetic pleasing
. Normally of a solid color, its brilliance does not deteriorate with time. The sink is primarily made of
graphite
or
granite
(80% quartz, 20% acrylic).
Sandstone sink and ceramic sink
Sandstone sinks and ceramic sinks have that rustic look! They are being found less and less in modern kitchens as they are very heavy and not available in all forms or in many colors. Enamelled,
sandstone
and
ceramic sinks
are easily maintained. This type of sink remains quite
fragile
and
sensitive to shocks
.
Stone sink
Stone sinks are both
classical
and
modern
. A stone sink does not fear anything, be it shocks, scratches or high temperatures. The stone does get patinated over (especially the bottom), which can give that authentic and "worn" look. Maintenance can be tricky and difficult if the stone is porous in nature. The supporting
sink cabinet
is subjected to a stringent test to determine if it can handle the heaviest metal available for a sink.
Comparison of sink materials
Sink resistance

Sink Material

Shock

Stripes

Tasks

Stainless steel

****

****

****

Resin

***

****

**

Granite

***

****

**

Graphite

***

****

**

Sandstone

**

****

***

Ceramic

**

****

***

Pierre

****

****

****
Tips to keep your sink happy
Whatever the type of
sink
you choose, there are certain rules, primarily hygienic, that must be respected!
For the health of your
pipes
, never pour oil or sauces in large
quantities
into your sink. Use a filter to prevent waste from clogging your pipes. Be sure to regularly clean your
waste trap
.
To maintain a stainless steel sink, clean it regularly with a suitable metal cleaner.
Concerning the stoneware or ceramic sink, it should be degreased regularly with a scouring powder.
If your sink is made of synthetic materials, clean it with dish soap and water. Do not use corrosive or acidic products which will damage the enamel of the resin.
Whatever the sink, if traces of limestone appear, use
white vinegar
or denatured
alcohol
- avoid the anti-limescale products that very often contain acid.
Sinks are pre-drilled or drilled with a
bell saw
; this information should be listed in the sink's description!
More information
For do-it-yourselfers in full kitchen renovation or just curious, follow the links below for kitchen-related accessories, advice from our editors and more helpful guides:


Did you find this guide helpful?
Guide written by:
Jeremy, construction site supervisor, Cardiff 118 guides écrits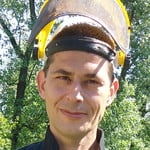 I'm a trained electrician who started off working in large-scale industrial projects. Most of my early career was spent taking on huge electrical installations. I like to think that no job is too big for me, and after all the experience I'd gained, I started managing teams of electricians.

I like to learn on the job, so around ten years ago, I moved into building and construction. As a site manager, I've overseen the building of small residences, sport facilities, and even theatres!

Working with my hands is something I love to do in my free time as well. For four years now, I've been restoring our home in the Welsh countryside. I even built a conservatory for my wife, who loves watching the sheep behind our house.

Whether it's patios, interior design, roofing, plumbing or electricity - I love giving it all a go! I've even made my family DIY converts and together we've built almost everything we have from scratch. My experience, both in the field and in my workshop, has taught me a lot and I'm happy to share what I've learned. No matter how big or small your project is, I'm here to answer your questions and help you choose the right tools and equipment.
The products related to this guide