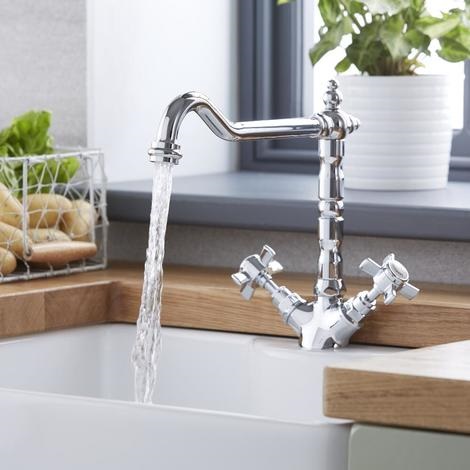 Single-lever or dual handle mixer tap: which is right for you?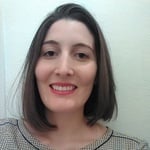 Guide written by:
Pauline, Self-taught handyman, Leeds
107 guides
Doing up your bathroom or kitchen and don't know what kind of taps to install? Want to know the difference between single-lever and dual handle mixers? From temperature and flow settings, user comfort, style and budget, we'll talk you through the pros and cons of each mixer tap to help you make your choice.
How does a mixer tap work?
---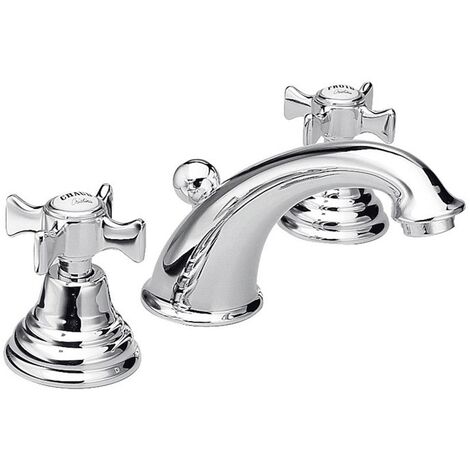 A dual handle mixer is made up of two taps and one spout. Traditionally, the left tap will deliver hot water and the right will supply cold water. You will have to turn on both taps at the same time to achieve your desired temperature as the water is mixed through the flow of both taps.
There are two different types:
single hole taps: the tap body incorporates all elements;
3 hole taps: each part is separate (tap body and heads) making these taps trickier to install.
In order to get the flow rate you want, you'll have to play around with both tap handles to maintain your desired temperature. Unfortunately this means that dual tap mixers consume a lot of water and aren't very practical; you need to find the right temperature every time you use the taps. These taps aren't easy for young children or elderly people to handle and you won't be able to set precise temperatures. What's more, if you don't turn the taps off properly, they do tend to drip.
How does a single-lever mixer tap work?
---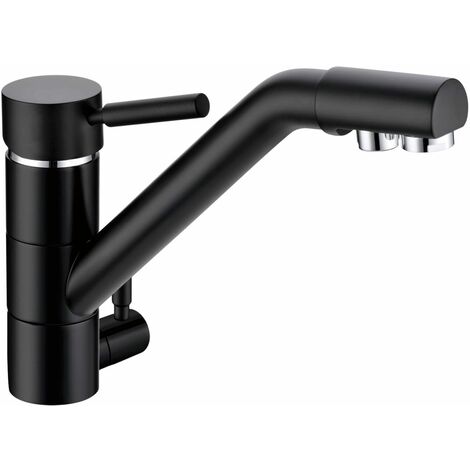 A single-lever tap mixer features one lever that performs two actions:
temperature adjustments when moved from right to left;
flow adjustments when moved up and down.
Single tap mixers are easy for the whole family to use. In addition, they may come with anti scald protection to set a maximum temperature as well as a flow regulator which is great for saving water. The temperature of the water is pre-set as the handle can be left in the same place between uses.There are three types of mixer tap to choose from:
standard single-lever tap mixer: the most common type and offered by most brands;
thermostatic mixers: offers greater user comfort in the shower;
mixer tap with infrared control: top-of-the-range models for saving water.
Single-lever or dual handle mixer: which looks better?
Basically, it'll come down to this:
---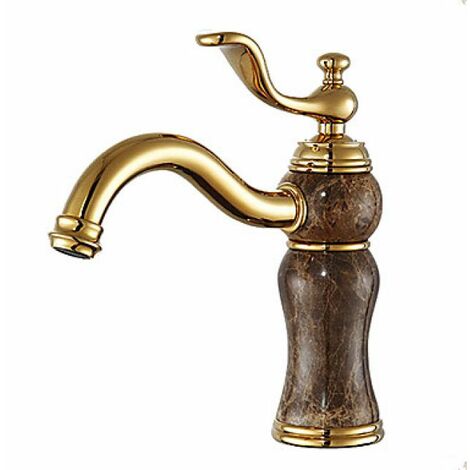 Do you prefer the look of a single tap or two? These days, dual-handle tap mixers feature a much more streamlined look allowing you to save on space and clean around the tap easily.
Would you rather have two materials or one? It's up to you to choose between materials like chrome-plated metal, aged brass or even coloured models.
Particularly fashionable at the moment, cascade taps may feature one or two taps. These models allow the water to flow like something out of a five-star hotel or spa!
Mixer taps designed for the kitchen will usually be quite tall. They tend to be made of chrome-plated steel and may even feature a spray attachment which comes in really handy for doing the washing up.
Taps with two handles offer an attractive vintage-style design, especially models that team porcelain and brass for a country-home feel. Taps with traditional metal or metal and ceramic cross-head handles are reminiscent of grand estates or even castles. If you want the ultimate in retro style, this is the option for you! That said, dual handle mixers do also come in more streamlined versions for modern and minimalist interiors.
Single-lever mixer taps boast clean and modern designs and work very well as part of any contemporary decor.
Single-lever or dual handle mixer: which is cheaper?
---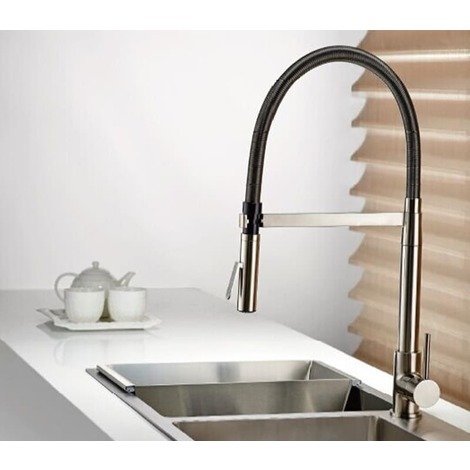 For a low-end dual handle mixer, expect to pay around £20 to £30.
Mid-range mixers will reach around £50 to £90. That said, you'll find prices start to soar if you're after something a bit more special.
High-end taps can easily cost over £200 and you'll find models priced all the way up to £1000 from high-quality brands like Grohe, Hansgrohe, Nobili or Cristina Ondyna. You can also expect to pay these kinds of prices for a cascade mixer tap.
Contrary to what you might think, there's not much difference in price between single-lever and dual handle mixer taps.
Finally, remember that looks aren't everything: it's more important to think about your own habits, the level of user comfort you want and water consumption.
Different types of dual handle mixers
---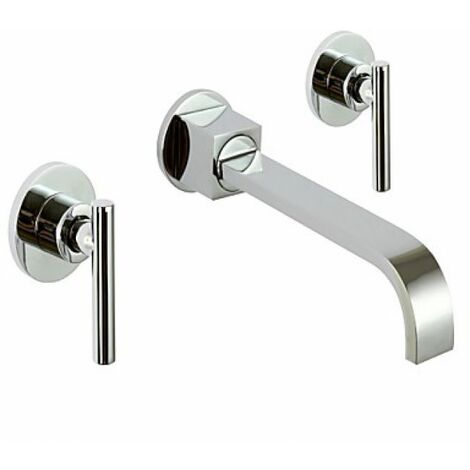 Dual handle mixer taps are the classics of the sink world and have been around for a long time; in fact, single tap mixers are fairly modern in comparison. Nevertheless, you can find them in all shapes and sizes. To give you an idea of what's out there, here are a few different types to look out for:
single hole mixers: these models are generally the most common. The feature a single tap body equipped with a handle on each side. The spout is usually fixed but can be swivelled on some models;
two-hole mixers: less commonly found, these taps usually feature in 'designer' ranges. The tap body is held between the two tap handles;
three-hole mixers: common in high-end ranges, the tap spout sits on the wash basin with the two handles on each side. The spout may be swivel or fixed;
three types of spout: low, medium or high(high spouts are common for modern counter-top wash basins);
cascade mixer taps: some models feature an extra-wide stream of water.
It's also worth noting that some mixer taps incorporate LED lights for coloured wateror other effects.
Main types of dual handle mixer tap
---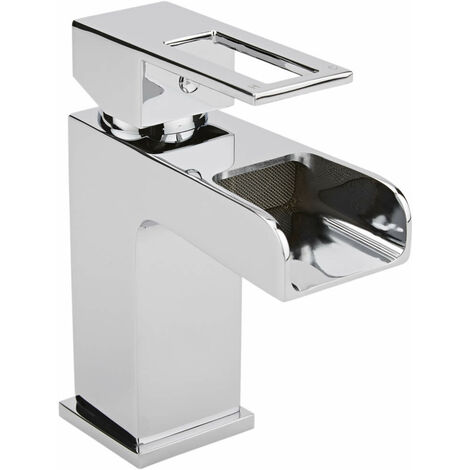 Single-lever mixer taps have been around for a lot less time than dual handle taps. However, they are becoming an increasingly popular choice for bathrooms. They come with a number of benefits, starting with the fact that they are very practical to use.
Firstly, you can control the temperature and flow rate with just one lever. Secondly, your ideal temperature can be set by simply keeping your lever in the same position when turning off the tap.
Some models feature anti scald protection which limits the flow of hot water and prevents children or elderly people from burning themselves.
It's also possible to purchase models with infrared control. These models will automatically turn off which cuts down on water waste and, in turn, helps to protect the environment.
The different types of single tap mixer are generally categorised by the type of spout they have: low, medium or high.
Low spouts are usually found on standard single-lever mixer taps. Those with medium to high spouts are designed for use with modern counter-top wash basins.
It's also possible to find models equipped with cascade spouts: these taps provide a wide stream of water and some even feature LED lights.
Please note that thermostatic mixer taps are generally not used for wash basins, but can be a good option for elderly people or those with mobility issues.
Explore the ManoMano catalogue
Thermostatic mixer taps
Advantages and disadvantages of single-lever and dual handle mixer taps
Can be less expensive.

Wide range of models.

Single control for temperature and flow adjustments.

Uses less water.

Uses more water.

Regular adjustments necessary.

Can be more expensive.

Temperature affected by flow changes.
Mixer tap accessories
---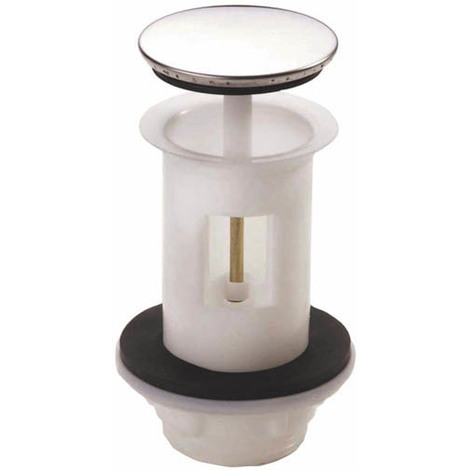 No matter which type of mixer tap you go for, most will come supplied with a few accessories, such as a plug, mounting kit, and aerator.
The plug and mounting kit make up the drainage system. The plug is generally controlled by a rod installed in the tap body.
Aerators are designed to be screwed into the spout to filter and reduce the flow of water.
Please note that these accessories do not come supplied with every model; read the product description carefully for information on the equipment provided.
Explore the ManoMano catalogue
Plugs
5 steps to keep your mixer tap clean
---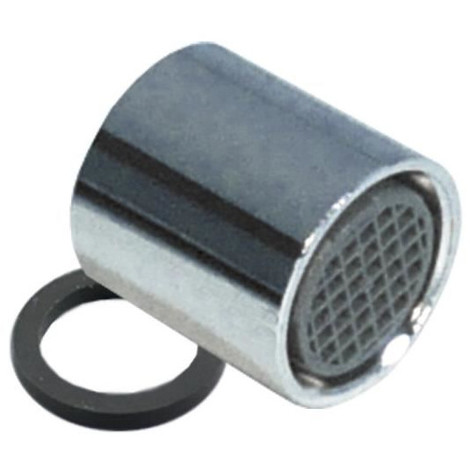 Tap aerators should be cleaned regularly. To do so, you'll have to unscrew your tap head and soak the aerator in vinegar before scrubbing it to remove limescale.
The tap body should be cleaned using an appropriate household cleaning product or a homemade solution if you're dealing with limescale. White vinegar will work well on chrome plating and a citric acid solution is best for brass. Do not use any harsh chemicals.
If your mixer tap is leaking at the base, simply replace the washers. If this doesn't work, you may have to replace the cartridge.
Similarly, the mixer valves may become less watertight over time. Change them as soon as you notice a leak and your tap will last much longer.
The O ring at the base of the spout may also start to leak. Remove it and replace it with a new one to make your taps watertight again.
Explore the ManoMano catalogue
Washers
Guide written by:
Pauline, Self-taught handyman, Leeds, 107 guides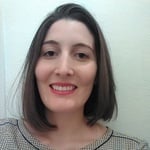 With a handyman-father, I grew up with the soft sound of the sander and hammer on weekends. I am both manual and cerebral (yes, it is possible.), I learned the basics of DIY and the customization of furniture because I was passionate. The salvage mentality is a true way of life that allowed me to know how to use all the tools and products needed to give something a second life, from sander to varnish. I have two favorite activities: the transformation of old furniture and decoration tips. I am always ready to lend a helping hand to revamp a table or to restore a mirror that was intended for the trash that will become a friend's centerpiece. I'm convinced that it's possible to reinvent an interior by small, regular modifications, I constantly research low-cost, test ideas.
The products related to this guide