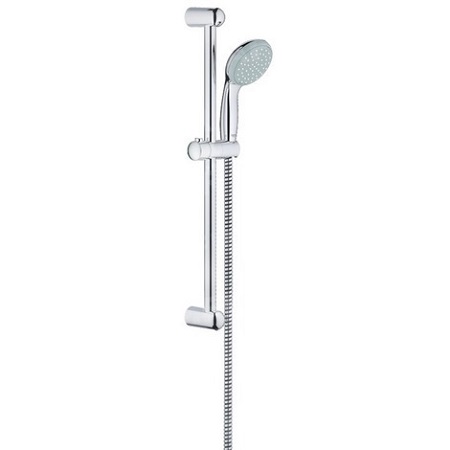 Shower: from head to bar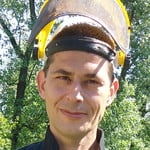 Guide written by:
Jeremy, construction site supervisor, Cardiff
131 guides
A showerhead, also referred to a nozzle, is an essential element in any bathroom shower. It is able to be installed a variable heights, connected to the mixer valve with a shower hose and is fixed to the wall with the help of a bracket or an arm. Shower heads also offer different features such as massage, rain, toning, or relaxing.
From shower head to bracket: what's in a shower set
---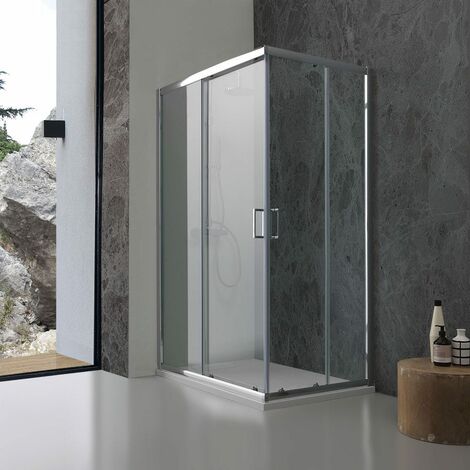 Outside the cabin itself, a shower set is composed of several essential elements:
A mixing valve or tap that consistenly delivers water at the desired temperature;
A shower hose  or pipe that directs the propels the perfectly heated water to the showerhead.
For increasedcomfort, your shower cabin can also be equipped with various accessories to customize it as you see fit. The shower's accessibility can be improved thanks to a support bar and you can also organize your bathroom, an essential step who's objective is to combine comfort and practicality.
Explore the ManoMano catalogue
Rain shower head
What are the different elements of a shower?
---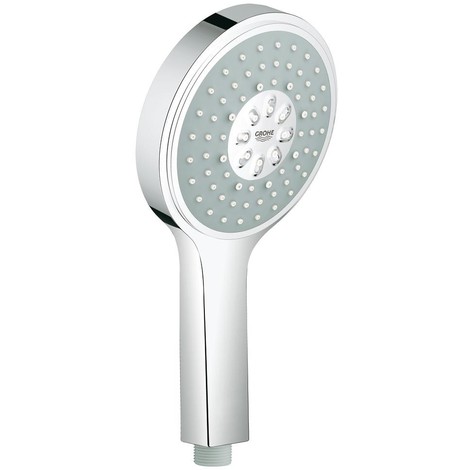 Shower head
An essential part of any shower cabin, a shower heads makes up, along with the mixer taps, the most elemental, yet important pieces. Connected to the shower hose, it provides enough space to move around freely. Perched upon a shower bar or shower bracket, it is secure and solid. On the current market, the competing manufacturers put their ingenuity to full use to provide showers heads with new and exciting operating modes: fine jet, massaging jet, foaming, toning, the list goes on an on. All of this, while still allowing you to save water. Some shower heads can even light up or be connected to your smartphone!

Shower hose
This is the flexible part that connects the mixing valve to the shower head. They are most commonly corruguted, but can also be found with smooth finishes. Composed primarily of plastic, or covered with a metal sheath, it is equipped with standardized fittings (1/2 inch or 15 x 21 mm) at both ends (these fittings are most often female connectors, straight or tapered). When it comes to the hose's length, you should choose one that is long enough to be brought 10 to 15 cm above the tallest user's head.
---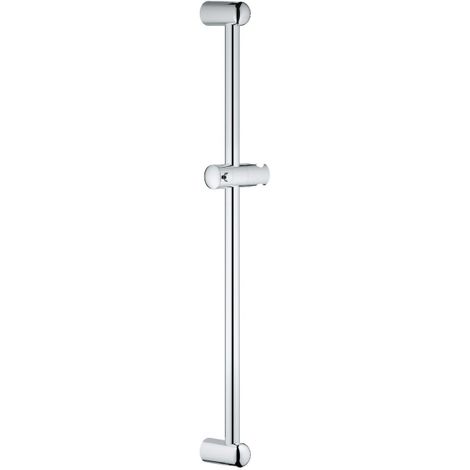 Shower bar 
Wall-mounted, it is the perfect perch for the shower head, making use of an adjustable slider. The bar's height can be anywhere from 60 to 90 cm, and it is placed in a way that allows for the shower head to be about 10 to 15 cm above the tallest user. 
The slider must match with the  shower head handle's shape perfectly. There are two types of fittings: straight and tapered.
Rain shower head 
A rain shower head, or "wall-mounted" shower head, is permanently installed on a wall or ceiling and is connected to a rigid water intake, either concealed or exposed. This type of shower head is not mobile. Very stylish, the rain shower head is often prized for its aesthetic qualities and generous size and is a real asset to any shower. When it is being wall mounted, the best configuration would have you install it anywhere between 10 and 15 cm above the tallest user's head. Having the abilite to swivel is also highly practical.
Body jet shower 
A body jet shower is usually composed a set of several nozzles. Permanently installed on the sides of the shower, the various nozzles in the body jet shower can offer many different effect, be it massaging, toning, stimulating, misting andsoon. The nozzles can be either fixed or adjustable. They are supplied by built-in pipes and controlled by a central mixing valve. The body jet shower's role is to provide a moment of relaxation and well-being, rather than a sanitary necessity.
---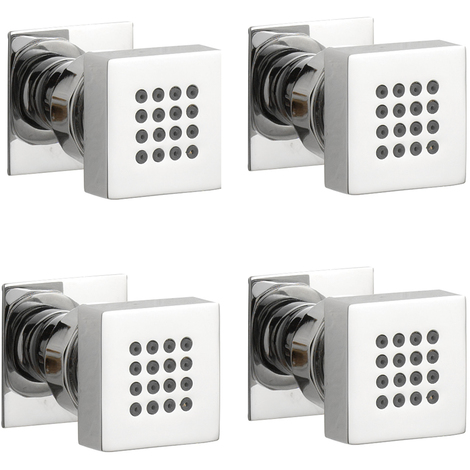 Shower arm 
If your shower head is offset from the mixing valve, the best solution isto install a shower arm. A rigid element, mounted to the wall or the ceiling, a shower arm allows the water to be transported (as the built-in pipes simply cannot reach). Its role is to shift the water from the supply point, the water intake, to the shower head where it will be dispensed. Shower arms are equipped with a standard 1/2 inch male connector (15 x 21 mm), allowing any overhead shower to be fitted.
Shower wall bracket 
If your shower is not equipped with an adjustable shower bar, a wall bracket can also be used to hold the shower head. The difference being that in this case, the height is not adjustable. The bracket needs to be installed anywhere from 10 and 15 cm above the head of the tallest user. While it is less practical than a shower bar, the wall bracket is nonetheless aesthetically pleasing and discreet.
---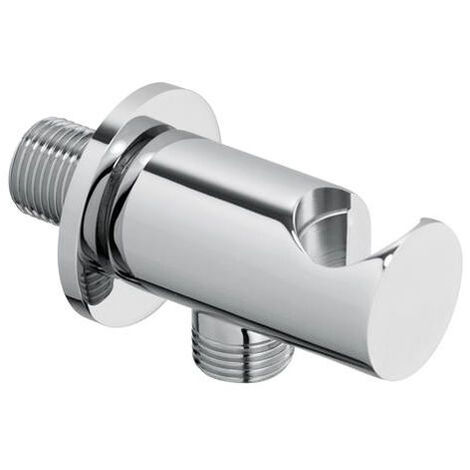 Shower supply elbow 
A supply elbow is very similar in composition to a shower arm, except it allows for the connection of a hose, instead of the the shower head. An elbow (often at a 90° angle) also offers the possibility of transforming a horizontal supply point to a vertical connection.
Explore the ManoMano catalogue
Supply elbow
More information
Feel like renovating or upgrading your current bathroom equipment? Then follow the links below for bathroom-related accessories, advice from our editors and more helpful guides:
How to choose your shower drain?
How to choose your shower tray?
How to choose your shower cubicle?
How to choose your bathtub?
How to choose your balneo bathtub?
For some accessories to make your life a little easier, check out these ideas:
Guide written by:
Jeremy, construction site supervisor, Cardiff, 131 guides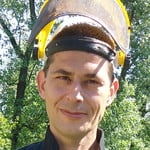 Electrician by trade, I first worked in industrial estates where I installed, wired and fixed a large number of electrical installations. After this, I managed a team of electricians for this type of work. 10 years or so ago, I turned to building and construction. From the modest family home, to gyms and theatres; I have been able to coordinate, audit and organise all sorts of construction sites. for 4 years now, I am restaoring and bulding an extrension to a bungalow in the heart of the welsh countyside. My experience in manual work and my knowledge means I am proud to be of service. Terraces, interior design, roofing, plumbing, electricty, anything goes! We have, my wife, daughter and I, built almost everything we have from scratch! So to answer all of your questions, and to orientate and advise you on coosing your tools? Easy!
The products related to this guide