Shower faucet buying guide
Guide written by: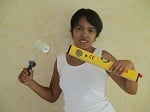 Holly, self-taught DIYer, Cardiff
22 guides
A shower faucet affects our well-being, so it must be chosen with care. Whether you have a mixer, mixer tap or thermostatic valve, it's all about comfort and safety. After that, built-in or wall-mounted, it's a question of taste and practicality. Some tips to keep you out of hot water...
Important features
Mixer
Single lever mixer tap
Thermostatic
Which tap fittings to choose?
If you thought taps were simply on-off switches, you're wrong. In order to preserve the comfort and safety of the user, they play a crucial role in regulating water temperature and flow. And as you would expect, the gulf of difference between the various types of tap arises from differences in these two elements: temperature and flow. Tap valves can be classified into three types:


Traditional two-tap mixers : these are easily recognizable by their two heads, one of which (marked by a blue dot) controls the cold water inlet, and the other (red) the hot. It is the oldest system, the simplest in design, but functional. The temperature and flow rate are adjusted manually by turning the heads.
Single-tap mixers : unlike traditional mixers, they have only one handle to regulate both the temperature and the flow rate of the water. It is operated with one hand, moving from left to right for temperature and from top to bottom for flow.
Thermostatic mixing valves : these have a flow control tap and another for the temperature. While the first two types of valves are adjusted manually, thermostatics regulate the water temperature automatically and instantaneously.
What is the difference between a traditional and a single-tap mixer?
Apart from the number of controls that distinguish them visually and the ease of use provided by each faucet (two hands or one), they differ in their level of practicality. It is widely believed that single-tap mixers are easier to use.


In terms of connection to the water supply, on a mixer, the valve heads are often integrated into the body of the faucet. They usually have two fixing points on the hot and cold water inlets, just like single-levers. As a result, a two-tap mixer can easily be replaced by a single tap, and vice versa.

On the maintenance side, traditional mixer taps usually come with valve heads, which require maintenance. The seals inside each head perish quickly and leak, requiring them to be changed every year. More recent models have disc heads whose maximum flow control is achieved in a quarter turn. These are more resistant, but when they do leak they require a complete change of head. With a single-tap mixer, this maintenance is not necessary.


With either format of tap, the risk of burning remains. However, some models of single-tap mixer are equipped with an anti-scald ring, without interfering with the energy consumption. Alternatively, why make life complicated when you can make it simple? You could opt for a thermostatic mixer - where the risk of burning is limited because the temperature setting is finer than with a conventional mixer.
You said thermostatic mixing valve?
Yes, the thermostatic mixing valve offers much more comfort than the other types of faucet. The temperature can even be preset manually, thanks to the helpful temperature markings, and remains constant whatever the flow rate. Also, to avoid the risk of burning, it is equipped with a stop at 38 ° C (or 40 ° C depending on the model) which blocks the flow of water as soon as this temperature is reached (child safety). If you want a higher temperature, simply deactivate the temperature limiter by pressing the stop during adjustment. Finally, if the cold water supply cuts off unexpectedly, the hot water will automatically shut off. It is for these reasons that thermostatics are preferable, especially if you have children or elderly people. They are however not advisable if the hot water is produced by an instant water heater without a hot-water tank.
Which valves favour water and energy saving?
Since the correct flow and temperature are difficult to achieve with traditional mixers, the result is a waste of water, and is therefore not economical. On the other hand, a single-tap mixer, with its one-touch system, already reduces waste - once the position of the right temperature is found, all that remains is to adjust the flow rate. In terms of energy consumption, both these types of tap make it easy to save energy by using only cold water when hot water is not required.


In any case, the thermostatic mixing valve comes up trumps for optimizing the saving of water and energy - by avoiding an inefficient manual search for the right temperature. Accompanied by a flow limiter, it promotes water saving by supplying only the desired flow.
Are there other ways to save on water?
To economize further, go for a mixer with additional accessories. First of all, the flow limiter: when operating the tap, the handle stops halfway to allow only 50% of maximum flow to pass. There are also mixers equipped with a cartridge to limit the water flow. And for high-tech fans, you can get taps with infrared sensors. They automatically release water as soon as your hands pass through the detection field and turn off as soon as you move away from it. Sometimes there is also a safety shutdown that automatically turns the system off after 5 minutes of uninterrupted flow.
What's your style?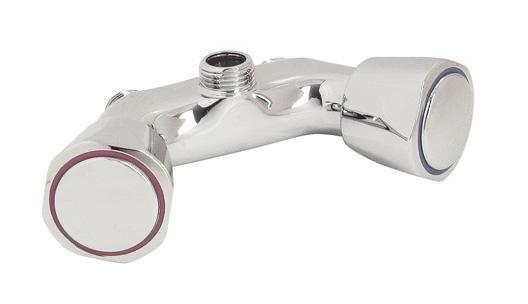 Are you going for a retro vibe in your bathroom? Choose a two-tap mixer without hesitation. Finished in simple and classic style, these taps are timeless. Looking for a more modern look? Take a single-tap or thermostatic mixer. Both feature tailored designs for all tastes with varying shapes.
Speaking of style, what about a waterfall effect in the shower? (Not joking!) Some faucets have a flat pouring spout down which the water flows so as to mimic a waterfall, hence the name waterfall mixer. It may be thermostatic or not.
Are you torn between built-in or visible mounting? Everything's a matter of taste, but remember that built-in models have their own fitting system and cannot replace a wall model, short of making big changes (holes in the mounting bracket, moving water inlets, etc.)
What other factors should be considered?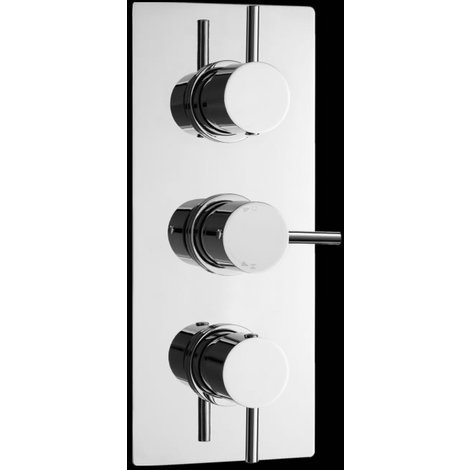 When you buy a shower faucet you should think about its durability, because it's not an easy thing to replace. So, go for quality! A warranty period is a guarantee of quality in the first place. Generally, 5 years' warranty is offered. Also, check that a product bears a recognized quality mark (such as NF for French products). This ensures that the valve itself complies with the relevant quality requirements (resistance and sealing), translating to quality water transmission (flow, pressure and temperature). As for the materials used, weight is often a good indicator of quality.
Last words?
Choosing a shower faucet should now be is a breeze for you! Quality and aesthetics are the winning combination for a good shower faucet. Be aware that if you purchase a faucet for an existing water supply, don't forget to check the distance between the hot and cold water connections - the hub. If you choose a thermostatic mixing valve, you should ideally have a boiler with a hot water storage tank and, above all, a minimum power of 18 kW. Finally, for the maintenance of your faucet, go easy on aggressive cleaning products; a sponge, soap and water are enough to restore its lustre.



Did you find this guide helpful?
Guide written by:
Holly, self-taught DIYer, Cardiff 22 guides écrits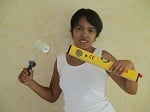 First of all, my studies have nothing to do with decoration or DIY as I was specialised in management.
My passion in DIY started 5 years ago (very recently!) Everything started when we bought a house to renovate from floor to ceiling. As I'm a self-taught person, I started working on different house project both inside and outside. My husband helped me but the student soon overtook the teacher!
And as there are a lot of green spaces in Creuse, gardening tools have no secrets for me. My friends and family often come to me for advice when it comes to DIY. Today, I want to share this with you!
The products related to this guide