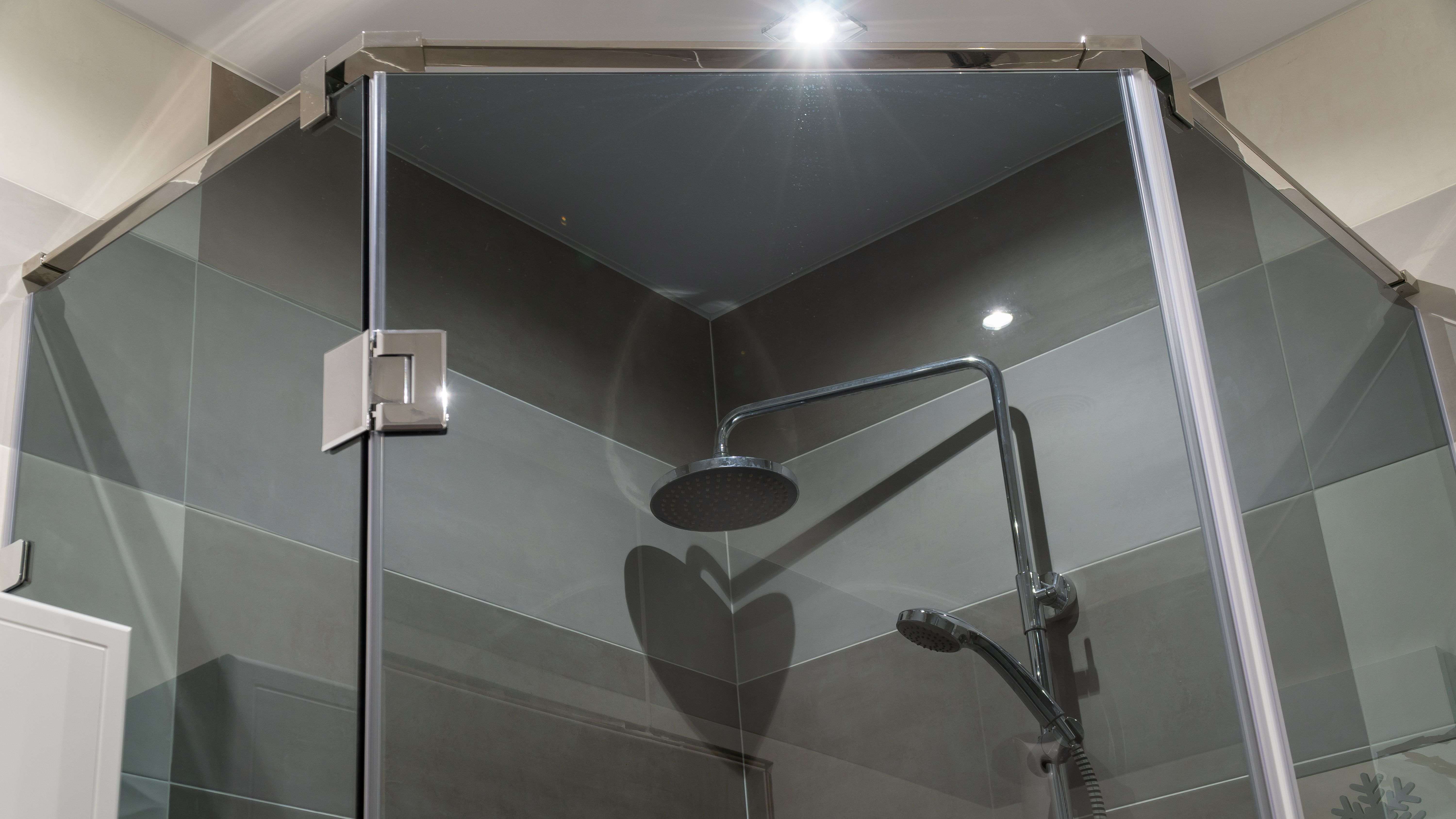 Shower enclosure buying guide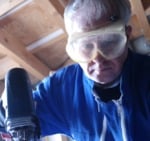 Guide written by:
Dennis, self-taught DIYer, Bristol
18 guides
From 70 x 70cm square cubicles and 90 x 180cm rectangular enclosures, to corner showers and even hydro massage cabins, this guide will help you select the shower enclosure of your dreams. Whether you're after LED lights, music or sauna settings, we've covered all your options so read on for our top tips!
Important features
Bathroom layout
Enclosure types and shapes
Door opening type and clear opening width
Choice of material and dimensions
Options for user comfort
Choosing a shower enclosure to suit your needs
---
Is showering all about relaxation for you? Do you want to put the focus on comfort without having to carry out any major renovation work? Choose a complete hydro massage shower cabin with a radio, light therapy system and a width of 130 cm or more!
---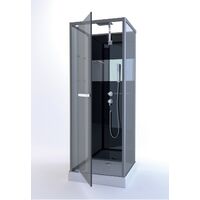 Do you shower in five minutes flat? Are you looking for an affordable solution that won't involve a full bathroom overhaul?Opt for a standard one-piece 70 x 70cm shower cabin with fittings included.
---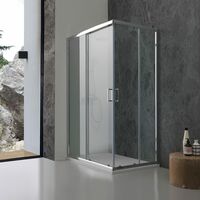 Do you have a tiled or watertight wall and prefer the look of clear glass panels?If you're confident in your DIY abilities, go for a self-assembly shower enclosure made up of screens, a door and a tray. Fittings may or may not be included (depending on the model) and you will have a wide selection of sizes to choose from.
When choosing a shower enclosure, you should pay special attention to:
---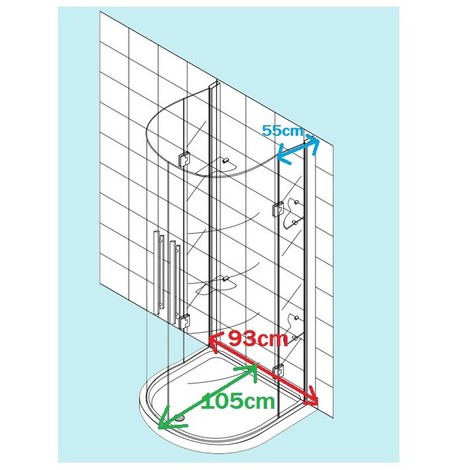 the size and shape of the shower;
the door entry and opening type: clear opening width should be planned in advance for hinged doors;
fittings: for ultimate comfort, choose a thermostatic mixer with a waterfall shower and an additional multi-spray hand-held shower;
materials: the shower walls and door can be made from tempered glass or acrylic, while trays come in acrylic or ABS;
additional accessories, such as a mirror, storage shelf, etc.
Explore the ManoMano catalog
Storage shelf
Different shower enclosure types
While models may vary in type, size, shape and material, your shower enclosure will consist of:
a tray or base made from acrylic, ABS or ceramic;
walls made from acrylic or tempered glass;
sliding, pivot, hinged or folding doors;
a drain system or waste;
fittings, including a conventional or thermostatic mixer tap, and shower head(s).
Shower enclosures fall into three categories:
Tiled shower enclosures
---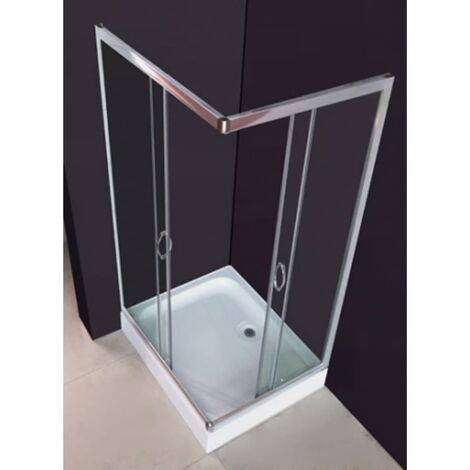 Shower enclosures surrounded by tiles (or wall panels) require a great deal of building, plumbing and tiling work. This is because the walls must be fully watertight.
Made up of a tray and a structure that incorporates the doors, these showers are installed against the bathroom wall and are commonly found in a corner.
Self-contained or one-piece shower cabins
---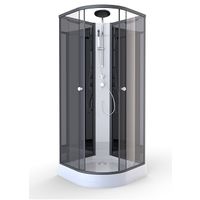 Self-contained shower cabins usually come in the form of a kit and are easy to install. You just need to stand your cabin in place, connect it to the water supply and link the waste to your home's waste water system. These shower cabins come in varying degrees of quality and provide a variety of options. For example, they can contain a hydro massage system complete with strategically positioned jets of pressurised water used to massage your body. They may also be equipped with lighting, a radio, and so on.
Shower cabins with movable screens
---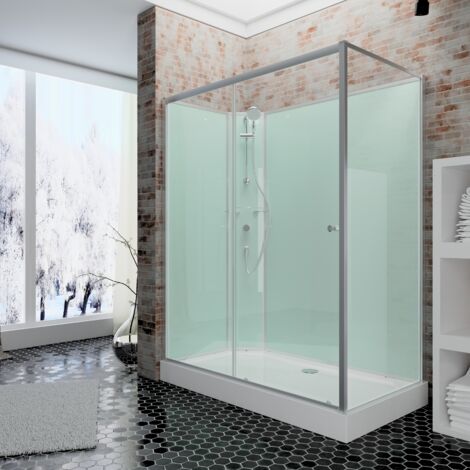 Shower cabins with movable screens present a compromise between tiled enclosures and self-contained shower cabins.
These showers comprise a tray and shower screens that are installed against one wall or in a corner.
The shower screens of these units are typically made from acrylic or glass.
Explore the ManoMano catalog
Lighting
Installing a shower enclosure
The size, shape and access type of your shower enclosure all depend on the layout of your bathroom.
Shape and size
---
---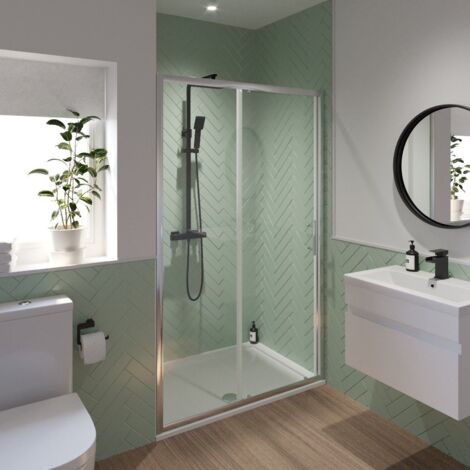 When installed in a corner or against the wall, your shower can be:
square: available in 70 x 70 cm, 80 x 80 cm and 90 x 90 cm formats;
rectangular: offered in 80 x 115 cm, 90 x 115 cm, 80 x 135 cm formats up to 90 x 180 cm;
quadrant: with a radius of 80 cm, 90 cm, 110 cm, up to 135 cm.
Some shower units can be installed in reverse.
Installation requirements
---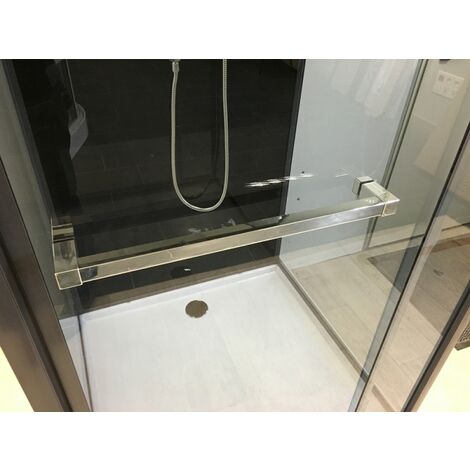 If your bathroom layout allows it, choose an extra-large shower enclosure for greater comfort.
Take care when selecting the dimensions of your shower enclosure; the measurements provided will refer to the overall outer dimensions.
Do not forget to leave a space of around 70 cm in front of the shower, especially if the door swings outwards.
Please note: most shower cabins require a ceiling height of at least two metres.
Accessing your shower enclosure
You can access the shower from the front or from the side, depending on the shape of the enclosure. When selecting a shape, you must consider the layout of your bathroom as well as how the door or doors will open.
Opening type and access
There are several door types on offer including pivot, sliding, hinged or folding.
Pivot shower doors
---
Offering easy opening, pivot doors are convenient but require a lot of clearance space.
Water may also run out of the shower enclosure – even if you have installed a screen seal – so the use of a shower mat is recommended.
Sliding shower doors
---
Unlike pivot doors, sliding shower doors do not require a lot of clearance space: the panels either overlap as they open or part in the middle, sliding to the left and right. However, this door type can be problematic to maintain.
It is best to choose doors that can slide out to make cleaning easier.
Sliding doors are installed as part of all quadrant shower cabins.
Hinged shower doors
---
Hinged doors consist of two half-doors that open both inwards and outwards.
Installing this type of door means you do not have to account for a large clearance space in front of the shower. They also limit the amount of splashing outside of the shower enclosure.
Nonetheless, the use of a screen seal is recommended to reduce water run-off during use.
Folding doors
---
Folding doors are mainly found in low-cost standard enclosures and open like an accordion.
They are usually made from acrylic with a plastic or aluminium frame.
Shower door materials
Shower doors can be made of acrylic or tempered glass, depending on the quality of the shower enclosure. The door may be patterned, opaque, tinted or entirely transparent. Tempered glass offers a thickness of 3 to 8 mm and can be treated with a coating to avoid limescale and water marks.
Acrylic is lighter in weight and is used in low-end shower cabins; for example, it is used to make accordion-style folding doors. Nonetheless, it is a more difficult material to clean.
Frames
---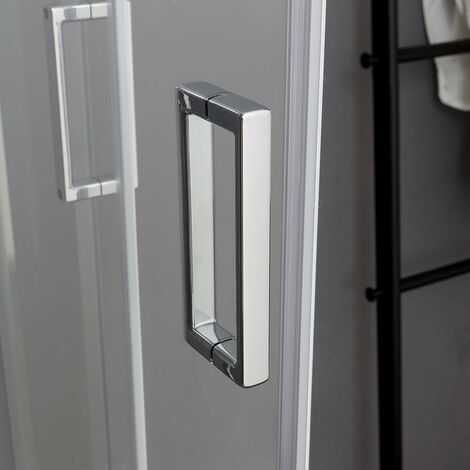 In low-end showers, the frames (also known as channels) surrounding shower doors will usually be made of plastic. Otherwise, they are made from powder-coated aluminium or stainless steel. The finish of these frames may be frosted, white lacquer, shiny, chrome or brushed.
Depending on the layout of your bathroom, you can choose to access your shower from the front (possible for all types of doors) or from one side (hinged and sliding doors only).
Shower doors for tiled enclosures should be chosen using the same criteria.
Explore the ManoMano catalog
Shower
Choosing your fittings
Fittings may or may not be included depending on the shower enclosure you choose. The finish of the taps and shower head will be determined by the quality of the enclosure itself. However, the most common finish type is shiny chrome. The shower set can take various forms, from a single sliding bar with a hand-held shower to a hydro massage shower unit. Some self-contained shower cabins, complete with screens and a tray, will feature built-in systems.
Taps
Dual-tap mixers
---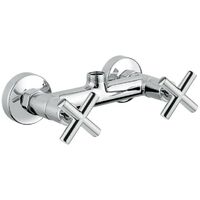 Dual-tap mixers adjust the water temperature by using two different taps to mix hot and cold water.
Impractical and wasteful to operate, classic double mixer taps are falling out of fashion and are gradually being replaced by single-control mixers. Single-tap mixers
---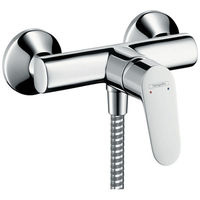 Single-tap mixers feature just one lever to operate the water flow (when moved up or down) and temperature (when moved from side to side).
These taps allow you to a maintain an approximate pre-set temperature.
They are also less wasteful and more comfortable to use than systems with two taps and can be fitted with an anti-scald safety valve.
Thermostatic mixer taps
---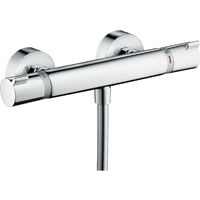 Thermostatic mixers consist of a lever to adjust the water flow and a knob that allows you to precisely control the temperature.
This system is recommended for children and elderly people but is not recommended if you have an instantaneous water heater, as this could lead to inefficient performance.
Some thermostatic mixers are equipped with a flow regulator to save water.
Overhead showers and hand-held showers
---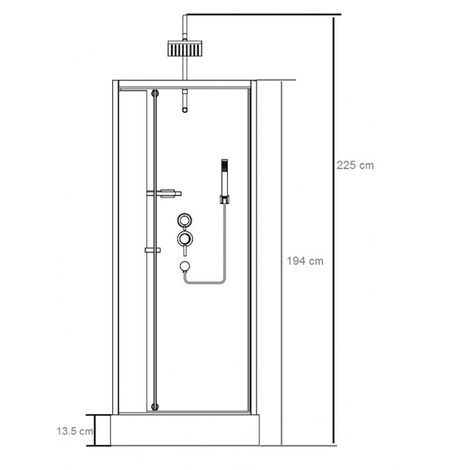 Shower kits can include a fixed shower head and/or a hand-held shower attached to a hose.
Just like hand-held showers, overhead showers can provide different spray settings (waterfall, invigorating, relaxing, etc.) and can be made of ABS or chrome-plated steel. Hand-held showers can be moved around (within reach of the shower bar) or can be placed in a holder.
Explore the ManoMano catalog
Shower bar
Benefits of a hydro massage shower cabin
Hydro massage shower cabins are just like classic cabins with the addition of pressurised water jets, which can be controlled manually or electronically.
 Installation requirements
---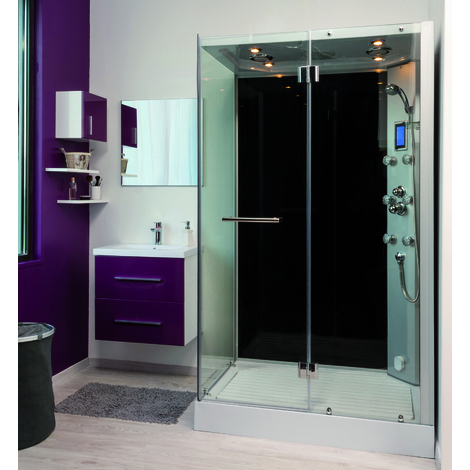 In order to make the take full advantage of your hydro massage shower, your water supply must have at least 3 bars of pressure and a flow rate of 20 to 50 litres per minute (beware of older installations with smaller copper pipes).
If your domestic water supply has low pressure, you may require a booster pump.
If your domestic hot water is supplied by a storage water heater and you want your shower to last more than a few minutes, it is advisable to have a hot water tank with a volume of at least 300 litres (unless the cabin has its own water recycling system). If you're looking for optimum performance, you should not connect your hydro massage shower to a system supplied by an instantaneous water heater.
For showers equipped with lighting, radios, MP3 players, or a sequential hydro massage system, you must have a power supply within reach. You should also look into the electrical regulations concerning acceptable minimum distances for bathroom connections.
Multi-jet hydro massage cabin
All nozzles function at the same time which results in increased water consumption. However, this system does not require an electrical connection.
Sequential hydro massage system
Hydro massage jets are controlled electronically and work independently at chosen speeds and for different durations. The arrangement of these hydro massage nozzles corresponds to strategic massage points. An electrical connection is required for this system.
Options for additional comfort
---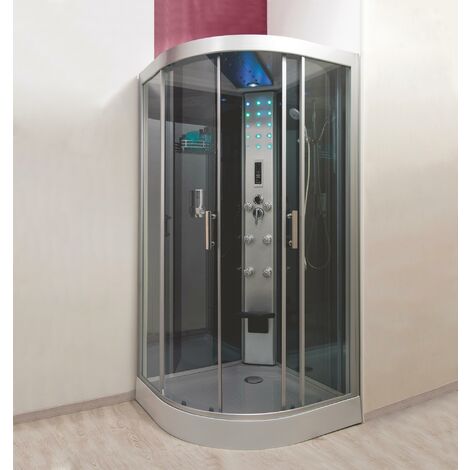 As comfort is the number one priority in hydro massage shower cabins, they often come with a number of add-on options, including:
light therapy with an LED light system;
music therapy via a radio or MP3 player;
different storage options, such as shower baskets and/or shelves;
Explore the ManoMano catalog
Foldaway seat
Recommended materials for shower parts
The types of materials used in shower enclosures go hand in hand with the overall quality of the unit. Most commonly found are:
---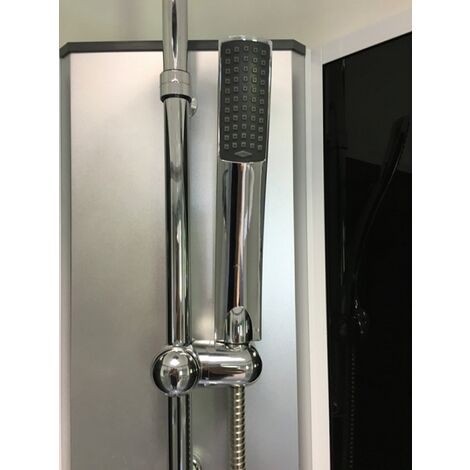 Doors made from tempered glass or acrylic with plastic, powder-coated aluminium or stainless steel frames (see: section on shower doors).
Fittings made of chrome-plated steel; shower hoses made of plastic, chrome-plated brass or stainless steel; and shower rails made of chrome-plated steel, shiny or frosted powder-coated aluminium, or even PVC.
Hand-held showers and shower heads made of chrome-plated steel or ABS.
Shower trays made of acrylic, ABS or occasionally ceramic.
Wall panels made of ABS, acrylic or frosted glass.
Metal frames made of aluminium.
Explore the ManoMano catalog
Shower hoses
Accessories and options for maximum comfort
Shower enclosure accessories
---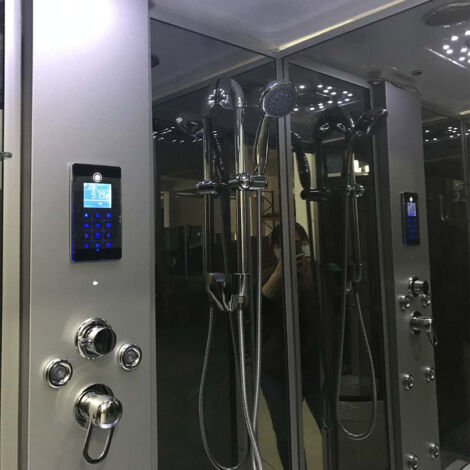 The use of various accessories can improve your showering comfort:
fixed seats: whether foldaway or collapsible, this is a practical option for elderly people or those with reduced mobility;
storage shelves are essential for tidying away your shampoo and shower gel;
a slatted floor: non-slip and pleasant underfoot;
mirrors can be practical for body care;
a rainfall or waterfall shower for general well-being;
an additional shower head with various spray settings (invigorating, relaxing, etc.): adjust the mode to suit your needs!
Explore the ManoMano catalog
Slatted
Optional therapeutic elements
---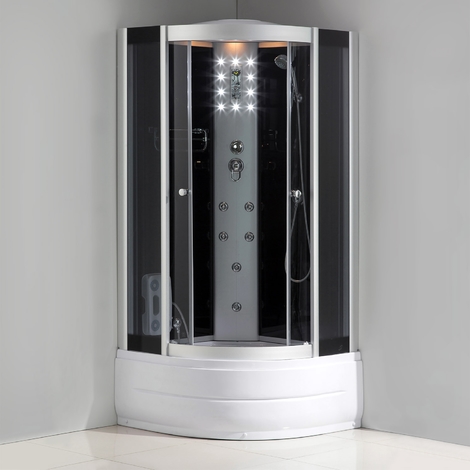 Self-contained shower enclosures offer a few more enticing possibilities:
hydrotherapy: water jets for body massage (multi-jet or sequential systems);
music therapy: MP3 or radio playback;
light therapy: built-in white LED lighting;
aromatherapy: diffusion of scents;
chromotherapy: projects different coloured lights onto the body;
sauna setting: produces steam at a temperature of 35 to 50°C and 90% humidity. This helps to promote well-being through the elimination of toxins, rehydration of the skin, pore opening, etc. A generator is used to create the steam.
Guide written by:
Dennis, self-taught DIYer, Bristol, 18 guides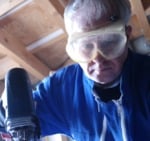 I started doing DIY 10 years or so ago, when I bought a house that needed to be renovated. After having installed loft isolation, and having refurbished the bathroom, the toilets, the kitchen, the bedrooms… I built an extension, installed a new fence with a gate and kitted out the house with a solar panel to make hot water. I have poured tens of tonnes of concrete into slabs or into the foundations and renovated the roof… I can say that building materials and tools are no stranger to me! If I had a pound for every hour spent looking up information in forums and DIY magazines to find solutions to my problems, I'd be a millionaire! So passing on my knowledge on tools and home equipment is natural, as it is just giving back what I borrowed.
The products related to this guide