Shower cubicle buying guide
Guide written by: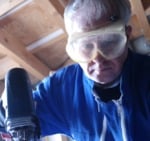 Dennis, self-taught DIYer, Bristol
18 guides
From the basic square 70x70cm (27.5"x27.5") model to the luxurious rectangular 90x180cm (35.4"x70.8") - taking in the 90x90cm (35.4"x35.4") corner shower and even jacuzzi cubicles - our buying guide will help you choose the shower cubicle of your dreams! LEDs, music, jacuzzi nozzles, sauna settings. Let's get steamy!
Important features
Bathroom layout
Type
Comfort
Size
What are the different types of shower cubicle?
Whatever the type, all shower cubicles consist of:


A tray - in acrylic or ceramic

Walls - glass or acrylic

One or two doors - sliding, pivoting, swinging

Single or double mixer tap - conventional or thermostat-controlled

Shower head and supporting rail, and hose

Plughole grate
Masonry cubicle
Masonry showers require extensive building, plumbing and
tiling work
. Installation is more complex because the cubicle is
tailor-made
;
Integral or one-piece cubicle
One-piece cubicles usually come in kit form and are easy to install. Simply place on the bathroom floor, connect the water supply and the drain (via the house wastewater system) - no silicone sealing required. Integral cubicles come with a variety of different options; they can have a jacuzzi function - strategically positioned jets of pressurised water to massage your body - or built-in lighting, radio etc.

Cubicle with movable walls

Cubicles equipped with movable walls offer a compromise between masonry and one-piece showers. This type consists of a bottom tray and walls.
Shower cubicles: choice of size and shape
The characteristics of your shower cubicle will depend on the layout of your bathroom.

In a corner or against a wall, your shower can be:


Square - with side length 70-90cm ( 27.5"x35.4")
Rectangular - up to 180cm (70.8") long
Quarter circle - 80 (31.4") or 90cm (35.4") radius

The most common format is an 80x80cm (31.4"x31.4") square.

If you like to spread out in the shower and your bathroom layout allows it, there's no need to skimp on size. Note that cubicle dimensions given are typically exterior dimensions, don't be fooled!

Don't forget to leave a space of about 70cm (27.5") in front of your shower, especially if the door swings outwards.

Warning: most shower cubicles require a ceiling height of at least 2 metres (78.7").
Shower cubicles: pivoting, hinged or sliding doors?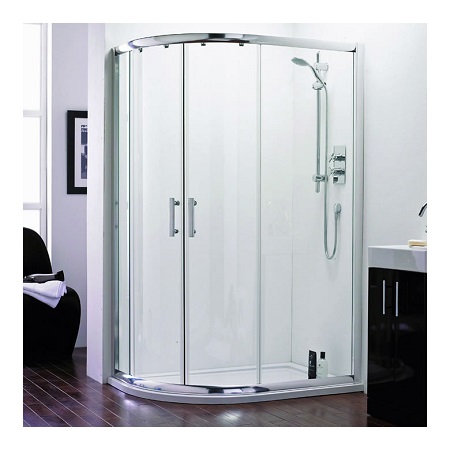 Shower doors can either swing outwards, swing both ways, fold inwards or slide along runners.


Pivoting doors
Pivoting shower doors are easy-opening and hence particularly practical, but require a large clearance space. Water can still trickle out of the cubicle despite anti-splash gutters. A
shower mat
is recommended.
Sliding doors
Sliding shower doors, unlike their pivoting counterparts, don't need any clearance (the panels overlap when open); but they can be problematic to maintain. You're best off with removable sliding doors to facilitate cleaning. All quarter-circle shower cubicles come with sliding doors.




Hinged or swing doors
Swing doors consist of two half-doors opening inwards and/or outwards. Hinged doors avoid the need for a large amount of clearance in front of the cubicle and limit splashing outside the shower. An anti-splash gutter is recommended.
Depending on your bathroom layout, you can choose between
front access
(all types of doors possible) and
angle access
to your shower (hinged and sliding doors only).
Doors
for masonry showers are subject to the same criteria.
Shower cubicles: which mixer tap to choose?
Two-tap mixer



Classic single-tap mixer



Thermostatic mixer


Jacuzzi shower cubicle: what features and layout options?
The
jacuzzi shower cubicle
is a classic cubicle with additional
jets of pressurised water
, controlled either manually or electronically.
If you want to take full advantage of your
jacuzzi cubicle
, you'll need a water supply of minimum 3 bar pressure and flow rate of 20-50 litres per minute - 16mm copper pipes.
For your jacuzzi to last more than a few minutes, assuming you haven't got a water recycling system, it's best to have a
300+ litre hot water storage tank
- if that's
how you heat your water
of course. For optimum performance, it's best not to combine a jacuzzi system with an instantaneous water heater (as above for thermostatic mixer taps).
With a
sequential jacuzzi system
where the jets are managed electronically, you'll also need to connect an electricity supply.
The arrangement of the
jacuzzi
nozzles
follows strategic massage points. Particular massage needs can be catered to with different numbers and layouts of nozzles.
Low pressure in your domestic water supply may warrant the installation of a
booster pump
.
Comfort is the number one criterion with a jacuzzi cubicle - which often includes other features such as
LED lighting
,
radio
or
MP3 player
, storage options, a
folding seat
, a
thermostatic mixer tap
, etc.
Shower cubicles: what are the available materials?
The vast majority of shower cubicles use thermoformed acrylic as the base material for bottom trays and opaque walls.
Some models have ceramic trays. To avoid disconcerting movement in the acrylic tray under your feet, you can place it on polyurethane foam or fixed studs - or even cover it with a grating.

Doors and transparent walls are generally made of tempered glass from 3-8mm thickness or acrylic on the cheaper models - the glass can be smoked, opaque, clear or silk-screen style.
Taps are typically in chromed or brushed metal. Style varies according to your taste: design, contemporary, standard or retro.
The materials used for the
shower set
itself depend on the overall quality of the shower cubicle:
The hose is made of plastic, brass or steel and designed with single or double stapling. Steel and double stapling are the better-quality options;
The shower head is made of ABS plastic or chrome-plated brass. The shape varies, as does the number of jets. The head may be a mobile handset, connected to the hose; or alternatively fixed over the centre of the cubicle or in cascade form.
Shower cubicles: what are the different options?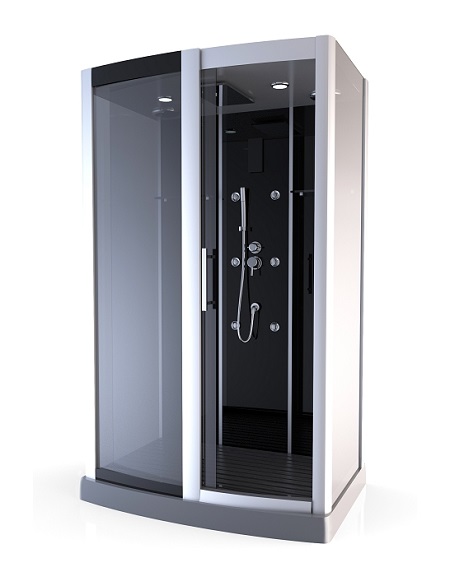 Different accessories are available to improve the comfort of your shower:


A fixed, folding or retractable seat is practical for elderly or reduced mobility users
A storage shelf is a must for storing shampoo and shower gel
A floor grating, providing a comfortable, non-slip grip underfoot
A mirror
A "rain" shower

Integral shower cubicles in particular offer some very tempting options:


Hydrotherapy, jet diffusion for body massage. A multijet or sequential system

Music therapy, mp3 or radio playback

Light therapy, via recessed LED lighting

Aromatherapy, diffusion of pleasing scents

Chromatherapy, projection of light onto the body

Sauna feature: releases steam between 35 and 50°C, at almost 90% humidity. Promotes well-being through the elimination of toxins, rehydration of the skin, and opening of the pores (the steam is generated by a specialised generator)
One final tip for choosing your shower cubicle...
If you don't have time to choose separate
shower trays
,
doors and walls
,
rails
, tiles etc or if you're just starting out on your DIY journey then choose an integral shower cubicle fully equipped and ready to go. It's a no-brainer!
As for the various options on offer, it's up to you to choose based on your budget and more or less luxurious tastes... The size and shape of your shower cubicle will relate to the layout of your bathroom, but of course the bigger the better!
Our bathroom guides
For those in full bathroom renovation mode or simply curious, follow our editors' advice and discover their other Guides:


Did you find this guide helpful?
Guide written by:
Dennis, self-taught DIYer, Bristol 18 guides écrits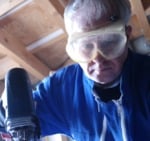 I first got into DIY around ten years ago, when I bought a house in desperate need of a makeover.

After insulating the loft and refurbishing the kitchen, bathrooms and bedrooms, I set about building an extension, installing a gated fence and fitting the house with a solar water heater. I've poured tens of tonnes of concrete into slabs and foundations and also renovated a roof. In short, it's safe to say that I'm no stranger to building work!

I've logged hundreds of hours browsing DIY forums and magazines trying to find the best solutions to my specific problems. For that reason, I feel it's only fair to give back some of my own experience and share my knowledge of tools and building equipment.


The products related to this guide