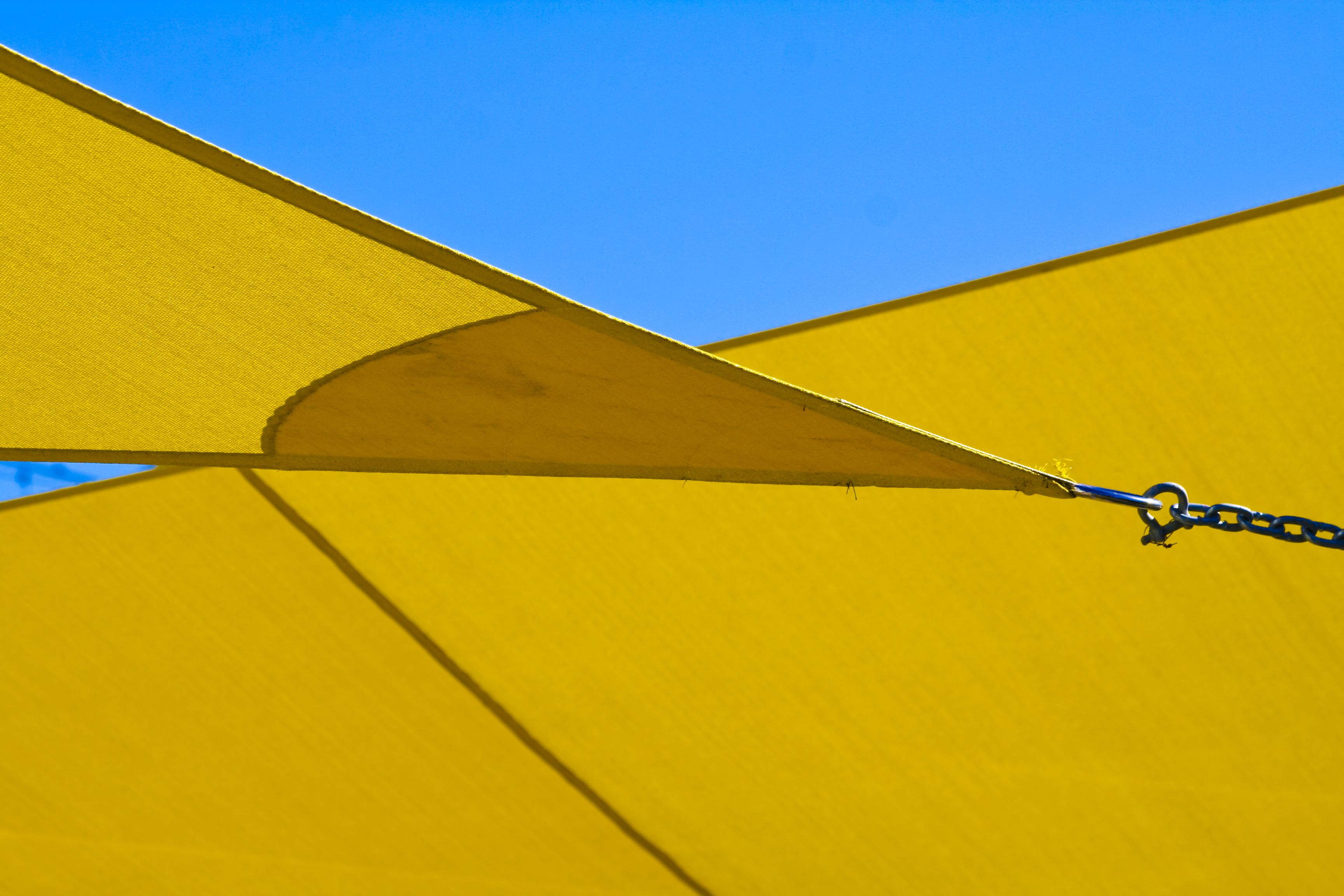 Shade sail buying guide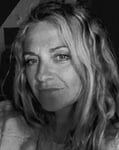 Guide written by:
Sylvie, Ecrivain & journaliste brico/déco, Essonne
273 guides
Shade sails are large stretches of fabric designed to hang overhead to protect you from the rain or even heavy showers. But in order to make the right choice, you'll have to take your pick between various materials, shapes, colours and installation types. Read on for our top tips to help you make your decision!
Choosing a type and spot for your shade sail
---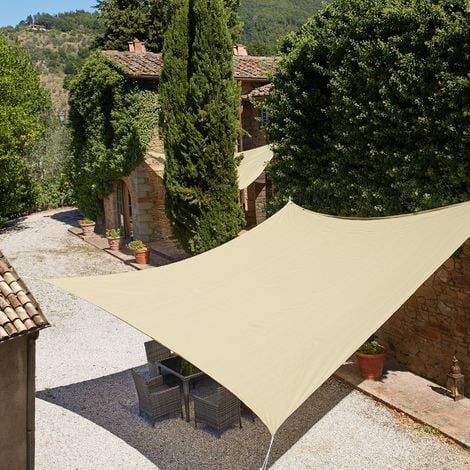 Shade sails can be set up on a terrace, in the garden or on the balcony, depending on your installation method and the type of protection you're after. They can be attached to trees, walls or posts. In addition to a wide range of shade sail designs, you will also have to decide whether you only want shelter from the sun or protection from the rain too.
Non-waterproof shade sails are made of a micro-perforated fabric that allows the air to enter but blocks out UV rays. Perfect for sun protection, these shade sails offer better wind resistance than waterproof versions but do not offer any protection from the rain. These models are can be used to shade garden lounge sets or outdoor dining areas in regions where there isn't much wind. It is recommended to twist and tilt these models slightly for better wind resistance.
Waterproof shade sails are made of a tightly woven fabric offering a water repellent effect whereby water slides over the fabric without penetrating it. These models are great for use as home extension areas, for example. However, while they will protect you from the sun and rain, waterproof shade sails do not let in any air. To avoid the area beneath the shade sail heating up like a greenhouse, you should install these models relatively high up and make sure they are taut. It is also a good idea to install them at a slight angle to prevent rain from settling in puddles in the fabric.
Explore the ManoMano catalog
Shade sails
Shade sail materials
There are three main materials to choose from. The weight of these materials determines their overall quality: the higher the density, the greater the strength of the shade sail. Generally, shade sails feature a weight of around 150 g/m 2 to 340 g/m 2.
Polyester shade sails
---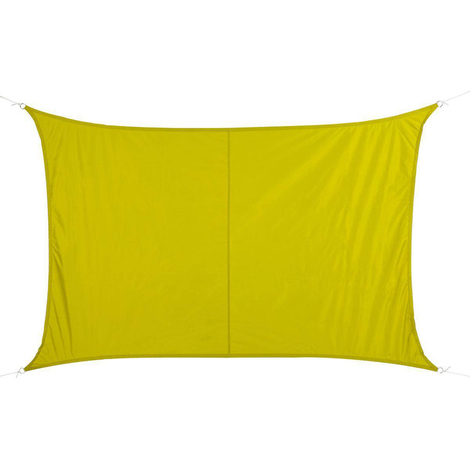 UV- and weather-resistant, polyester shade sails offer protection from the rain and sun. While shape-retaining, tear-resistant and very easy to maintain (using just a bit of warm water and gentle soap), this material does tend to gather heat if it is installed too low.
Polyethylene shade sails
---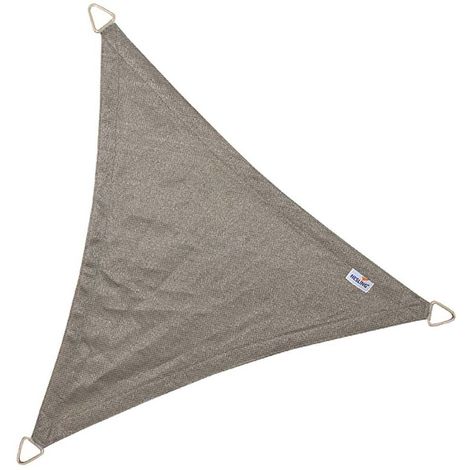 Made using a less tightly woven fabric, polyethylene shade sails are strong, waterproof and allow the air to circulate. These lightweight shade sails are also morewind resistant. Ideally you should choose a model that has been given a UV- and stain-resistant treatment.
Acrylic shade sails
---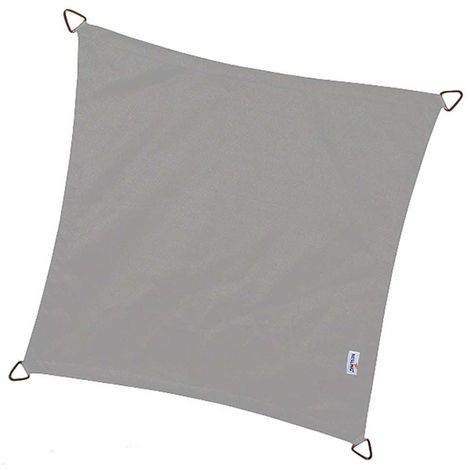 Highly resistant and often waterproof, acrylic shade sales are batch-dyed for better colour fastness over time. They are also stain- and tear-resistant.
Shade sail shapes, sizes and colours
---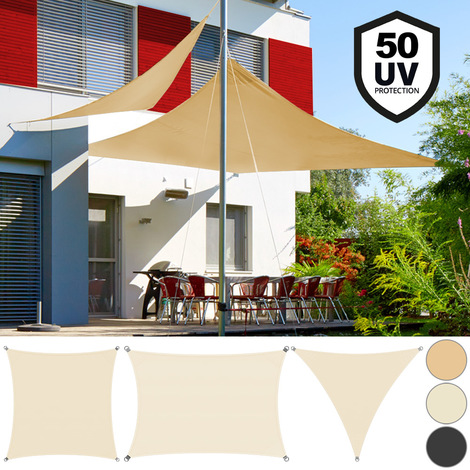 Shade sails come in square, rectangular or triangular form. All three shapes are available in a range of sizes from small to extra-large in order to meet all needs. For example, you can opt to cover a large terrace using just one shade sail or you can overlap a number of shade sails for a graphic effect. When calculating the total surface area for the fabric, account for a minimum space of 30 cm between the hanging points and the corners.
Shade sails also come in a wide range of colours: softer tones are conducive to a relaxing atmosphere while brighter colours will create a more contemporary feel. It's worth bearing in mind, however, that darker colours will protect you from both UVA and UVB rays and are therefore recommended for particularly sunny areas. On the other hand, lighter colours offer the equivalent to around 50 SPF for use in less sunny areas.
Fixing systems for shade sails
---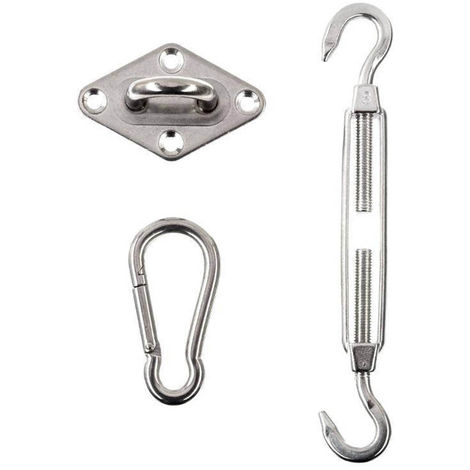 A few accessories – usually made from stainless steel – may be required to fix your shade sail in place.
Carabiner clips or shackles are designed to attach shade sails to rings or hooks.
A tensioning system can be used to maintain and alter the tension of your shade sail, as they do tend to become slack over time.
Pulley and reel systems can be used to change the height and tension of your shade sail quickly and easily.
Cables can be used to increase the distance between shade sails and their fixing points. However, beware that this may cause the shade sail to vibrate in the wind.
Wall fixings designed for use with a plug suited to the surface type, can be used with flat or angled walls (indoors and outdoors) depending on their shape.
Steel, stainless steel, aluminium or even rot-proof wooden poles can be used to secure your shade sail to the ground.
Studs and bolts are required to fasten shade sails to poles.
Explore the ManoMano catalog
Tensioning system
Guide written by:
Sylvie, Ecrivain & journaliste brico/déco, Essonne, 273 guides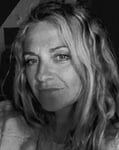 Après avoir travaillé au service de presse de France 2 et de la Cinq, j'ai choisi de laisser parler ma plume en m'orientant vers le journalisme et l'édition. Aussi éclectique dans mes goûts que dans mes écrits, passionnée de décoration et de bricolage comme d'histoire et de sciences, j'écris depuis plus de vingt ans sur ces thématiques. À mon actif : des ouvrages didactiques, romans et nouvelles, et de très nombreux articles brico déco regorgeant de conseils et d'astuces, expérimentés dans la vieille maison que je rénove peu à peu.
The products related to this guide