Screwdriver bits buying guide
Guide written by: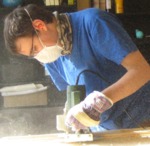 John, DIYer & IT developer, Brighton
59 guides
A screwdriver without a bit is about as effective as trying to use a Phillips screwdriver on a slotted screw. Torx, Pozidriv, Allen… you can tackle any screw drive with just a couple of turns of the chuck! From titanium coatings to diamond tips, read on to find the best screwdriver bits for your power tool.
Important features
Drive type
Steel
Titanium
Diamond tips
Length
Choose a bit tip to match your screw drive
Screwdrivers transfer force (or torque) to the screw via the screw drive. The shape and size of the screwdriver tip must correspond perfectly to the screw you are working on or you run the risk of damaging the screw.
Screwdriver bit types



Flat blade

Slotted screws are not very well suited to power driving as the screwdriver tip tends to slide around as soon as the tool gains any speed. These screws are found on old or specialist items. Sizes generally range from 3 to 6.5 mm.




Phillips
Identified by the code PH, these bits feature a simple cross-shaped recess. Though widely used, Phillips bits tend to pop out of the screw head as the speed of the tool increases. For the most part, Phillips tips range from 0 to 3 mm in size.


Pozidriv
These tips are designated as PZ. Do not confuse them with Philips heads at the risk of stripping the screw – and tearing your hair out in the process! PZ droves are cross-shaped with two (roughly) equal halves: there are two crosses, one of which is rotated by 45°.

This shape gives the screw tip better grip. Pozidriv drives (PZ) range in size from 0 to 4 mm and are most often found on wood screws.
Torx

Torx, or star drives, are designated as T and provide very good grip. Increasing in popularity (decking screws, etc.), Torx heads are recommended for all your screwing tasks; with limited risk of slipping, you'll soon be screwdriving like a pro! Sizes generally range from T10 to T40 or up to T50 for application in car mechanics.
Resistorx or tamperproof Torx

These screw drives are star-shaped with a pin in the centre and are used for increased security and comfort during intensive DIY sessions! Resistorx screw drives are mainly found in household appliances, with sizes typically ranging from T10 to T40.


Hex or Allen


These screwdriver bits are also known as hex sockets. Hex or Allen screw drives are commonly found in flatpack furniture kits. The most common sizes range from 2 to 10.



6-point and 12-point nut setter



Six- and twelve-point nut setters are not strictly bits but rather sockets. However, they are increasingly commonly found as solid constructions (one-piece sockets).



Triangular or square

Triangular or square screw drives are not widely used and tend to be more annoying than helpful to DIYers – sometimes manufacturers can be cruel like that!
Screwdriver bit materials
Screwdriver bits vary in terms of the complexity of their design and, most importantly, their strength. Like any product, the more expensive they are, the better the quality – in theory, at least!
Screwdriver bit materials
Steel bits

Steel is the most widely used material for bits as it offers good value for money (provided the bits are used correctly).



Impact-rated bits

If you have an impact driver, you should use impact-rated bits as other bit types may break under the force.



Titanium-coated bits


Titanium coated bits are more durable than steel alone. But beware: sometimes poor-quality steel is hidden beneath shiny titanium!


Diamond-tipped bits

A fine diamond particle coating is deposited onto the tip; this process significantly increases the bit's grip.
Screwdriver bits: choosing the best length
Shorter screwdriver bits deliver the maximum amount of torque to the screw.
You'll also find driver bits, extensions and even long bits designed to work on screws in deep cavities.
The longer the screwdriver bit, the greater the chance of slippage.
For this reason, it is advisable to modify the torque and the screwdriver speed (RPM) accordingly and to take care choosing the right drill or electric screwdriver before you start work.
Tips for choosing the best screwdriver bits
Opt for high-quality screwdriver bits that match the type and size of your screws. Do not forget to drill pilot holes and always use
quality
screws.
You should also remember to
adjust the torque
of your cordless or
electric screwdriver
to protect the screwdriver bit and the screw head. This will also help you to avoid splitting wooden surfaces or
damaging the screw thread if you screw into metal at high speeds
. Finally, go for
Torx
and
Pozidriv
screws, if possible: the results say it all!
Screwdriver bit chart

Bit type

Abbreviation

Common bit size

Drive type

Bit material for standard use

Bit material for intensive use

Flat blade

/

3 ; 4 ; 4.5 ; 5.5 ; 6 ; 6.5 (mm)

Slotted

Steel, hardened steel

Diamond, Zirconium, High Chrome Vanadium Steel, Titanium

Phillips

PH

PH0, PH1, PH2, PH3, PH4

Phillips

Pozidriv

PZ

PZ0, PZ1, PZ2, PZ3, PZ4

Crosshead with ribs

Torx

T

T10, T15, T20, T25, T30, T40

Star

Resistorx (or tamperproof Torx)

TT

TT10, TT15, TT20, TT25, T30, T40

Star with pin in centre

Allen

BTR or HC

2, 3, 4, 5, 6 (mm)

Hexagon socket
Did you find this guide helpful?
Guide written by:
John, DIYer & IT developer, Brighton 59 guides écrits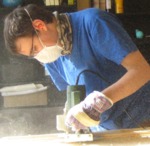 From a very young age, I was always fascinated by manual and technical work, especially woodworking. When I got my very first flat, it became my own personal DIY playground. I rewired some of the electricity (remember, safety first!) to better supply all my computers and gadgets. I also built partition walls and did some decorating with my wife. We worked on some made-to-measure furniture and came up with little tricks to optimise the space, keeping the original charm of the building in mind. When the little one arrived, I started building bits and pieces for him as well.

We don't have a lot of space, so I don't have a permanent workshop or certain tools I've always dreamed of owning. But with my IT background, I already know a lot about DIY, and I love helping others troubleshoot their ideas!
The products related to this guide