Screw buying guide
Guide written by: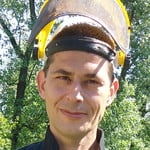 Jeremy, construction site supervisor, Cardiff
118 guides
If you're a handyman, you'll spend plenty of time screwing (and unscrewing...) But all these screws and bolts you get through, how technical can they really be? More than you'd expect! Flat or phillips head, self-tapping, for wood, metal or plasterboard, let us make you a master of the screw!
Important features
Type
Alloy
Size
Metal treatment
How can screws be classified?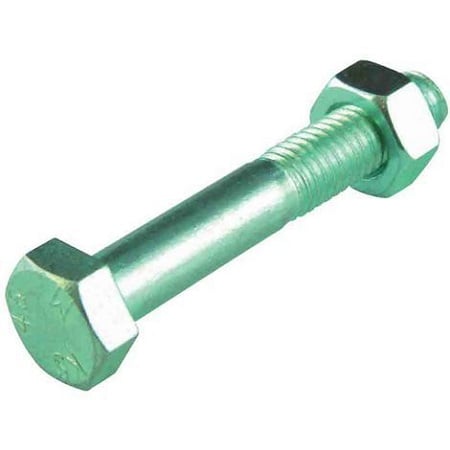 Screws
can be classified according to
several technical characteristics
. These are:
Head shape;
Type of thread;
Diameter;:
Length;
Head cutout and material.
To help us better understand screw distinctions, let's take type HM10-60 as an example:
H = hexagonal head;
M = pitch is "ISO metric" type (i.e. mechanical);
10 = screw is 10mm in diameter;
60 = screw is 60mm below the head.
There are many types of
screws and bolts
, each with a precise application (unlike screws, of course,
bolts
require
nuts
). To determine what type we want to use, we must consider a variety of factors:
The substrate material into which you are screwing;
Substrate thickness and robustness;
Size and weight of the load to be borne;
Risks of tearing and shearing - primarily mechanical applications.
In general, bear in mind that the larger the diameter, the greater the screw's resistance to tearing and shearing. The same goes for its length - with equal diameter, a longer screw will withstand greater force.



What different types of screws can you get?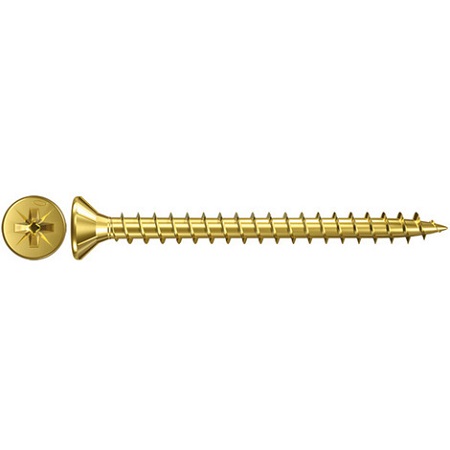 Let's go through the most commonly used types of screws.







What about the less common types of screw?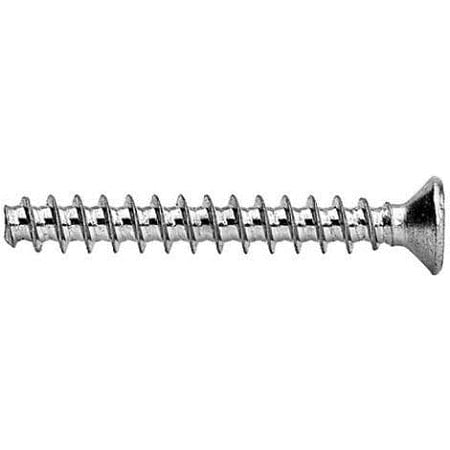 Framework / PVC screws: these screws have the advantage of being screwed straight into the substrate (solid or hollow) without needing a rawlplug. Indeed, once you start them off they will "self-tap" into the substrate, thanks to their fine thread and highly resistant material. This makes them very suitable for screwing into plastic. Generally, they have a milled Torx cutout head.
Concrete screws: thanks to a very wide thread (and in some cases mixed), this type also don't require rawlplugs but do require a pre-drilled hole. Highly resistant, they are mainly used to fix pipe or cable housing. Their head shape varies widely, depending on their destination. Their thread doesn't go the entire length of the screw, so as to accommodate whatever equipment you're screwing to the wall or ceiling.
Hinge screws: in case you don't follow, the "hinges" we speak of are the pieces of ironwork fixed onto exterior doors, gates and shutters - attached to the hinge proper. Several different types of screw exist for this purpose. Why? Because the materials involved differ widely (wood, aluminium, pvc), as can the colour of the ironwork. Aesthetic factors can be taken into account when choosing head shape. You'll find milled heads, large round heads and domed heads. Hinge screw threads are wide-pitch and the tips depend on substrate material. The most common varieties are RHSQ, or "round head square corners", intended for ironwork in joinery.
Specialized decking screws: these are a type of wood screws specific to screwing down decking. They are made of stainless steel due to their exterior application. The thread has braking fins just under the screwhead, facilitating screwing yet also locking the screw once in place. The head is countersunk and the Torx cutout allows the screw to be tightened to a greater degree. Some specialized screws also have a double thread for improved decking stability.
Connecting screws: frequently used in carpentry applications, such as on doors or furniture, connecting screws are made up of two distinct parts. One is a screw, the other a hollow threaded rod that accommodates the screw. They can be found on door handles, locks, etc. Their length depends on the thickness of the wood involved. Often made of brass for aesthetic reasons, they are also found in nickel-plated steel or painted iron. Their head is often round and domed and has a flathead cutout.
Multi-purpose screws: as the name suggests, these screws have a variety of uses! Often aimed at assembling wooden structures, they have a wide thread pitch and a flat or domed head. They are not threaded over the entire length. Their cutout may be flat, Phillips or Pozidriv.
What different materials can screws be made of?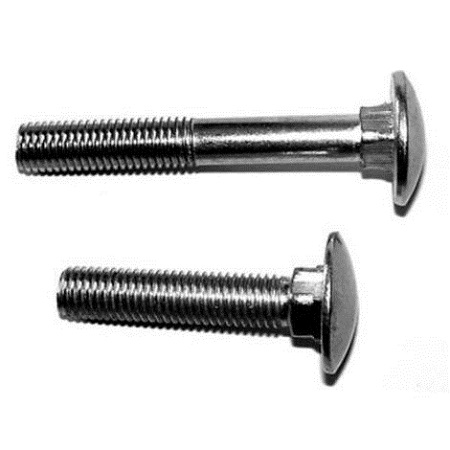 You won't really need to choose the material of your screws, in the sense that they are purchased for a particular use and the manufacturers have therefore chosen an appropriate steel or alloy and treatment to give them the best properties. Thus wood / agglomerate types are mainly phosphated, wood screws zinc-plated, decking screws stainless steel etc. You can rule out the cheapest screws as they're likely to be brittle and poorly treated.
Bichromated: fairly resistant to corrosion (provided screws are high quality). The cheapest tend to lose their surface treatment, and hence corrode, and also break when overtightened. They are yellowish in colour, and when chipped, they lose their protective treatment.
Zinc-plated: same deal as above - it's all in the quality of the treatment and the pressures the screw is exposed to once in use. Corrosion resistance average, colour silver.
Phosphated: black in colour. These screws are fairly strong and have good corrosion resistance.
Chrome-plated: same appearance as zinc-plated and similar robustness.
In terms of base material, screws can be made of:
Brass: for interior use, mostly in cabinetry. Brass has a poor corrosion resistance and suffers from verdigris. These screws are untreated and therefore unsuitable for many uses;
Stainless steel: for outdoor use. Stainless steel is durable and by definition stainless (i.e. doesn't corrode). There are however two different quality standards, A2 (cheaper and more common) and A4 (alloyed with molybdenum, providing protection against acids for increased resistance).
Variable proportion alloys: these materials benefit from surface treatments (by hydrolysis) specific to the use of the screw. Caution: screws with the same intended use can be made of a more or less dense alloy.
Final advice before you choose your screws?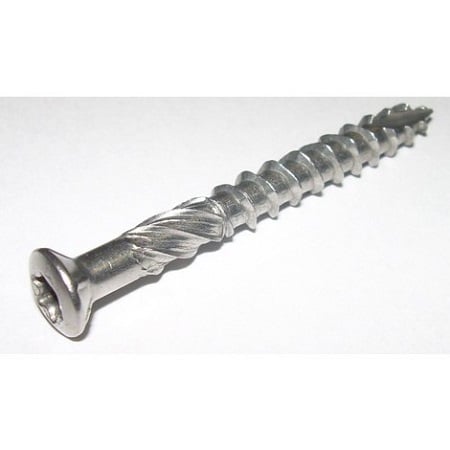 Think carefully about the alloy quality of a screw if it isn't made of stainless steel. Quality is crucial, since breaking a screw while tightening wastes time and can damage your substrate if you end up having to drill to pull it out.
Screw treatment is also important - since when go to tighten it, a screw can flake (low-end phosphate wood screws are a good example), speeding the process of corrosion.
Screws and bolts for specific uses and replacement mechanical screws must be identical in size, strength and pitch (refer to alphanumeric codes on the screwhead).
If you want to tighten a screw with force, be very careful not to damage the head and where possible choose Torx, Pozidriv, Alen or hexagonal cutout screws.
And one last thing - try not to lose your screws!



Learn more about screws and related topics...
To find out more about screws and related topics, follow our editors' advice and check out their other guides:
Did you find this guide helpful?
Guide written by:
Jeremy, construction site supervisor, Cardiff 118 guides écrits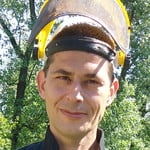 I'm a trained electrician who started off working in large-scale industrial projects. Most of my early career was spent taking on huge electrical installations. I like to think that no job is too big for me, and after all the experience I'd gained, I started managing teams of electricians.

I like to learn on the job, so around ten years ago, I moved into building and construction. As a site manager, I've overseen the building of small residences, sport facilities, and even theatres!

Working with my hands is something I love to do in my free time as well. For four years now, I've been restoring our home in the Welsh countryside. I even built a conservatory for my wife, who loves watching the sheep behind our house.

Whether it's patios, interior design, roofing, plumbing or electricity - I love giving it all a go! I've even made my family DIY converts and together we've built almost everything we have from scratch. My experience, both in the field and in my workshop, has taught me a lot and I'm happy to share what I've learned. No matter how big or small your project is, I'm here to answer your questions and help you choose the right tools and equipment.
The products related to this guide