Room divider buying guide
Guide written by: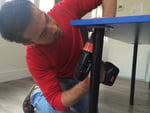 Sebastian, self-taught DIY-er, Exeter
177 guides
Room breakers are designed to separate areas within the home. Whether you're looking to create a reading corner or a dressing space in the bedroom, room breakers offer a range of uses. Choose from bamboo room breakers for a Feng Shui zen vibe, or wood or iron for a romantic or modern style. Read on for our top tips!
Room breakers: uses and features
First used in China almost 2,000 years ago, room breakers
are mainly used to
create a portable
barrier within a room. Nowadays, they
come in a range of different shapes, colours and materials to combine functionality with style
. Room breakers are
usually made up of 3 to 6 panels.
However, some modern models may only feature one panel.



Uses around the home
Room breakers can be used as a mobile screen to

mark off a particular area.

They make it easier to create a reading or office space within a living room, for example.

These screens can also be used to

provide privacy.

Room breakers can be set up in bedrooms

to create separate areas for children and parents.

They are also practical for

creating an area that you don't want to show

to your guests – for example, a corner for shoes. It is equally

possible to install a room breaker at the entrance of your home in order to hide the rest of your interior

when opening the door.

These screens are

a decorative item in themselves

. Some models can even be personalised with photos.

When used outdoors, they

serve to protect you from the wind and prying eyes.

How to choose a room breaker

Models featuring 2 to 6 panels are suitable for all types of use. Your choice will depend on the space you want to cover, bearing in mind that you should subtract around 20% of the overall length provided by the manufacturer to ensure the accessory can stand upright in an

accordion-style shape

.
Room breakers made up of 5 to 6 panels are

more

flexible

and easier to form into your desired shape – for example, a semi-circle.

Some versions can be folded to form a walk-in wardrobe or

storage unit

.
Room breakers can also be used as headboards. In this case, the size of the room breaker must correspond to the width of the furniture. Some models designed for this purpose feature built-in lights (LEDs

).
Room breaker materials and styles

Room breakers come in a number of different styles and materials
to select according to the decor of your room
:

room separators

made of wood or bamboo allow you to create a zen-like atmosphere;
Japanese-style room breakers

with cherry blossom prints offer a beautiful decorative effect;

wood or fabric panels

are perfect for

antique-style rooms

;

shutter-style room breakers

offer privacy and a rustic style for

decors with romantic charm

;

rice paper panels with

wooden frames are typical of

Oriental-style decors

;

fabric room breakers

with patterns and wooden frames are modern and colourful;

room breakers with engraved or

printed glass

will bring a touch of contemporary style

to the room;

room breakers made from wrought iron

can be used

both indoors and outdoors (on a terrace or balcony

) ;

some breakers made of wood or woven natural fibres

are also suitable for outdoor use.
Choosing a style for your room breaker
No matter the style of your room breaker, there are a few factors to consider to create a tastefully decorated space:
the colour of your walls;
the pattern of your curtains;
the style of your furniture;
the size of your room breaker will be determined by how and where it will be used;
Your decision will come down to your personal tastes as well as the style of the room, the purpose of the room breaker and the area in which it will be installed.


Keep in mind, however, that the most important part of choosing a room breaker is how it looks!
Did you find this guide helpful?
Guide written by:
Sebastian, self-taught DIY-er, Exeter 177 guides écrits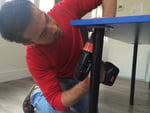 Redo a roof with wooden beams? Check.
Advise Mister everybody in the DIY shop? Check.
Redo the bathroom plumbing? Check.
Fit together, build the walls, paint a partition, throw my hammer in a rage thinking that it will fix the problem? Check.
The DIY motto ? Learning is better than delegating… well, it's also a question about your wallet! The satisfaction? The beer at the end of the job!
What do the best have in common? The influence of Gyro Gearloose, Mac Gyver and Carol Smiley depending on your generation, a good dose of curiosity, a average hand-eye coordination and a taste for risks… and if it doesn't work, try again! Advise you? I'll do my best!
The products related to this guide