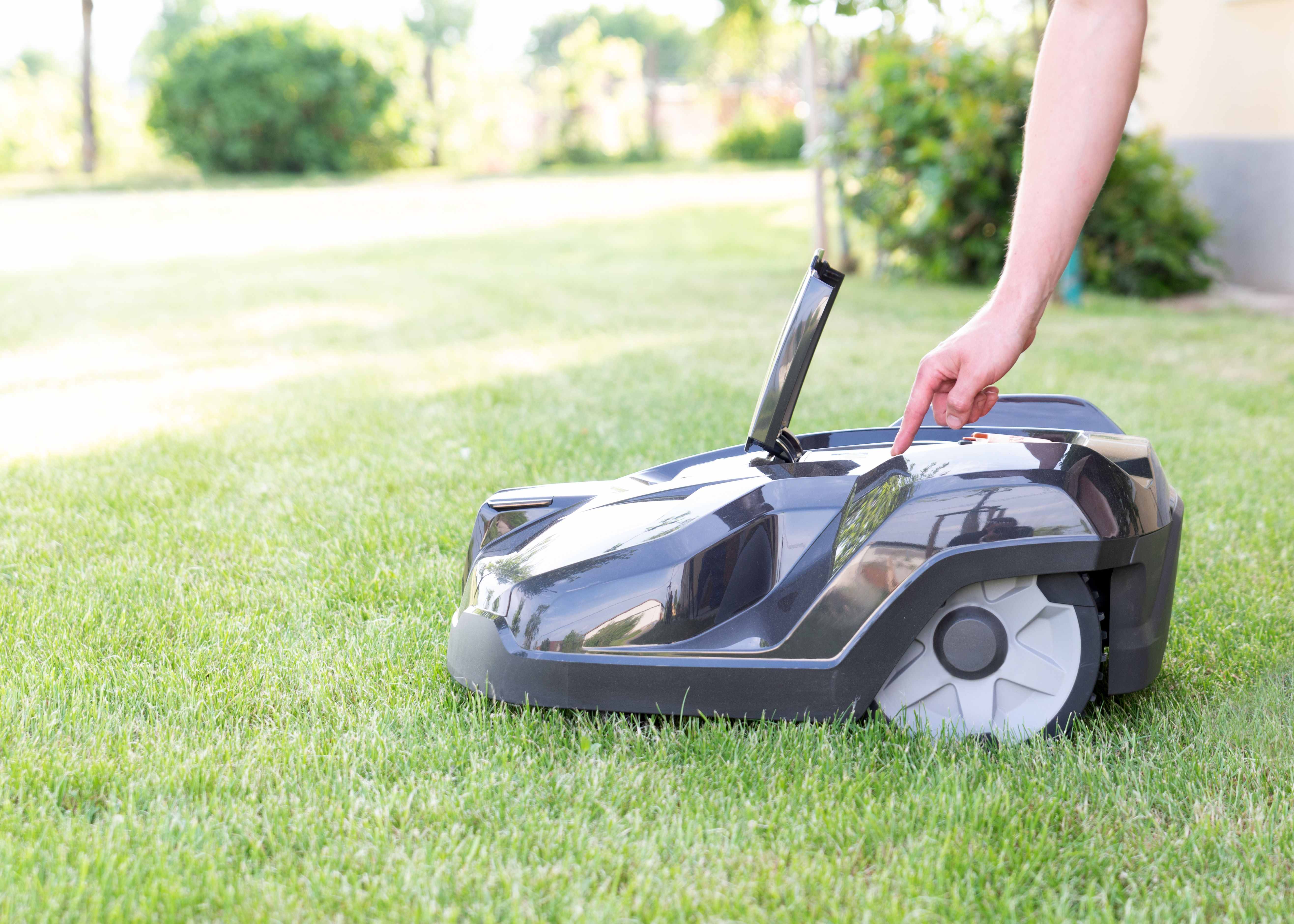 Robot lawnmower buying guide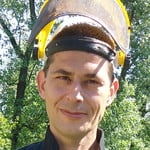 Guide written by:
Jeremy, construction site supervisor, Cardiff
132 guides
Robot lawnmowers are designed to mow your lawn independently over an area that is marked out by a boundary wire. They are able to work on slopes, can be equipped with a mulcher and may be programmed to return to their charging station when the battery is running low. Read on for our top tips on robot lawnmowers!
Important features
Battery life and programming
Charging station and guide cable
Mowing capacity and quality
Maintenance
What is a robotic lawn mower?
Hitting the market in recent years, robot lawnmowers are designed to mow a designated area independently and silently.
These machines are battery-operated, compact and – in addition to saving you the hassle of mowing yourself – will also collect your grass clippings and process them. Robot lawnmowers use a mulching technique to grind up the grass and leave it on the ground to act as a natural fertiliser. This helps to create a more fertile soil, while also limiting the amount of water evaporation from the soil. The area you want to mow is marked out by a boundary wire which cordons off the perimeter of your lawn as well as any obstacles.
In short, a robot lawnmower means no more mowing, no more picking up grass and less watering. You'll also use less fertiliser and, most importantly, your lawn will always be trimmed, strong and full of life. The best part? You can get all that done without having to get out of your deck chair!
The main features of a robot lawnmower
1. A charging station
---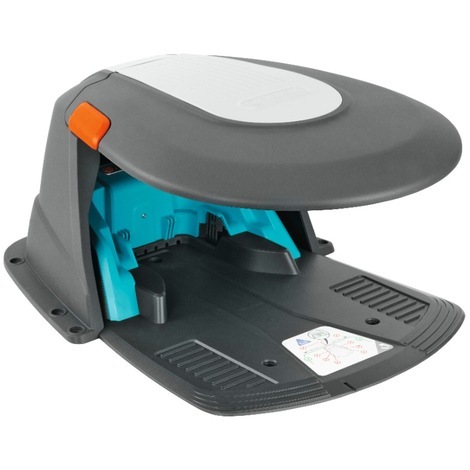 This is the base to which the robotic lawnmower returns at the end of its cycle or when the battery is low.A key component, the charging station not only charges the machine but it is also responsible for sending signals to the mower so that it can navigate your garden.
2. A boundary or perimeter wire
---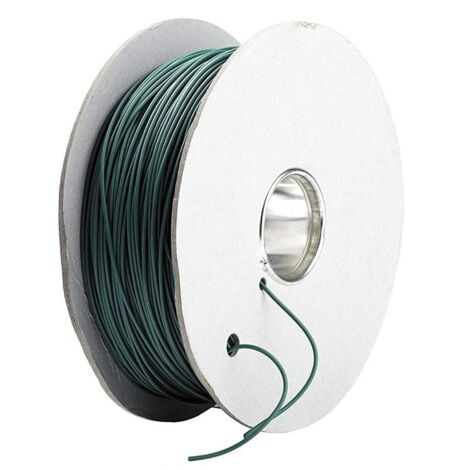 This is the cable that marks out the boundary of the area that requires mowing. Installed all around the perimeter, it should avoid large objects and run the length of any fixed walls or edging. A signal is generated by the charging station and passes through this cable. Each time the mower detects or comes into contact with it, it will change its direction. This allows the robot lawnmower to work across your garden to achieve a perfect cut.
3. A guide cable
---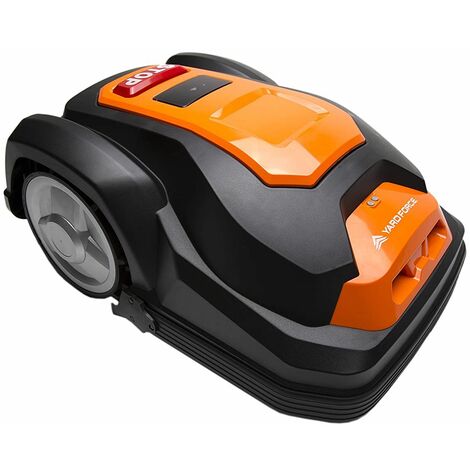 This is the robot lawn mower's version of a breadcrumb trail. A guide cable runs from the charging station across the mowing zone (generally through the centre). As soon as the mower battery is low or the machine is reaching the end of its program, the mower will start to travel in any random direction until it crosses the guide cable. As soon as this cable is detected, the robot lawnmower will follow it home and return to the charging station using the shortest possible route. 
Explore the ManoMano catalog
Guide cable
Robot lawnmower capacity
---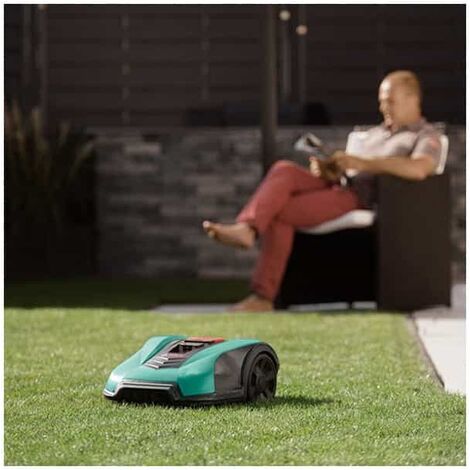 The most powerful and efficient robot mowers can easily handle up to 6,000 m2of lawn. The cutting width will vary from one mower to the next but is generally somewhere between 20 and 30 cm. Keep in mind that for a flat, rectangular plot of around 1000 m2, a robot lawnmower will take around 12 to 15 hours to complete its cycle.
Robot lawnmowers are also able to operate over sloping ground. More advanced models can even run on a 35 to 40% incline. Of course, this will have a significant impact on the battery life of the machine and the time it will take to mow the area. Mowing capacity will be a determining factor when it comes to choosing your robot lawn mower. As such, manufacturers generally tend to have it displayed clearly on each model.
Explore the ManoMano catalog
Lawnmower
Mowing quality
---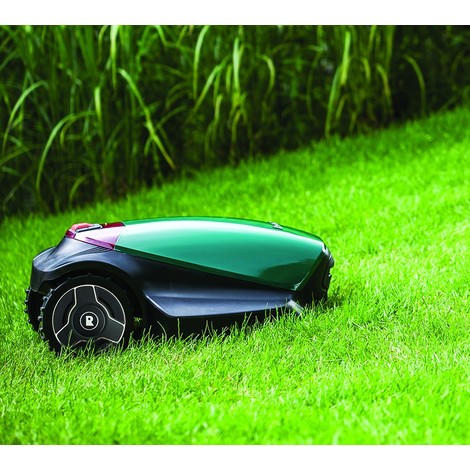 Robot lawn mowers are able to achieve a very consistent results because, unlike you, they can mow every day. Using a mower more regularly will make your grass stronger and more dense as, each time the grass is cut, only a small amount of the blade is cut. This also allows you to achieve the perfect lawn height.
Another important factor for a high-quality cut is the path of the mower. As the mower modifies its trajectory as soon as it detects the boundary wire, the same area of lawn will be passed over multiple times, but at different angles. The result is a consistent and uniform lawn, with strong, dense and green grass.
Maintaining a robot lawnmower
---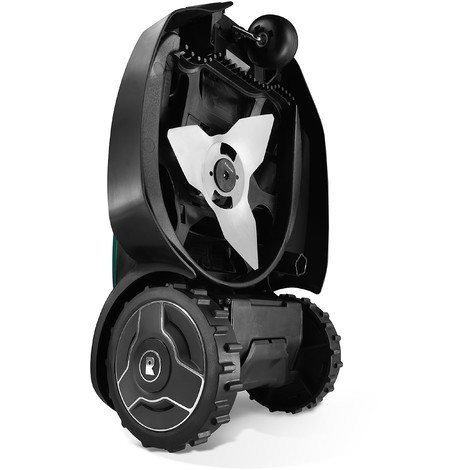 Unlike a conventional lawnmower, a robot lawnmower requires next to no maintenance. Since these machines are equipped with an electric motor, they will not clog, nor do they consume oil or require filters. The only thing you will have to do is replace the cutting blades when they wear down.
A quick clean of the charging station and the bottom of the mower is also recommended – especially after heavy rainfall.
Explore the ManoMano catalog
Clean
Guide written by:
Jeremy, construction site supervisor, Cardiff, 132 guides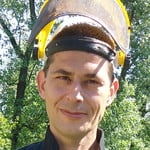 Electrician by trade, I first worked in industrial estates where I installed, wired and fixed a large number of electrical installations. After this, I managed a team of electricians for this type of work. 10 years or so ago, I turned to building and construction. From the modest family home, to gyms and theatres; I have been able to coordinate, audit and organise all sorts of construction sites. for 4 years now, I am restaoring and bulding an extrension to a bungalow in the heart of the welsh countyside. My experience in manual work and my knowledge means I am proud to be of service. Terraces, interior design, roofing, plumbing, electricty, anything goes! We have, my wife, daughter and I, built almost everything we have from scratch! So to answer all of your questions, and to orientate and advise you on coosing your tools? Easy!
The products related to this guide