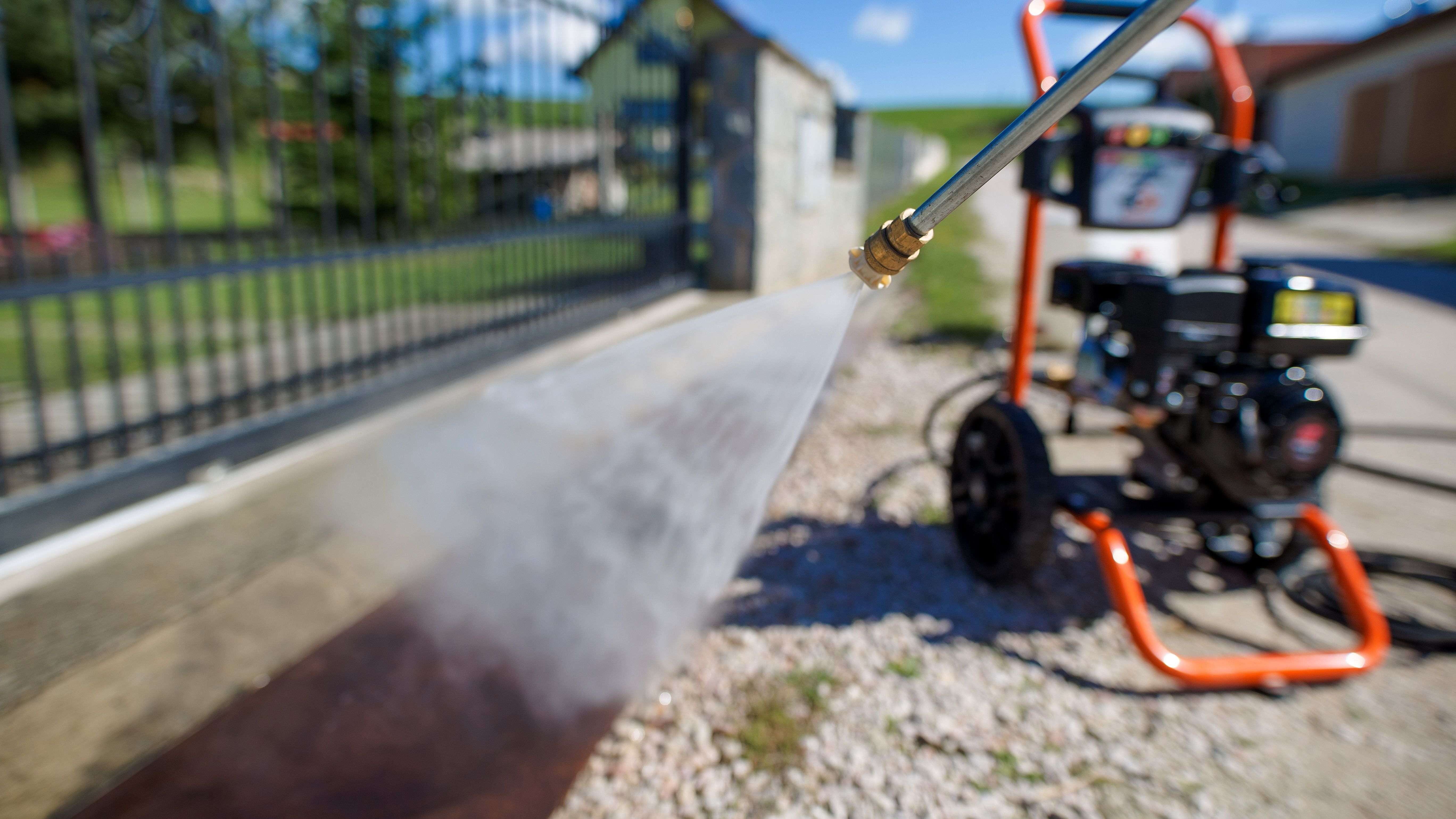 Pressure washer buying guide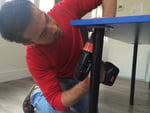 Guide written by:
Sebastian, self-taught DIY-er, Exeter
198 guides
Looking for a pressure washer to clean your car, bike, exterior walls or patio tiles? Rotating nozzles, rotary brushes, scrubbers... there are lots of pressure washing accessories to make your job easier! From power ratings and flow rate to pressure and power source, read on to find the perfect pressure washer.
Choosing a pressure washer to suit your needs
---
Pressure washers have different power ratings, pressures and flow rates depending on their intended use. Think about the trickiest jobs you want your pressure washer to perform.
You'll also need to choose accessories based on what you want to clean, as well as the intensity and frequency of your pressure washing tasks.
It's worth noting that using a pressure washer on its highest pressure setting can actually damage some surfaces (patios, exterior walls, cars, etc.) by stripping the surface protection of the materials or chipping the surface of painted or rendered walls.
Detergents should be used carefully because they can be corrosive, especially if surfaces are not thoroughly rinsed after application.
Flow rate, pressure and power requirements for different types of cleaning
| | | | | |
| --- | --- | --- | --- | --- |
| | | | Minimum pressure, power and flow rate | |
| Agricultural and/or industrial and/or construction equipment | | | 210 bars – 4,000 W – 600 l/h | Straight jet nozzle, rotary nozzle, detergent, floor brush and/or hand brush |
| | Petrol for regular use, electric for occasional use | | 160 bars – 3,000 W – 600 l/h | Long hose, telescopic lance, straight jet nozzle, rotary nozzle, detergent |
| | | | 120 bars – 1,600 W – 400 l/h | Straight jet nozzle, rotary nozzle, hand brush, detergent |
| | Electric for occasional use | | 140 bars – 2,000 W – 500 l/h | Gutter cleaning accessories, long hose, straight jet nozzle, rotary nozzle, fan spray nozzle, detergent |
| | | | 110 bars – 1,400 W – 360 l/h | Straight jet nozzle and fan spray nozzle |
| | | | 140 bars – 2,000 W – 500 l/h | Extension lance, patio/decking brush, straight jet nozzle, fan spray nozzle, detergent |
Detailed view of a pressure washer
---
What pressure, flow rate and power do you require?
Pressure
Pressure is the force with which the water is expelled. It is expressed in bars. The higher the pressure, the easier it will be to remove dirt.
Flow rate
Flow rate tells you the number of litres expelledin a given time. For pressure washers, the flow rate is usually expressed as a number of litres per hour. The higher the flow rate, the less time you'll spend going over the same surface, and the quicker you'll get the job done!
Power
---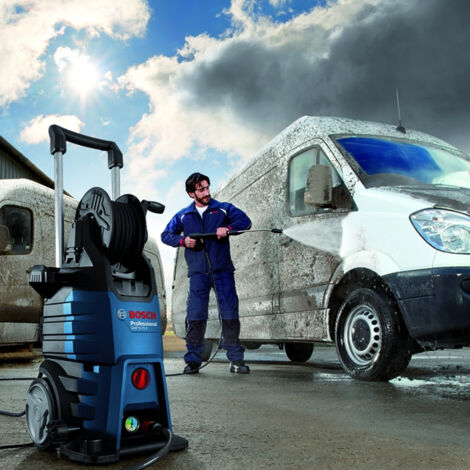 The power, given in Watts (W), is related to the flow rate and the pressure. You won't ever find a pressure washer with a specification of 1,200 W, 600 l/h and 160 bars – that's just down to the laws of mechanics and hydraulics!
Note: For the same flow rate, the pressure will vary depending on the diameter of the hose (i.e. the size of the nozzle). Additionally, the longer the hose between the nozzle and the pressure washer, the more pressure loss there will be.
Difference between petrol-driven and electric models
Petrol-driven pressure washers
---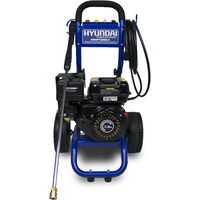 Petrol-driven pressure washers have higher pressure, flow rate and power ratings. They can be used for long periods of time and do not depend on an electricity supply to operate. Some models can operate using hot water, making quick work of even the most challenging cleaning tasks. The power rating of petrol-driven pressure washers is indicated in horsepower (hp), the equivalent of Watts (W) for electric motors (1 hp = 0.736 W). The engine capacity (cm3 or cc) is indicated as part of the engine specifications. The higher the engine capacity the better as, for the same level of power, the motor will not have to run at full speed as often.
However, all of these advantages don't come for free. Petrol-driven pressure washers have an engine that consumes oil and fuel (4-stroke engine) and therefore require maintenance (spark plugs, filter, draining).They are also louder and heavier (although they do have ergonomic frames and wheels) and emit greenhouse gases via combustion. In summary, all of this means that petrol-driven pressure washers are really designed for professional users working for local councils or in agriculture, construction or other industries.
Electric pressure washers
---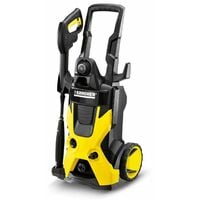 Electric pressure washers, on the other hand, are suited to most jobs and are ideal for home users. They produce less pressure and flow rate, but the highest-powered models are exceptionally comfortable to use.
These machines require very little maintenance (cleaning the filter and storing in the winter) and are lightweight and easy to handle. The power rating of electric pressure washers is given in Watts (W) and is related to the other characteristics (pressure and flow rate). Depending on the model, the power rating is usually between 1,100 and 4,000 W.
Explore the ManoMano catalog
Petrol-driven pressure washers
Pump materials
You should choose the type of pump according to how you intend to use your pressure washer.
Composite pump
---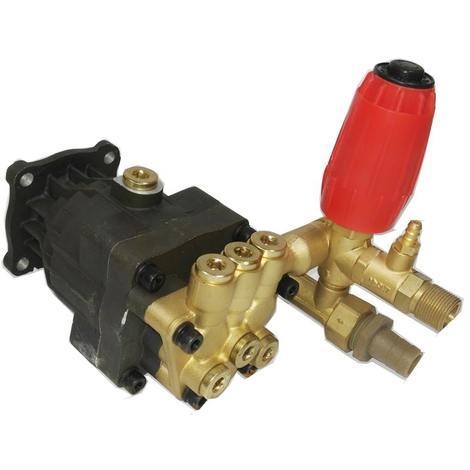 For occasional use, i.e. three or four hours per month at different times, a composite pump will do the job very nicely.
Aluminium pump
If you plan to use your pressure washer more regularly or for longer periods, look for one with an aluminium pump. The price will be higher, but the equipment will last longer.
Brass pump
At the very top of the market, you'll find brass pumps, which are designed for intensive use.
Cleaning accessories: wand, nozzle, rotary nozzle, brush and telescope lance
As far as accessories go, 'standard' items are becoming something of an endangered species. If you want a wide range of pressure washer accessories, you will have to choose one of the bigger brands, as accessories from competing manufacturers are generally not interchangeable.
Pressure washer accessories
---
Various accessories are available to help you make the most of your pressure washer and improve comfort of use. Let's take a look at the most common ones:
Telescopic lances are essential if you want to clean the exterior walls of your house without putting up scaffolding;
Gutter and pipe accessories help you to clear dead leaves from gutters and downspouts;
Extension wands/lances offer greater comfort for cleaning tasks by increasing the total length of the lance;
Nozzles (basic or rotary) are used to remove dirt from surfaces;
Floor brushes are designed for cleaning patios and decking;
Pistol handles are found on all pressure washers and allow you to insert lances and other accessories;
Rotary hand brushes are efficient tools for cleaning cars, garden furniture, etc;
Foam cannons can be used for additional cleaning power;
Extension hoses can be useful if you need to cover large areas, and make it easier to clean at height;
Wet sandblasting kits allow you to use your pressure washer for sandblasting;
Detergents of all kinds are available – choose according to the surface you want to clean;
Water filters prevent the nozzles from becoming clogged up.
Explore the ManoMano catalog
Pressure washer accessories
Spare parts and brand comparison
Spares and availability
How easy it is to obtain replacement parts, O-rings and other caps and connectors will depend on the level of after-sales services offered, which in turn depends on the quality and reputation of the brand.
More often than not, only the best-known brandsoffer genuine after-sales care which allows users to make their purchase a sustainable one. On the other hand, the cost of having an entry-level pressure washer repaired by a professional is often off-putting or even prohibitive.
Choosing a brand
---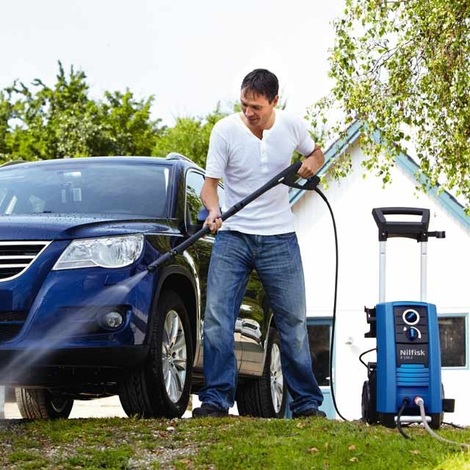 If you can see yourself using your pressure washer regularly, for example for several hours per week for six months, it's worth looking at a higher-range model than you might initially have considered. Entry-level models are not designed for regular use. The result? The pump will soon break and you'll find yourself engaged in a battle with customer services and regretting your purchase...
In order to be sure you're making the right choice, think about how your cleaning requirements will evolve in the future as well as about your current needs. If you are unsure, opt for a more powerful model with a higher flow rate and more pressure.Like any tool, the quality of a pressure washer is proportional to its price, but this is what will determine whether or not your purchase will prove to be sustainable in the long-term. It can be reassuring to know you are entitled to after-sales support from a well-known brand (standard exchange vs. a repair that takes several months, without any loan of temporary equipment).However, if you're only going to use your pressure washer once a year to clean your garden furniture or car, then an entry-level model will do just fine and will last – providing that you don't use it for long periods and/or at full speed.
Pressure washer brands – a comparison
| | | | |
| --- | --- | --- | --- |
| | Entry-level – occasional use | | High-end – very frequent use |
| | Cleaner WashEinhellRibimexSilverline | HyundaiBoschBlack & DeckerKarcherSkil | CampeonKarcherKranzleLavorMakitaNilfiskHonda |
8 tips for choosing and using a pressure washer
---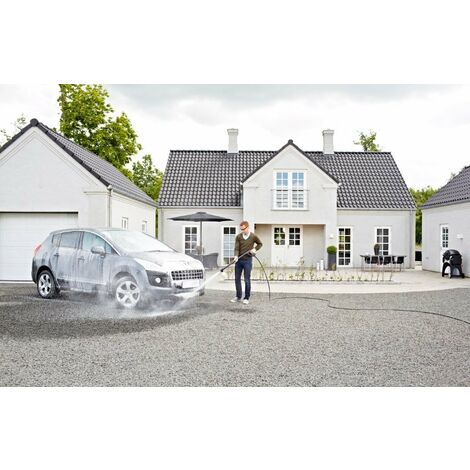 Over the winter it is best to drain your pressure washer and protect it from freezing temperatures. Otherwise, the seals and plastic components will soon remind you that water is incompressible and that its volume increases when it freezes...
If you connect extension hoses to your pressure washer, don't be surprised to find that the water pressure at the nozzle decreases – that's one of the laws of hydraulics!
Some models come with handy features such as a hose reel, a detergent tank or a brass pump.
Hot-water pressure washers are efficient if you need intensive cleaning power, but be careful not to damage the surface you're cleaning.
If your water contains impurities, you will need to install a filter in your pressure washer and/or on your water supply. If you have hard water (high limescale content), you will need to descale your pressure washer.
Tempted by a petrol-driven pressure washer? Remember to consider the number of decibels (dB) – although of course you can always wear ear plugs or ear protectors. On the other hand, that won't be of much help to your neighbours...
If you're using your pressure washer for extended periods of time, it is strongly recommended that you take breaks: firstly to make sure you stay hydrated, but also to reduce the risk of your pressure washer overheating.
If you want to pump water from a well, a rainwater collection tank or a pond of some kind, you must use a mechanical filter, or even a chemical one. Also, to avoid any problems during operation, make sure the pressure and flow rate at the water pump outlet are constant.
Guide written by:
Sebastian, self-taught DIY-er, Exeter, 198 guides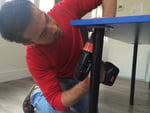 Redo a roof with wooden beams? Check.Advise Mister everybody in the DIY shop? Check.Redo the bathroom plumbing? Check.Fit together, build the walls, paint a partition, throw my hammer in a rage thinking that it will fix the problem? Check. The DIY motto ? Learning is better than delegating… well, it's also a question about your wallet! The satisfaction? The beer at the end of the job! What do the best have in common? The influence of Gyro Gearloose, Mac Gyver and Carol Smiley depending on your generation, a good dose of curiosity, a average hand-eye coordination and a taste for risks… and if it doesn't work, try again! Advise you? I'll do my best!
The products related to this guide