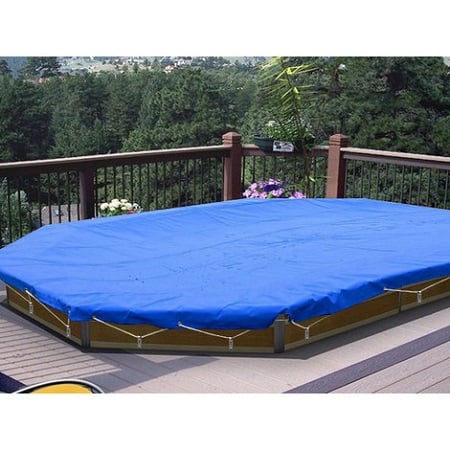 Pool cover buying guide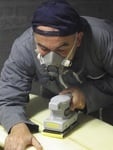 Guide written by:
Patrick, Handyman, Bath
12 guides
From bubble covers to safety covers, leaf nets to winter covers, there are plenty of ways to protect your swimming pool while keeping it warm and even making it safer. Whether your cover is attached to a roller or fitted with clips, all pool covers are designed to protect the surface of your water.
Why cover up your swimming pool?
---
Covering up your pool helps to extend its service life by protecting it from the harshest conditions during both winter and summer. That said, it is not recommended to use the same cover across all seasons as winter and summer covers play completely different roles. Safety is another important factor to take into account and, in terms of keeping the surface of your water clean, a pool cover can only help! In short, using a pool cover will mean your pool net will get less use!
Explore the ManoMano catalog
Pool nets
Choosing a pool cover to match the season
There are two basic types of pool cover, each of which offers a different form of protection for your pool. Depending on the season, you should choose between a winter cover and a summer cover. Both types of pool cover work to cover up the pool and protect the water from external pollutants. While they don't perform exactly the same role, these covers will both help to make it easier to keep your pool clean.
Winter pool covers
---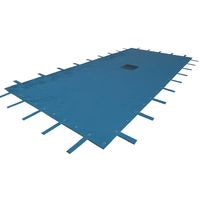 Winter pool covers are designed to stay in place throughout the harshest weather conditions of the year. They help to protect your pool lining (whether you have a liner or tiles) and will make your pool easier to get up and running when spring rolls around.
Summer pool covers
---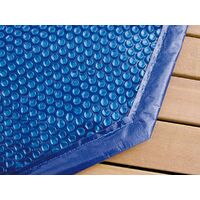 Summer pool covers are designed to stop your water from cooling down too much when your pool is not in use. This will help to prolong the swimming season and make day-to-day pool cleaning a little easier as there won't be any leaves or over-adventurous bugs to clean up! You can remove your summer pool cover on a daily basis.
Explore the ManoMano catalog
Pool liners
Different types of pool covers
---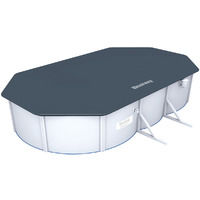 There are a few different types of pool protection available, all of which are designed to improve the quality of your pool water either during the summer or in winter:
a bubble or solar cover is designed to both protect the water and keep it warm;
a leaf net or mesh pool cover is designed to keep out any large debris;
winter pool covers: designed to protect the water. These covers can be attached via clips along the pool edging (with eyelets in the cover) or a steel frame (in which case, the cover can also be used during the summer).
automatic pool covers: also known as slatted covers; offer user comfort and safety;
a roller can be used to make it easier to fit your pool cover.
Out of all of the above options, the most popular pool covers are solar covers and winter covers with clips.
Explore the ManoMano catalog
Pool edging
How to choose your summer pool cover
---
Summer pool covers usually take the form of a bubble cover. Made of polyethylene, bubble covers conceal a layer of air bubbles between two layers of plastic. Used overnight and on cool days, this layer of insulation stops the water beneath the bubble cover from cooling down. On sunny days, the sun's rays will penetrate into the bubbles to warm up the air pockets and heat up the water. With a bubble cover, you can easily gain around 5°C compared to an uncovered pool. The swimming season will last longer and evaporation will be limited. If you want to save time , you'll need to ensure that your solar cover is lightweight and easy to handle.
While bubble covers will produce a kind of sucker effect on the water, they will still have to be fitted with a fixing system designed to be attached to your pool edging (that is, unless you have a particularly small pool). Installed via a roller placed at the end of the pool, bubble covers are easy to set up. These covers may be dark in colour to prevent light from penetrating through the cover as these conditions are ideal for algae growth. Don't forget that algae is just like you: it prefers warm water! Some pool covers even conform to certain safety standards that ensure they can withstand the weight of a person which means you won't have to invest in a pool alarm.
The only downside of these covers is that they are difficult to handle and are therefore not best suited to everyday use. Both inground and semi-inground pools must be equipped with a safety device that conforms to the appropriate safety standards.
Explore the ManoMano catalog
Pool algaecides
How to choose a winter pool cover
---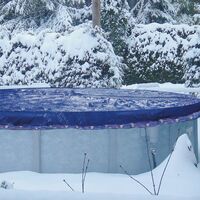 A winter pool cover is designed to spend the cold season outdoors. It must be well-made and equipped with a strong fixing system. These covers are usually also fitted with a safety device to prevent falls and drowning. Be sure to check the appropriate standards before purchasing.
Often made of PVC, winter covers are heavy but generally only have to be handled twice a year.  These covers are fitted via a fixing system that usually consists of anchors that are attached to the pool edging. The cover is attached to the anchors via elastic cords. The cords should be strong and easy to set into position. A high-quality pool cover can last for over 10 years if it is cared for properly. Be sure to check the quality of the seams around the eyelets! A winter cover must be completely opaque to prevent algae and photosynthetic bacteria from taking over your pool. An opaque cover will also help to limit temperature drops and reduce the risk of freezing.
Winter pool covers should be equipped with a drainage hole to prevent rainwater from building up on the surface. This drainage system should be fitted with a filter to stop dirty water getting in the pool. It's worth noting that the thicker the cover, the less risk there is of it becoming misshapen or developing a dip in the centre. Keep in mind that, while it may be pricey, a pool cover will really be an asset for your pool; it'll help to extend its lifespan and allow you to enjoy a continually pleasant pool temperature!
Explore the ManoMano catalog
Winter pool covers
Summer pool covers vs. winter pool covers
---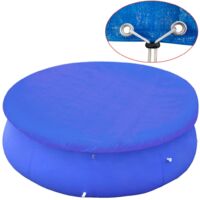 Both summer and winter pool covers offer real protection for your swimming pool.  If you are looking for a safety cover, be sure to check that it conforms to the appropriate standards. Don't skimp on quality when it comes to picking a winter cover as your choice will really be an investment for your pool. Fitting a winter pool cover is an essential part of preparing your pool for the winter months so you can start setting up for the springtime come autumn!
Guide written by:
Patrick, Handyman, Bath, 12 guides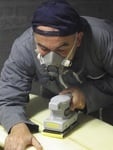 Professional maintenance and electronics training. I don't ask to use my tools on the weekend. The car, the boat, the house with its electric appliances, the garden and its swimming pool, they all remind me that they need my attention. In the absence of an unlimited budget, I try to expand my areas of expertise. There's nothing I like quite as much as being in the weekend workshop with my buddies. Everyone benefits from his experience which ends up being more-or-less successful, it must be said. But that's part of the charm of DIY, helping each other and realizing a project in a pleasant way. So, if I can help you, it would be a pleasure.
The products related to this guide