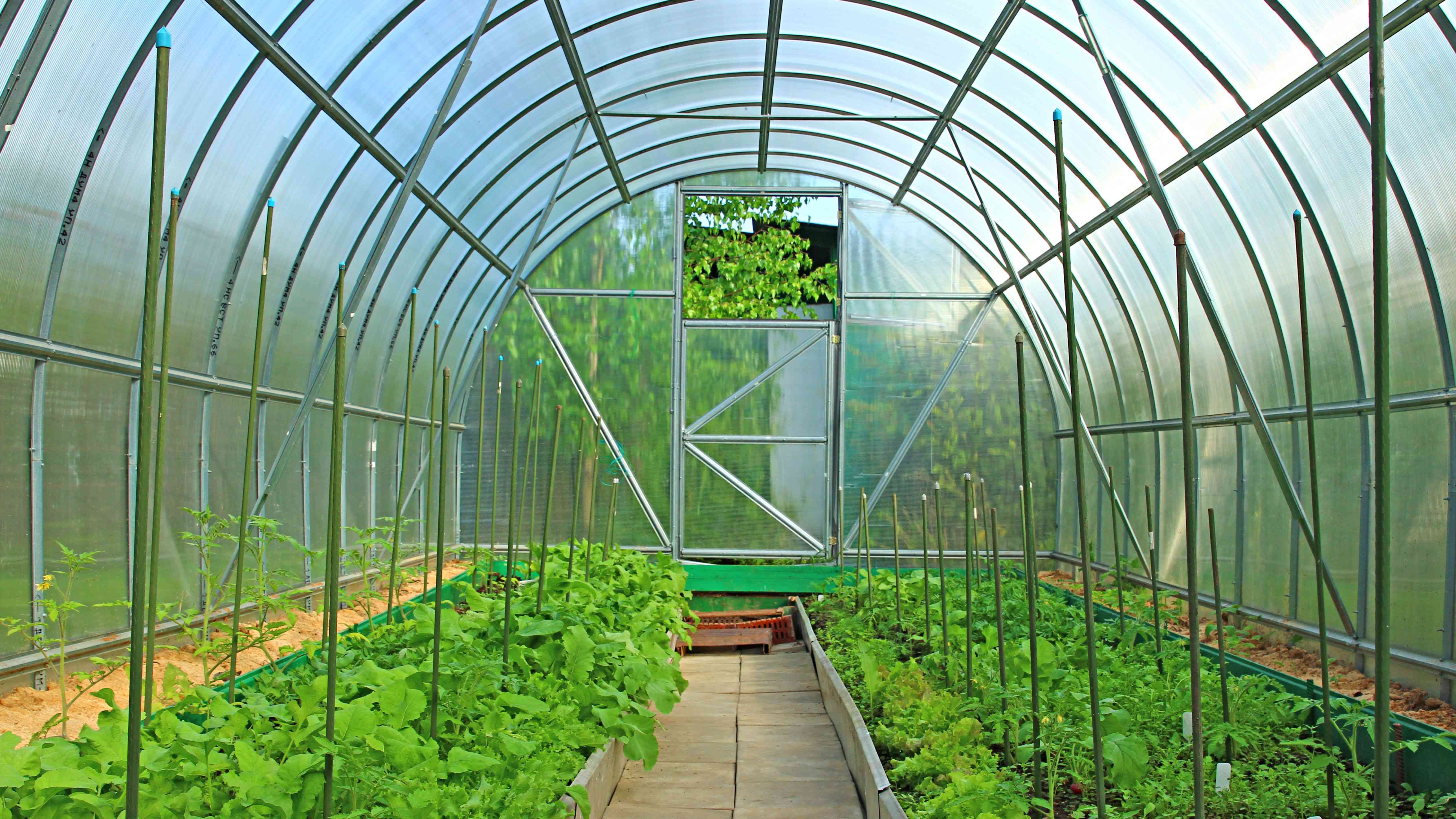 Polytunnel buying guide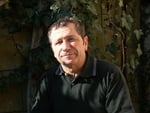 Guide written by:
John, Passionate gardener, Cambridge
61 guides
Polytunnels are affordable, easy to set up and available in a range of designs. While all these tube-shaped structures comprise a series of hoops used to hold a specially designed cover in place, most polytunnels will also feature a door and air vents. Read on to find the perfect polytunnel for your garden.
How to choose a polytunnel
---
No matter the size or height of the structure, polytunnels are made up of a set of hoops topped with a clear plastic tarpaulin. Used to gather heat to help your crops grow without any great fluctuations in temperature, these structures are easy to move around, put together and take down. Polytunnels are generally used to grow crops and other plants, and to store plants over the winter. 
The size of a polytunnel can vary considerably. Mini polytunnels measuring just 2 metres long are ideal for growing tomatoes in the summer and folding down when the season is over. Other structures can measure up to about 18 metres in length and can be used to grow both crops and plants; these polytunnels are generally kept in place over the winter. Alternatively, you might want to go for a forcing tunnel. These structures are much smaller and designed to be installed directly over your plants to encourage growth and extend your harvest. 
You can also choose from a range of different polytunnel covers including thermal screens for better heat retention, light diffusing covers or reinforced models for increased strength. Of course the size of your polytunnel will depend on how many crops you want to grow and the amount of space you're willing to sacrifice in the garden. It's worth noting that you do not need permission for a polytunnel as long as it meets certain criteria. Whatever you choose, it's best to read up on the rules before you start erecting your structure.
Advantages and limitations of a polytunnel
---
To ensure you're making the right choice, let's starting by weighing up the benefits and drawbacks of polytunnels. 
Easy to assemble and inexpensive
Less costly than a glass or polyurethane greenhouse, polytunnels can be used to grow a variety of crops. They are easy to put up and take down and still allow you to make the most of the soil beneath them as there is no need to install a base. As long as your structure does not measure over three metres, is only used for domestic purposes and does not take up more than 50% of your garden (30% in Scotland), you do not need planning permission. While the majority of greenhouses do not require planning permission either, there are slightly stricter criteria involved. Whatever you choose, it's best to read up on the rules before you start erecting your structure.
Less attractive and weaker than a greenhouse
Polytunnels are not as nice to look at than a classic greenhouse and will generally heat up more slowly than a polycarbonate or glass structure. These structures can only ever be used unheated as it is not possible to equip them with heating appliances. Polytunnels are also less shock and weather-resistant than greenhouses – unless you go for a model with a reinforced cover. 
Choosing a polytunnel material
---
All polytunnels are made up of hoops and a top cover while larger models will also feature a door, base rails and air vents.  High-end polytunnels can also feature poycarbonate walls which is a real bonus in terms of quality.
Polytunnel hoops
Polytunnel hoops are usually made of galvanised steel but can also be made of hard plastic. These hoops are used to form the structure of the polytunnel. They must therefore be as weather- and rust-resistant as possible. The material should measure at least 10 mm in diameter. 
Base rails
Polytunnels must be attached to the ground so as not to blow away with the first gust of wind. Forcing tunnels need only be dug into the ground but larger polytunnels will need to be anchored securely. Basic stakes will do for polytunnels measuring less than 5 m² while bigger structures will need to be held in place with ground anchor stakes, concrete blocks and base rails.
Polytunnel covers
Polytunnel covers are placed over the rings. They must be made of strong plastic(such as a UV-treated polyethylene) to ensure they last. The strength, durability and insulation quality of your polytunnel depends on the thickness of the material which can vary from 80 to over 300 microns (1 micron = 1 thousandth of a mm), or 80 to 300 g/m². However, most cheaper polytunnels will usually start at about 130 to 150 50 g/m².
You can choose between a few different types of polytunnel cover: 
Thermal screens are designed to protect plants from direct sun while allowing enough light and sunshine in to warm up the air and soil. However, these covers are not great at diffusing light and heat evenly throughout the tunnel. 
Diffused covers spread light and heat much more evenly throughout the structure but are more expensive. 
Reinforced covers are made up of two thermal covers strengthened by nylon mesh. They are very wear-resistant and ideal for any parts of the polytunnel that are likely to rub, such as the doors or gables.  
Polycarbonate panels
Polycarbonate panels are much more durable than tarpaulin-style covers but are also much more expensive. Usually about 3 mm thick, these hardwearing panels offer more efficient insulation and block most UV rays. They will generally also come with a 10-year warranty.
Door
Polytunnel doors can be hinged or simply cut out of the cover and designed to roll up and down as needed. Whatever type of door you choose, be sure that it is wide enough for you to pass through easily with equipment such as a wheelbarrow or a lawnmower. The doorway will usually measure about 60 to 90 cm in width. 
Air vents
Lateral air vents can be used to let in fresh air and some direct sun to encourage crop growth. 
Explore the ManoMano catalog
Greenhouse bases
Picking a polytunnel size and location
---
Analysing your growing needs
The size of your polytunnel will of course depend on your growing requirements as well as the amount of free space you have in the garden. Professional growers estimate that a polytunnel should cover about one tenth of the overall growing space. It's up to you to make your own calculations based on the size of your vegetable garden. It goes without saying that a home gardener probably won't need quite the same volume! 
Don't forget that the larger your polytunnel the more plants it can hold and the longer it will stay warm under the sun. That said, the temperature in a smaller polytunnel is easier to control. 
Finding the right spot for your polytunnel
If you have a large garden and no obstacles in the way (such as sun-blocking trees, sloped or uneven land, etc.), you can more or less put your polytunnel where you like. However, be sure to take into account the direction of the prevailing wind.
If your garden is something of a wind tunnel itself, do not install your polytunnel in the face of prevailing winds, especially if it does not feature the right amount of windows and/or air vents. The wind will simply inflate the polytunnel and won't be able to escape which will eventually cause damage. Ideally the sides of the the polytunnel should be facing into the prevailing wind, rather than the ends.
Installing a polytunnel in 5 steps
1. Choose a position and direction for your polytunnel
---
Pick a spot that is sheltered from strong winds, on even ground, and far away from trees, hedges and anything else that may cast shade.
2. Check your assembly materials
---
Use the instructions to ensure that the cover is in good condition and that you have the right amount of hoops.
3. Assemble the polytunnel hoops
---
Put together the structure of the polytunnel by sliding the hoops into each other as set out in the assembly instructions.
Start with the floor structure and continue up to the top.
Secure the structure in place using ground anchor stakes, concrete blocks or base rails (which should be anchored to the ground).
4. Attach the cover to the hoops
---
Attach the cover or polycarbonate panels to the sides of the structure.
5. Install the cover
---
Lay the cover over the top of the polytunnel.
Stretch it over the hoops and attach it firmly in place.
Bury the remaining part of the cover in trenches around the polytunnel to stop it from inflating in the wind.
More information
Guide written by:
John, Passionate gardener, Cambridge, 61 guides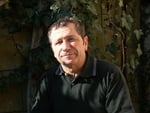 When I was young, I was already working in the family garden. Perhaps that is where my interest in plants and gardening came from. So, it was logical for me to study both plant biology and agronomy.   At the request of various publishers I have, over twenty-five years, written many books on the subject of plants and mushrooms (a subject that is close to my heart).They were mostly identification guides at first, but shortly after they were about gardening, thus renewing the first passion of my childhood.   I have also regularly collaborated with several magazines specializing in the field of gardening or more generally in nature. There is no gardener without a garden, I have cultivated mine in a small corner of Cambridge for the last thirty years and this is where I put into practice the methods of cultivation that will I advise you in as well.
The products related to this guide