Pneumatic nailer/stapler buying guide
Guide written by: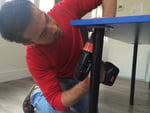 Sebastian, self-taught DIY-er, Exeter
184 guides
For carpentry, siding or nailing pallets, the pneumatic nailer is ideal! Greatly efficient due to its compressor, the pneumatic stapler is indispensable in cabinet-making and is very efficient on chair and garment modifications! Rounded crown staples, flat crown staples, long nozzle, holding power.... upholsterers and carpenters, get ready to squeeze the trigger!
Important features
Staple and Nail Caliber
Magazine Capacity
Nailing method
Security Options
Ergonomics
Why choose a pneumatic stapler?
---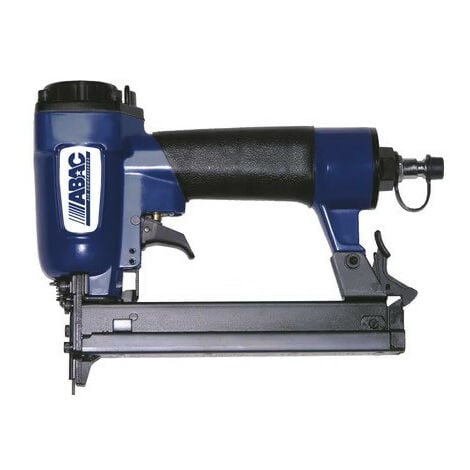 The
pneumatic stapler
is
practical
, easy to use, robust and
lightweight
.
Thanks to its
compressed
air
technology and due to the use of an independent compressor, the pneumatic stapler is powerful and will not incur any pressure loss during sustained use such as stapling a series of staples.
Compared to
mechanical staplers
or
electric
/battery operated staplers, the
speed of its execution
is unrivaled
,
as is the
reliability
of its design, which favors it for professional and intensive use. Squeeze the trigger and it's stapled!
Explore the ManoMano catalogue
Lightweight
What are the differences between a pneumatic nailer and a pneumatic stapler?
---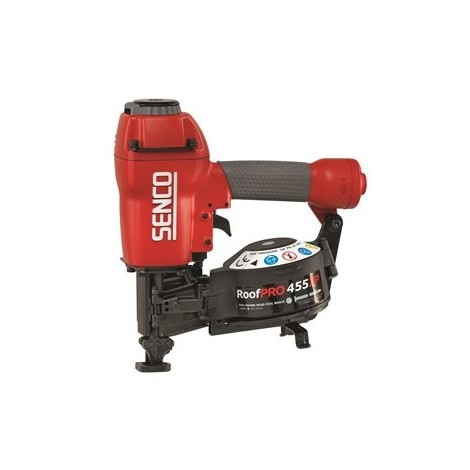 Used primarily by
cabinet makers
and for
insulation
work
, the pneumatic stapler distributes two types of fasteners,
rounded and flat crown staples
, and is limited to a
maximum nail length of 50 mm
. Beyond this reference size, any user wishing to drive nails will have to use a
pneumatic nailer.
The pneumatic nailer is a tool conceived for carpentry, woodworking or heavy joinery work such as siding. The basic pneumatic nailer operates at a low pressure but the most high-end nailers are available at a much high pressure. The pneumatic nailer allows for nails up to 100 mm long to be nailed and has a variety of safety features.
Explore the ManoMano catalogue
Rounded and flat crown staples
What to look out for when selecting a pneumatic nailer?
---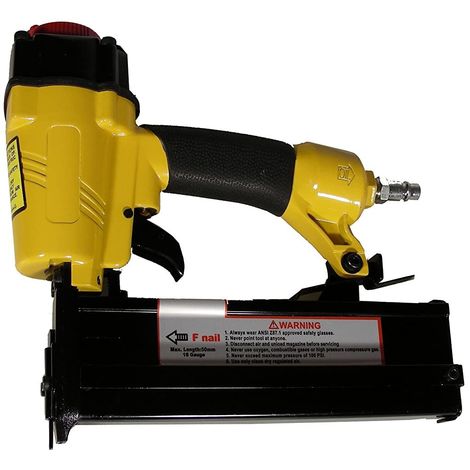 When considering a pneumatic stapler/nailer that combines the distribution of nails and staples, be sure to consider the
intended gauge
,
quality of
finishing
and
ergonomics
.
Caliber
The caliber size ranges between 32 mm or 40 mm for staples and 50 mm for brad head nails - the more slender brad head being the opposite of a flat head.
Storage Capacity
The capacity of the magazine is roughly identical from one model to another - a capacity of about 100 units for nails and staples .
Operating pressure
The operating pressure required for proper use is between 4 and 8 bar (B) and is not in itself a decisive factor as it is provided by a 50 liter compressor (l) .
Explore the ManoMano catalogue
50 liter compressor (l)
What are the main characteristics of a pneumatic nailer?
---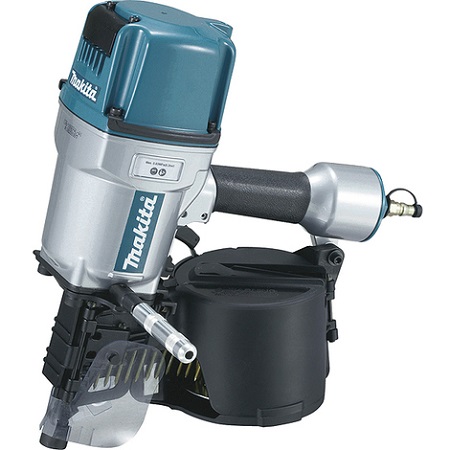 The pneumatic nailer was conceived to drive nails and for this reason it is used in carpentry and wood-working, but also for roofing, carpentry and joinery for cladding or hardwood installation. Pneumatic nailers require a low pressure (about 8 bars) and have several characteristics that differentiate them:
The intended caliber: Nails up to 100 mm long, flat head or brad head, for even the most powerful nailers;
The depth of penetration is relative to the caliber of the nail and the density of the material - adjustmenting the power makes it possible to adapt to any situation.
The type of magazine, also called the charger, of the device determines what type of recharges are accepted by the nailer - in clips, the count is normally less than 100 nails. Rolls can offer up to 200 to 300 nails at a time;
An adjustable exhaust output is recommended in order to avoid the blast generated during nailing process.
The nailing mode can be configured sequentially, in which case the rhythm is limited, or continuously, for a more sustained use - this is also known as burst firing;
The trigger lock prevents any accidents in case of non-use;
A double trigger limits usage and reduces the risk of accidents due to improper handling;
A thin, long and orientable nozzle allows nailing in different inclinations - depending on the magazine;
---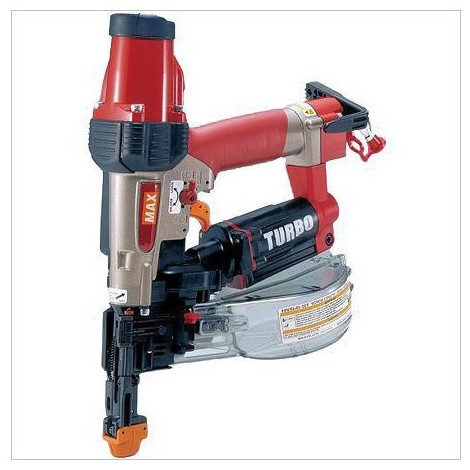 High pressure nailers
require pressure levels up
to 22 B.
Specially designed for heavy duty work and using tough materials, high pressure nailers have the same characteristics as low pressure nailers.
Cabinetmakers
use a pneumatic nailer that is known for its
lightness
,
maneuverability
and
precision
; it can take up to 50 mm staples and up to 40 mm nails.
Pneumatic nailers are perfect for
carpentry
and
wood work
due to their ability to nail
smooth or twisted heads
up to 100 mm long.
What are the different nailing modes available on the pneumatic nailer?
---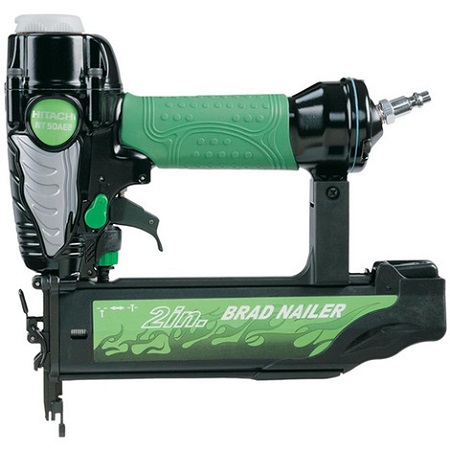 The nailing mode is a decisive factor in the choice of a pneumatic nailer. Two types of methods are used:
Continuous, also knwn as burst firing .
Nailing sequentially or firing bursts?
The difference between the two nailing modes lies in the internal process which generates the pulse required for nailing:

With sequential nailing , the user first has to push the nozzle into the material and then squeeze the trigger to action the pulse. The sequential nailing is slower but is a standard feature on largely all gas-powered nailers - even those with gas refills or a battery;
With continuous nailing, better known as burst firing , the user holds down the trigger with his index finger and actions the pulse by driving the nozzle into the intended material. This method of nailing is much faster and offers the user the possibility of driving nails in quick succession.
7 tips for choosing your pneumatic nailer
---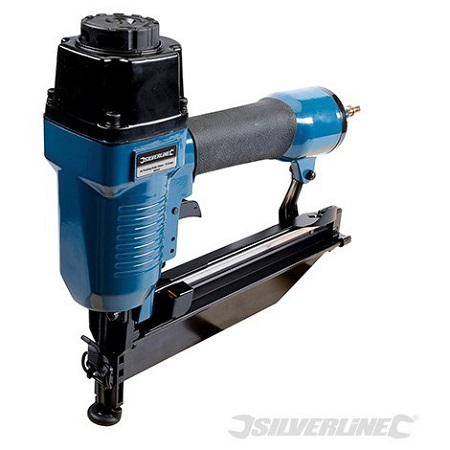 For optimal use and in order to combine comfort and precision during your nailing work, follow these tips:
Choose a light nailer, weight is a determining factor when the nailer is used for hours in a row;
The handle must be ergonomic so as not to injure the hand, insure your comfort and provide a better grip;
A low sound pressure offers a certain comfort when in use, and is measured in decibels (dB) - the use of hearing protection is highly recommended;
The nailer's nozzle can impact the ability to access different nailing areas - a thin nozzle is preferred;
A fast and easy magazine opening is advisable;
The caliber of the nails accepted and their type - smooth or curved tips;
A low vibration level reduces the risk of joint problems after/during prolonged use.
More Info
And to work safely:
• How to choose your protective eyewear?
Guide written by:
Sebastian, self-taught DIY-er, Exeter 184 guides écrits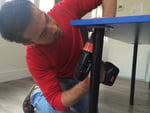 Redo a roof with wooden beams? Check.Advise Mister everybody in the DIY shop? Check.Redo the bathroom plumbing? Check.Fit together, build the walls, paint a partition, throw my hammer in a rage thinking that it will fix the problem? Check.

The DIY motto ? Learning is better than delegating… well, it's also a question about your wallet! The satisfaction? The beer at the end of the job! What do the best have in common? The influence of Gyro Gearloose, Mac Gyver and Carol Smiley depending on your generation, a good dose of curiosity, a average hand-eye coordination and a taste for risks… and if it doesn't work, try again! Advise you? I'll do my best!
The products related to this guide