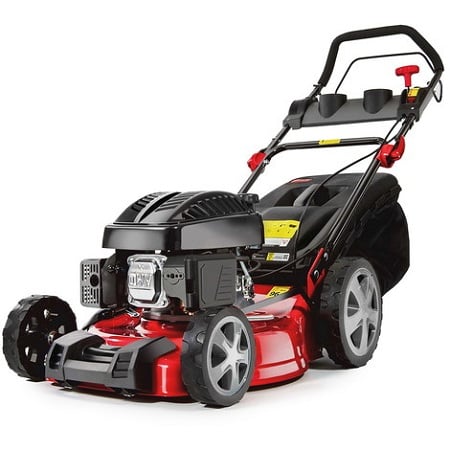 Petrol lawnmower buying guide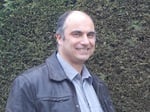 Guide written by:
Albert, Manager of a gardening service, Leicester
49 guides
Petrol lawnmowers should be selected according to the size of your lawn as well as range of factors from cutting width and height, to engine power and capacity. Whether you're after a push, self-propelled or ride-on model, here's our guide to finding the right lawnmower for your garden!
Important features
Engine power and capacity
Type of propulsion
Cutting width
Cutting height
Mulching or grass box
Electric or recoil start
Benefits of a petrol lawnmower
---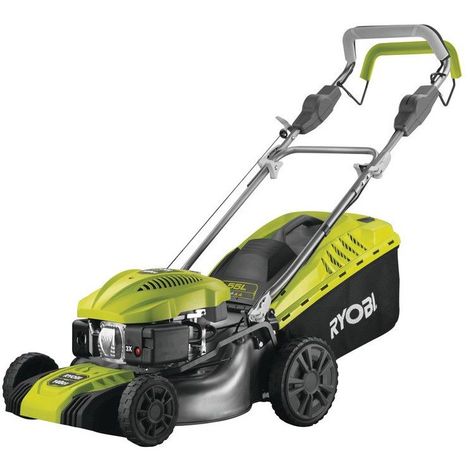 Generally speaking, there are three different types of lawnmower: electric, petrol and manual. Petrol lawnmowers are recommended for the following applications:
lawns measuring over 700 m²;
professional use.
Petrol lawnmowers offer a number of advantages:
they do not have a power cable, meaning they can reach further into the garden;
they are convenient: you can take a petrol lawnmower anywhere without having to think about how close you are to a plug socket;
they are powerful meaning they are able to tackle long and dense grass;
hard-wearing: a petrol-powered engine and high-quality design makes these machines reliable;
inexpensive: considering their efficiency (compared to cordless electric models).
Choosing a petrol lawnmower
The main features to consider:
push models are best suited to flat gardens measuring less than 700 m²;
self-propelled models are best for sloped lawns and/or those measuring over 700 m²;
ride-on models are worth considering for lawns stretching over 1500 m² and recommended for those measuring 2000 m² or more;
power rating, measured in kW or HP. Consider the following guidelines:

2 HP for 1000 m²;
3 HP for 1500 m²;
4 HP for 2000 m²;
5 HP for 2500 m²;

engine capacity, measured in cc or cm3: the higher the number, the less the motor will have to turn at full speed for the same level of performance;
cutting width: depends on the size of the lawn.

a 46 cm blade for a lawn measuring less than 1000 m²;
a 55 cm blade for a lawn measuring 1000 m² to 2500 m²;
a 66 cm blade for lawns measuring 2500 m² plus;

cutting height: ranges from 15 to 90 mm for petrol-powered lawnmowers and 30 to 911 mm for ride-on lawnmowers (around 40 mm for classic lawns);
mulching: saves you from collecting the cut grass which is instead mulched and left on the lawn as a fertiliser (requires more frequent mowing);
grass box: may or may not be featured, capacity from 45 litres;
electric start: more convenient than recoil start (can be physically difficult);
additional options:

adjustable and folding handle;
anti-vibration system;
grass comb for working against walls and edging;
deck wash for easier cleaning.
Explore the ManoMano catalogue
Cordless electric models
Cutting systems for petrol lawnmowers
---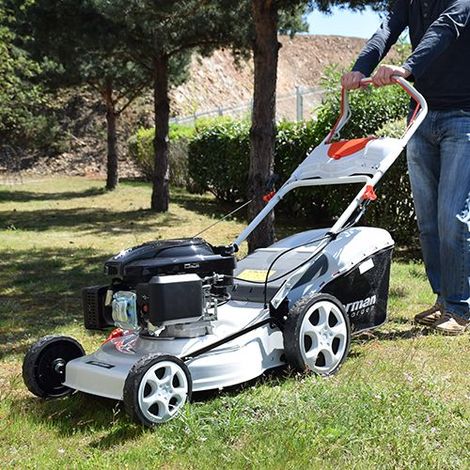 Petrol lawnmowers feature one of two cutting systems:
cylinder lawnmowers;
rotary lawnmowers.
The vast majority of users opt for a rotary lawnmower. These models offer a number of advantages: they are easy to handle, lightweight, take up little room and are less expensive.
Cylinder mowers are usually only used for lawns that require more specific care, such as golf greens. The quality of their cut is excellent as the blade cuts cleanly, unlike rotary blades which 'chop' the grass.
Petrol lawnmowers: applications and propulsion type
Petrol lawnmowers can also be categorised in terms of propulsion type and how they are used . Your choice of lawnmower will depend the features you require for your garden and the type of performance you're after.
Push lawnmowers
---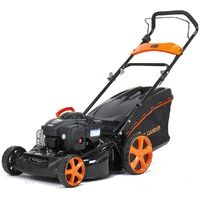 Push lawnmowers are entry-level models. They are very affordable but you will have to push the lawnmower to mow your grass. Push lawnmowers are small in size and are best suited to flat areas of 800 m² or less featuring obstacles such as flower beds, edging, pavilions or pergolas as they are easier to handle than self-propelled models.
Self-propelled or ride-on lawnmowers
---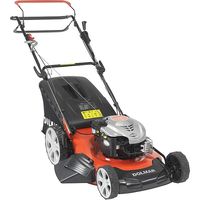 Self-propelled lawnmowers are the most popular models. As the name suggests, they are propelled along, meaning they move by themselves. You just need to hold them up and guide them as they go.
They are designed for medium-sized to large gardens (from around 700 m²) or those with uneven surfaces.
Self-propelled lawnmowers are easy to handle and don't take up a lot of room. However, they do require some physical effort for use on larger surfaces as you will have to walk around with them. For this reason, a ride-on lawnmower is preferable if you can afford it.
Ride-on petrol lawnmowers
---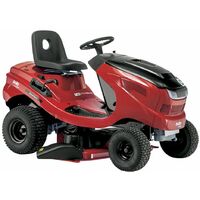 Ride-on lawnmowers or lawnmower tractors are designed for large areas of land of over 2500 m². They look like small tractors and are very comfortable to use. You just need to hop on the seat and off you go! If you have a garden stretching over 1500 m², are looking for more user comfort and don't have much time to mow, this is the ideal solution.
In fact, the amount of comfort they offer and time they save make mowing an enjoyable and relaxing experience – as long as you follow the manufacturer's safety guidelines, of course!
One drawback is that you will need a sheltered spot to store them away after use and a garden shelter to keep them in over the winter. Furthermore, their upkeep will take longer than a self-propelled model.
Rough grass mowers
---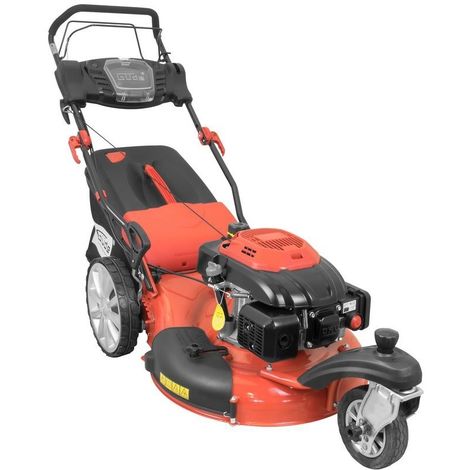 Rough grass mowers are designed for lawns with very long grass or weeds. This is the best choice for land that is not tended to regularly. Most models are equipped with multiple blades for a minimum cutting width of 60 cm.
Rough grass mowers will make quick work of land where ordinary self-propelled mowers would have great difficulty moving or might even be unable to get going. Bramble, thick undergrowth or tall grass won't slow down these bulldozers! That said, you should be look out for any stones or objects that could damage the blades; it's therefore worth having a look at the land before you start mowing.
Mulching mowers
---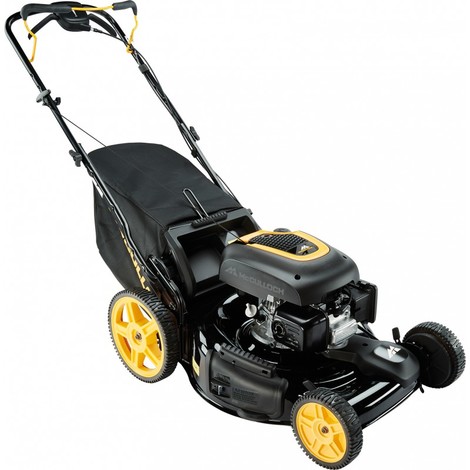 Mulching is a cutting method that allows you to chop up and mulch down grass finely using a specific type of blade or the cutting action of two blades.
The advantage of this method is that you won't have to collect the grass yourself; the downside is that you will have to mow more often as mulching is not suitable for longer grass.
Some mowers are designed to only perform this type of cutting. Others allow you to choose between traditional mowing and mulching, thanks to an open and close mechanism where the mower ejects the grass. The waste from mowing that is left behind acts as a natural fertiliser for the lawn.
Explore the ManoMano catalogue
Blades
Main features of a petrol lawnmower
Once you have decided on a type of lawnmower, you can move on to choosing a model. In order to make the right choice, there are a few criteria to bear in mind.
Power: kilowatts and horsepower
---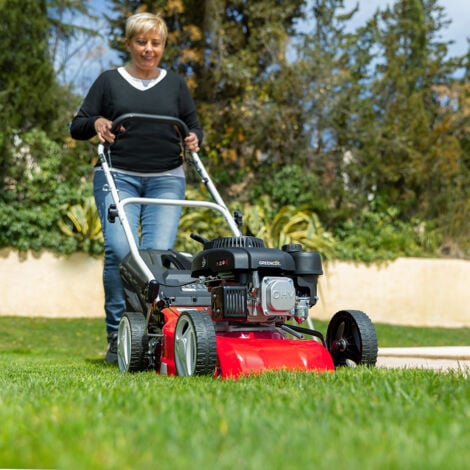 The power of petrol lawnmowers is indicated by the capacity of their engines. This is noted in cubic centimetres (cm 3 or cc). The units of measurement used are kilowatts (kW) or horsepower (HP). These units convert as follows:
1 kW = 1.36 HP
1 HP = 0.74 kW
In order to compare the performance of two models with the same engine capacity, you will have to check the power rating of each in HP or kW.
Engine capacity and power rating according to lawn size
200 to 650 cm3

(ride-on mowers)
Cutting width according to lawn size
Depending on the model, the cutting width of self-propelled lawnmowers can range from 40 to 56 cm. The width of the cut determines how long you will be mowing, regardless of how fast you are going: the larger the blade, the less time it will take to mow.
Ride-on mowers usually have a cutting width of 60 to 130 cm. They are usually equipped with two or three cutting blades spread across the front and centre of the deck.
Cutting width according to lawn size
| | |
| --- | --- |
| | Recommended cutting width |
| | |
| | |
| | |
| | |
Cutting height settings
Lawnmowers usually have four to eight cutting settings which, depending on the model, generally correspond to around 14 to 76 mm.
Selecting a cutting height
A well-trimmed green should be cut at a height of around 20 to 30 mm.
A classic lawn should range from 35 to 45 mm.
A pasture can measure from 50 to 60 mm in height.
Grass box capacity
---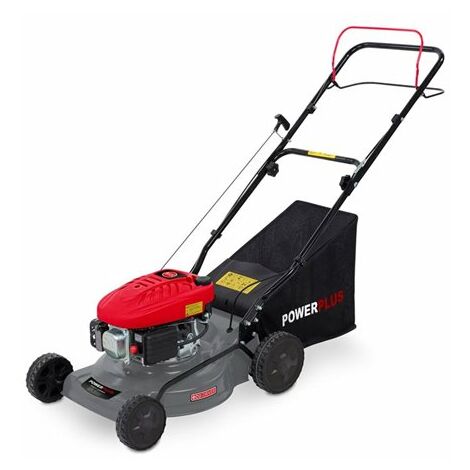 The bigger the grass box, the less time it will take to mow. Emptying the grass box less often will cut down on your mowing time.
A capacity of 50 litres will suffice for a surface area of up to 1200 m². For larger areas, you will need a greater capacity.
Some models are equipped with a level indicator, which is very practical for choosing the best time to empty the grass box.
Blade clutch release
A blade clutch release system makes mowers easier to use as it allows you to remove the blade while the motor is still running (the blade stops turning).
This is a practical and safe option that prevents you from having to start up again each time you empty the grass box or have to pick up something from the lawn (dog bones, children's toys, etc.).
Hydrostatic or variable speed drive
---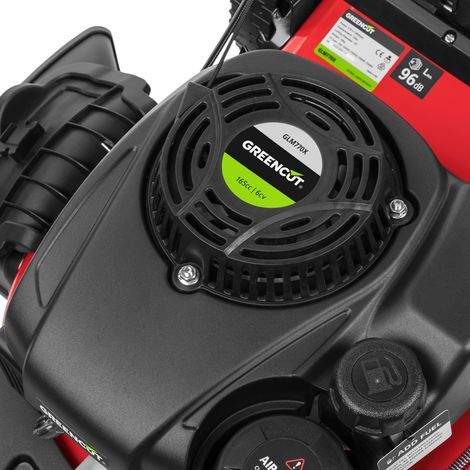 The advantage of a hydrostatic drive is that speed changes are performed almost instantly and can be adjusted constantly. In other words, if you want to go faster or slower, you simply need to move the control lever.
Also known as Autowalk, another major advantage of a hydrostatic drive system is that it allows you to go three times faster than standard mowers. Of course, while this system is convenient and efficient, it will have an impact on the price of your mower, which will be significantly more expensive to purchase initially.
Additional options for petrol lawnmowers
Electric or manual ignition
---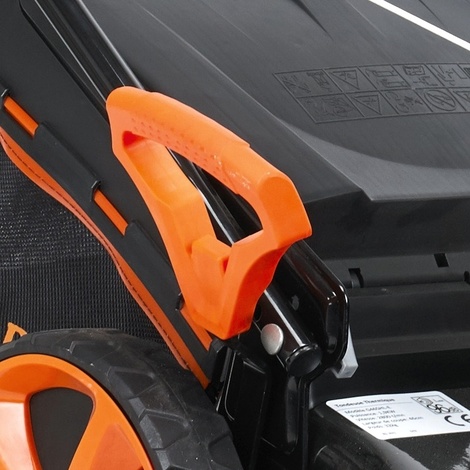 Petrol lawnmowers can be started using electric ignition, in which case the lawnmower is equipped with a battery and starts up with the use of a key or a simple push button. An electric start is highly recommended if you don't have a lot of strength in your arms or suffer from shoulder pain.
Recoil start, however, is more common and consists of a cord fitted with a pull handle to drive the motor and start up the lawnmower. This type of start can be tricky for anyone with shoulder pain – all the more so if you have issues firing up the engine.
Swivel wheels
---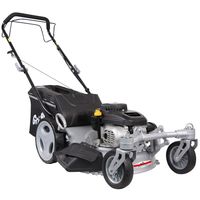 Swivel wheels make mowers easier to handle as they are able to make sharper turns to navigate around bedding plants and garden edging.
Folding handle
---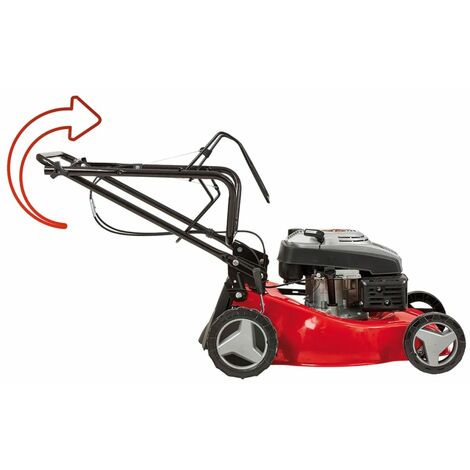 If you plan on moving your lawnmower around a lot or keeping it stored in a tight space such as a garden shed, it's a good idea to choose a model that allows you to fold down the handle so that the lawnmower takes up less room.
Quality of the mower deck
---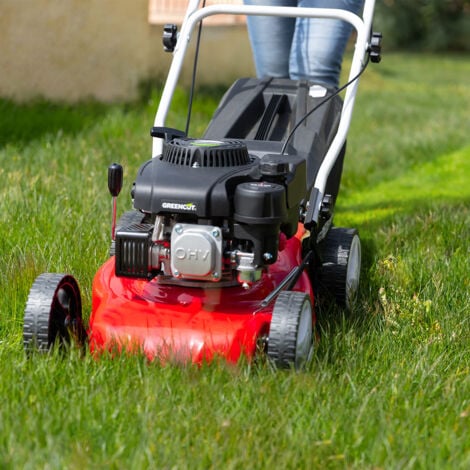 The strength of the deck will vary depending on the material used to make it. Some decks are lightweight but can break or misshape, such as those made from ABS, polypropylene or aluminium. Nevertheless, for regular use, lighter models will get the job done.
Other decks may be stronger but heavier, such as steel or die-cast aluminium decks. These decks are recommended for heavy or professional use. Xenoy decks offer a good balance between weight and strength.
Deck wash
A deck wash uses a quick connect system to attach a garden hose to the deck of your mower in order to making cleaning easier and reduce the time it takes to care for your mower after use.
Lawnmower weight
It's important to note the weight of lawnmowers, especially with regards to planning transport and maintenance. Some petrol lawnmowers are extremely efficient but may also be very heavy.
Height adjustments
The option to adjust the height of the handlebar or control lever can make your mower more comfortable to use. You can choose from a range of options for ride-on models from lights to holders for storing small items or even a bottle of water.
Replacement parts and after-sales care
Finally, opting for a well-known brand will generally guarantee a high-quality product. Beyond the quality of the lawnmower, you will be sure to find replacement parts and will be offered a better after-sales service for warranties and potential repairs.
Explore the ManoMano catalogue
Lawnmowers
Maintaining a petrol lawnmower
Cleaning after each use
---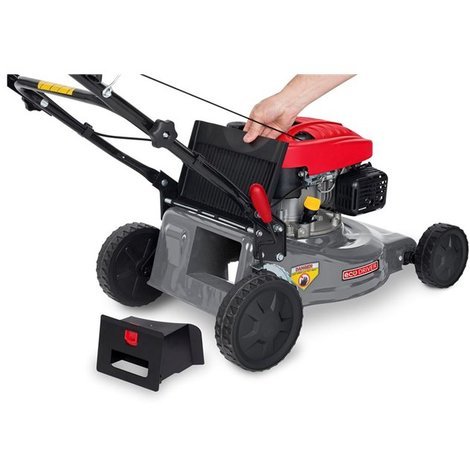 Cleaning the cutting system and deck.
Take a quick look at your lawnmower to make sure it's in good condition.
Routine care
---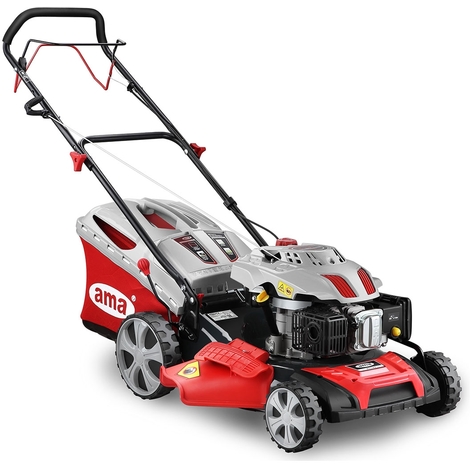 Paying close attention to the manufacturer's instructions, carry out the following steps:
check the distance between the electrodes and clean the spark plug;
clean the air filter;
empty the oil;
check the condition of the drive belt;
lubricate the cables and tighten up screws and bolts.
Yearly care and winter storage
---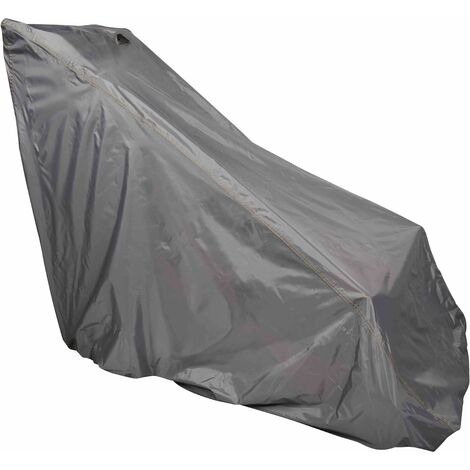 Storing your petrol lawnmower for the winter will involve:
clean out your cutting system;
carry out all the steps involved in routine care;
disconnect the battery (for models with electric start)
cover up your lawnmower with a protective cover and store it somewhere protected from moisture and the elements.
Explore the ManoMano catalogue
Protective cover
Guide written by:
Albert, Manager of a gardening service, Leicester, 49 guides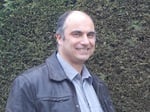 For several years I have been running a garden service with a clientele of both individuals and companies. I manage a team of gardeners and ensure the creation and maintenance of green spaces. At the same time, I bring my expertise to my clients in terms of the maintenance and improvement of their gardens. In fact, as a trainee and working in the hospitality industry at the beginning of my career, I focused on landscaping in a local community where I acquired solid technical skills through in-house training and the follow-up of major projects in a rapidly changing town. On a personal level, I am equally oriented towards the art of gardening. With my wife, I created our garden from start to finish and I maintain it carefully, the same goes for the vegetable garden. As for DIYing, it's not to be outdone. Yes, gardening is also tinkering: pergola, hut, pavement, fence, and so on...There is always something to do in a garden. After working well together, my wife and I are proud of the result and delighted to be able to take full advantage of a friendly and warm environment. So, let us give you advice and help you in your choice of tools, maintenance, or improvement of your garden, nothing could be simpler.
The products related to this guide