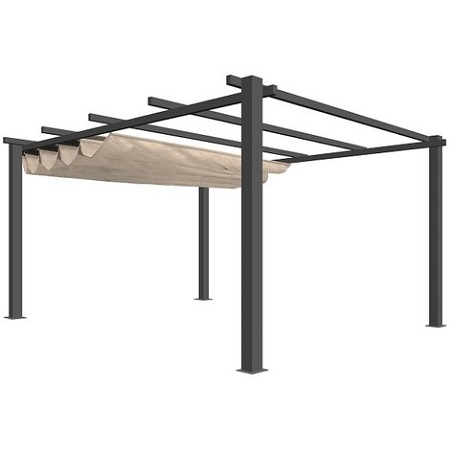 Pergola or gazebo: which is right for your garden?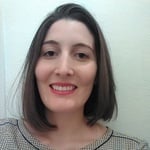 Guide written by:
Pauline, Self-taught handyman, Leeds
89 guides
Gazebos and pergolas are outdoor structures designed to provide shade and add a decorative touch to your garden or terrace. Crafted from aluminium, wrought iron or wood, pergolas make beautiful centrepieces while gazebos have a more functional purpose as reception tents or shelters for al fresco dining areas.
What is a gazebo?
---
A gazebo is a type of tent that is generally used for hosting outdoor events. These structures come in a range of shapes and colours, may be topped with tarpaulin or canvas and can also feature fixed side panels with openings. While the classic gazebo model tends to be white and made of polyethylene, they come in a number of different forms:
Coloured gazebos to match your garden furniture;
Gazebos with open or closed windows to let in light should you have to close the curtains in the rain;
Square, round or rectangular gazebos to match your tastes, as well as the layout and style of your garden.
Contrary to popular belief, not all gazebos can be dismantled. Some bulkier models consist of a one-piece wrought iron frame. It is also possible to find gazebos with steel or aluminium tubular structures which can be dismantled. You can also select models that act as rain shelters and are designed to be very easy to put up, take down and fold away. When choosing your gazebo, make sure to go for a waterproof, anti-UV topsheet for those inevitable summer downpours!
Explore the ManoMano catalogue
Models
What is a pergola?
---
Pergolas are decorative outdoor structures that lend aesthetic value to your garden or terrace. They consist of posts and an open structure and can be freestanding or lean-to (attached to an existing building). Pergolas can also be used to shelter from the sun if topped with a cane reed roof.
Pergolas can be left bare or equipped with blinds, curtains and flooring for a touch of elegance. If you want a little extra, you can even incorporate spotlights into the floor or set out some candles as night falls. For a natural look, you can let wild vine grow around the structure or train wisteria to climb up it.
Explore the ManoMano catalogue
Spotlights
Pergola vs. gazebo: comparing prices
Quality is usually the driving factor for price differences between pergolas and gazebos – as well as between individual models. In general, pergolas are usually more costly than gazebos as they tend to feature a more intricate decorative structure.

Pergola price ranges
---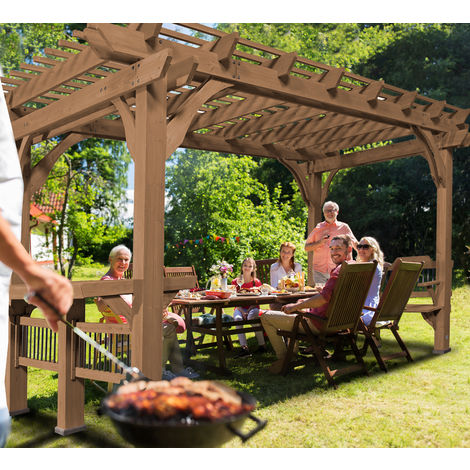 Classic-style wooden pergolas that form an entrance or archway are priced around the £150 mark. Aluminium models are a little more expensive with prices starting at around £350.
For pine pergolas with moveable slats or made-to-measure models, prices can easily go into the thousands.

Gazebo price ranges
---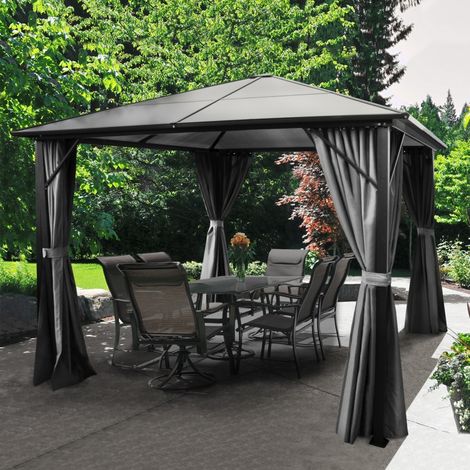 Gazebos, on the other hand, tend to be much more affordable. You can usually find low-end gazebos complete with accessories – such as spare topsheets – for under £100. It is possible to purchase small models for around £50. A larger gazebo measuring around 5x10 m will set you back at least £350.
On average, you should be looking to pay around £150 for a gazebo or small reception tent. However, prices vary widely and can go beyond £500.
Explore the ManoMano catalogue
Spare topsheets
Pergola or gazebo: which should I choose?
Pergolas: cosy charm and style
---
When it comes to style, pergolas win hands down. We've all seen those travel agency images of a wooden or wrought iron pergola adorned with white curtains billowing in a sea breeze!
Pergolas are perfect for relaxing and lend an undeniable touch of class to your outdoor space. If you're after a more natural feel, a wooden pergola will the best option for you – especially when surrounded by greenery! For a more original look, you can always go for a stainless steel frame teamed with coloured fabric.

Gazebos: ideal for hosting events
---
Gazebos are essentially functional tents that can be brought out for occasions like birthday parties or weddings. They usually aren't designed to stay in your garden in the long term, but they can be left in place while the weather is good.
While most commonly white and rectangular, gazebos are available in a range of colours to suit your preferences. It's down to you to personalise your gazebo with decorations such as garlands or even a set of homemade curtains!
Whether you go for a gazebo or pergola, don't forget to add some finishing touches in the form of decorative flower pots, lamps or fairy lights or some stylish garden furniture.
Explore the ManoMano catalogue
Decorative flower
More information
To find out more about garden design, follow our editors' advice and check out their other guides:
Guide written by:
Pauline, Self-taught handyman, Leeds, 89 guides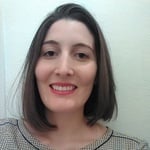 With a handyman-father, I grew up with the soft sound of the sander and hammer on weekends. I am both manual and cerebral (yes, it is possible.), I learned the basics of DIY and the customization of furniture because I was passionate. The salvage mentality is a true way of life that allowed me to know how to use all the tools and products needed to give something a second life, from sander to varnish. I have two favorite activities: the transformation of old furniture and decoration tips. I am always ready to lend a helping hand to revamp a table or to restore a mirror that was intended for the trash that will become a friend's centerpiece. I'm convinced that it's possible to reinvent an interior by small, regular modifications, I constantly research low-cost, test ideas.
The products related to this guide