Painting tools buying guide
Guide written by: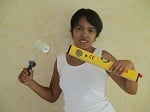 Holly, self-taught DIYer, Cardiff
22 guides
Do you want to paint your walls and woodwork? Painting jobs do not stop at paintbrushes and solvents! Masking tape, protection sheets, scraper; with this guide, you will not get your bristles in a mix! Sum up those painting tools for me!
Important features
Solvent and dissolvent
Roller, brush and paintbrush
Scraper and knife
Paint tray, paint guard
Protection and plastic sheets
What tools do you need to start painting?
Rollers, brushes and paint are the fundamental tools that you can use to paint with.

You need to make your rollers and brushes depending on what you are painting, the type of paint and the desired finish.

The paint gun, very practical, can be adapted to many types of paint is difficult to master by a novice.

Scrapers will be handy for finishing touches in the surface. Paint trays are essential and telescopic handles will avoid the need for a stepladder!

As for putty knives, they are a must for your cracked walls!
How do you know when to use a roller or a brush?
Roller
A roller is for painting large surfaces like walls, ceilings etc., ensuring that the coat is uniform. It is composed of:
A sleeve
It is the cylindrical part that allows you to spread the paint. This is the part that defines the quality of the roller . It is made of synthetic, natural or mixed fibers. If you use a water-based paint, it will stick better to synthetic fibers. For oil-based paint, with natural or mixed fibers. As for its hairs, long ones roll on smooth surfaces and short ones on smooth surfaces. In any case, you will be able to find specific sleeves for ANY USE as for facades, rough plaster, wood treatment... sure to be the one to pick up the anti-drip one for ceilings!
A roller frame
A roller frame can be chosen according to the sleeve. A frame without a screw (clip-on) makes it easier to fit the sleeve on.
A handle
A wooden or plastic handle, it should be ergonomic. Some rollers can not be taken apart and are not very useful. It would be better to ignore these ones unless you're planning on doing the one job.
Brush
A paint brush can be of use when painting small surfaces such as frames, skirting, objects etc. And for the edges of large surfaces. Several types of brushes exist and the choice depends on the surface to paint.
Rectangular or flat brush
A rectangular or flat brush can be used in a large quantity of paint in one stroke. To reach those little spots, a small sized brush will do the trick.
Fine round brush
A blotting brush to create different effects.It is of use with small surfaces and stencils.

Finishing brush
A finishing brush will bring you impeccable finishes thanks to its fine hairs.
There is nothing less than the hairs of your brush stuck to your wall! So, a good quality brush is a must. By its quality, elasticity and durability, hairs of natural silk. However, if you are using acrylic paints, synthetic hairs will do much better.
As for the handle, it is made of wood or plastic, what you need to remember is that a long handle is more comfortable to use! For more information, check out our tip sheet: how to choose paintbrushes and rollers!
Which paint gun should I pick?
A paint gun comes into action when we want to save time - if you know how to handle one! A compressed air gun quickly covers large areas and can also be highly efficient for painting small objects. The subject being quite complex, we also invite you to check out our paint gun tip sheet.

Be careful with any squirrels and watch what are you doing!
Explain how I should protect the floor and furniture?
Take the precautions before and after the introduction of a protective device, such as a protective sheet or film before starting. Between the different models available, make your choice between the size of the surface that you need to cover, its resistance (especially for the floor) and its waterproofness .
For more details, please contact me: masking tape is your best ally. It presents itself as a roll of sticky tape, you can use it to protect your skirting and do not need to change color!
What is the difference between a paint bucket and a roller pan?
To paint like a professional, the paint bucket and tray are part of the tools which are little mentioned.
To use the paint you are working with, you will need a paint tray, bucket or pan. It will be possible to spread the paint and drop the paint. Because of this, always take a bucket that is larger than your roller, and choose the size of the bucket according to the size of the surface that you are going to paint.

If you are need to use a stepladder, a paint bucket with feet is recommended as it will help it sit on the stepladder. The choice of paint bucket shoulds Accompany the acquisition of a paint grid gold paint screen that you attach on the inside. You will need this to remove the excess paint from the roller sleeve.


A paint guard HOWEVER, it is used for the purpose of creating a perfect line of paint (glass, wallpaper, tiling etc.). You have it along the edge of the surface you need to protect.

Paint screens with special angles (45 ° and 90 °) easily fit into difficult areas.
What are the advantages of getting a painting kit?
Buying a painting kit is a good idea for the essential tools needed for a painting job. But the products vary according to your needs. If you need to get one of everything, it is better to get a kit that has different sizes of brushes, roller sleeves and frames, a spatula and a paint tray.

If you are looking for supplements to your existing collection, then these types of kits are usually used for one-off jobs. .
Why would I need to use an extension rod?
An extension rod is an alternative to the stepladder when you are painting up high. Otherwise, it's just rather practical!

Firstly, get a rod with a telescopic adjustable handle which is adaptable to the required height; secondly, with a pivoting system so you can easily reach the beams and corniches!
Would I need a paint booth as well?
A spray booth is always recommended for that impeccable result!
It is possible to apply paints, varnish, and so on. on the other hand, it vacuums away the cloud of unwanted particles and allows you to paint without dust contamination.
Also tell yourself, paint cabins are for spray paints and paint guns. You can see why there is not a paint cabin to fit your living room!
How do I choose the right cleaning products for my brushes?
After every painting session, your tools need to be pampered, especially if you are using an oil-based paint. When you make your way to the check out, they will be able to use their fiber optic properties (elasticity of the fibers, softness and suppleness of the hairs). If the hairs on your brushes are too dry or badly cleaned, you will need a brush and roller renovator .
Paint and varnish are the products of the solvent and dissolvent for oil-based paints. White Spirit is the most well-known. To remove the slightest trace of glue or varnish, we use acetone . Above all, be aware of the surface you are applying these to! And also pay attention to the label on the bottle. Finally, there is absolutely no point in using water-based paint ... Water will do fine!
Before I start painting, what other tools might I need?
To make your walls or to come back to life:


Putty knife
A putty knife: yes you are eager to get your brush wet, you must first full in any holes and cracks to the surface that you are about to paint. So, you will need a knife! Stainless steel, polyamide or steel, stainless steel's reputation is incorruptible and steel is highly shock resistant. As for the handle, choose wood for comfort and plastic for ergonomics. The width of its blade should correspond to the size of the crack to fill.



Scraper
The scraper: for an impeccable finish with minimal effort, call upon the scraper. There is one for every area to scrape: triangular scraper, glass scraper, cornice scraper, angled scraper. Bet yours on one that is easy to use and flexible. Those with interchangeable blades are even better.
Paint mixer
The paint mixer: to blend the pigments, it is best to prepare the paint with a paint mixer. You can homogenize the paint with a hand-held mixer stick or a rotating attachment to a portable mixer. The rotating attachment has the advantage of mixing all sorts of things. Between the two models, the hand held power tool ensures good grip.
Some tips before I put together my painting kit?
Here you are, almost a pro! Nonetheless, some tools join the aforementioned accessories Such a sponge to a clean up, a pair of gloves, a set of gloves and a protective mask to keep you going - check this out How To Choose Smooth Paint For Walls And Ceilings!
Otherwise a little checklist before opening the pot upside down. You will need:
Rollers

to paint large surfaces

Paintbrushes

for the finishing bits

A

paint tray

and its grid to the right

Masking tape

and

dust sheets

so you do not spend more time

An

extendable handle

if you are not a skilled acrobat and you have things to paint high up.

A

mixer

- to mix!

A good quality

cleaning product

Your missus' opinion

on the choice of colors!
Did you find this guide helpful?
Guide written by:
Holly, self-taught DIYer, Cardiff 22 guides écrits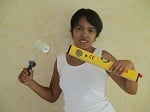 I have to admit that my educational background has little to do with my current passion: all things DIY. Studying management may have given me an ability to keep projects on track, but it's not much use when faced with the prospect of giving an old house a fresh new look.

My passion for DIY all started 5 years ago, when my husband and I bought our very first house. We were so proud...and then we saw how much work needed to be done! Since I basically started with no knowledge of home renovations, I had to learn as I went along, working on projects both great and small. My husband helped me at first, but soon, I was showing him what to do!

Where we live, the rain makes gardens grow wild, so I've become somewhat of an expert on gardening tools. My friends and family all come to me when they need DIY and gardening advice. Now I want to share that knowledge - with you!
The products related to this guide