Paint roller buying guide
Guide written by: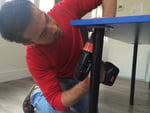 Sebastian, self-taught DIY-er, Exeter
187 guides
Paint rollers should be chosen according to the type of paint and surface you're working with. From single-layer rollers to non-drip or lacquer rollers, you have plenty of choice; using stipple effect rollers, spiked or foam rollers, you can apply anything from render to varnish. Read on to find your paint roller!
Important features
Nap type
Nap length
Type of application
The main features of a paint roller
---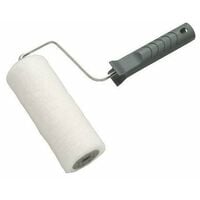 Paint rollers
are practical for painting
large
,
flat
surfaces. The roller itself is made up of a
handle
and a
sleeve
, the latter of which can be replaced separately. Your choice of paint roller will depend on the following:
the type of surface you will be applying your paint on;
the type of product you plan to apply (paint, varnish, lacquer, render, etc.);
the result you're looking for.
Paint rollers can be used alone but often come as part of a
painting kit
. They are generally sold with a brush (at least) which will allow you to
tackle corners
.
Explore the ManoMano catalogue
Painting kit
Choosing a paint roller based on application
Handle and roller frame
Your choice of handle will basically come down to common sense. Nonetheless, here are two tips to help guide you in your choice of handle:
Telescopic handle for increased comfort
---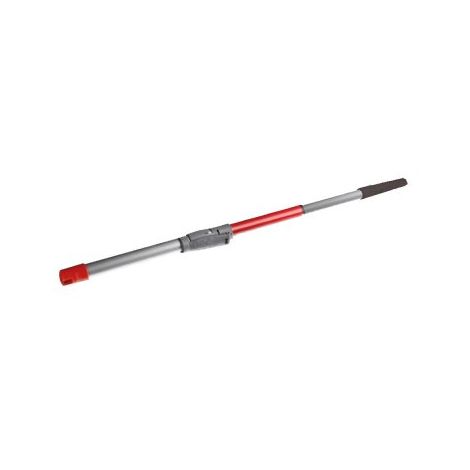 Opt for a long handle if you need to reach ceilings and consider getting an extension pole – or even a
telescopic pole
– to fix the handle on. You can also equip yourself with a ladder, stepladder or step stool.
Handle materials
---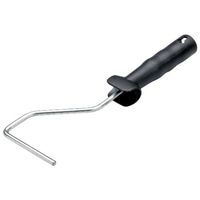 The handle can be made of
wood, plastic or a composite material
. The last two options are easier to clean, though the cleaning product should be chosen to match the paint used (i.e. water for acrylic or alkyd paint and
white spirit for oil-based paints
).
Sleeve type
Paint roller
sleeves
should be designed for the surface they will be working on. They can be made of
different materials
and have special features depending on the result you're looking for.
Foam sleeves
---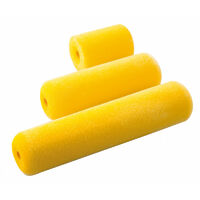 Foam sleeves are useful for a
variety of applications
. You can use them to apply undercoat or simply to
freshen up your floors with a lick of paint
.
Paint roller sleeves for varnish
---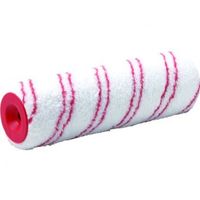 As their name suggests, these sleeves are
specifically designed for use with varnish
. Varnish is a
wood treatment product
designed to let the material breathe while lending it colour and
protecting it from UV rays
.
Paint roller sleeves for lacquer
---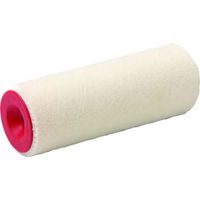 These sleeves are specially designed for any
smooth surface to which you wish to apply varnish or lacquer
.
Lacquer
offers a
glossy finish
.
Exterior paint roller sleeves
---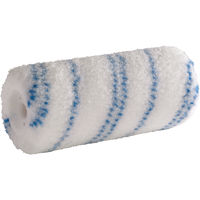 Exterior paint roller sleeves feature
a long nap in order to fill in the gaps
on the surface they are working on; for example, on render.
These paint rollers are
often used with a telescopic handle
or from a
stepladder or stool
.
Long nap paint roller sleeves
---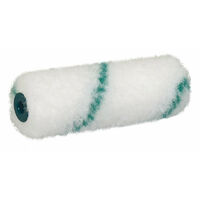 Long nap paint roller sleeves are designed for uneven or textured walls. They can be used for painting on brick or even plaster walls. However, these sleeves do tend to drip.

Short nap paint roller sleeves
---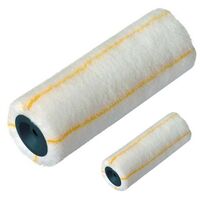 These sleeves are recommended for smooth walls and offer an even effect. The material used and the length of the nap means that they don't drip very much.

Stipple effect paint roller sleeves
---
Stipple effect sleeves give
render its distinctive pattern
. These sleeves feature holes which, when rolled over your surface, will create a
rough and peaked look
.
Spiked paint roller sleeves
---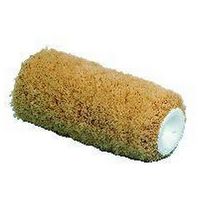 Spiked roller sleeves allow you to form a decorative finish on render by creating depth.
Roller sleeve materials
Paint roller sleeves can be made of synthetic fibres, natural fibres or a mixture of both.
Synthetic paint roller sleeves
Synthetic roller covers are particularly suited to applying acrylic-based paints.

Mixed naps
Paint rollers with a mixed nap are designed for use with both oil- and solvent-based paints.
Natural naps
Natural fibres can be used with all types of paint and offer a better finish.
Explore the ManoMano catalogue
Stepladder or stool
Choosing a paint roller to match your room type
Most paint rollers are designed for a
specific application
and have names such as
acrylic paint roller
or
radiator paint roller
, etc.
Furniture and doors
---
Furniture and doors should be painted with a lacquer paint roller with a synthetic nap of around 5 mm for the best effect. If you are planning to repaint wooden doors or furniture, we recommend that you choose your wood paint wisely and prepare the surface well. These steps will help you achieve a better finish.

Ceilings and walls
---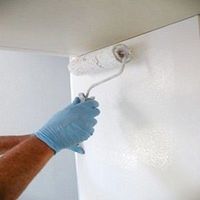 A lightly textured ceiling or wall should be painted using a
non-drip paint roller
with a
nap of around 12 mm
.
Team up your roller with a special wall and ceiling paint, adequate floor protection and a
paint grid
and/or paint tray. Get your hands on a
telescopic pole
if your job requires it.
Smooth walls
---
A smooth wall calls for a double-layer roller with a 10 mm nap. If you are redecorating a kitchen or bathroom, be sure to use a special bathroom or kitchen paint to cope with the humidity and to prevent your walls from wearing prematurely.

Outdoor walls and rendering
---
Exterior walls and masonry should be painted using a nap of around 18 mm. Be sure to choose a roller designed specially for use with pliolite paints to avoid damaging the nap of your roller sleeve. If you are planning to paint on wooden surfaces (such as wooden cladding), we recommend reading our tips on exterior wood paint in order to choose the best protection available.

Render
---
Render is applied using a stipple effect roller. This type of roller features holes which produces peaks and gives the render its distinctive look.
Explore the ManoMano catalogue
Telescopic pole
Paint trays to masking tape: essential painting accessories
---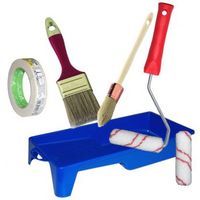 In order to paint your walls or ceilings in the right way – and for a better finish – be sure to
prepare your surface
properly. A range of painting tools designed to protect, prepare and clean your tools and accessories is available. For your next painting job, equip yourself with the following:
a protective sheet and masking tape to protect your floors from paint spills and drips and to mark any areas you do not want to paint;
a paint tray with a ramp to control the amount of paint applied to your roller;
a solvent to clean your roller sleeves and brushes between applications;
a protective mask to keep you safe from VOCs (volatile organic compounds), which are harmful for health.
More information
Painting tools buying guide
Explore the ManoMano catalogue
Solvent
Guide written by:
Sebastian, self-taught DIY-er, Exeter 187 guides écrits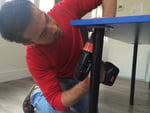 Redo a roof with wooden beams? Check.Advise Mister everybody in the DIY shop? Check.Redo the bathroom plumbing? Check.Fit together, build the walls, paint a partition, throw my hammer in a rage thinking that it will fix the problem? Check.

The DIY motto ? Learning is better than delegating… well, it's also a question about your wallet! The satisfaction? The beer at the end of the job! What do the best have in common? The influence of Gyro Gearloose, Mac Gyver and Carol Smiley depending on your generation, a good dose of curiosity, a average hand-eye coordination and a taste for risks… and if it doesn't work, try again! Advise you? I'll do my best!
The products related to this guide