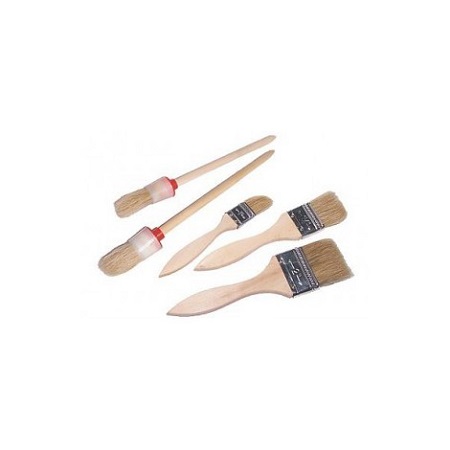 Paint brush buying guide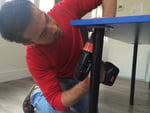 Guide written by:
Sebastian, self-taught DIY-er, Exeter
187 guides
Flat or rounded paint brush? Graining brush or angled for radiators? Synthetic or silk? For the application of your glazes, varnishes and paint: a brush is the crucial tool!
What are the different types of brushes?
A brush should be selected depending on the surface it will be applied: wood paint or stain, radiator and iron paint, etc. It should also be determined by the protection or treament wanted; such as rust inhibitors, wood treatment etc. The top of the line brush can be recognized by its capacity not to lose bristles - which improves the finish - its density, its basic functioning and the handle's quality and ergonomics.
Paintbrushes' shapes and sizes vary, and are circumstancial to the work to be carried out. There are five types of brushes:

---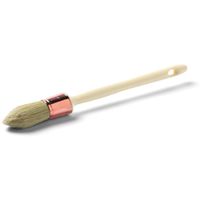 Bright paint brush
This brush is round in shape, it is useful to efficiently paint angles or pre-fabricated surfaces such as moldings.

---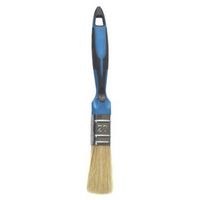 Flat paint brush
The flat brush is rectangular in shape, with a high liquid absorption capacity. It is mainly used for flat surfaces and to add depth to medium surface.

---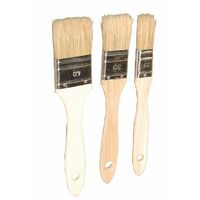 Graining pain brush
The graining brush is a very wide, flat brush specially designed for large surfaces regardless of the product used.

---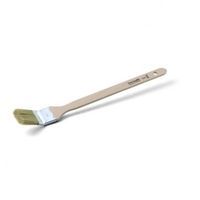 Angled paint brush
The angled brush is also referred to as the hard-access or radiator brush. Its end is slightly bent to accomodate the furnishings of the old warm water radiators (the according-looking type).

---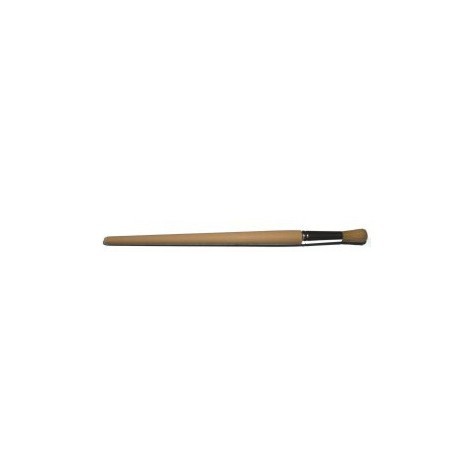 Round paint brush
The round brush is a small round brush. It is often used in highly-decorative jobs, with stencils, for example.
Explore the ManoMano catalogue
Stencils
Synthetic or natural bristles?
---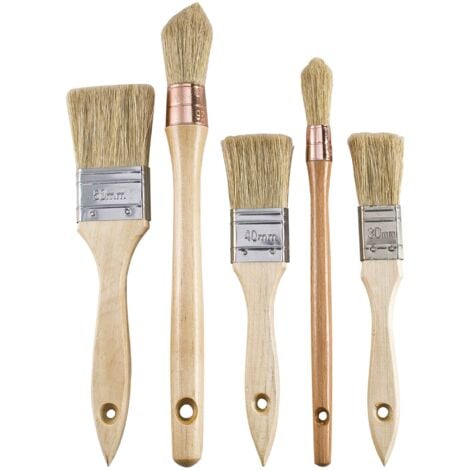 Regardless of their density, the choice of bristles is not to be neglected in order to get the best result.
Synthetic bristles
They are referred to as synthetics because they are composed of nylon, perlon or polyester. The bristles' fibres are soft, supple and resistant. Synthetic bristles are especially recommended for glycerophthlaic paints, stains and varnishes because they are more resistant to solvents - for dilution and cleaning.
Natural bristles
These bristles are composed of silk; They are more elastic and resistant and provide an excellent grip - are less resistant to cleaning solvents. Natural bristles offer a better finish with equally distributed, smooth effect.
Explore the ManoMano catalogue
Cleaning solvents
Handle, ferrule and heel: what to look out for?
---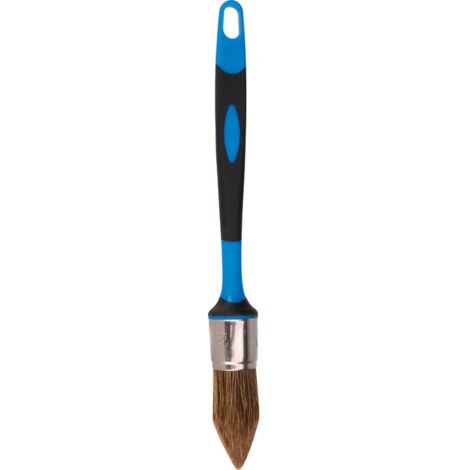 The brush's handle can be made of wood, plastic or synthetic- that last one is a lot easier to clean.
The ferrule, or the metallic part that encircles the bristles, can be made of steel or stainless steel - this last material is preferred because it lasts longer.
Some brushes offer a heel composed of silk and synthetic bristles.
If you want your brushes to last a while, remember to clean them thoroughly and, above all, rinse them when using a solvent or paint remover!
Explore the ManoMano catalogue
Brushes
More information
If DIY-lovers and novice or expert painters who want to know more, follow the links below for gardening-related accessories, advice from our editors and more helpful guides:
Guide written by:
Sebastian, self-taught DIY-er, Exeter, 187 guides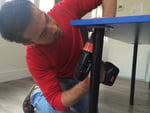 Redo a roof with wooden beams? Check.Advise Mister everybody in the DIY shop? Check.Redo the bathroom plumbing? Check.Fit together, build the walls, paint a partition, throw my hammer in a rage thinking that it will fix the problem? Check. The DIY motto ? Learning is better than delegating… well, it's also a question about your wallet! The satisfaction? The beer at the end of the job! What do the best have in common? The influence of Gyro Gearloose, Mac Gyver and Carol Smiley depending on your generation, a good dose of curiosity, a average hand-eye coordination and a taste for risks… and if it doesn't work, try again! Advise you? I'll do my best!
The products related to this guide