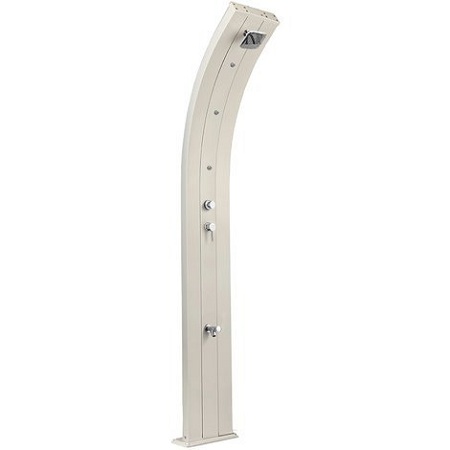 Outdoor shower buying guide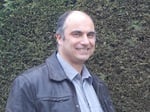 Guide written by:
Albert, Manager of a gardening service, Leicester
48 guides
Whether used by the pool or for camping, outdoor showers are easy to install. Made of materials such as resin or aluminium, they can be fitted with features such as mixers, stands, tripod bases, atomisers, trays or tanks. Read on to find the right outdoor shower for your garden!
Outdoor showers for swimming pools and camping
---
Outdoor showers are essential for use with swimming pools or hot tubs. They're also ideal for providing you with a little more freedom when camping in a tent or camper van. Of course, it goes without saying that outdoor showers can also be used for simply cooling down in the garden!
Available in a range of models, there is an outdoor shower to suit all tastes and budgets. Choose from fixed or portable showers, single or multiple nozzles and options such as solar power heating. With designs ranging from basic to stylish, there's an outdoor shower out there to suit everyone!
Explore the ManoMano catalogue
Outdoor showers
Choosing an outdoor shower to suit your needs
---
In order to choose the right outdoor shower, you'll have to consider various factors, starting with how often you plan on using the shower. For occasional or on-the-go use, portable showers will be your best option.
Fixed onto a tripod base or stand, this type of shower can be transported and dismantled for easy storage in the corner of a garden shed, garage or camper van. Solar powered showers use the warmth of the sun to heat up water naturally and are fitted with a tank designed for this purpose (usually a plastic container with a volume of 20, 30 or 40 litres).
If you're looking for a shower to blend into your garden for use on an almost daily basis (for example, a poolside shower) you should look into showers with fixed bases. In this case, it's best to make sure your shower matches the style of your garden furniture and swimming pool.
An additional tap can prove useful for rinsing feet; this is a very particularly handy addition for swimmers. The water for the shower can be supplied by a garden hose.
Features of outdoor showers
---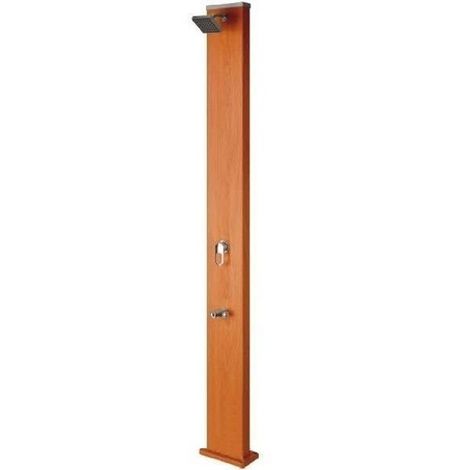 In order to make the right choice, you'll have to think about the materials, accessories and water supply, as well as the shower position and installation type. For a more hard-wearing shower, opt for aluminium rather than PVC. Some models are equipped with mixers which allow you to adjust the temperature of the water for increased comfort.
The capacity of the tank will determine the amount of hot water available. The larger the tank, the longer you'll have access to hot water. Certain models also allow you to adjust the nozzles. Additionally, outdoor showers may come with extendible shower heads and height adjustable shower poles.
You can supply water to the system by means of a hose or by connecting it to the water network of your home. Please note that it is not recommended to use rainwater to supply your shower without treating it first.
Useful tip: the shower should be placed in a spot that is sunny for most or all of the day. For showers that are fixed in place, you must choose a stable and flat surface. These models must also be screwed into a secure base (using screws and fixing plugs) and you should also plan for water run-off at the base of the shower.
More information
Follow the links below for related accessories, advice from our editors and more helpful guides:

Guide written by:
Albert, Manager of a gardening service, Leicester, 48 guides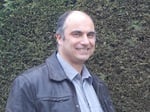 For several years I have been running a garden service with a clientele of both individuals and companies. I manage a team of gardeners and ensure the creation and maintenance of green spaces. At the same time, I bring my expertise to my clients in terms of the maintenance and improvement of their gardens. In fact, as a trainee and working in the hospitality industry at the beginning of my career, I focused on landscaping in a local community where I acquired solid technical skills through in-house training and the follow-up of major projects in a rapidly changing town. On a personal level, I am equally oriented towards the art of gardening. With my wife, I created our garden from start to finish and I maintain it carefully, the same goes for the vegetable garden. As for DIYing, it's not to be outdone. Yes, gardening is also tinkering: pergola, hut, pavement, fence, and so on...There is always something to do in a garden. After working well together, my wife and I are proud of the result and delighted to be able to take full advantage of a friendly and warm environment. So, let us give you advice and help you in your choice of tools, maintenance, or improvement of your garden, nothing could be simpler.
The products related to this guide