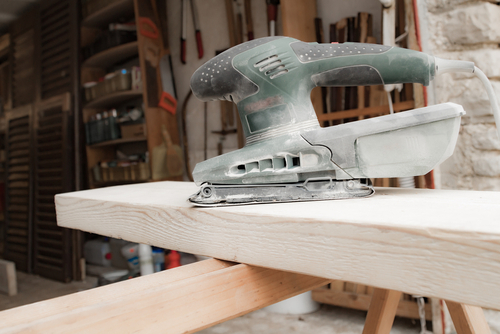 Orbital sander buying guide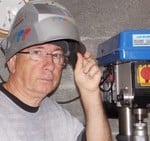 Guide written by:
Michael, Professional and passionate welder, Sheffield
70 guides
Orbital sanders are ideal for sanding flat surfaces and can even be equipped with different base plates to match your task. Whether you go for a low-end battery-powered model or a professional-grade corded sander, all models vary in terms of power rating, OPM and price. Read on to find the right orbital sander for you.
Important features
Power source
Power rating
Base plate type, shape and size
Orbits per minute
Motor type
Additional features
Orbital sanders: the basics
Features of an orbital sander
---
Orbital sanders are used to produce a smooth finish on flat surfaces. Your choice of tool will depend on the following factors:
corded (mains power): 170 to 650 W;
battery-powered: 12 to 18 V (indicates battery power), 3 to 5 Ah (indicates battery life);
pneumatic: requires the use of an air compressor with a minimum flow rate of 150 to 400 litres / minute;
power: from 170 to 650 W, higher wattage means better performance;
type, shape and size of the base plate:
sandpaper attachment system: hook-and-loop (Velcro) or clamping system;
square (1/4 sheet), rectangular (half-sheet) or triangular;
100 to 300 mm max.;
orbits per minute (OPM): determines sanding performance; from 400 to 24,000 OPM;
motor:
brushless: offers better performance;
brushed: average performance; you will have to replace the carbon brush (albeit rarely);
variable speed drive: to adjust to match your surface;
soft start: to reduce kickback during start-up;
dust collector or dust extraction port: to remove wood dust;
interchangeable base plate: to switch out depending on your surface;
sound level (dB): 72 dB for the quietest models;
weight: 1.5 to 3.5 kg;
vibration control: to absorb vibrations;
built-in vibration sensor: uses Bluetooth technology to send data to a smartphone app to evaluate vibrations in real time.
It's worth noting that the design and reliability of each orbital sander will depend on how it is manufactured and, as such, the brand you choose.
Choosing an orbital sander to suit your job
Please note: each feature is provided as a guideline and can vary depending on the manufacturer.
Application / features

Occasional use

Regular use

Intensive use

Applications

- DIY tasks - Stripping wood, paint

- Refinishing wood - Stripping paint

- Large flat surfaces - All materials

Power in watts (corded sanders)

-  70 to 150 W

-  150 to 200 W

- 200 to 650 W

Battery features (cordless sanders)

- Lithium-ion battery - 12 V - 3 Ah

- Lithium-ion battery - 18 V - 3 to 4 Ah

- Lithium-ion battery - 18 V - 4 to 6 Ah

Air flow (air sanders)

-   135 to 170 litres/min

- 140 to 280 litres/min

-  250 to 400 litres/min

Base plate shape

- Rectangular - Square - Triangular

Maximum orbits per minute

-  18,000 to 24,000 OPM

- 16,000 to 24,000 OPM

- 16,000 to 28,000 OPM

Orbit

-  1.8 to 2 mm

- 1.8 to 4 mm

- 1.8 to 5 mm

Dust collection system

- Dust bag - Replaceable cartridge

- Dust bag - Filter cartridge - Vacuum port

- Filter cartridge - Vacuum port - Built-in dust canister - Additional side vacuum port

Sandpaper attachment

- Velcro backing or pins - Holes or no holes

Additional options

- Variable speed drive

- Variable speed drive - Anti-vibration system

Budget

£15 to £80

£80 to £150

£150 to £500+
Features of an orbital sander
---
Orbital sanders are made up of an electric or air-powered motor that is usually topped with an ergonomic handle.
The most powerful, high-performance sanders can reach up to 650 W. A clever cam system is designed to transform the rotation of the motor into short elliptical movements that are then delivered by the base plate.
The oscillations produced can have a rate of 6,000 to 24,000 orbits per minute (OPM), depending on the model. The rear handle is equipped with a lockable power switch and a variable speed drive that controls orbit speed.
The port at the rear of the sander is designed to be connected to a dust bag or a shop vacuum.
A base plate with a hook and loop system allows you to change Velcro-backed sandpaper sheets quickly. However, some types of sandpaper are designed to be held to the base plate via a lever or clamping system.
The European standard EN 62841 sets out the safety regulations that have to be met by handheld power tools. Most importantly, this standard dictates the maximum vibration emission value allowed by sanders. All sanders must meet CE standards.
Orbital sanders for occasional use
---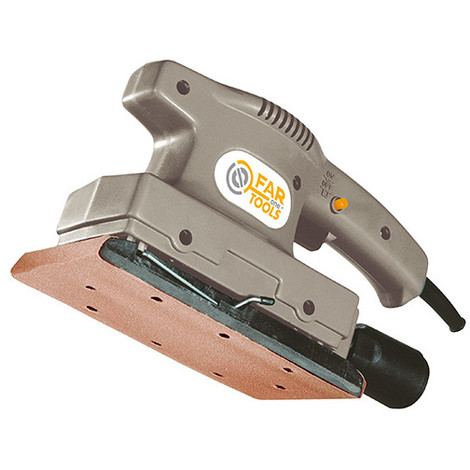 All DIYers should have a cheap orbital sander in their kit that they can reach for quickly. These inexpensive tools can be used to sand down the odd piece of furniture, sheet metal or even drywall.
A low-end orbital sander (70 to 150 W) will generally offer enough basic features to do a decent job.
The base plate may be fitted with Velcro-backed sandpaper or universal sandpaper if there is a clamping system.
In this price range, you can expect to find a dust bag or, at best, a filter cassette for dust extraction.
The orbits can range from about 1.8 to 2 mm which is good enough to create a smooth finish on wood, as long as you work with the wood grain.
Most models come with a variable speed drive that allows you to adjust the orbit speed depending on the material you want to sand (hard or soft).
Orbital sanders for regular use
---
If you want a sander to use on a more regular basis, you'll need a hard-wearing and efficient machine designed with comfort in mind. These tools won't be the most sophisticated available and you won't find a lot of extra features. However, a mid-range tool will be reliable and can stand in for an oscillating multi-tool for repetitive but non-intensive tasks.
These sanders can reach around 200 to 300 W, and will generally feature variable speed. They will be equipped with a filter cassette, dust bag or a dust port to connect a shop vacuum. If you're in the process of renovating a house, this type of sander will work well for a range of stripping tasks.
The orbit speed ranges from 16,000 to 24,000 and the orbit varies from 1.8 to 4 mm for enhanced performance and user comfort. These sanders usually feature a more sophisticated design than low-end models and it is possible to find models with brushless motors.
Orbital sanders for intensive use
---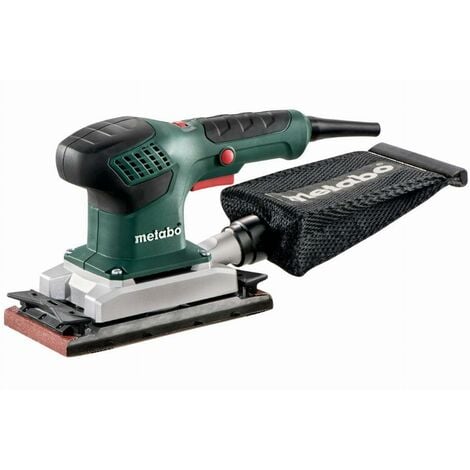 In recent years, professionals and DIYers alike have become increasingly demanding. This has paved the way for more sophisticated sanders designed to cope with intensive tasks and provide excellent performance.
High-end orbital sanders are powerful tools (200 to 650 W). The orbit can reach up to 5 mm with an OPM of about 28,000 meaning these sanders can be used to rough sand even large surfaces. In short, you'll really get your money's worth! Some models are equipped with a smart vibration control system for more comfortable sanding.
They offer efficient dust extraction and may even be equipped with a dust canister that can be used with or without a shop vacuum. This feature helps to eliminates dust from your work surfaces to provide excellent visibility.
The centre of gravity of these machines has been carefully studied and optimised for fatigue-free use even over prolonged periods. Cordless sanders that fall into this category offer around 18 V for excellent performance, as well as a long battery life (approx. 6 Ah).
These professional-grade tools are able to tackle a range of tricky tasks such as removing lacquer, shaving down raised wooden surfaces or even tackling metals.
Cordless orbital sanders
---
A battery-powered sander can be a highly practical addition to your tool kit alongside a more powerful corded or heavy-duty sander.
Very lightweight and easy to handle, most (if not all) cordless models are equipped with an 18 V, 6 Ah lithium-ion battery. As a reminder, the voltage of a battery translates into motor power which dictates the performance of the sander; the ampere hour (Ah) rating determines battery life (the higher the value, the longer the battery will last between charges).
These tools are lightweight (1.3 to 1.5 kg) making them ideal for overhead work. They are also compact which is handy if you have finishing work to complete in hard-to-reach spots.
Fitted with a dust bag or filter cassette, cordless sanders may also be equipped with a dust port to connect to a dust extraction system.
These models generally come with two batteries to switch out for uninterrupted use. It's worth noting that nickel-cadmium (Ni-Cd) batteries are bulky and heavy and have all but been replaced by lithium-ion (Li-Ion) batteries.
Orbital air sanders
---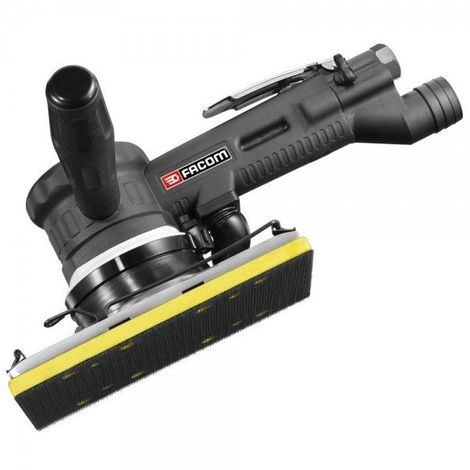 Some professional users and DIYers simply prefer to use pneumatic tools. As long as you have a compressor that is able to supply enough air to the a sander (100 to 400 l/min), you can go for a pneumatic model.
Air sanders are not complicated tools: air is forced through the sander at around 6 to 8 bars. This pressure turns a canister which transforms the rotation into oscillating movements.
These sanders won't feature variable speed; a basic trigger is used to turn them on and off. You can adjust the speed of an air sander by changing the air pressure. If you're planning on working on long tasks, investing in an air sander can be well worthwhile.
Long sanders (± 40 cm) can be used for auto body work instead of a manual or electric file. These tools require a lot of air (350 to 400 l/min) but deliver a great deal of abrasive power for work on larger surfaces such as large goods vehicles.
Orbital sanders: base plates and sandpaper
Base plates
---
The base plate that comes with your sander won't necessarily be suited to the tasks you want to perform. That's why manufacturers offer interchangeable base plates in different sizes with specially designed holes.
These holes have been cleverly positioned to provide superior dust extraction, depending on the task at hand. When buying sandpaper be sure to check that the holes match the position of the holes on the base plate.
It is possible to place a foam pad between the base plate and sandpaper for greater flexibility for delicate sanding tasks. A soft rubber base plate pad is great for absorbing vibrations.
Common base plate dimensions
Base plate shape

Base plate size (mm)

Rectangular

80 x 133 mm

93 x 185 mm

93 x 230 mm

115 x 230 mm

115 x 280 mm

Square (approximately)

112 x 102 mm

254 x 254 mm

110 x 100 mm

Triangular

150 x 150 x 100 mm

247 x 110 x 150 mm

92 x 92 x 92 mm

102 x 62 mm
Please note that manufacturers will usually note the sanding surface in cm² rather than the dimensions of the base plate.
Sandpaper for orbital sanders
---
The shape and holes of the sandpaper (if there are any) must match the dimensions of the base plate. A series of different grits will allow you to go from rough sanding to finer finishing work in several steps. Change your sandpaper to suit the material you want to sand.
Main types of sandpaper
| | | |
| --- | --- | --- |
| Grit type | Grit | Application |
| Coarse | 16 to 60 | Rough sanding |
| Medium | 80 to 100 | Sanding raw wood |
| Fine | 100 to 600 | Finishing work |
| Very fine | 800 to 1000 | Sanding/polishing |
Please note: it's important to replace your sandpaper as soon as it starts to wear and becomes less effective. Orbital sanders can only be used for dry sanding. Those with a clamping system can be equipped with sheets cut from a sanding roll.
Orbital sander care and replacement parts
Motor brushes
---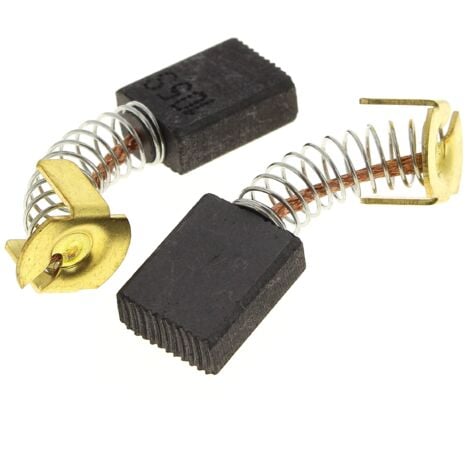 If you use your sander for long sessions, you may have to replace the carbon brush from time to time (unless, of course, you have a brushless motor). That said, you won't have to do it often; the motor brush only needs to be changed after many hours of operation.
Base plate
---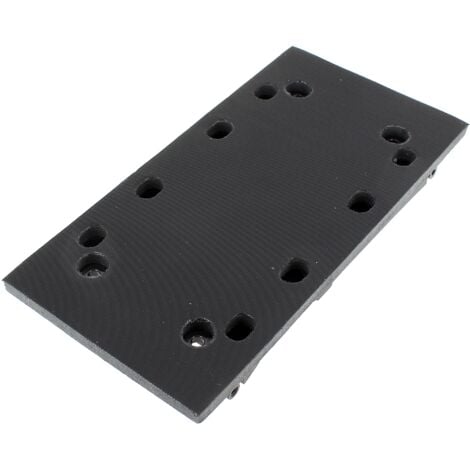 The sander's base plate won't last forever either! As they have to deal with vibrations and repeated sandpaper changes, the base plate will have to be replaced when the hook and loop system starts to wear. Always have a spare pad at hand.
Disposable dust bags
---
Disposable dust bags can be a handy solution, but they do have to be replaced often. As they are sold in relatively inexpensive packs, it's best to buy a few at a time.
How to use an orbital sander
---
Wood dust is extremely harmful and can penetrate into the mucus membranes; you therefore need to wear an FFP1 mask at all times when sanding. Dust created from sanding materials like paint, varnish or rusted metal is even more harmful and requires the use of an FFP2 mask. All dust must be removed via:
a dust bag designed to filter the dust and release clean air;
a tear-resistant disposable paper dust bag;
an industrial-grade dust extraction system that meets category M standards (medium risk: dust particles <0.1 mg/m3) for intensive and extended use.
PPE required for sanding
---
When using an orbital sander, you will need to wear a mask that offers respiratory protection (to match the material you're working with), work clothes, safety goggles, gloves and ear protectors. All clothing and PPE must be dusted after use.
It is recommended to work in a clear, well-ventilated space wherever possible.
Please note: if you are using an air sander, the compressor will produce cold air. It is essential to wear gloves when using an air sander.
And don't forget: you must never sand any materials that could potentially release asbestos.
Explore the ManoMano catalogue
PPE
Invention of the orbital sander
---
In the 1950s, a German power tool specialist at Festo (now Festool) –  no doubt fed up wearing his hands down with a sanding block! – came up with the idea for an electric sander designed to produce oscillating motions.
At the end of the second world war, a major period of reconstruction took place leading to high demand for tools. Festo's electric sander was launched to meet the needs of a variety of professional users such as woodworkers, auto repairs persons and plasterers.
The machine then became more widely available for domestic use. At this point, Festo's famous RTE sander came to replace the sanding block and paved the way for the production of more automatic sanding machines.
In the years following, the design of the electric sander was perfected with the addition of features such as dust extraction systems and interchangeable base plates.
Guide written by:
Michael, Professional and passionate welder, Sheffield, 70 guides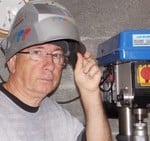 I was trained as a pipe worker and a pipe-welder and after having traveled for 35 years working around the UK, I became the head a metal shop and then a designer and in the end the head engineer. I have designed and built a workshop where I make metal sculptures: I managed to find a piece of paradise where I can to let my imagination run wild. Auctions and garage sales are no secret to me. I find unusual objects and old tools there that I collect or transform into works of art. I also like decoration, painting on canvas, and gardening. I am developing new technologies concerning tools. To share my passion and humbly advise you in your choice of materials is a real pleasure.
The products related to this guide