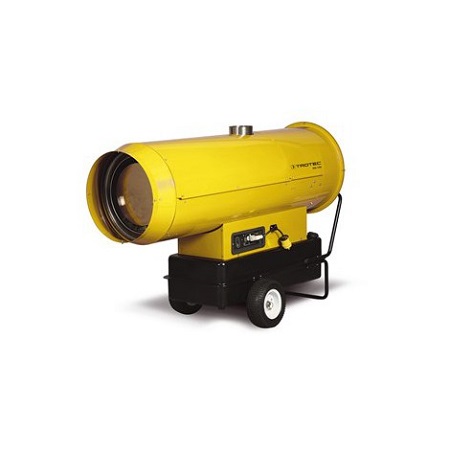 On-site heating buying guide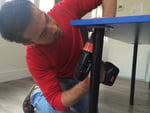 Guide written by:
Sebastian, self-taught DIY-er, Exeter
187 guides
To dry walls on site and keep warm while you work, construction site heaters are indispensable. Gas, oil and electric heaters should be chosen according to the energy given out, the size of the space and their heat diffusion (via forced air or infrared radiation).
On-site heating: electric, oil or gas?
Electric on-site heater
---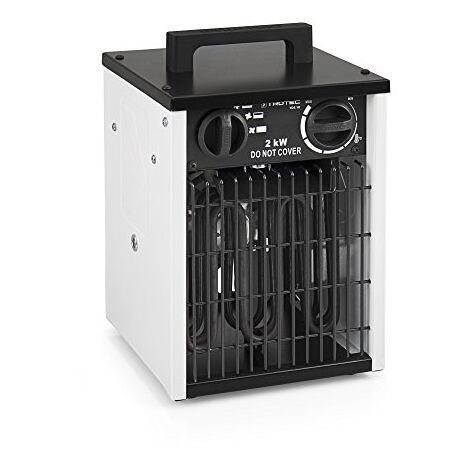 An electric on-site heater is simple to operate and typically consists of a hot air gun which propels air heated by a variable power resistor - to be chosen according to the size of space.
Hot air guns (i.e. forced air heating) are generally cylindrical in shape and vary in power from 1.5kW to over 9kW in the most powerful cases.
The fan has several speeds and the heater has a thermostat (to ensure a constant level of heat) and an additional thermostat to prevent overheating.
Air flow is variable between 400m3/h and 1000m3/h - as a function of power.
The main advantage of an electric on-site heater is its simplicity and autonomy - ideal for frostprotectionon a building site. The disadvantage is that more powerful models operate on three-phase at 380V, and of course in any case, electricity is needed, for instance provided by a generator. Appliances weigh between 5 and 20kg.

---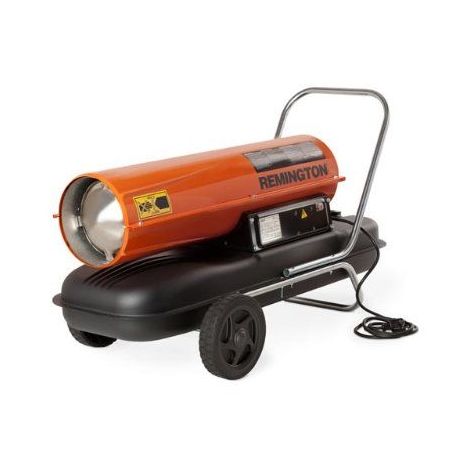 Oil-fired on-site heater
Direct combustion
Oil-fired on-site heaters are the most powerful, the bulkiest and the heaviest. Direct combustion heaters (not permitted in public buildings or anywhere with animals) allow you to heat large volumes of air. They offer very high efficiency (~100%) and are mobile - often on wheels. They can include a chimney to evacuate exhaust gases.
Power ratings vary from 20 to over 100kW, and they feature a thermostat like electric heaters. Oil-fired heaters are useful for heating storage rooms, open yards, greenhouses, etc. Some models can be connected to a separatefuel tank. Not recommended for dehumidifying work sites because moisture is produced during combustion. The fan runs on electricity.
Indirect combustion
Indirect oil heaters are designed to heat poorlyventilated spaces or those inhabited by people - marquees, factories, warehouses, etc.
Indirect combustion heaters are quieter, and combustion isseparatedfrom the air outlet.
This type of appliance can be placed outside the heated space and the hot air injected via a hose. They are suitable for drying on building sites and frostprotection, and may have an optional ambient temperaturethermostat, clock and / or timer. The airflow of the most powerful indirect oil heaters easily exceeds 5000m3/h. Efficiency is lower (around 90%), but the more powerful models can heat spaces up to 1000m3 in volume. Again, the fan runs on electricity.
---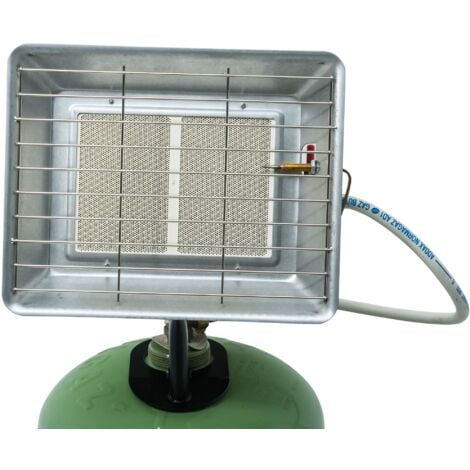 Gas heating
Pneumatic gas heating
Gas-fired heaters are less cumbersome than oil heaters, though moreso than electric heaters. They offer high energy output, to be scaled to the size of the space. They are for use in very well ventilated spaces and for drying out rooms.
Again, gas heaters must not be used in public buildings. They operate on butane or propane gas. The fan also runs on electricity.
Radiating gas heating
Smaller than the pneumatic models, these radiators are connected directly to a 13kg (or 35kg) gas cylinder and have a power output of about 4kW.
They are mobile and autonomous, though not suitable for use in public spaces. Easily transportable, their bulk resides in the large gas bottles. Radiating gas heaters diffuse their heat through infrared panels - with piezo ignition - and the setup includes a gas hose and regulator. Power is adjustable and the reflector size is about 300 x 250mm.
Explore the ManoMano catalogue
Gas-fired heaters
On-site heating: volume and temperature
---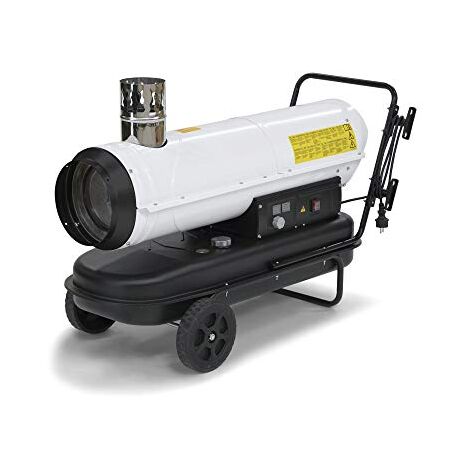 The volume to be heated ( expressed in m 3 ) is calculated simply by multiplying the floor area expressed in m² by the height in meters . However, it remains to be considered that site heaters are used in open spaces, very poorly insulated and never of the same volume. For rapid evaluation, 1 m² requires 100 Watts or 1 kW = 10 m².
Heating output is expressed in kilocalories (kcal) and the desired difference in temperature between outside and inside air follows a ratio of about 1000kcal per degree to be gained. So, to achieve a temperature increase of 18° on a normally ventilated site, 18000kcal is the minimum heating output you'll need.
Forced air heaters diffuse heat more homogeneously across spaces.
Five top tips for choosing your on-site heating
---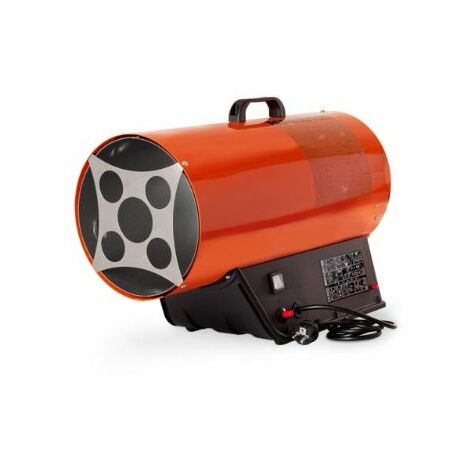 Estimate the required heating output in kcal according to the desired temperature and space to be heated.
Select an indirectcombustion oil heater if you need to heat spaces inhabited by people or animals; or alternatively, choose an electric heater.
Choose the most lightweight model with the heating power you need, if possible with extra options like a timer or a clock.
Consider the fact that oil and gas heaters are autonomous (except models with a fan requiring electricity), in contrast to electric heaters.
Carefully consider your needs - especially if you plan to use your heater for drying rooms (not recommended with direct oil heaters).
Learn more about heating your home...
To find out more about heatingyour home, follow our editors' advice and check out their other guides:
Guide written by:
Sebastian, self-taught DIY-er, Exeter, 187 guides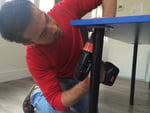 Redo a roof with wooden beams? Check.Advise Mister everybody in the DIY shop? Check.Redo the bathroom plumbing? Check.Fit together, build the walls, paint a partition, throw my hammer in a rage thinking that it will fix the problem? Check. The DIY motto ? Learning is better than delegating… well, it's also a question about your wallet! The satisfaction? The beer at the end of the job! What do the best have in common? The influence of Gyro Gearloose, Mac Gyver and Carol Smiley depending on your generation, a good dose of curiosity, a average hand-eye coordination and a taste for risks… and if it doesn't work, try again! Advise you? I'll do my best!
The products related to this guide