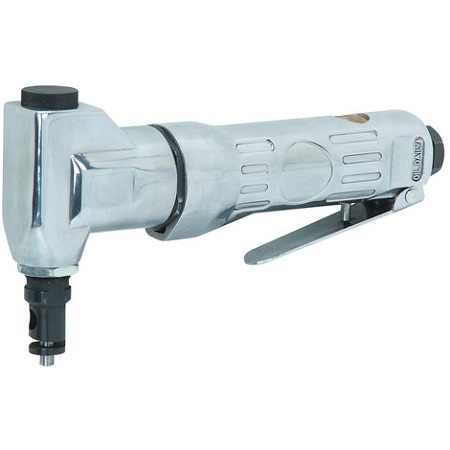 Nibbler buying guide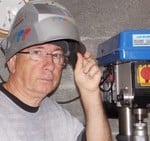 Guide written by:
Michael, Professional and passionate welder, Sheffield
70 guides
A nibbler literally devours steel and is used mostly in sheet metal and bodywork. It is also used to to cut steel tanks or any metal, be it steel or stainless steel thin. The punch determines the cutting width, while the cutting rate dictates the feed rate. Nibblers can be either electric or pneumatic - operated with a compressor.
What is a nibbler?
---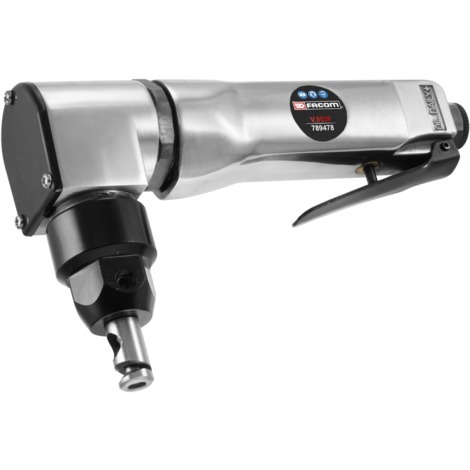 Get me roger rabbit! In the sheet-metal workshop, this was the name that we have given our nibbler. Looking at it more closely, one quickly realises that it's aptly named.
Used mainly on sheet metal but also on thin plastic or wood, this lightweight and handy powered or lightweight power tool can be used to make cutting metal, cladding or any other thin material easy.
About the size of a small electric grinder, its mechanism can be also be summarized as small. This simple tooling consisting of a punch and a die oscillating at a speed of ± 2000 strokes per minute to quickly devour the sheet that needs to be cut. The nibbler is used primarily for circular or rounded cuts. It is powered either by pneumatic or electric .
Warning! This tool is not a sheet shearer. As the name suggests, the nibbler consumes part of the sheet, up to 6 mm wide depending on the size of the punch. This punch size must therefore be taken into account when drawing and feeding the sheets. With so many models available, it is absolutely crucial to determine the thickness to be cut in order to choose the right power.
It's an undeniable and huge advantage is that the use of the nibbler does not cause any sheet deformation. Bodyworkers, metalworkers and any other professionals requiring sheet cutting is sure to have this machine in their tool box.
Explore the ManoMano catalogue
Nibbler
Characteristics of nibblers
Electric Nibbler
---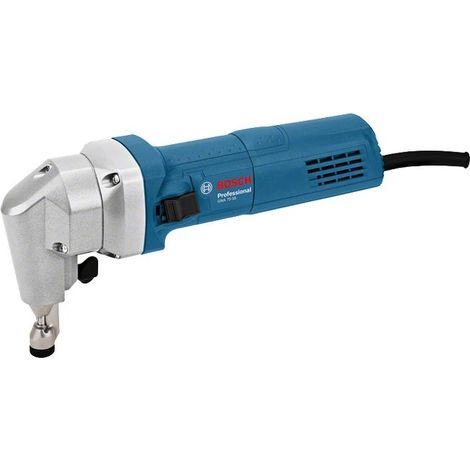 The electric nibbler offers less benefits than its pneumatic counterpart however it has a:
Power of 600 to 800 W and an electronic speed variator;
Max. Cutting capacity of 4 mm for steel sheet and 2.5 mm for stainless steel sheet;
Cutting width according to punch, ranging from 3 mm to 8 mm. Wide punches are intended for the highest thicknesses. Example: a 6 mm punch will allow for the cutting of up to 4mm sheet;
A cutting speed of 2500 cps/min and a punch that can be rotated 360°.
---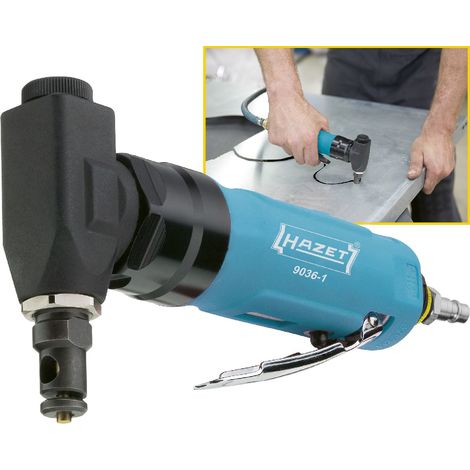 Pneumatic Nibbler
The pneumatic nibbler is more widespread because of its small footprint and exceptionalmaneuverability. It requires a compressor that matches the high operating air flow rate (± 150 l/min).
The frequency of the oscillations is also greater than the electric model at 3500 rounds a minute resulting in a straighter, cleaner cut. It offers a:
Continous cutting capacity of metal up to 1.5 mm;
Regulator, equipped with integrated power dimmer;
Ergonomic trigger control for great flexibility;
Interchangeable die and punch.
Punches and dies 
---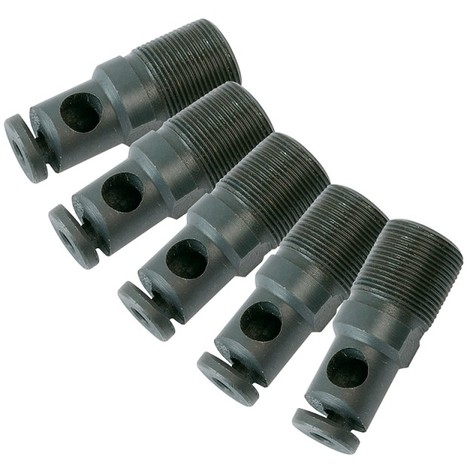 The mechanical part of the nibbler wears down rather quickly as the cuts accumulate.
The assembly is interchangeable and can be done so rather quickly. Don't forget the spare parts and different size punches if your machine is versatile.
Usage tips
A nibbler should operated with glasses and protective gloves. A leather apron can also protect you from any possible breakage.
More information
For passionate hobbyists, DIY lovers and heavy duty professionals looking for the right equipment, follow the links below for sanding-related accessories, advice from our editors and more helpful guides:
How to choose your compressor?
And to work safely
How to choose your protective gloves?
How to choose your welding mask and protection?
Guide written by:
Michael, Professional and passionate welder, Sheffield, 70 guides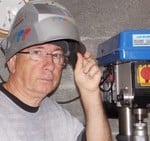 I was trained as a pipe worker and a pipe-welder and after having traveled for 35 years working around the UK, I became the head a metal shop and then a designer and in the end the head engineer. I have designed and built a workshop where I make metal sculptures: I managed to find a piece of paradise where I can to let my imagination run wild. Auctions and garage sales are no secret to me. I find unusual objects and old tools there that I collect or transform into works of art. I also like decoration, painting on canvas, and gardening. I am developing new technologies concerning tools. To share my passion and humbly advise you in your choice of materials is a real pleasure.
The products related to this guide