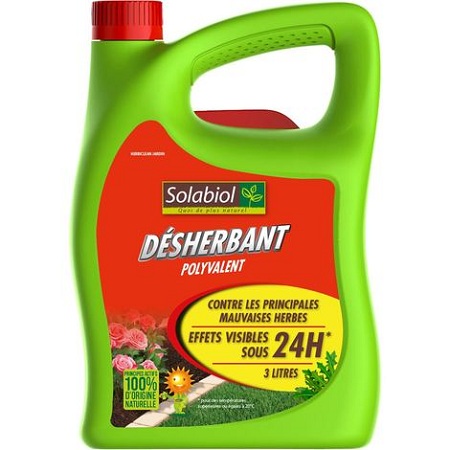 Natural weed killer buying guide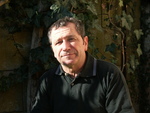 Guide written by:
Jean-Marie, Jardinier passionné & auteur, Auvergne
203 guides
In recent years, an increasing number of 'natural' or 'organic' weed killers have hit the market. These weed control products have been designed to fill the demand for more environmentally friendly options with many weed killers deemed harmful for the environment. Read on to learn more about natural weed killers.
Active ingredients in natural weed killers
---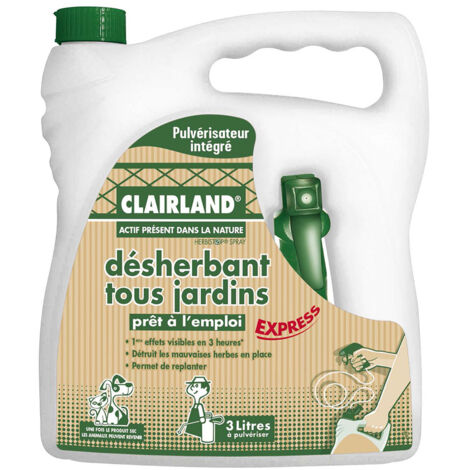 Biocontrol products are something of a recent addition to the weed control market and more products are sure to emerge in the years to come. It is, however, too early to have an idea of their effect on the environment. While the active ingredients contained in these products are natural, this doesn't mean that they are not harmful. The use of most of these products is not allowed in organic agriculture.
Pelargonic acid: a herbicide that occurs naturally in geraniums (Pelargonium).
Acetic acid: the primary active ingredient in vinegar.
Caprylic and capric acid: these saturated fatty acids are found in substances like vegetable oils and certain milks.
These products work upon contact by destroying the waxy layer that covers the plant stems and leaves and works to protect the plant from UV rays. The weeds will dry up and die within a few hours. There's no doubt that these products have an impressive effect as systemic weed killers usually take a few days to work.
In order to be effective, these products must be applied under certain conditions.
They can only be used in dry, sunny weather.
The temperature must be at least 15°C.
The product should be applied all over the plant.
These products are only recommended for treating young, growing plants that ideally haven't reached over 12 cm in height. Larger plants will require a second application one to two weeks after the first treatment. However, well-established perennials are likely to grow back as their root system will remain intact under the soil. To tackle these plants, several applications will be required.
Non-selective herbicides
---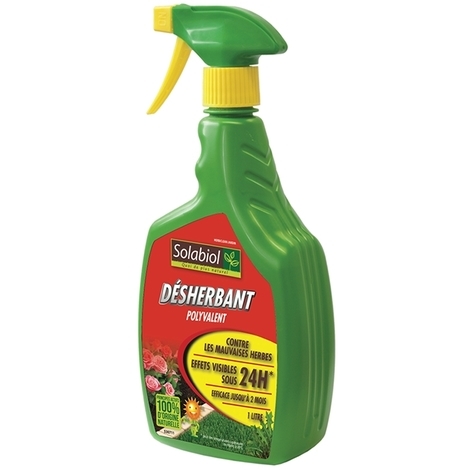 Selective herbicides are used to get rid of weeds surrounding a particular type of crop. For example, if you are finding it tricky to weed around your carrots, you can find a special weed killer designed for carrots, and the same goes for potatoes, and so on.
The types of natural weed killers that are emerging these days are not selective; they work to destroy all plants they are sprayed on upon contact.
These weed killers will only destroy the upper parts of the plant that have come in direct contact with the product. The weed will be able to regrow if the root system is well-established.
Non-residual
---
Natural weed killers don't linger in the soil. They break down quickly which means you can replant fairly soon after application. However, they won't stop weeds from cropping up a few days after application.
These products can be used in a vegetable patch or flower bed before you add seedlings or crops. You can find information on how long to wait before planting on the product label.
Concentrated or ready-mixed weed killers
---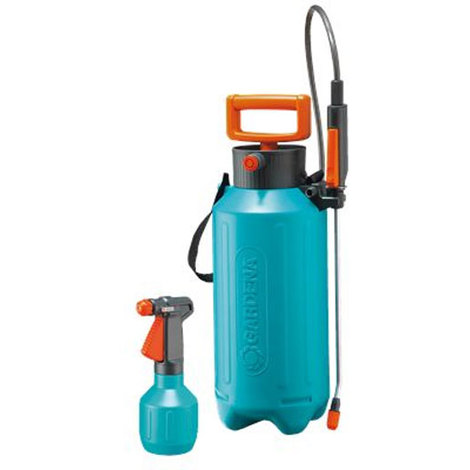 Some products are sold ready-mixed in a spray bottle. This is ideal for smaller areas or for directing the product towards a specific patch.
You can also opt for a highly concentrated formula, which will be more cost-effective. These products are designed to be diluted and sprayed.
If you have more than 30 m2 to tackle, go for a concentrated product and dilute it yourself before applying it using a spray bottle.
If you're dealing with an area measuring less than 30 m2, or if you just want to treat a small area of your garden, a ready-mixed weed killer can be really handy. You can find these products in fairly large bottles for medium-sized gardens. However, bear in mind that a spray bottle is better suited to smaller areas. It also allows you to be more precise in your application.
Some brands even offer a weed killer in gel form designed to be applied directly to the leaves to pinpoint specific weeds without causing any damage to surrounding plants.
Natural weed killer uses
Prices can range from a few pounds to about £40 depending on the format, formula and the brand name. You'll need to think about the cost in terms of m². However, bear in mind that you won't be applying the product to your entire garden but rather directly to the weeds. It is tricky to provide a ranking of the products currently available on the market (in terms of cost, for example) as, some products are much more effective than others on particular plant varieties.
2 applications per year max. Effective at low temperatures. Shrubs, trees, bushes, roses

Comes in a ready-to-dilute tube

Trees, shrubs, roses. Suitable for organic agriculture

Pathways, borders, paving. Effective on moss and algae. Suitable for organic agriculture

Multi-purpose weed killer
* Estimations based on optimal weather conditions
Guide written by:
Jean-Marie, Jardinier passionné & auteur, Auvergne, 203 guides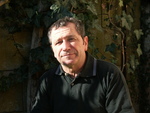 Haut comme trois pommes, je travaillais déjà au jardin familial. C'est peut-être de là qu'est né mon intérêt pour les plantes et le jardinage. Il était donc logique pour moi de suivre des études à la fois en biologie végétale et en agronomie.   Accédant à la demande de divers éditeurs, j'ai écrit en 25 ans de nombreux livres sur la thématique des plantes, des champignons (un sujet qui me tient à cœur), essentiellement des guides d'identification dans un premier temps, mais très vite aussi par la suite, sur le jardinage, renouant ainsi avec la première passion de mon enfance.   J'ai aussi collaboré régulièrement à plusieurs magazines spécialisés dans le domaine du jardinage ou plus généralement de la nature. Comme il n'y a pas de jardinier sans jardin, c'est dans un petit coin de l'Auvergne que je cultive le mien depuis 30 ans et où je mets en pratique les méthodes de culture que je vous conseille.
The products related to this guide